Sapa- the fanciful town in fog is considered a gateway to another world of mysterious minority cultures and luscious landscapes. Coming to Sapa, visitors are not only overwhelmed in unique cuisines but also can try the famous wine brands in here.
San Lung wine – a specialty of Sapa
Coming to Lao Cai, the tourists, especially wine connoisseurs can't miss San Lung wine that was a unique gift from the Red Dao. San Lung wine is named after the name of the Red Dao ethnic village-the village of San Lung-Bat Xat-Lao Cai. According to the legend of Dao, San Lung is the wine of heaven. As the result, the special wine is used only for worshiping heaven and earth, ancestors, festival, fair, wedding or treating your best friends.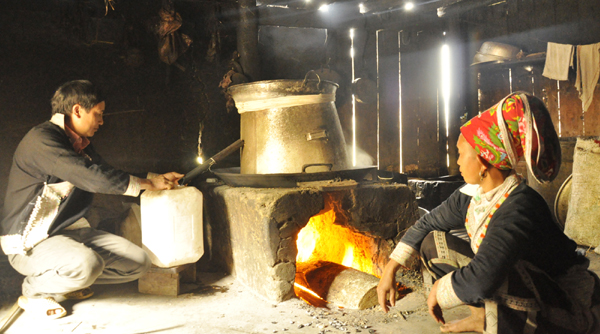 San Lung wine is a precious wine because it is produced very meticulous by the Red Dao. The necessary ingredients include water stream, rice and herbs. Water is taken from Po Sen stream which is always pure and cool all year round. Rice is selected carefully from terraced field rice planted by the locals. Specially, herbs are many precious and strange leaves, make a unique flavor. After preparing all ingredients carefully, the Dao people will soak rice and brew it with sorghum and herbs. Moreover, only older man in the family knows how to make their unique brewing. Soaking and fermenting also depend on the weather. After fermenting is successful, the wine will be distilled hydro twice. The first time is to remove impurities and filter. The second time, the wine is cooled by the mixture of herbs and Po Sen water stream.
San Lung wine has a unique taste which attracts many wine connoisseurs coming to Sapa. No one can deny the benefits of this special wine. It is said that San Lung wine is the "fairy wine" can relieve pain, prevent cold, flu, blood circulating etc. It is not only specialty wine helping people remove the coolness, the sadness of poverty and contribute the happiness on the Lunar New Year festival of the village but also a precious medicine.
Corn wine in Bac Ha
If you come to Bac Ha, don't forget taking a time to visit the H'mong ethnic minority at Ban Pho. Here, you not only admire plum and peach forests, relax in the resort with the cool climate but also enjoy regional cuisine. Moreover, you will have chance to find out the ethnic cultural village which H'mong live and try tasting corn wine-the specialty in Ban Pho, Bac Ha.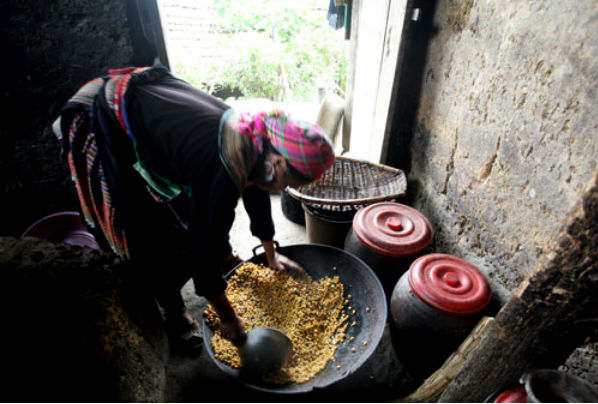 Most of families in Bac Ha produce corn wine, but the wine which is made by the H'mong in Ban Pho is the most delicious. Wine is made of corn grown in the terraced-fields. To cook wine, corns are boiled for a long time until the corn is broken. After cooling it, the H'mong mix corn with the yeast which are made from "hong my" trees planted along the hillsides in a certain percentage. Continuously, fermenting lasts from 5 to 6 days. All of these special ingredients and climate of Sa pa will create a unique wine which is not similar to any kind of wine of the West North mountain area.
When drinking this wine, you feel passionate and impetuous. Even if you are drunk but you don't have headache or dazzle. The locals drink corn wine to protect them from the coldness in the winter. Corn wine in Ban Pho contributed to maintaining and preserving the traditional cultural values characteristic of H'mong people in Ban Pho. Moreover, this specialty attracts more and more tourists to visit, explore and enjoy.
"Tao meo" wine in Sa pa
Like San Lung wine and corn wine, cat apple wine is also one of the kinds of delicious wines which bring the flavor of mountain and forest in Sa pa. Cat apple trees rise commonly on Hoang Lien Son Mountain and its fruit keeps the flavors of forest, sunshine and wind. As the result, it has four main flavors such as sour, sweet, acrid and bitter. The locals collect its fruits and create a special wine which no one can deny its taste.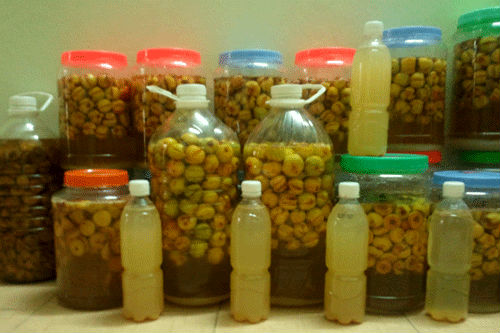 Cat apple wine can treat many diseases such as tranquillizer, platelet and blood pressure. Visitors can buy its fruits in all market of Sa pa within August and October. More specially, you can do cat apple wine by yourself. You may be feel like having a carbonated drink at the first sip, however, you go on drinking some more you will feel the wonderful and amazing flavor of this wine.