Sa Pa, a well-known traveling place in the northern area of Vietnam does not only attract Vietnamese tourists but also draws a large number of foreign visitors visiting and discovering.
Tourists are passionately interested in Sa Pa by its wonderful landscapes such as winding and charming roads, stunning views, imposing terrace fields..and its specific cultures as well. An unusual feature here compared to other locals, Sa Pa is the living place of many ethnic groups in a not large space so that Sa Pa becomes more fascinating and, definitely, the unique culture of minority groups in Sa Pa will bring forever memorable impression to tourists when trekking.
Ho village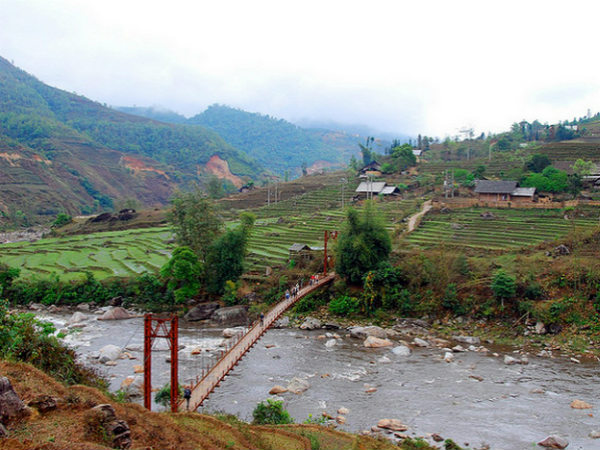 At altitude of 435 m above sea level and about 20 km far from Sa Pa town, Ho village is one of the first attractions when traveling to Sa Pa. it is not cold as Sa Pa town or Ta Phin, Ta Van, the weather in Ho village is warmer and becoming to you take a tour in Hoang Lien Son national forest- where is the home of various floras and faunas. Also, you can fully enjoy cool and fresh stream called "Lave" as well as contemplate superb waterfall here. When the sunset falls down , you take a stroll around the village and visit woven brocade households, you may buy beautiful brocades with reasonable price. At weekend nights, you can participate in entertainment activities in the cultural house on stilts of local people, you will have experienced to eye-catching dances, beautiful songs even special food filled with unique cultures of ethnic groups in Ho village.
Ta Van Giay village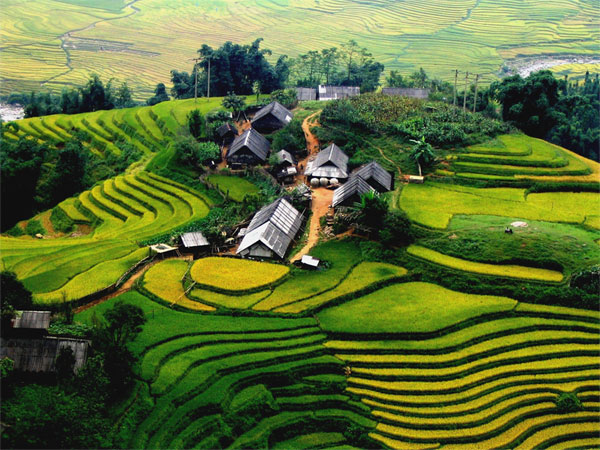 Alongside 4D highway towards the southeast, Ta Van Giay is approximately 8 kilometers from Sa Pa town. When coming to the homeland, tourists have opportunity to learn about Ta Van Giay people's style and way of life which contains both traditional and modern characteristics. The pathways to the village are small and strait but beautiful as roadsides are embellished with terraces, alternate green corn and rice fields. Besides, you could study the Giay's rich culture through legends, poems, proverbs, riddles or children's songs; or you can be fond of traditional costumes of boys and girls here. Naturally, the human civilization and noble values inside Giay's characteristic and soul will convincingly be kept as the most impressive feature in your travel diary. Until you leave, you certainly feel attached, regretful and expectant to be go back once more.
Cat Cat village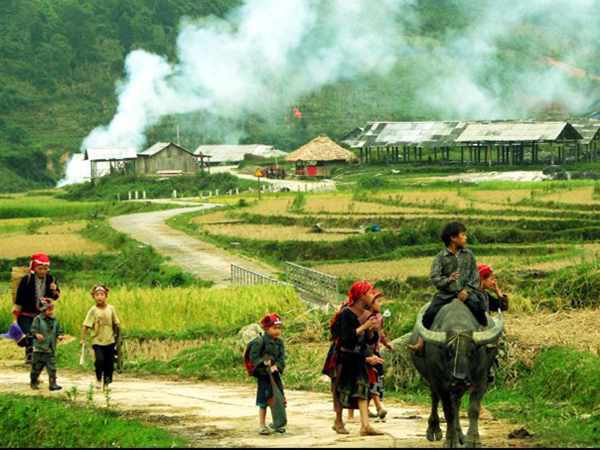 It is about two kilometers from Sa Pa town to Cat Cat village where still preserves traditional handicrafts of Hmong people like cotton cultivation, textile and jewelry manipulating. Especially, visitors can find out unique customs not in anywhere else. While you drop in Cat Cat village, you are perhaps surprised at how people's skillful hands make colorful, subtle brocade and obviously, you can learn sophisticated operation process to make the product if you desire to know. Furthermore, the houses in Cat Cat village are valuable to see for those people love architecture, house structure has included many ancient features: a 3- space house roofed Fujian cypress wooden plank, columns of house are chocked with rounded or square stones, walls are covered with timber, houses are designed to have 3 doors including one main door right in the middle and 2 side-doors. One more thing attracts tourists to Cat Cat village is that many unique traditions are in here as "keo vo" (pull wife) custom, weeding ceremonial, funeral…etc. Thanks to specific traditional culture beside beautiful scenery, Cat Cat village promises to be really one of  the most tourist attractions in Sa Pa.
Ta Phin village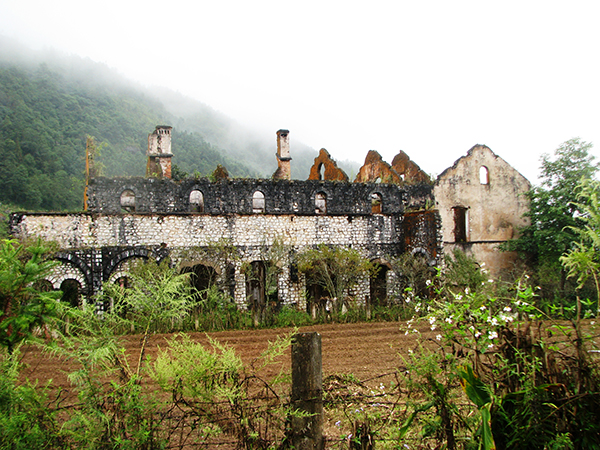 Located on the northwest of Sa Pa, Ta Phin commune is in the key tourism place of Sa Pa. The natural and original beauty along with the rich traditions of  Hmong, Dao tribes bring attractive tourism potentials for Ta Phin village. During visiting time in Ta Phin village, you will admire mountains extend endlessly with a lot of brilliant flowers, paved roads are likely to be smooth silks across mountain sides, two roadsides are overwhelmed terraces, alternate corn fields, indigo forests and fruit trees (peach, plum, pear…). The first stop in Ta Phin should be monastery, which is an old unique Western-style architecture built in the late 19th century. Overlooking towards the southeast, you see the spectacular beauty of Ham Rong mountain opposite to the monastery. Your trip to Ta Phin seems not to be completed if you forget to visit brocade club of Hmong and Dao people. Coming here, you will indulge yourself in watching brilliant colors in Hmong, Red Dao's traditional costumes, handmade items from embroidered clothing, pillows, backpacks, handbags, hats, mats to silver jewelry (necklaces, bracelets, earrings). Ta Phin is also fascinated by its cultural activities such as Dao's weeding ceremony held from August to December annual year, traditional festivals, specially, pan-pipe dancing, songs of boys and girls…surely, all these exciting things would be satisfied with tourists everywhere.
Notes for trekking villages in Sa Pa
If you intend to visit ethnic minority villages in Sa Pa, it is worth for you knowing some tips how to respect indigenous people's customs and make your trip more interesting.
Most of villagers are friendly and hospitable to visitors however it will be preferable to come villages in small group that causes least disruption and allows the greater communication.
When visiting villager's house, you are recommended to follow some simple rules to avoid offence to some ethnic minority people, and after all, show your respect to the host (only go inside a house when invited, remove your shoes before entering, always ask permission before take photograph with people)
One more thing, during your trekking time, you would pass mountain paths so to choose suitable clothes, good footwear like strong boots with ankle support is excellent preparing.