Located about 9 km from Sapa to the southwest, Fansipan is the highest mountain of Vietnam and Indochina with the height of 3143m. This is a exciting destination not only for explorers, adventurous people but also for young people wanting to experience and express their selves. Today, to help you take a safe and perfect itinerary, we would like to share you some tips to conquer Fansipan Summit.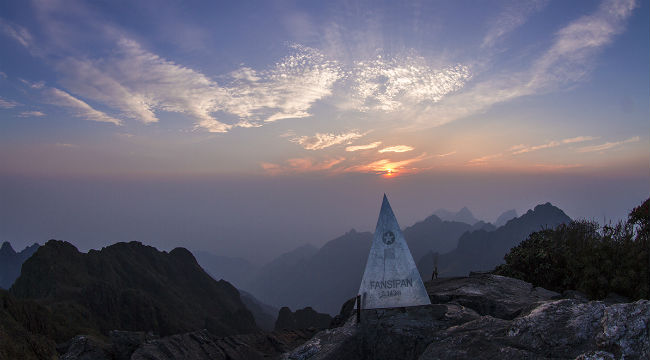 The best time for travelling
The best time to conquer Fansipan Summit is from September of this year to March of the next year. However, it's more wonderful if you travel at the end of February when the spring comes and all the brilliant flowers in the forest also bloom. If you travel at this time, it will be an unforgettable time for you and your partners.
Preparations for the climbing trip
Firstly, it's necessary for you to practice a good health before joining a climbing trip. If you plan to conquer Fansipan Summit, you should regularly do exercises, go for a walk every day and have an enough nutritional diet to have a good health for the trip. Secondly, you should thoroughly prepare the clothes and some essential items for the climbing trip because you can catch the different types of weather that can affect your health along the path to Fansipan Summit. It can take much time to continue the trip. Particularly, you should bring backpack (waterproof type, if any) or you can use nylon bags to contain all your items in the backpack; hiking shoes, high socks (knee – high socks, if any; you should prepare some pairs of socks to avoid being torn while climbing), glove, hat, food and drinks (it will be difficult to find food in the forest). Besides, you should also wrap your knees to decrease the injuries when getting contact with anything sharp along the path such as stone, tree, etc. You should not wear the tight clothes because it's not easy for you to travel. In addition, it's important to bring some medicines, tents, sleeping bags and some small items including handkerchief, toilet paper, pocket knives, toothbrush, toothpaste, flashlight, alarm whistle (used to inform others if the unexpected accidents occur), etc.
The particular itinerary
You will depart from Sapa to reach to Fansipan Summit. Some year ago, it was quite difficult to reach to Fansipan because of many influential factors; and it often took you about 5-6 days to reach to it. However, it now becomes easier for you to take a climbing trip only in 3 days, even in 2 days or only one day for the people with the good health. To take a suitable and guaranteed trip, you will need about 3 days. On the first day, you can travel from Sapa to Tram Ton Pass by car and start the climbing trip to conquer Fansipan Summit from this site. At the end of the day, you will have a stopover near a stream bank at the elevation of 1900 m, camp, cook the meal and stay overnight here after a long journey passing the mountains. On the next day, you will continue the trip to reach to Fansipan Summit at the elevation of 3143 m, have the meal and take the photos here. After that, you return to the stopover near a stream bank at the elevation of 1900 m to take a rest and come back to Sapa on the following day in other way.
It's essential for you to notice that the way to Fansipan is extremely difficult to climb, so you need at least 2 guides to help your trip more convenient.
Furthermore, this trip requires even your patience, determination and unity with your other partners. Overcoming the challengeous journey with streams, passes, high and dangerous cliffs, etc. Along the path, you will have opportunities to sightsee the majestic beauty of the mountains and forests, terraces with the green covering the whole sky.
The journey to conquer Fansipan Summit is never a boring trip for all young people and the explorers. Let's become the winners of the trip to conquer Fansipan Summit with a lot of difficulties and challenges that require visitors not only the good health but also the intelligence and quickness. To help all you take the necessary information and create a chance for you to explore and feel about the beauty of our country, if you have any problem, let contact us via [email protected] to be supported. For all the "believers" of tourism, we always welcome.
Thanh Nhàn