So, what've been in your mind when it comes to Sapa, Vietnam? There is no doubt that this destination is often the favorite choice for both domestic and foreign tourists all over the world. Sapa wins the travel lovers' heart with a number of interesting things, like the cool vibe, ethnic villages, grandiose mountains, etc. which are always beautiful and breathtaking for year-round vacations. You will not be disappointed by all mean since the experiences are really worthy and memorable.
In general, most of the tourists love making a Sapa trekking trip because this activity is considered to be one of the must-do things in this place. However, have you ever thought about joining in Sapa bike tours? There is nothing greater than biking on the dirt roads through the stunning mountains, the marvelous terraced fields, scenic routes, etc., right? Of course, all will surely give you a new and unforgettable experience. 
In order to ease your journey, we are glad to share with you the Sapa biking itinerary during 3 days and 4 nights so that your journey to such existing paradise in Northern Vietnam goes perfectly. Keep reading to enhance your knowledge right away!
Why should you choose Sapa Bike Tours? 
Of course, there are many convincing reasons why Sapa Bike Tours become the most favorite activity for many tourists. For them, this is indeed a great chance to learn more about a range of ethnic minority groups, obtain a new experience by riding on wavy roads, as well as contemplating the splendid landscapes of terraced fields and the eye-catching streams flowing across Lao Chai and Ta Van villages. If possible, don't hesitate to spend the homestay with the ethnic families so that you can have a better understanding of their culture, lifestyle, traditions, and habits, etc
Besides, motorbikes become convenient for those who love discovering even remote villages on their own since such two-wheeled vehicles can penetrate into any corner with ease. Hence, you are able to take a short break for about 15 to 20 minutes after riding a long journey or whenever you feel tired. The best part is that the biking tour helps you have some stunning stops to take impressive photos of the local people's life, see breathtakingly incredible scenes, or simply walk around well-known sightseeing places and enjoy local drinks. How great it is, right?
What to expect from this adventurous Sapa biking tour 3 days and 4 nights?
The first day: Undoubtedly enjoy full cycling
You will have a memorable night on the train to Lao Cai. To be sure, it is a nice idea to prepare a quality camera for unique pictures. After checking in Lao Cai Station, you should follow our local guide who picks up and transfers you to Sapa. And now, the trip begins.
The first stopover is Heaven's Gate which belongs to Tram Ton road. From here, there is no doubt that your interest will be satisfied by the bird's-eye view of the striking Muong Hoa valley. It seems a big pity to miss a chance of taking photographs
Next, let's cycling downhill on a dirt road going along Muong Hoa Valley to the Black Hmong village of Lao Chai where the Giay tribe mostly inhabits. During the route, you will have an amazing opportunity to marvel at breathtaking scenery of mountains and rice paddy terraces. Then, stop in a local house and have lunch with the host. Take a short break before continuing your biking trip along the valley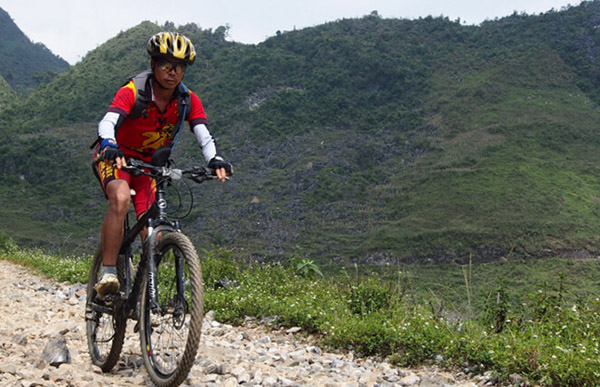 It's hard to deny the truth that some of you want to have a comfortable stay after a long journey, right? That's why the hotel of Topas Ecolodge is what we want to offer you. It attracts travelers with a perfect place that is located atop 2 cone-formed hills, as well as set deep in the Sapa valley of Northern Vietnam. In addition, based on sustainable principles, the lodge also ensures that it has a minimum impact on the surrounding environment. The highlight is the spectacular views of the surrounding mountains and valley. And what also leaves you from one admiration to another is the flawless dinner prepared by local employees. Therefore, don't be hesitant to check in your bungalow and have the first memorable night here.
The second day: Time to cycle far toward Lech village mostly inhabited by Red Dao minority group
After having breakfast, you will continue the Sapa Bike Tours to Lech village. And remember to take shots for magnificent view and scenes on the way! It is worth keeping in mind that the village is situated in a convenient place of Sapa and is home to the Red Dao hill-tribe – one of the most colorful minority communities of the area.
In general, Red Dao women are prominent with a long blouse over trousers while men catch tourists' interest through their short shirt and long trousers. The special thing is that both of them have the long-on-top hairstyle while the rest is shaved. Many women also have their eyebrows shaved. Enhance your knowledge by learning how such ethnic locals express their excellent embroidery skills and local medicines.
The rest of the day will be spent at Topas Ecolodge.
The last day: Let's say goodbye to your biking trip
In the final day, you will be free at Topas Ecolodge. Then, we guide you to explore some outstanding local markets around Sapa town. The good news is that there is often a market to visit on almost every day in the week, whether you travel Sapa on Thursday or Saturday. Such markets gain fame for their unique brocade products in different colors, which are ideal souvenirs for your friends and loved ones.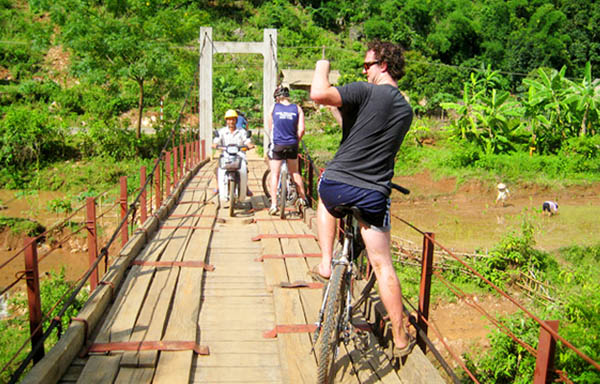 Friendly conversations, warm greetings, lively atmosphere, and funny gossip are what you can see in such traditional markets at first sight. And in Sapa, social interaction, unique customs, and colorful costumes are the highlights that hold your feet from leaving. The following is the list of daily markets in such region so that you can find it easy to join in any market during a week and arrange your travel itinerary. To be certain, such list is just made for reference.
Coc Ly Market (every Tuesday)
Such a medium-sized market brings you a chance to meet some of the local hill tribes, like the Nung, Tay, Flower Hmong, and Black Dao. The common goods include daily commodities, traditional costumes, cattle, and handicrafts. It seems a big pity to miss learning about their local culture.
Cao Son Market (every Wednesday)
As a small-sized market, Cao Son Market is where you can interact with ethnic H'mong and Phu La groups. Why it stands for the rest are the friendly minority locals, diversified goods and wonderful natural landscape.
Lung Khau Nhin (every Thursday)
What makes Lung Khau Nhin special is its location which is high in the mountains of the Tram Ton Pass. Lots of small tribes, such as the White Tai, H'Mong, and Tai Lu gather to sell their products. The peak time is 9.30 AM, so make sure that you come early for the best experience.
Can Cau Market (every Saturday)
Saturday morning is when Can Cau market is held. Since this market is situated just 7 kilometers from the Chinese border, it is easy to find minority people and other Chinese people from across the border. Colorful and vibrant are the best words to describe its prominence. If the locals invite you to enjoy corn wine with them, don't refuse their kindness.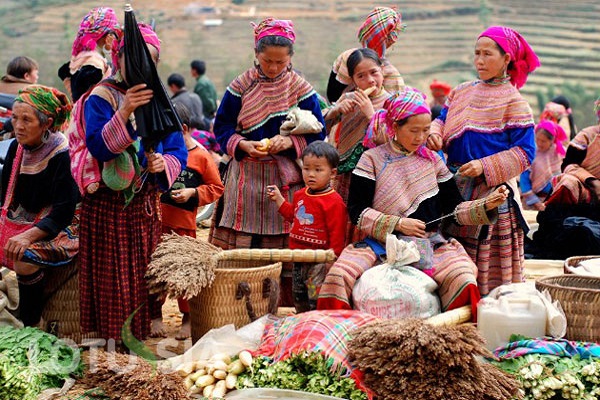 Bac Ha Market (every Sunday)
The trip to Sapa markets is imperfect without a visit to Bac Ha market. This is the most well-known and biggest market in Sapa. What you can find from this market are traditional costumes, handicrafts, and food. The major ethnic minorities are the Flowery Hmong, Tay, Nung, Black Dao, Phu La, and La Chi.
Finally, at the end of the day, travelers will have dinner in Lao Cai before boarding the train to Hanoi city. All in all, don't miss such worthy trip to Sapa as this is a wonderful chance to find out more about the fascinating lives of the ethnic minority communities and spread your eyes over the spectacular scenes around. While the picturesque views across the Ta Van Hoa Valley obviously take your breath away, a peaceful stay at the Topas Ecolodge wins your heart with the natural environment. In addition to trekking, cycling is also a brilliant idea to enjoy your discovery in this region.
So, what do you think about such Sapa Bike Tours? Each person has their own feeling and experience. However, it is sure that they gain so many interesting moments.