Sapa Christmas Tour is becoming a hot trend not only for those who love experiencing the coldness and snow falling but also for tourists who want to spend their Christmas time at the Sapa Rock Church or the Old Church. Many tourists choose this upland town for their Christmas and winter holiday for variant reasons but they have the same memorable and worth trips. Sapa in winter looks like the whole European miniature and you won't not find out any place other than Sapa to spend your winter holiday at the harmony of European scenery and the upland landscapes in Asia. That's why experiencing Christmas time in Sapa is highly recommended.
Conquering snowy Fansipan Peak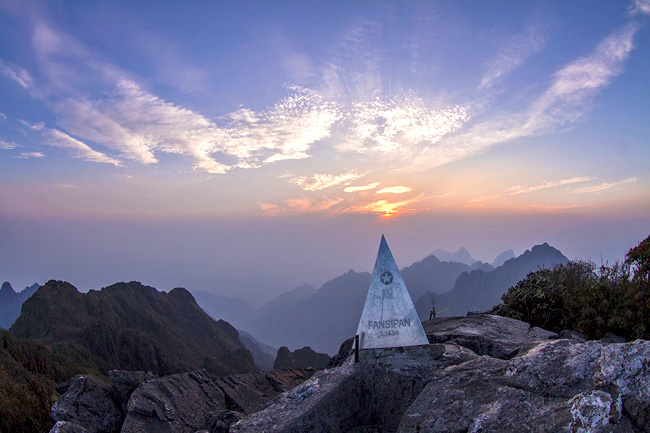 One of the best image of winter Sapa must be Fansipan Peak. Though it is an attractive spotlight of the upland town, whether in winter or in other seasons of the year, it seduces more and more tourists to come to the town then conquer it, particularly for whom love breathtaking adventures and discoveries. Being well-known as the Roof of the Indochina, it is an interesting target of risky travelers and the Peak becomes a hot spot when it appears snow falling, particularly often in occasions like Christmas, the Peak is almost covered with snow. In the middle of last December, Sapa was covered with snow that it looked so picturesque and splendid. Due to the effect of the cold atmosphere, the Northern Region of Vietnam is in cold and dry climate and it is 8oC to 21oC in Hanoi, and in the northern mountainous zone like Sapa, Lao Cai, the temperature is ranging from below 5oC to 21oC. However, it is not a normally cold winter like in other regions, Sapa in day light is dry and sunny, therefore, a trek or a mountain-peak conquest is highly recommended.
Fansipan is completely available for whom coming to conquer it and enjoy the best panorama of the town from the height of 3,143 m above the sea level under the fantastic snow falling at the same time. Spending your Christmas holiday in Sapa is a worth that you can experience the wonderment of extreme temperature difference in a day only by which has appeared snow on Fansipan Peak. On the 21st day, lucky tourist groups climbing up to Sapa's mountain were so excited when it was falling snow, though in a short moment. And on the 22nd day, snow was falling for a long time making mountain peaks to be covered with beautiful blanket of snow. Particularly, being the highest one, Fansipan Peak is indeed splendid and superb with the thick and gorgeous snow layer, which appeals to the excited conquerors to come and experience. If you are interested in exploring and enjoying the best beauty and the most superb image of the Mother Nature, Fansipan Peak conquering shall be a must, especially in winter holiday.
Trekking to Sapa's villages in winter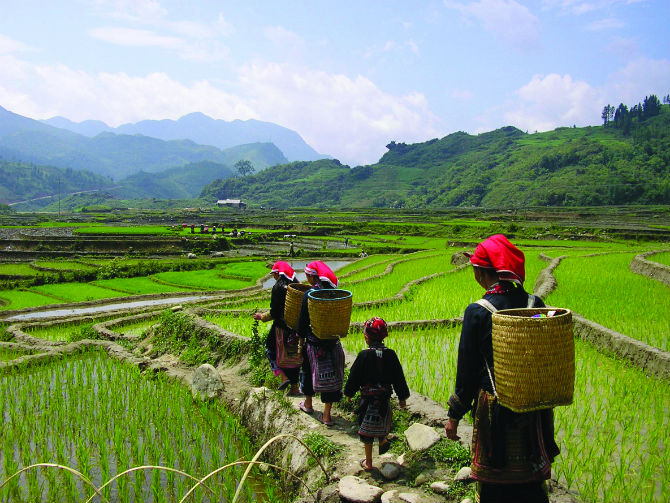 The first thing after your short break from your hours travelling on bus or train is to discover the town. It is worth you to trek to Ban Ho to witness the pristinely peaceful village and the picturesque hills, mountains and rice terraces, which creates the breathtaking Muong Hoa Valley and fascinating Bac Ha highland and for whom love risky and adventurous activities, the tough paths to the village is worth a try for stunning views and experience. Then Cat cat Village, about 1 km from Sapa town, is the second recommendation for the panorama of Muong Hoa Valley and the Cat Cat Waterfall, especially you will have an opportunities to explore the H'Mong ethnic's unique customs and norms almost remaining pristinely and buy some outstanding and sophisticated souvenirs like brocade crafts and silver jewelry. Next, you can pay a visit to Lao Chai Village situated on the bank of Muong Hoa River, Ta Van village where is the most suitable place for homestay, Ta Phin village for its marvelous rice terraces even though in winter, they look so stunning among the superb mountain ranges and snow cover. In particular, in a winter day and after a day trekking hard, you can't help enjoying the herbal bath – a kind of traditional treatment of the Red Dao in Ta Phin. While visiting these ethnic villages, you can watch the local to decorate their houses, purchase things for Christmas. In addition, do not forget to put adventurous activities on your must-do list during the trip, including conquering Ham Rong Mountain, sightseeing Sapa town in the fog in the early morning, visiting Orchid Garden, May (Cloud) Yard and Silver Waterfalls and many other stunning landscapes, contemplating Cong Troi, and going shopping at Lao Cai Market, Coc Leu Market and Ha Khau Border Gate.
Experiencing the illusory Christmas night in Sapa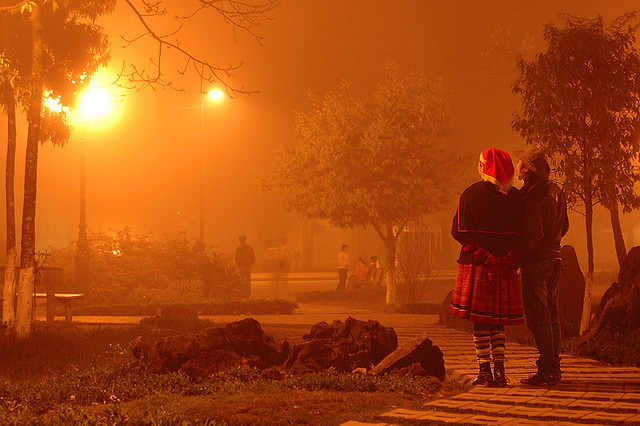 For a memorable Christmas holiday in Sapa, the Stone Church or Holy Rosary Church is a must spot because this is indeed a place where is held many traditionally cultural activities of the ethnic in the town and of course, for this moment, it is awaiting for celebrating Christmas. To celebrate this special occasion, on the 24th, people usually pour into the center of the town then mix with the exciting and bustling atmosphere in front of the Church to wait together for the important time of the Christmas night. In the 24th evening, you should join in Christmas and New Year Celebration Program with uniquely traditional dance and music performances and lots of interesting collective games making your Sapa trip more and more deserving to spend. It will be a very fantastic moment of the holiday when you and the local mutually pray at the Church to hope and welcome a new year full of happiness and luck. If you engage in a tour held by a travel agency, you can have a chance to attend in an exotic and interesting Champagne Party for celebrating Christmas, Christmas gift take-and-give activities, Christmas Gala Evening with attractive performances and activities depending on where you stay or the agency you choose. After such activities and having dinner, it is time for you exploring the nightlife of the upland town. All restaurants and stores look gorgeous and solemn with sophisticatedly decorative pine trees, Santa Claus statues and hundreds of colorful lights brightening the town covered with white snow.
Sapa in winter is beautiful like a legend of the Northwestern Zone of Vietnam, in which the landscapes and its people as well as the nature make it an impressive story of a place with illusory winter. It looks more attractive when the peach trees on the halfway of the hill are blooming, among the up-coming warm spring. Thus, Christmas in Sapa is a very worth.