To Sapa from Hanoi, there are many ways for you to make the trip like by train, by bus or by motorbike. However, travel by best train to Sapa is considered to be the most popular way as its safe and good services. There are both daytime and overnight sleeper trains between Hanoi and Lao Cai which is the province of Sapa. However, one suggestion for you is to book the overnight ticket of train because you have just sleep one night to get the place. The day-ticket train offers the hard seats so more tourists enjoy soft-sleepers, air-conditioned, four-berth cabins on the night trains…
The list of luxury overnight trains from Hanoi to Sapa
Victoria Express
Victoria Express train will bring to guest a strongly nostalgic feeling of transferring process from Hanoi to Sapa as its luxury style. You spend 8.5 hours approaching Lao Cai station. The train is available for 52 passengers with 2 carriages offering ultimate tranquility and uncompromisingly wide views. This brand is known as the most luxurious train, which is built two sleeping carriages. The carriage has been created 6 superior cabins and 2 deluxe cabins. All cabins are built air-conditioned, wood paneled, with individual reading lights, baggage storage, and toilets. Additionally, passengers also have an opportunity to enjoy the traditional delicacies of Vietnam. In the dining carriage, the menu is displayed 4-dish, which is available to get the best dining experience on train by pre-ordering when buying tickets. Finally, Victoria Express is being the most luxurious and excellent train as its high service quality and modern equipments.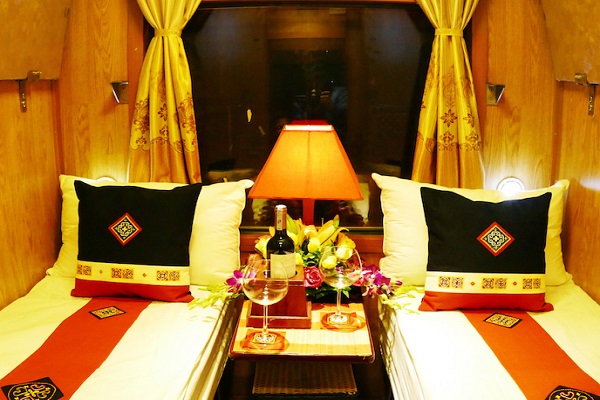 Sapaly Express
Sapaly Express Train completely ensures the essence services with high quality carriage that guests can fully enjoy their journey from the first moment they walk in and set their back on berth. Sapaly Train is revealed by the high-class interior that meets European standards. You will have a wonderful sleep in the carriage which is like a luxury room in a four–star hotel. Each cabin has four comfortable beds which ensures by the wooden furniture, blanket, warm light system, and most modern facilities. It ensures that you will enjoy in the lovely reminiscence of Sapaly hotel with cabins of 3-star standard. The carriage is constructed on 6 cabins instead of 7 cabins as usual, so each cabin is sure to be more convenient. Especially, Sapaly has 2 VIP berth cabins which are designed to dedicate to couples whose privacy is cared and placed on top of priority. Not just that, Sapaly Express Train staff members are always ready to offer guests the best customer care and complementary services like picking up for guests around Hanoi Old Quarter.
Orient Express
Orient Express is another best train to Sapa from Hanoi. A group of family members or close friends may find themselves fit in so well in a 6-berth cabin or a 4-berth one to stay through the night with collective joys. The couples prefer a more private and tranquil atmosphere by the VIP 2-berth cabins. You completely grace the passing sceneries through large glass windows. They are lovingly made out of wood-paneling interior coupled with the mysterious rouge theme.  You will feel to feel comfortable all the time in Air-conditioner with various channels of TV, reading lights, free snacks and water are parts of what makes a moving stay desirable. You also enjoy the foods on the carriages with an extra pay. The schedule of Orient Express is designed for having dinner in advance, it wastes about 9 hours in order to departure to Lao Cai. Orient Express does not have much to complain about, but guests have to think a little more when it comes to price. However, you need to pay a higher price as a higher quality.
Pumpkin Express
Pumpkin Express takes the 4th carriage of SP1 and SP2, which includes 7 cabins with 28 berths. The cabins are constructed by the most benefit objects and furniture. All cabins are built the equipped air-conditioners system with the suitable temperature. Pumpkin Express is divided their cabins into two kinds: 4-berth cabins and VIP 2-berth cabin. On a basis of extra payment, every ticket of customer will include water and bread for free and other dishes will be ready to serve guests. The public WC cabins are settled at two ends of each carriage. Pumpkin Express Train carries passengers daily with national trains with SP1 and SP3 fast train. This type makes your stay valuable at a reasonable ticket price.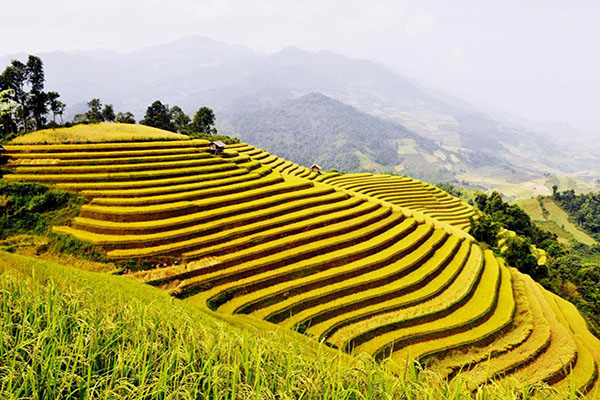 King Express
King Express is the good option of best train to Sapa for you if you look for properties with luxuriously designed cabins for your expectations of the overnight trains. On each carriage of King Express, there are 26 berths which are grouped into two types of cabins, including Deluxe cabins with 4 berths and Private Deluxe cabins with 2 berths. King Express is the good option for you as you can all experience the joyful vibe through the night. Private Deluxe is more privacy and intimacy to both of single or couple on their way. Through large windows you can admire the picture-perfect landscape of Northwest region. And there are many service you want like air-conditioned, free bottled water, refreshing wipes, and private toilet at the end of each carriage. This type of train has a fixed daily schedule going to Lao Cai station. The fast train SP3 and SP4 fast will start. Not only that the experienced staff of King Express is always ready to align with customers' need and bring them vacation's happiness.
There are 26 berths which are grouped into two types of cabins. For groups of travelers or families, you can all experience the joyful vibe through the night. Deluxe train is private by more privacy and intimacy to single or couple on their way.
Almost places you shouldn't missed
Sapa Stone Church
The ancient church is known as stone church which is located in the heart of Sapa town built by the French from the early 20th century. The French architect selected carefully about the terrain so it becomes a symbol of Sapa town. The shape and architecture of the church was built by cross. The whole church was built by stone that are linked by a mixture of sand, lime and molasses. The church of Sapa holds many traditional cultural activities of ethnic minorities. In the front of the church, there are many cultural activities or games like tennis, flute, trumpet leaves, "xòe" dance… created sparkling, magical atmosphere in Sapa.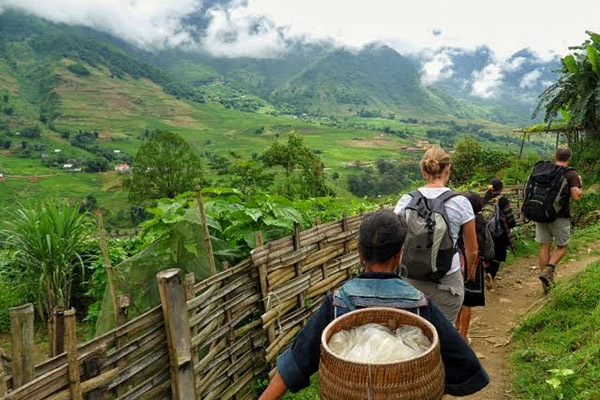 Cat Cat village
Cat Cat is the old village of ethnic groups which attracts tourists from all over the world for its distinctive customs and practices. After approaching the foot of the mountain by the motorbike or by car, you can walk to Cat Cat Village and its nearby hills provide an opportunity to see farms and techniques used by the people in the area. Cat Cat village is home of the Black H'mong people, who is famous for its brocade weaving craft as well as its gold and silver jewelry making. Actually, we believe that this is a good opportunity to purchase some traditional souvenirs and handicrafts right from the craftsmen such as twisting flax and weaving fabric.
Shin Chai village
Shin Chai is a community village. The host family always use almost their time to make textile weaving and dying and they are willing to teach tourists how to make textile and explain the names and function of the local flora. This is a home of the Red Dao ethnic people, where is special with the colorful clothes. There will be the opportunity to participate in the village community, there will be a traditional sporting activity and tree planting.
Ta Phin village
Visiting Ta Phin is one of the most popular activities in what to do in Sapa for 2 days. Firstly, passing the terraced rice fields then you will approach to Ta Phin. Ta Phin village is located in the Northeast of Sapa. Moreover, this village is bordered by mountain slopes with the rice terrace fields. There are two ethnic groups living in there including the Red Dao and the Black Mong. Therefore, it is this time for the tourists experience the unmixed cultural life of Black Hmong and Red Dzao minorities. You come to Ta Phin can find many distinctively hand-made brocades made by ethnic people. All of the products have numerous bright colors and patterns such as a bag, purse, skirt, and even backpack and coat.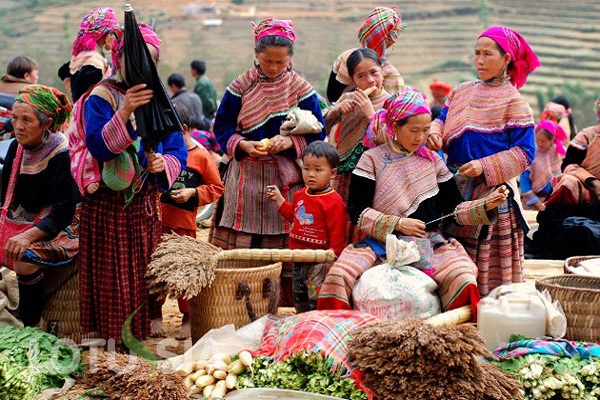 Muong Hoa Valley
Muong Hoa is known as the largest farmland for rice growing in Sapa, which is one of the most famous places for breathtaking scenery. This valley is located on two lines of the mountain – south-east of SaPa town. It is far from town about 14 kilometers. To approach Muong Hoa Valley, you can trek along Muong Hoa River. On the way, you can learn more about how is the rice cultivating. Muong Hoa valley is known as a valley with blooming of colorful flowers in a wide range of various beauties.
Bac Ha market
Bac Ha market is the largest market. To approach the market, many ethnic groups pass the mountains and hills. Yet the distance has never discouraged them from joining the Sunday colorful market. The main square is separated in order to display the particular products such as handicrafts, food, horse, poultry and blacksmith. Each has its own trait and worth joining. It is not simply a place for buy and sell but also an opportunity for people from different ethnicities to come and meet. If you want a relaxing place to get away from the tourist crowd in Sapa, this market is the option. It is worth investing for the road is curvy and challenging, even after significant improvement.