Sapa is situated in the northern part of Vietnam which is famous for its picturesque hills, endless mountain ranges, the terraces rice and home to eight different ethnic Vietnamese communities. The Hmong and Dao ethnicities are the dominant peoples of the Lao Cai region and many women from these tribes have assimilated into the touristic town that Sapa has become. There are many options for you overnight in Sapa like hotel, homestay, resort,… However, the almost foreigners who want to get the experience on the trip will choose homestay to overnight as it is not only cheaper but also close the local living.
Phori's House – best homestay in Sapa
Being one of the best price homestays in Sapa which is searched the most by young tourist, Phori's House also attracts a large number of visitors who love the peaceful nature of this mountainous north. Someone wants to stay in a wooden, Phori's House is a good choice. All the rooms at Phơri's House offer views of the valley and terraced fields. This house is lovely and unique to every detail. Every morning, Phori's House is filled with the smell of essential oil and charcoal extremely comfortable, giving you a warm and familiar feeling. In the garden, there are many clean vegetables. And the kitchen is full of gadgets for anyone who loves to cook. In addition, there are also wines, teas, and coffees for visitors. If you are here, limit the use of plastic bags and plastic bottles. Instead, you can use a home-made canvas bag. And, of course, split the garbage into three categories in accordance with the rules of the home.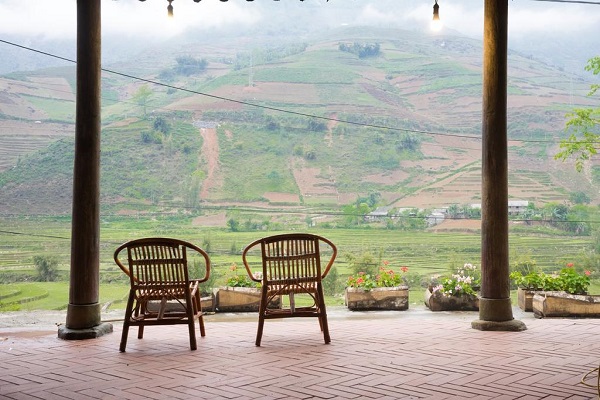 This best price homestay in Sapa can be an ideal choice in Sapa for someone whose favorite is nature. In front of the house, there is a small stream, make you feel like it's completely gone in crowded streets. You can blend with nature and enjoy your full holiday. You can go out in front of the stream, sit on a large stone and enjoy your favorite book. In the afternoon, you can walk a little higher up, sit down on a field and look down under the terraced fields, enjoy fresh air and peaceful nature. And that is enough. Enough for a few days to really relax, do nothing, do not think of work, just feel like home.
The last great detail is the price of this homestay in Sapa. It only costs $ 30 / night / double room and 10$/person extra. You also can book the whole house for 120$/1 day for up to 14 members. Luckily, it does not raise the price in Tet or the other holidays. Moreover, at some services around, you say the name of Phơri's House, you will be reduced by 10% – 20% for all invoices.
Sapa Charm Hotel – the best homestay in Sapa
If you find out the luxury hotel, please search for a four-star hotel like Sapa Charm Hotel. This hotel is admired for its location, charm, and facilities.
It is located at 32 Muong Hoa Street, about 800 meters from Sapa town center, a quiet part of town. This hotel has 150 international-standard rooms and suites. The foreigners will enjoy the services and quality of all rooms which are elegantly furnished. Especially, the staff is all local and friendly. They already respond all your double for the trip.
Sapa Charm Hotel has a 24-hour front desk and guests can relax with the entertainment system like a spa center, bar, and restaurant. Sapa Charm Hotel will make your time in Sapa even more memorable.
Viettrekking Homestay – best homestay in Sapa
If you have a budget, Viettrekking Homestay can be your best option when you come to Sapa. Located at the end of Hoang Lien street, VietTrekking Homestay is an address cannot be better for visitors, especially people who love to explore the magnificent landscapes and rich cultural values of ethnic groups here. This is one of the best price homestays that will bring you the feeling of waking up every morning and thinking that you are in a paradise rather than Sapa again!
Situated opposite Hoang Lien mountain, VietTrekking Homestay is completely separate from the hustle and bustle of downtown, suitable for those who want to find somewhere simple and peaceful. However, this beautiful homestay is quite close to the center that you just take about 5 minutes to move here. It's extremely convenient.
The most special point of VietTrekking Homestay is the view of the beautiful cloudy sky. This small house in the cloudy sky is an ideal place to admire the sunshine every morning. Leaving your eyes to the left, you will see the radiant dawn on the floating cloudy sky. Leaving your eyes to the right, you can admire majestic Fansipan and Hoang Lien mountains
While Hanoi or other places are on hot summer days, in VietTrekking Homestay, you will see four seasons are available in one day. Morning is spring; the midday sun is like summer; afternoon is windy autumn and night is the cold winter.
VietTrekking Homestay is not too spacious. There are 6 rooms including 4 single rooms, 1 double room, and 1 public room. In addition, the price is quite affordable: $ 8 / night / single room, $ 13 / night / double room and $ 2 / room extra on weekend. With the public room (for up to 12 members), VietTrekking Homestay offers only a modest price of $ 3,5 / person. It is really a reasonable price for all of its comfortable services and magnificent view.
Topas Ecolodge Resort – the best homestay in Sapa
Located in Hoang Lien National Park, Topas Ecolodge is a serene way to experience North Vietnam. Built in 2005, the Ecolodge was designed and furnished with high quality. Additionally, stay here you will be easy to approach the numerous colorful ethnic minority villages, highlights and discover Vietnam's ethnic minority culture. After a tired day, you should soak in herbal baths or enjoy a massage. Moreover, the resort has just built a pool which is perfect for swimming or relaxing on a poolside lounger with the soundtrack of nature and a drink from the pool bar.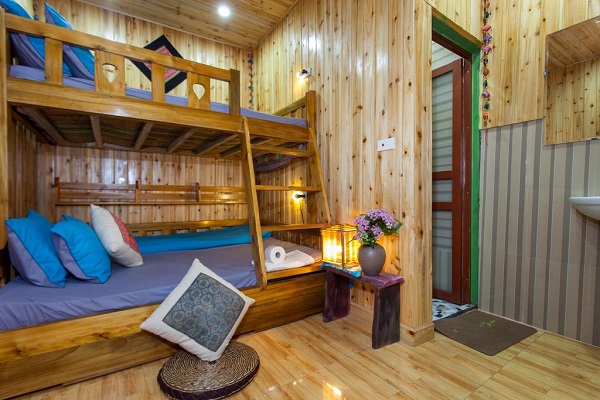 Little Sapa – the best homestay in Sapa
Little Sapa Homestay is only a five-minute walk away from Notre Dame Cathedral. You will be offered within the well-furnished rooms, wooden paneling, and local handicraft decorations. One of the most attractive things is that you can cook your meal in the kitchen and learn to cook some local delights. There is a 24-hour front desk that offers a range of services, such as helping you plan tours around the region, transport back to Hanoi or elsewhere, or arrange motorcycle rentals. No doubt, at night in the winter, you will be served the electric blankets in order to keep warmly.
Come to Sapa, you have many places to relax in the trip, especially, if you stay in this homestay, it is easy to move between destinations. Not only that, you can get more the culture in Vietnamese through meal.
Tavan Riverside Homestay – the best homestay in Sapa
Ta Van Ecologic Homestay is located within a stone's throw of Muong Hoa Valley's river so it is very convenient for you to visit Ta Van because this is the place visitors cannot miss when coming to Sapa. You will be offered the welcoming fruit is going to be nothing short of sweet. The place is everything you need, clean and comfortable by the wooden huts with en-suite bathrooms. Thus, there is a comfortable dormitory option for backpackers, and these shared facilities are cleaned multiple times a day. Otherwise, you can enjoy the atmosphere in the garden, restaurant. All rooms offer simple décor with bed linen, fan and mosquito netting. Guests have shared bathrooms with shower facilities and towels. Moreover, you can enjoy the most popular dishes in the homestay such as bun cha and papaya salad in particular. If you want to try the European and China foods, please order.
What are the most popular destinations in Sapa
Cat Cat village
Cat Cat village is known for its distinctive customs and practices kept for a long time. This village is home of Black H'mong people so it is easy to learn about the culture. You can view the village of Sin Chai. You have breath at the mountain air in the highland. Red Dao ethnic group live in this village. In Shin Chai, the woman wears the beautifully embroidered clothes with distinctive an enormous red turban and the silver jewelry so it is an attractive point.
Y Linh Ho
You will visit some H'mong families and watch them doing their daily works. Y Linh Ho village is known as a small commune offering by many small hamlets scattering on the mountain terrain. Y Linh Ho village is home of Black H'mong who usually wear the dark clothing and navy dyed with indigo. You can see them in the hands of older H'mong women. Their houses are constructed on their farmland. You come to Y Linh Ho can find many distinctively handmade brocades made by ethnic people. You should buy some souvenirs as they have numerous bright colors and patterns such as a bag, purse, skirt, and even a backpack and coat.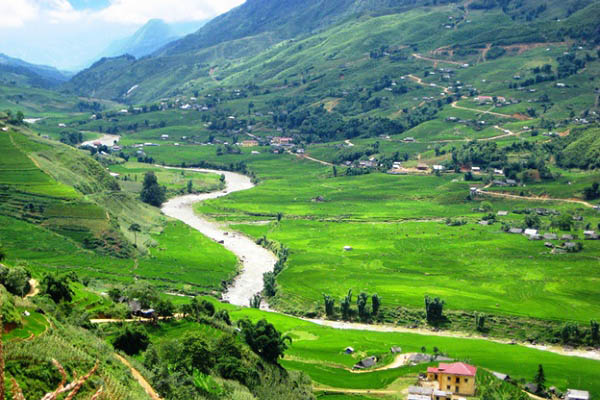 Lao Chai village
In Lao Chai village, you can find the traditional custom of them, especially their clothes. The women of Black H'mong make their clothes from hemp. The women usually wear long blouses,  wrap long scarves around their legs and a blue turban. The men wear long jackets with shirts, along waistcoat embroidered, and a small hat. However, currently, some H'mong wear Viet clothes.  Come here, you will admire the overall pictures of the villages and visit the H'mong people living in the wooden and bamboo houses.
Ta Van village
You will continue to trek to Ta Van village, which is the village of Zay minority. You will admire the plenty of stunning landscapes. Moreover, you have a chance to get the rich cultural heritage of them through many songs. You can see women who wear a five-paneled vest, the trousers and a turban around the head. In contrast, Zay men are more simple, for example, they wear the trousers, short vests with a turban around their heads.
Giang Ta Chai – Su Pan village
Giang Ta Chai village is the home of the Red Dzao minority. During the trekking route, you will admire the majestic terraces, the silver waterfall, and suspension Rattan Bridge. It is a chance to meet the local people, interact with them and share the cultural experiences with their families. Red Dao women usually wear a long blouse over trousers, distinctive red triangular shaped turban. The men typically wear a short shirt with long trousers, and a headscarf. Both men and women have a square piece of fabric on the back of their shirts which represents that they are children of God.
Crossing the Muong Hoa river and trekking up to Su Pan village, you can interact with the local people and visit a primary school of Su Pan commune.