Vietnam offers more than golden sand beaches and blooming rice paddy fields. It is difficult to find these hidden landscapes because you must often venture across bumpy roads and confusing routes but this is exactly what makes Vietnam unique. Sapa is a mountainous located in the Northwest of Vietnam where has many wonders of the natural scene. The clouds in Sapa attract tourists with majestic mountain views and the unique experience in the region of ethnic minorities. Sapa is a paradise of mountain, stunning landscapes and the traditional foods. We will give you the necessary tools to make  stress-free this trip from Sapa bus station in this detailed article in order to get the real feeling.
Don't waste your many time, you just spend 5 hours approaching to Sapa from Hanoi follow the highway. The advantages of the transferring by bus is coming straight to Sapa town and not stopping at any stations, Sapa buses also run similar to night train.

Getting to Sapa by train
Depending on the running train time, you should take a taxi from your hotel before 30 minutes to avoid missing. Traveling by train takes about 8-9 hours and the train only stops in Lao Cai, the province which Sapa belongs to. However, you need to take another hour to get to Sapa from Lao Cai station. The final 30 kilometers to Sapa is travelled by minibus (50,000 – 60,000 VND), taxi (350,000 VND) or private transfer ( example hiring motorbike, or bus of tour firm).
Train often departs at between 8p.m and 10p.m, and you can catch a good sleep before getting worked up by the beautiful mountain scenery at dawn. There are also day trains which are not as comfortable as night train. It also takes a longer time to travel as it makes more stops. Ticket for night train is 700,000 – 1,600,000 VND/person/way (the most expensive one is Victoria express which is exclusively for in-house guests). Ticket for day train is 200,000 – 400,000/person/way
However, nowadays, most visitors choose to get from Hanoi to Sapa by overnight train; it's more comfortable and safer than a bus or motorbike, and a lot cheaper than hiring a car. One of reasons is when you choose a private operator, you will sleep in private, clean and comfortable cabin with four berths and fully equipped. Seats or beds can be booked through travel agents in advanced so it's very convenient for you. Although the overnight sleeper trains can bring new feeling for you, many people find it hard to get any decent rest on board and therefore you should arrange some hours in the next day to catch up on sleep.
Getting to Sapa from Hanoi by bus
Sapa can also be reached by bus which is faster but it is less comfortable and less safe — although there have been no reported serious accidents on that particular route, if you can't get booked on the train or want an option with cheaper price. There are two options for you: by sleeper bus or express Hanoi to Sapa bus. By sleeper bus, it takes you 8-9 hours to go directly to Sapa town.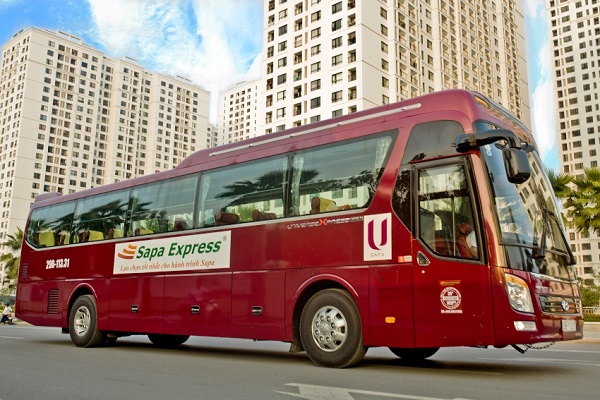 You can catch the bus at three bus stations such as My Dinh, Gia Lam, Yen Nghia and Nuoc Ngam with the bus named Hung Thanh, Hai Van or Ha Son. There are daily buses departing Hanoi at 6.30a.m or 10p.m with the price is around 250,000 – 350,000 VND. The method is getting Sapa from Hanoi by Sapa express bus departs daily at 7a.m on Lao Cai highway. It takes about 6 hours to drive from Hanoi to Sapa, depending on traffic and weather. This kind is quickest and easiest way to travel between two places. You will enjoy the scene of the Vietnamese countryside along the road. Your tour guide meet you at the Sapa bus station, and you depart by minibus.
Several destinations you should come to
From Sapa bus station, you can take a mini bus to some places, however, from the stopped places of bus to the destinations, you need a walk and take a motorbike.
Cat Cat village
Cat Cat village is located near the bottom of the deep valley right at the foot of Fansipan Peak and situated in a beautiful valley about three kilometers from Sapa Town. The old village of ethnic groups attracts tourists from all by its distinctive customs and practices. This is a village of Black H'mong people where you can discover many interesting facts about their daily life as well as culture and architecture. Next, coming here you can buy several traditional handicrafts right from the craftsmen such as twisting flax and weaving fabric. Coming this village, you will see traditional clothing being made, hemp being dyed and women weaving.
Shin Chai Village
After passing Cat Cat village, you shouldn't miss Shin Chai village. You will enjoy the breath of mountain air while gracing the mountains and forests from above. The Red Dao ethnic group live in this village, they wear the beautifully embroidered clothes with distinctive an enormous red turban and the silver jewelry so it is an attractive point. Then you should take a walk around an ethnic minority village and interact with the local people. Especially, you will join some activities of local people. For example, All the kids in the village will be your companions so you can fall in love with them. They will be around all the time, singing, dancing or anything to make you smile. Moreover, you can teach them songs when you were a child.
Lao Chai – Ta Van village
You admire the spectacular natural scenery with the terraced rice fields. Not only that you can explore Ta Van where you can grace the life of ethnic minorities. Coming to this village you know how they make their traditional clothes, handicraft, indigo… During the time in Ta Van village, you are recommended to taste some special dishes of ethnic Giay such as roast fish, horse meat, sticky rice, enjoy festivals, folk games: Nao Cong, Roong Pooc…or participate in tours of the village. Of course, the biggest valley which you shouldn't miss as it offers to the awesome landscape of the golden rice terrace field in Vietnam. Continuously, coming to Ta Van which is a small group of Dzay people in Northern Vietnam, they still keep a rich and traditional culture.
Muong Hoa Valley
Muong Hoa is known as the largest farmland for rice growing in Sapa. Not only that Muong Hoa valley is one of the most famous places for breathtaking scenery. This valley is located on two lines of the mountain. It is far from town about 14 kilometers. To approach Muong Hoa Valley, you can trek along Muong Hoa River. On the way, you can learn more about how is the rice cultivating. Muong Hoa valley is known as a valley having a various colorful flowers in a wide range of beauties.
From afar, you can grace the streams downhill to the floor forming the Muong Hoa. Continuously, you cross the small town and rice fields of the ethnic minority people of H'Mong, Dao, and so on. They have been working on the sloping land and living their own ways for hundreds of years.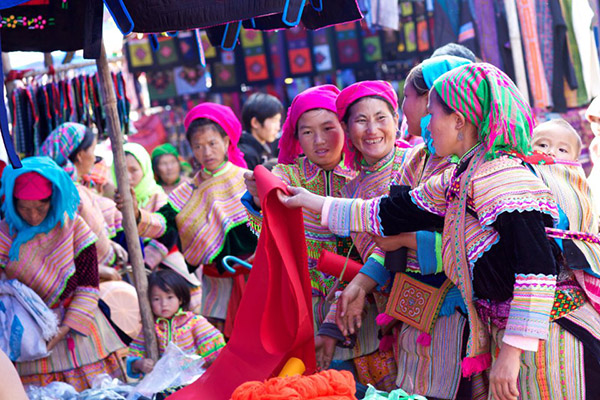 Bac Ha market
If you want to learn the culture of a region, let's come to one of the markets in there. Especially, you can take a mini bus from Sapa bus station. The sapa market brings the original culture of highland periodic market sessions still remain the same. Dao, H'mong people and so on will bring many home-made items brought to the market to exchange for other items or to sell for money. On the weekend, Sapa Market is more crowded as it is the right time for people from all remote villages to gather in one place. This market is the place where happens the business exchange, even make friends. It's a cultural highlight that people love and hope to maintain.
For example, you can experience in Bac Ha market which is the largest market in here if you travel on Sunday. This market in the Northern Vietnam is always the colorful meeting places for the hill tribes. There are many ethnic groups such as Flower H'Mong, Nung, Day… come to the market with multi-color traditional clothes. Come here you can buy souvenirs to your family and enjoy the particular foods. Not only that, you can enjoy many delicious foods such as Bamboo cooked rice (Com Lam) cooked by sticky rice, five-colored "Xoi Nam Mau", chicken of Mong ethnic people, fruits…