Have you ever been fed up with the busy and cramped life in your city and wanted to escape from it to do something new and special even once in your life? Let's join Sapa tours with us to explore this journey of "hunting the clouds" in Y Ty!!!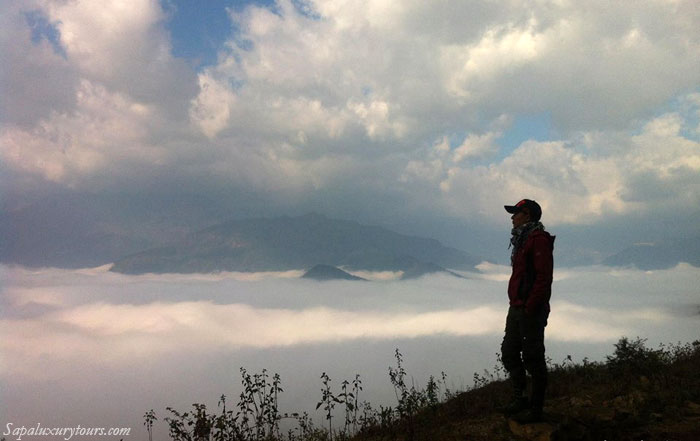 For those who haven't ever known about Y Ty, this land has ever been regarded as an out-of-the-way area of the northwest. Located about 100 km from Lao Cai City, Y Ty is a highland commune in the west of Bat Xat District, Lao Cai Province. Y Ty is called as "the land of fog" because the clouds cover all year round. To have a safe and advantageous journey, you should "pocket" the following helpful experiences:
1. Means of transport
From Hanoi, you can catch the night train to Lao Cai and stop at Lao Cai Station at about 7 o'clock. You can also reach to Lao Cai by coach at My Dinh Station, Luong Yen Station, Giap Bat Station or Gia Lam Station. From here, you can hire motorcycle to reach to Y Ty. It's necessary for you to choose the strong motorcycles because the streets here are zigzag and quite difficult to travel. There are 2 ways to reach to Y Ty from Lao Cai Station:
1: Lao Cai – Bat Xat (11km) – Trinh Tuong (26km) – Lung Po (19km) – A Mu Sung (7km) – A Lu (7km) – Ngai Thau (5km) – Y Ty (7km): however, it's quite difficult to travel from Ngai Thau to Y Ty in the rainy season because of swampy ground.
2: Lao Cai – Sa Pa (38km) – Muong Hum (42km) – Den Sang (10km) – Y Ty (29km): This road is nearly asphalted, but you should bring more petrol because there are few petrol stations along this road.
Like the journey to Sapa, you can refer to the article How to get Sapa from Hanoi to get more detailed information.
2. The wonderful landscape
Located at an altitude of 2000m, Y Ty is covered by the clouds and fog all year round and the sun rarely lights enough all day. Y Ty is famous for the zigzag roads, the peaceful valleys, the twinkling terraces under the yellow sun lights, the small simple houses of the ethnic people, the colors of the old jungle, and the clouds in harmony with mountains. Coming to Y Ty, you should drop in on Muong Hum Market. Like other highland markets, the market in Y Ty also brings the cultural colors of the ethnic minority people in the northwest. This market sells all types of handmade products, clothes, jewelries, handicrafts, featured food, fruits, etc. Furthermore, you should also visit Hong Ngai Hamlet, Sin Chai Hamlet and Lao Chai Hamlet with the special architecture of Mong ethnic people; sightsee the nice impressive road A Lu in the rice harvest, and especially "hunt the clouds" in Y Ty with the Trekking Tours. It's interesting to sightsee the beautiful sunrise and sunset on the cloudy sea in the early morning and in the early evening.
3. Accommodation
There are quite many guest houses, mainly houses on stilts built by the native people here. Almost these guest houses have the simple architecture and a limitation of services. Therefore, you should make a reservation to avoid lack of rooms. You also hire houses of the native people to stay with the reasonable prices. You can contact some addresses as follows:
– Mrs.My: Tel: 020 3501320
– Mrs.Si: Tel: 0127 456667 (serve food if require)
– Minh Thuong Guest House (opposite Y Ty Market): Tel: 0948 840483 – 0916 729534
4. Other notices
You can enjoy the meals in the houses of the native people if you stay in their families, or refer to some following restaurants:
– Restaurant of Mrs.Le: Tel: 01244413718
– Vong Hang Restaurant: Tel: 020 3501299
Moreover, Y Ty is a border commune adjacently to China, so you need to inform your presence to the border posts where you pass by. You must submit your ID Card to the border guards here, so you should prepare the confirmed copies of your ID Card when the hirers require ID Card for hiring motorcycles in Lao Cai. In case of happening any unpredicted problems, contact Mr. Dung, the commanding officer of Y Ty post, tel: 01279999368. In addition, you should prepare food, drinks, woolen hats, coats, gloves, sleeping bags, and thin blankets to ensure that there are no dangerous situations occurring unexpectedly and keep warm at night because the weather in Y Ty is differential between day and night.
Reference the Market tours, Trekking Tours.
By Thanh Nhan