Sapa is one of the most prominent tourist destinations in Northern Vietnam. Every year, this city welcomes millions of tourists from many places in the country and from abroad. That's why it has many types of accommodations here, varying from budget homestays to luxury hotels. If you want a modern, comfortable, convenient place and easy to move, staying at a hotel is a good choice. Here is a list for you to choose what is the best hotel in Sapa that's highly recommended by tourists.
1. Victoria Resort & Spa – The best hotel in Sapa of luxury
This hotel is located in the heart of Sapa town in Lao Cai province. From here, it's very convenient to get access to many famous destinations of Sapa such as Ham Rong tourist area, Rock church, Fanxipan cable car, Cat Cat village…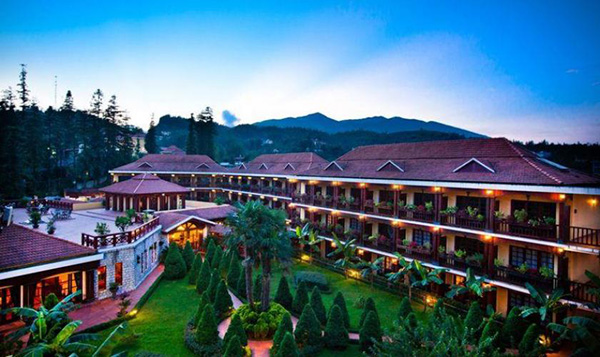 Opened in 1998, the Victory became the first and only luxurious hotel in Sapa that time. Set amongst Sapa's natural beauty of Mount Fansipan, Victoria Sapa Resort & Spa has been designed to make the guests experience something different and unique – being close to nature and the local living, with more than 30 colorful hill tribes. The hotel is designed as a traditional mountain chalet with accented wooden décor and a welcoming stone hearth fireplace which overhangs the village and blends perfectly with the natural surroundings. All rooms have free Wi-Fi, beautiful décor and private balconies overlooking the surrounding forest. Featuring 77 well-equipped & elegantly adorned guestrooms where views of the sprawling garden or Mount Fansipan can be enjoyed.
Here, guests are served with the finest services including high-end restaurant, heated swimming pool, gym center, spa & sauna, tennis court, business center… The resort features a Victoria Kid's Club located near the rabbit garden and comes equipped with TVs, cartoon DVDs and toys, bound to keep the children entertained. Babysitting is also available if you have requested. This hotel has rated as ''best hotel in Sapa" by many tourists.
2. Pao's Sapa Hotel
Pao's Sapa Hotel is the first 5-star hotel in Sapa. There will be many surprises for you when stopping here – the best hotel in Sapa for now.
First, it is a quite convenient location for you to travel to many famous spots such as Cat Cat village, Ham Rong resort, Sapa market, Fanxipan cable car,… Inside and outside, the design of this hotel is no different than an international hotel. The most interesting point, that's you will have a beautiful view, from Pao's Sapa, you can admire the scenery of Muong Hoa valley or the terraced fields far away.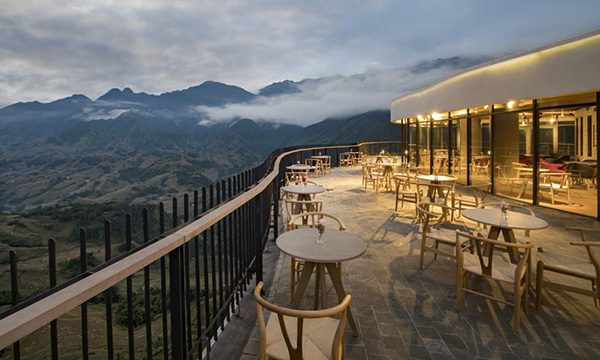 Pao's Sapa Leisure Hotel offers 223 rooms including high standard rooms and deluxe rooms with full of facilities and services 5-star standard. They are designed in trendy merchant style. All are equipped with thoughtful amenities such as bathrobes and slippers, refrigerators and electric kettles. Free Wifi and balcony or terrace are standard facilities and services, as well as LCD TV with cable channels. The charming curves of the hotel block are designed in harmony with the surrounding landscape.
In addition, the hotel provides dining and relaxation options with local or international flavors to satisfy all your needs including Restaurant, rooftop bar, indoor heated swimming pool, gym, wellness area Spa… Modern, luxurious, away from the noisy city, enjoy right on the "view" close to heaven… That's why Pao's is called the best hotel in Sapa.
3. Amazing Sapa Hotel
This is another good choice for you when finding the best hotel in Sapa. Situated in the heart of Sapa town, conveniently located with shopping, restaurants, and local attractions, Amazing Sapa Hotel is proud to be a 4-star hotel in the center of the town with the looking out to Muong Hoa valley and Hoang Lien Son Range.
This hotel is designed with a sophisticated style, spacious rooms, and attentive service, providing guests with a comfortable and relaxing stay.
Amazing Sapa has 81 rooms which are all nicely decorated to provide the guests with a memorable stay. All have impressive views of the surrounding mountains and terraced fields.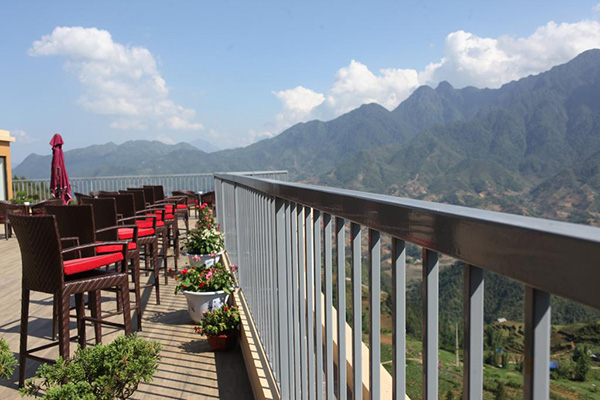 Features in the room can meet the needs of all the guests. The air-conditioned rooms have heating facilities, a work desk, minibar, flat-screen cable TV and a seating area. Private bathrooms come with shower facilities, towels, and slippers.
When staying here, you will be immersed in the heated swimming pool while watching the clouds ruffled on the head, or experience spa services, 5-star massage, or have the fun time with friends. It features karaoke and bar service in the basement of the hotel. Guests can also enjoy on-site laundry service/dry cleaning, coffee shop, 24hr room service, meeting facilities… to bring you the complete holiday.
4. Sapa Panorama Hotel
Sapa Panorama Hotel is a quite well-known hotel in Sapa Vietnam. It is ideally located in the center area of Sapa town, just below the famous Victoria Sapa Hotel and 100 meters from Sapa Church. It offers fantastic views of Sapa town and the spectacular nearby Fansipan mountain range.
Being a modern building with panoramic views of Sa Pa town and Hoang Lien Son mountain range, the hotel has 45 luxuriously designed rooms with modern amenities and a variety of high-class services.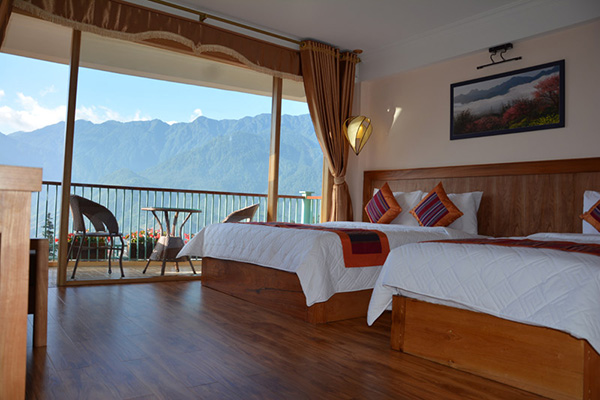 Guests can enjoy complimentary Wi-Fi access, a daily buffet breakfast, and a free city map.
All rooms feature air conditioning and heating systems, a flat-screen TV with cable channels, a wardrobe and a minibar. The attached bathroom comes with shower facilities and a hairdryer. Cau May is opened from 06:30 to 21:00 serves Asian and Western delights. Facilities include a tour desk, a business center, and a 24-hour front desk. Guests can request services such as laundry, luggage storage, massage and airport shuttle…
Sapa Panorama hotel will make you feel the comforts of a wonderful hotel with a great location. Moreover, you have a chance to experience the warmth, enthusiasm, and efficiency of the staffs here. They're ready to help you with any of your requirements. All this equals a wonderful holiday with great memories. This is really the best hotel in Sapa for you.
Here are some hotels highly recommended by tourists, who have directly experienced the service there. You can choose your own best hotel in Sapa, it depends on the budget of your trip as well as your traveling taste. Wish you a fun and memorable trip!