Sapa is one of the most attractive tourist destinations in Northern Vietnam which has a wide range of accommodations. To get the most memorable trip, you should find out the best hotel in Sapa Vietnam with reasonable price. Sapa is famous for plunging valleys, towering mountains, and green rice terraces. You will experience in the trekking Fansipan, Ham Rong mountain and several villages.
Victoria Resort & Spa – The best hotel in Sapa of luxury
This hotel is located in the heart of Sapa town in Lao Cai province. From here, it's very convenient to get access to many famous destinations of Sapa such as Ham Rong tourist area, Rock church, Fansipan cable car, Cat Cat village…
Opened in 1998, the Victory became the first and only luxurious hotel in Sapa at that time. Set amongst Sapa's natural beauty of Mount Fansipan, Victoria Sapa Resort & Spa has been designed to make the guests experience something different and unique – being close to nature and the local living, with more than 30 colorful hill tribes. The hotel is designed as a traditional mountain chalet with accented wooden décor and a welcoming stone hearth fireplace which overhangs the village and blends perfectly with the natural surroundings. All rooms have free Wi-Fi, beautiful décor and private balconies overlooking the surrounding forest. Featuring 77 well-equipped & elegantly adorned guestrooms where views of the sprawling garden or Mount Fansipan can be enjoyed.
Here, guests are served with the finest services including high-end restaurant, heated swimming pool, gym center, spa & sauna, tennis court, business center… The Victoria Kid's Club in the resort is equipped with TVs, cartoon DVDs and toys. This hotel has rated as ''best hotel in Sapa" by many tourists. The luxurious traditional mountain with the surrounding scenery allows guests to enjoy something truly distinctive. You must pay from USD 150 to USD 250 for a day, of course, you will be satisfied with the superior quality of Victoria Sapa Resort.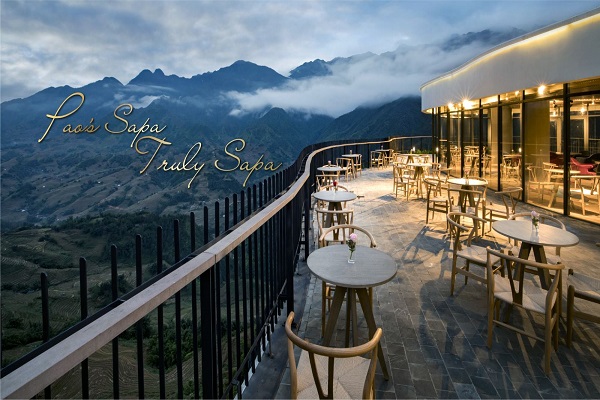 Pao's Sapa
Pao's Sapa Leisure Hotel will be the best hotel in Sapa Vietnam if you travel with your family and your lover in order to enjoy the natural beauty around.
Located at Group 7A, Muong Hoa Road, Pao's Sapa Leisure Hotel is the first 5-star hotel in Sapa as it is nestled in a favorable hillside position. For distance, you will grace the spectacular view of majestic mountains, green rice terrace plots, and the Muong Hoa valley. Thanks to convenient location, from Pao's Sapa Leisure you can move to many famous tourist spots such as Sapa market, Ham Rong resort, Cat Cat village, Fansipan cable car, …
It offers 223 rooms decorated to the cultural identity of ethnic monitories with high quality and impeccable facilities. Standing on Pao's Sapa Leisure Hotel, you will admire the natural surroundings which will awaken your senses. Moreover, Pao's Sapa Leisure offers culinary with an international flavor to satisfy all your needs including Restaurant, Bar, Room conference and banqueting facilities, indoor swimming pool, and spa.
Especially, the private bathroom in this hotel is equipped a bath, free toiletries and some rooms are offered a balcony. Moreover, the guests will be served daily at the property and also enjoy a meal in the restaurant, which serves a variety of Vietnamese dishes. The hotel is served bike hire service.
Sapa Rooms Boutique Hotel
Sapa Rooms boutique hotel is just a small hotel but it has been taking a lot of affection from guests thanks to friendly and helpful staffs and especially delicious foods. Don't worry about your favorite foods, the hotel is served with both Vietnamese and Western dishes. All dishes are decorated more attractively to stimulate the favorite of clients. One suggestion for you is to try the special western set with potato, leek and bacon soup with fresh baguette. Not only that, standing on the mini hotel, you will grace the stunning, pristine terraced valleys of Sapa. Sapa Rooms are equipped boutique interiors, attentive personalized customer service.
Sapa Rooms Boutique Hotel is to make customers' holiday an authentically unforgettable experience. The rooms are always kept warm as the weather in Sapa is cool or cold all over the year. Of course, the types of equipment in the rooms are well set out, comfortable with the great view of the streets. The price for one night here is around 72 USD.
Amazing Sapa Hotel
This is another good choice for you when finding the best hotel in Sapa. Situated in the heart of Sapa town, conveniently located with shopping, restaurants, and local attractions, Amazing Sapa Hotel is proud to be a 4-star hotel in the center of the town with the looking out to Muong Hoa valley and Hoang Lien Son Range.
This hotel is designed with a sophisticated style, spacious rooms, and attentive service, providing guests with a comfortable and relaxing stay.
Amazing Sapa has 81 rooms which are all nicely decorated to provide the guests with a memorable stay. All have impressive views of the surrounding mountains and terraced fields.
Features in the room can meet the needs of all the guests. The air-conditioned rooms have heating facilities, a work desk, minibar, flat-screen cable TV and a seating area. Private bathrooms come with shower facilities, towels, and slippers.
When staying here, you will be immersed in the heated swimming pool while watching the clouds ruffled on the head, or experience spa services, 5-star massage, or have the fun time with friends. It features karaoke and bar service in the basement of the hotel.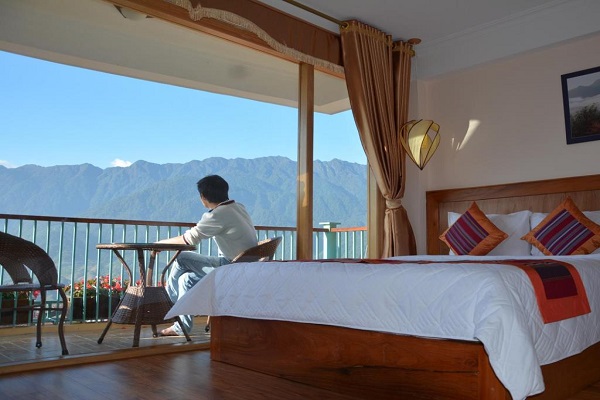 Sapa Diamond Hotel
Sapa Diamond Hotel is known as the best hotel in Sapa Vietnam and it's recognized as an international standard 3 stars. Located in Sapa town, Sapa Diamond Hotel is a perfect place to experience this destination. With its convenient location, guests can have the city's must-see destinations.
Sapa Diamond Hotel is nearly Ham Rong Mountain and Sapa Cathedral. Especially, Quang Truong Square and Sapa Lake are also near to this hotel. This 50-room, this hotel welcomes guests with a restaurant, free in-room WiFi, and free self-parking. All the rooms here provide refrigerators, minibars, and electric kettles. Bathrooms offer free toiletries and slippers. Other standard amenities are provided like bottled water, safes, phones an so on.
You have just stayed in the room and call the foods when you have the demand. You also enjoy freely the buffet breakfast.
Sapa Panorama Hotel
Sapa Panorama Hotel is a quite well-known hotel in Sapa Vietnam. It is ideally located in the center area of Sapa town, just below the famous Victoria Sapa Hotel and 100 meters from Sapa Church. It offers fantastic views of Sapa town and the spectacular nearby Fansipan mountain range.
Being a modern building with panoramic views of Sapa town and Hoang Lien Son mountain range, the hotel has 45 luxuriously designed rooms with modern amenities and a variety of high-class services.
All rooms feature air conditioning and heating systems, a flat-screen TV with cable channels, a wardrobe and a minibar. Facilities include a tour desk, a business center, and a 24-hour front desk. Guests can request services such as laundry, luggage storage, massage and airport shuttle…
Sapa Panorama hotel will make you feel the comforts of a wonderful hotel with a great location. Moreover, you have a chance to experience the warmth, enthusiasm, and efficiency of the staffs here. They are ready to help you with any of your requirements. This is really the best hotel in Sapa for you.
The list of traditional foods in Sapa
Thang Co
Thang Co is a traditional dish of Mong ethnic group. You can enjoy this dish in any markets. It is usually cooked on festival days, major days, weekend days, which are often sold at highland markets. Many people like it and call it the best food Sapa. It is a pot of soup, consisting of meat, heart, liver, lungs of the horse, and vegetables such as Amomum Tsao-ko, cinnamon, lemongrass, ginger, other special spices and especially, "thang co" is the last spice. When you're eating, the sliced and broth meat of horse is added to the pot.
This food tastes best when it's served with corn wine – the aromatic wine of the highland region. The harmonious combination of Thang Co and corn wine brings a pleasant and unforgettable taste.
Com Lam
Com lam is made from glutinous rice. How to make Com lam? They have to mix the rice with a little salt and crushed ginger. Com Lam is used to the bamboo hollow and covered with banana leaves. Each bamboo tube is about 30 centimeters long. Local people give 3/4 rice in the bamboo hollow and add a little spring water. Then, the bamboo tubes were grilled on charcoal. You will enjoy the fragrant and supple smell. You can mix it with a little sesame salt or other dishes like egg, chicken, pork, …
Seven-color sticky rice
The Seven-color sticky rice is one feature dish in the Tet holiday of the Nung Din ethnic people in Muong Khuong, Lao Cai. The seven colors of this dish are indigo, pink, dark red, light red, green, yellow, yellow-green. The colors of sticky rice are made of different types of fresh ingredients.
When you come near the sticky rice, you will smell the aroma of rice, the smell of leaves, it is very charming. When enjoying 7-color sticky rice, you will feel the toughness of the rice, which is the taste of the Northwest forest – simple but unforgettable. 7-color sticky rice is often served with barbecue or sesame salt. Anyone who has ever enjoyed this dish has complimented it. This is really the best food Sapa.
Grilled food
At night, when the whole town is covered by cold, nothing is better than sitting near the cozy fireplace and tasting the hot grilled food. The grilled pork deserves the best food Sapa. The softness and featured taste of this food will irresistible to anyone who tasted it. Sapa has many kinds of fishes: The goby fish, bighead carp, and… Each kind has their differences. They are usually found in the stream of Sapa. The sweetness and freshness of this dish will be an unforgettable experience for diners.
Maybe this is the best food Sapa you should try once in your life. The Black-Bone Silky Fowl grilled with honey, mint and served with pepper, salt and lemon is such a tasty dish for tourists.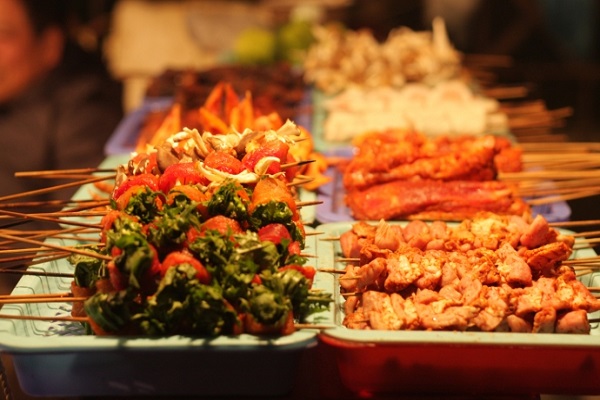 Sapa's Spinach
The Mong spinach is split into small pieces together with some slices of ginger then boil with water to make a fresh warm soup. If you have more time cooking, you can cook spinach with the minced chicken and teaspoon of fish sauce. The Mong spinach also goes very well with stir-fried beef, especially with the smoky bacon and the local Sapa hot pot. Just remember to twist the spinach instead of cutting so it won't lose the tasty flavor the vegetable.
You can buy this spinach in any Sapa markets and some villages at the weekend. Most of the restaurants always have this vegetable. A cost is about 10,000 VND.
Salmon hot pot
In the cold weather of Sapa, you sit with your friends, family… with a salmon hot pot boiled condensed. Salmon has successfully raised in Sapa thanks to its temperate climate, which is similar to the European and North American climate where salmon live. Unlike imported salmon, salmon in Sapa have firm meat, low fat, and high nutritional value.
Salmon hot pot is still the most favorite dish of many tourists. Besides, you can also enjoy the clean vegetables come along as cat, fresh bamboo shoots, delicious forest mushrooms of Sa Pa. And definitely when you finish this best food Sapa, you will remember forever and want to return to the second and many other times.