Sapa is well known for not only breathtaking landscape but also for the diverse culture of several ethnic groups in the Northern mountainous area in Vietnam. Visiting Sapa in a day of fair trade, tourists will be overwhelmed with colorful costumes of men and women of H'mong, Dao Do, Tay, and Xa Pho people. Each ethnic group has distinguished language, customs, and lifestyle, which contributes to the diverse culture of Sapa.
1. H'mong people
H'mong is the most crowded ethnic group in Sapa. H'mong people live in separated areas as they prefer a closed life. Their house is built on the ground, different from that of other ethnic minorities of Vietnam who stay in stilt houses. In Sapa, visitors may experience living in a H'mong traditional house through homestay service. Weekly, a fair is held to exchange goods. The most famous fair that impresses international tourists so much is the love fair.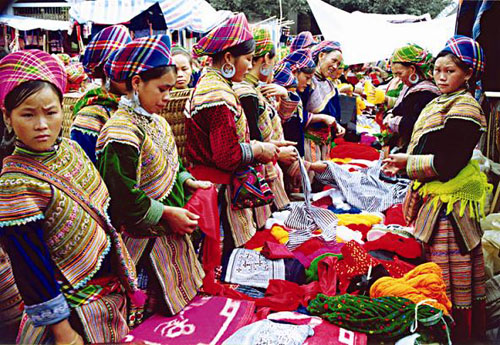 Like other ethnic groups in Vietnam, the main income of H'mong people is from agriculture. They cultivate in terraced fields with the products of corn, rice, potato, peanut, sesame, bean, and vegetables. Another source of income of H'mong people, especially those in Sapa, comes from tourism services. Tourists visiting Sapa may be familiar with men and women in colorful costumes selling specialties and guiding tours.
Among traditional festivals of H'mong people, Gau Tao festival which takes place in January 12th is the biggest. The festival is usually held fields or large hills with the desire for peace and prosperity. During the festival, there are contests of archery, pan-pipe dance, martial dance and horse racing. Tourists may participate in the festival in Cat Cat village which is 2km away from Sapa town.
2. Dao Do people
Affordable academic
paper writing
service per your request! We guarantee high-quality work delivered on time!
Dao Do ethnic group has origin from China and lives most densely in Ta Phin, Nam Cang and Thanh Kim Commune. The traditional costumes of Dao Do are considered as the most beautiful clothes in Sapa trade fair. Women wear black green dress with sophisticated red and white patterns at collar and flap. They also shave their eyebrows a part of hair on the forehead according to the custom.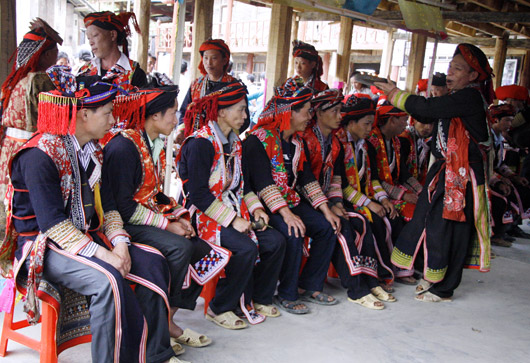 The most important festival of Dao people is Tet nhay festival which is held in Lunar January 1st and 2nd. The festival is celebrated most greatly in Ta Phin village which is 12km away from Sapa Town. This village is well known for various hand-made brocades of all designs and colors. Dao people in Sapa also have a unique folk remedy which uses medical leaves in forest to bathe the sick. Tourists visiting Ta Phin village may experience this remedy to release tiredness.
3. Tay people
Tay is the third crowded ethnic group in Sapa. They inhabit in some Southern villages like Ban Ho, Nam Sai and Thanh Phu village which is favorable for fishing and agriculture. Compared to costumes of other groups, Tay's costumes are simpler with only indigo color. Their traditional clothes are made of self-weaved cotton fabric, dyed indigo color and have no patterns. Men of Tay people usually wear baggy pants and stood-neck blouse. Meanwhile, the costumes of women are dress, blouse, a blue belt, fabric shoes and specially the headgear.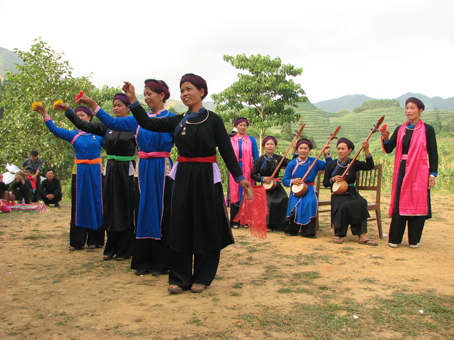 Like many other ethnic minority, Tay people live in stilt houses which built above the ground about 2 meters to prevent dangerous animals of the forest. Visiting Sapa, tourists may have the opportunity to explore the culture and life of Tay people with sleeping in stilt house, eating baked fish, pork, and chicken, trying making brocade and enjoying traditional dances performed by local people.
4. Xa Pho people
The number of Xa Pho people in Sapa is very minor, residing mainly in Nam Sai village. It is remote from other villages and hard to reach. However, they live friendly and united together. Their main incomes are from products of agriculture and cattle-breeding. Besides, they are also good at planting cotton tree for weaving fabric and knitting items from rattan. Although the living conditions of Xa Pho people in Sapa are rather poor, they are welcome to visitors. The greatest festival of Xa Pho people is village cleaning festival which is usually celebrated in Lunar February.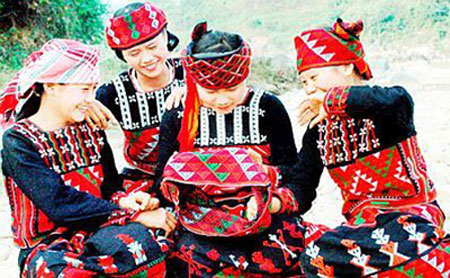 Thanh Ha/Sapa tours