Sapa has become a wonderful place in Vietnam with many outstanding sceneries and unique cultures. Coming to the paradise, you will have many opportunities to admire the stunning landscapes like the famous rice terraces populated by many several villages, terraces rice, Fansipan peak and local markets. Sapa has many stunning landscapes in each kind of weather conditions, so tourists have to choose the right time to witness the most spectacular scenes in Sapa, especially on clear sunny days. Actually, tourists can visit Sapa all year round, however you should search the forecast weather before. Sapa is an ideal location for the scarcely populated town also has pretty fresh air. The climate of Sapa is highly seasonal as it is impacted on a subtropical climate so in this article, we offer the best time to visit Sapa valley.
The average temperature for Sapa town is 15.4ºC, with a maximum of 29.4ºC and a minimum of 1ºC. The warmest months are July and August, and the coldest months are December and January. Many travellers come to Sapa as they love some fog and drizzle, and snow falls in some years on the highest peaks.
The four seasons in Sapa have some particular in the costumes. Spring is bright with pear, peach, apricot and plum flowers. Next period, coming on the summer, you will grace the pansies, dahlias, sunflowers and numerous temperate fruits.To admire the perfume mushrooms, wood ears and plenty of specious medicinal plants… you should come to Sapa in the Autumn. The sky is the vividly brightened with golden sun-rays and playful white clouds, however, it rains in the third period. In winter, fog filled the space, making the landscapes look more mystery and attractive.
We mention the list of best time to visit Sapa valley below:
March – May: This is a good time to visit Sapa as its dry season, pleasant weather and warm so it is excellent for trekking. In april and may, you have an opportunity to grace flowers but not the amazing lush green (and later in fall yellow tinted) rice fields. You also can admire the rice fields which offer their real beauty later in June. However, this is the great time to explore the life of local ethnic minorities.
September – November: It is the second perfect period time. September can still be rainy but often short and not as much as in summer. Otherwise, the temperature are pleasant and great for hiking: The average temperature is fluctuate around 17C. One of the attractive things in this period is clear blue skies with the sun shining through the huge mountains resulting in outstanding views of the vibrant landscape. Clearly, in September, the rice fields are harvested. Early October the most rice is usually already harvested, taking away the impressive September rice terrace view. In November, it gets colder and the rice is significantly "reduced" but it's still a great month for outdoor activities.
Public holidays – you can refer:
Mid-February : Tet – Vietnamese New Year
30 April: Liberation Day
2 September: National Day
15 September: Mid-autumn festival
1 January: New Year
Some tips for trekking in Sapa:
Prepare trekking shoes, raincoat, sun scream and search anything need on any weather condition. If you forgot something, don't worry about that, Sapa has some shops providing the trekking gear. However, you should pack light. You won't need any towels the accommodations on the way.

Hire a local guide. Especially, if you tend to choose the medium trekking and dangerous trekking, one suggestion for you is to order a local guide to be safe. The weather is the best viewing spots. You don't need to make bookings in advance.

To keep the memories in the trip, let's carry the devices such as camera, phone, backup charger,…

Bring lots of snacks and water in the processing.
Some places you should visit:
Sapa is a colourful town of various ethnic groups who come from the local hill tribes. They concentrate on the town's market every day to trade their produce. There's a main market every Saturday when the place is packed but there's a lower key one every other day during the week. Many of the youngsters have picked up a basic level of English.
Cat Cat village
Cat Cat village is located near the bottom of the deep valley right at the foot of Fansipan Peak and situated in a beautiful valley about three kilometers from Sapa Town. Cat Cat appears for a long time so it attracts tourists from all over the world for its distinctive customs and practices. This is a village of Black H'mong people where you can discover many interesting facts about their daily life as well as culture and architecture. Next, coming here you can buy several traditional handicrafts right from the craftsmen such as twisting flax and weaving fabric. This village is the perfect place to see traditional clothing being made, hemp being dyed and women weaving.
Shin Chai Village
The near village is Shin Chai where you approach after keeping the walk on the road to pass 2047 meters. You will breathe the mountain air. The Red Dao ethnic group live in this village, they wear the beautifully embroidered clothes with distinctive an enormous red turban and the silver jewelry so it is an attractive point. Thus, you should take a walk around this village and interact with the local people in order to understand more and more. Many kids in the village will be your companions during the adventure as you will fall in love with them. They will be around all the time, singing, dancing or anything to make you smile. Moreover, you can teach them songs, poems that you used to love when you were a child.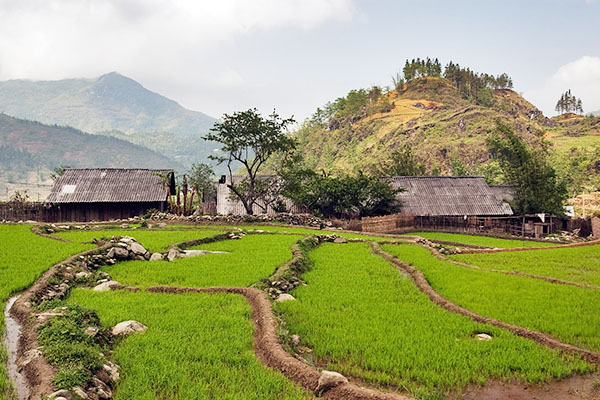 Lao Chai – Ta Van village
In addition, Lao Chai – Ta Van are two villages you shouldn't miss as you can grace the life of ethnic minorities, admire the spectacular natural scenery with the terraced rice fields. Coming to this village, you will study how to make their traditional clothes, handicraft, indigo… from the women in there. There are many special dishes of Dzay ethnic group in Ta Van village such as roast fish, horse meat, sticky rice, enjoy festivals, folk games: Nao Cong, Roong Pooc…or participate in tours of the village. A small group of Dzay people in Northern Vietnam keeps a rich and traditional culture. The biggest valley offers to tourists the golden rice terrace field in Vietnam, which you shouldn't miss.
Admire Terraced Rice Fields in Sapa
When you choose the best time to visit Sapa valley, let's come to the terraced rice fields from above. Because, Sapa is famous for romantic beauty with the stretching rice terraces on the hillsides, which is considered as one of the best beautiful landscapes in the area. After catching up the stopping place, you can relax and gaze the peaceful moments.
Next, Muong Hoa is known as the largest farmland for rice growing in Sapa, which is one of the most famous places for breathtaking scenery. Following the road beside Muong Hoa River, you will approach to Muong Hoa Valley which is located between two high limes of mountain running in the parallel south-east of Sapa town. In May, Muong Hoa valley is blooming with lots of colorful flowers in a wide range of various beauties. Muong Hoa valley is the largest farmland for rice growing in Sapa.
Bac Ha market
Bac Ha market is located in 80 kilometers from Sapa, which is famous for its. This market is a trading center and meeting place for couples, friends, and relatives in every Sunday. It is the largest market in Sapa, which is attracting tourists. And this market offers foods, animals, clothes and household goods. People usually eat a soup pan, Thang Co. Bac Ha Market is known as an exchanging the goods place and a place for exploring the culture. The market is crowd and all paths and mountain roads are full of people and horses moving to the market. There are many different ethnic groups like Flower H'mong, Phu La, Black Dao, and Nung minorities concentrate on here. They buy and sell local products that cannot be found elsewhere. It ensures that you will enjoy the "fresh" meat in the direction of strict vegetarianism. Though tourists were not in short supply, they were not the focus. If you doubt the ability of a vendor's hooch to peel paint or light your senses on fire, you can try a shot for free.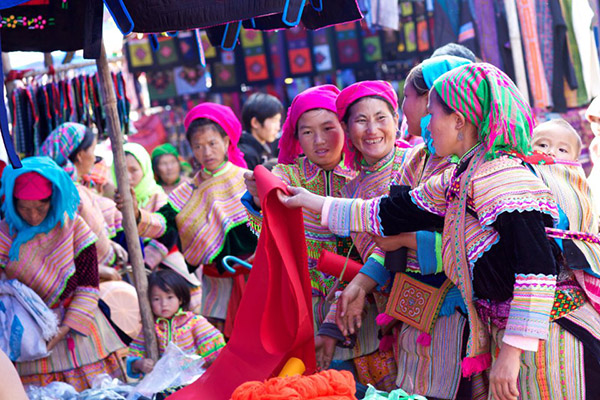 Conquer Fansipan Mountain
Sapa owns the stunning mountains, thus trekking in Sapa will be an ideal activity in this area for someone who wants to take a challenge on the adventure tour. Fansipan is called as "the Roof of Indochina" with the height of 3143m, the highest peak of the Indochina. These activities will give you the feel of challenging and winning, especially when you are at the peak. For distance, reach about 2800 meters, you have a proud of time to see the view and take photos, visit pagoda the spiritual destinations. After, you also trek up to 600 steps and reach the peak of Fansipan – the Roof of Indochina.