Fansipan is the highest mountain in Vietnam, and also the highest among the three Indochina countries, so it is called the "Roof of Indochina" with the altitude of 3 143 meters.
Fansipan peak is located in Hoang Lien Son range, which is about 9 kilometers southwest of Sapa town,Northwest region of Vietnam. According to the local language, the mountain is called "Hua Xi Pan", which means that the protruding giant stone.
In the past, there was only one way you can reach the top of Fansipan, which was to go trekking. However, in order to bring people of wider range of age and physical health the chance to get here, cables car have been established. But what are the exact routes for these 2 ways to conquer the roof of Indochine, let's figure out!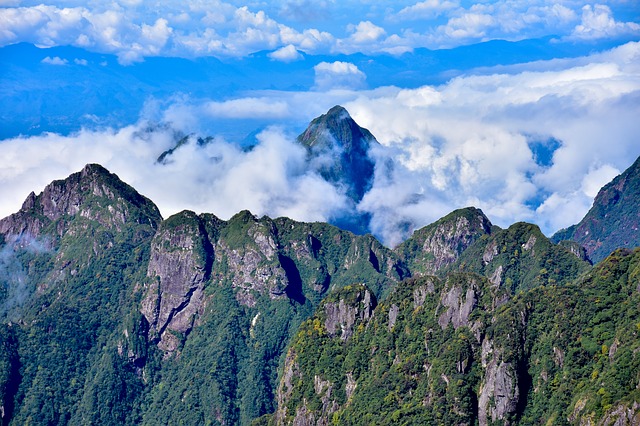 Go Trekking – Compete against yourself
Climbing Phan Xi Pang is a type of adventurous tourism. Because of an altitude of 3,143 meters above sea level, you will encounter many difficulties on the way. In order to be part of this journey, you need to have an extremely good health conditions, the best preparation of the essential items and one indispensable element is a guide, who is often called the 'porter', to lead your through all the obstacles.
The itinerary
There are 2 options for the tours and the starting points. There are 2 days 1 night tour and 3 days 2 nights tour and tourists will choose 2 routes: start from Tram Ton peak or from Cat Cat village
The most popular tour is hiking in 2 days 1 night with the point of departure is Tram Ton.
– Itinerary for 2 days 1 night:
Day 1: There will be cars take you from your hotel or hostel to Tram Ton and you will go trekking from the height of 1900 meters.
In the evening, visitors will stop and camp at the altitude of 2800 meters
Day 2: You will continue to the top of the mountain – Fansipan. After spending 2 – 3 hours admiring all the sceneries and pagodas there, you will go back to the stopover of 2200 meters high for lunch, and return to Sapa town at the end of the day.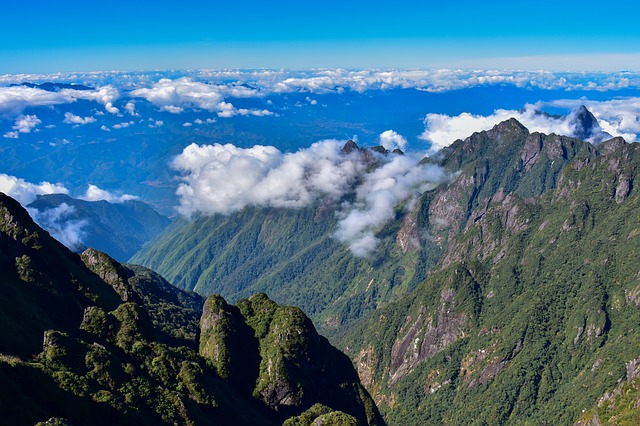 – Itinerary for 3 days 2 nights:
+ Day 1: You will move to Tram Ton stopover (1,900m) by transport, then you will start going trekking to the 2,200m stop and take a lunch break. You will rest and have dinner at 2,800m stopover.
+ Day 2: After breakfast, you will go the rest of the way to Fansipan at the height of 3,143m. When you go back, you will have lunch at the location of 2,800 meters high and sleep overnight at the 2,200 meters – high campsite.
+ Day 3: From a height of 2,200 meters, you will move to Sapa town, when your journey ends.
Small notes:
–         The best time to climb is from October to April because of the pleasant weather and easy transportation. The most ideal time is October and November, when the weather is not too cold and there is little sunshine.
– The porters, who are mostly the Hmong, will guide you throughout the Fansipan trekking journey. It is often 2 tourists/ porter.
– The experienced mountaineers score the difficulty of conquering Fansipan peak (on the scale of 10) is about 6/10, while other peaks' score are: Bach Moc Luong Tu 8/10, Nhu Co San 7/10, Ta Lead Nhù 7/10
– Fansipan conquerors will be given a medal to recognize their courage and effort.
–         On the way to Fansipan Peak, you will also visit other beautiful scenes located in Fansipan Legend area such as Bamboo Garden, Bao An Thien Tu Temple, Bich Van Thien Tu Temple, etc.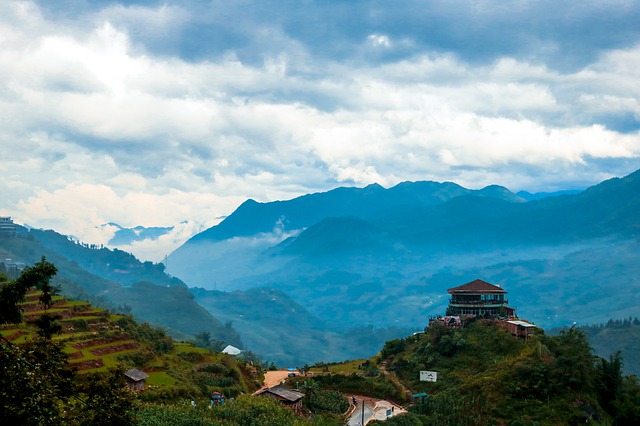 Preparation:
1. Check the weather conditions:
2. Train your body: You should do exercises and train your physical health to get used to the heavy activities at least 2-3 weeks before going. You should buy insurance before climbing to avoid the risks.
3. Bring essential equipments: Climbing stick, a small rechargeable flashlight, camera
4.Outfits: Water-resistant shoes, ankle wrap, backpack, Gloves (to cling to mountainside, twigs), 2 sets of normal clothes and warm clothes
Advantages
On the journey to Phan Xi Pang, you will have the chance to explore the biodiversity of the flora and fauna here when passing through the old forest with many valuable woods, orchids. It's the time for you to take stunning photos, and keep in mind the mighty nature.
Sleeping in the middle of the forests in the evening is also an one of a kind experience, You will have dinner, sit by the fire to drink tea, enjoy the quiet atmosphere and the sound of the mountains, with the vagueness of the light from the moon or the stars
When you get up early in the morning, you can watch the sunrise on the top of the mountain and enjoy the cages of fresh and cool air. If you are a real early bird, you can get to the mountain before the cable cars station opens, when you can enjoy the amazing scene just yourself.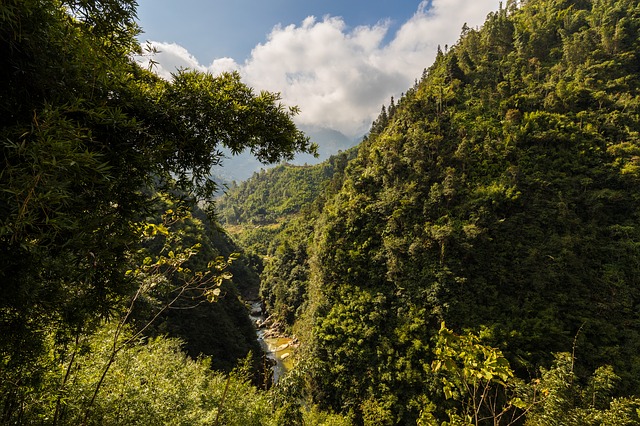 Drawbacks
The weather is tough with low temperatures and you might often encounter rainy and foggy weather. This greatly affects you moving on a steep terrain, your plans such as taking nice photos or admire the sunshine. The mosquitoes will appear.
You must depart in harsh conditions, if not when you reach the place, it will be crowded with tourists, which might be a little disappointing.
Health condition might be the biggest challenge, because you must be really acquainted to the heavy exercises for long hours day by day for a long time to be able to reach the roof of Indochina. Not only the altitude but also the weather conditions will influence your health a lot.
Therefore, you have to take it into serious consideration for this appealing yet challenging experience.
USE CABLE CARS – WITNESS THE SPECTACULAR OVERVIEW OF SAPA
If you are not a risk-taker to get to the peak of Fansipan on foot but still wish to visit "roof of Indochina once, you can choose cable cars to make your wish come true. They have gone into operation in early 2016 and it only takes about 20 minutes to reach the Fansipan peak instead of 2 days of hiking.
This cable car chain also set 2 Guinness records for: The three-wire cable car with the biggest difference between the departure and arrival station: 1410 meters and the longest three-wire cable car in the world: 6292.5 meters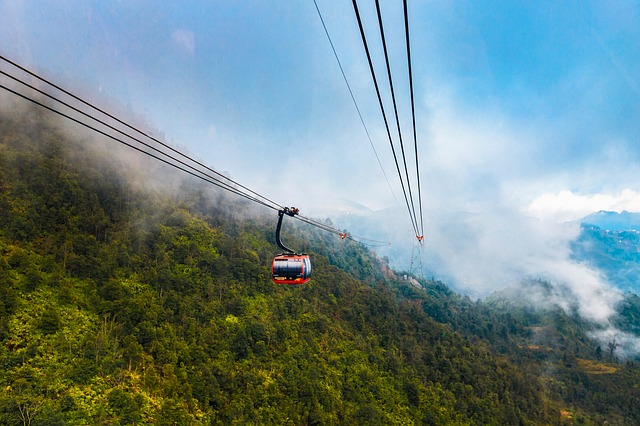 The itinerary
(1) From Sapa town to the cable car station
Fansipan Cable Car Station is located in Fansipan Legend Tourist Area, which is about 3 kilometers from Stone Church – the center of Sapa. There are 3 options for you:
– Catch a taxi. The price for a taxi is about 50,000 – 100,000 VND, it takes about 10 minutes.
– Walk to the cable car station, which takes about 30 minutes. There are signposts so you can easily get to the station without having to find your way or ask for directions.
– Take the Muong Hoa mountain train connecting Sapa town with Fansipan cable car station.
The train will go through mysterious tunnels, crossing the viaducts overlooking the majestic nature with rolling forests, Muong Hoa valley and peaceful ethnic villages, so this can also be a really good choice for you.
This takes the shortest time travel, which is just 4 minutes
Operation time: from 6:30 a.m. – 6:30 p.m
(2) Move between 2 cable car stations
The cable car journey lasts 15 minutes.
Operation hours: From 7:30 a.m. to 5:30 p.m.
(3) From cable car station to Fansipan peak
There are 2 ways to reach there:
– Walking:
Visitors will have to climb 600 stone steps to the Fansipan peak (which takes about 20 minutes)
During the 600-step walk to Fansipan. You can come across Ha Pagoda, Thuong Pagoda, you can also hear very pleasant meditation rhythm everywhere. There are also Kim Son Bao Thang Tu, Dai Hung Bao Dien with many elaborate Buddha statues, 18 bronze Arhat statues and so on.
Please, make sure you don't miss the worship of the largest bronze Buddha Amitabha in Vietnam with the height of 21.5 meters, which is considered to be a symbol of the Fansipan spiritual cultural complex.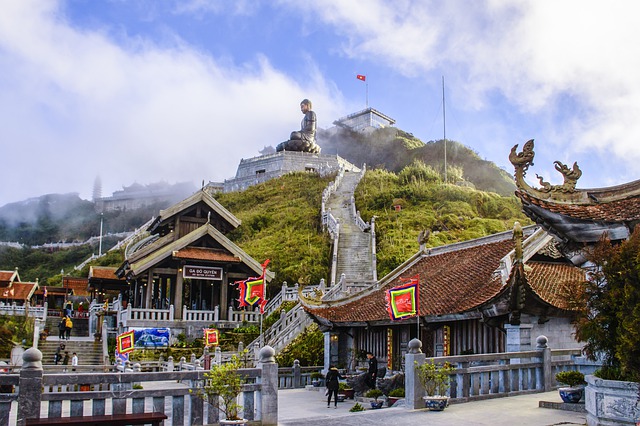 – Using Do Quyen train:
Starting from Do Quyen Station to Truc May Station
Some people who are not strong enough or unluckily going on windy blind days, you should choose this transport to go straight to Fansipan peak.
The plus point of Do Quyen train is that you can buy round-trip or one-way tickets.
However, I recommend you should only buy one way up and then walk down. Thus, you will not miss some gorgeous structures of Ha Pagoda, Thuong Pagoda and the many other spiritual complex.
Small notes:
– Ideal time to travel is from May to March and from September to October to enjoy the full natural beauty. During these two times, the weather are dry, sunny, and it's not too cold. Therefore, Sapa's scenery is visible from an altitude of 3143m. At this time, Sapa also becomes sparkling with the gorgeously yellow of terraced fields in the ripe rice season.
– The ticket of cable cars is a magnetic card, so after you buy the ticket and use it on to enter, you must keep it carefully because the ticket will be withdrawn in the afternoon.
Please also note that cable car tickets are only valid for use during the day so do not buy in advance to keep tickets
– Bring snacks, drinks or some favorite foods so you don't get hungry or thirsty because the food and services are quite expensive
–       Bring warm clothes because the temperature at the peak might be only about 8 degrees Celsius.
* Cable car ticket is a round trip ticket
Advantages
The 15-minute journey is not too long but it is enough for visitors to admire the beautiful natural scenery at an altitude of thousands of meters.
You can witness the dense primeval Hoang Lien Son forest, the poetic Muong Hoa valley and the panoramic and majestic Hoang Lien Son range
It helps to bring a new and exciting feeling for visitors when sitting in the cable and watching terraced fields, waterfalls, villages from above. Getting to see Sapa town in the mist with new perspectives can refresh your own mind.
This is clearly a much more convenient and pleasant way to reach to roof of Indochina. Even if you're not a regular gymnast or a really strong person with good health conditions, your chance is still open thanks to this transportation.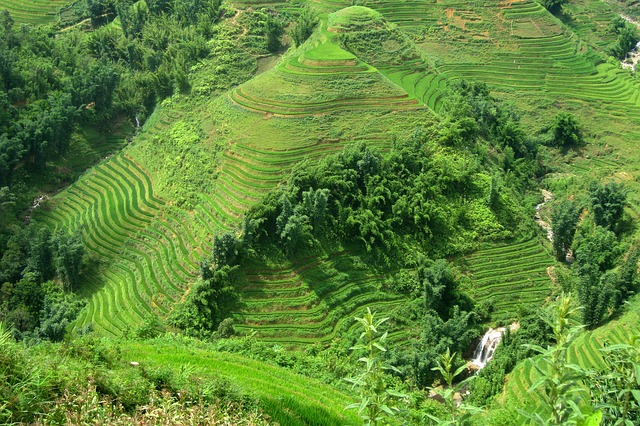 Drawbacks
Because the cable car's operation time is from 7:30 a.m. to 5:30 p.m. daily, it will be difficult for you to watch the sunrise or sunset standing from Fansipan peak.
The journey to conquer Fansipan peak is now not as hard as in the past for any of you wishing to discover the wonderful feeling of reaching the roof of Indochina.
For those travelers who have little time or feel they are not strong enough to hike, it is highly recommended to choose the second option. This way will help the tourists save time, and energy to go to the top of the Fansipan