Vietnam – the country of four brilliant seasons (spring, summer, autumn and winter). For each season, it fills with distinct weather and particular beauty that will promisingly bring nice feelings to you.
You may be fascinated by spring's brimful of vitality and bustling atmosphere of spring festivals in Vietnam, you can passionately love our nice beaches with white sand and clean water in the hot summer days or Vietnam's charming and picturesque sceneries when the autumn comes. Especially , you may be attracted by the beauty of tourist attractions like Hanoi, Sapa, Moc Chau in the north of Vietnam in November when the winter starts coming. Your trip will be complete and great whether you can enjoy wonderful views at the time of beginning to get cold in the northern Vietnam. If you plan to spend 5 days traveling to Vietnam in the next month, we guide you to visit the following destinations in the northern Vietnam in order to make the most of fantastic experience here.

One day in Hanoi
From Noi Bai national airport, you will take a taxi to enter Hanoi – the beautiful capital city of Vietnam with millennial culture, diverse culture and rich character is well worth visiting. In an interesting way, you are recommended to get into Hanoi from the previous day so as that you could get up early in the morning and take a stroll around Hoan Kiem Lake or West Lake. That time, you may feel that Hanoi is so charming and lovely in serene atmosphere at the beginning of winter. Then, you have breakfast with a bowl of beef noodles- a special food in Hanoi. Eating a bowl of hot and mouth-watering noodles on roadside and watching the Hanoian's rhythm of life at the same time possibly give you unforgettable memory. In November, Hanoi is famous for romantic roads, ranges of trees dotted with red leaves. On the way to go to Ho Chi Minh mausoleum and Temple of literature (two most considerable places to visit in Hanoi) you may admire the range trees like that! You may be impressed by scent of green rice that just appears at the end of the autumn and starting of the winter in Vietnam, you are advised to buy a little and try on if you meet. For the time staying in Hanoi, you should also visit the Old Quarter. When you visit this place in November, you might get different feeling from other seasons during year. The cold weather with light smog in the early morning, the antique architecture, eventful life…all make the charming Old Quarter.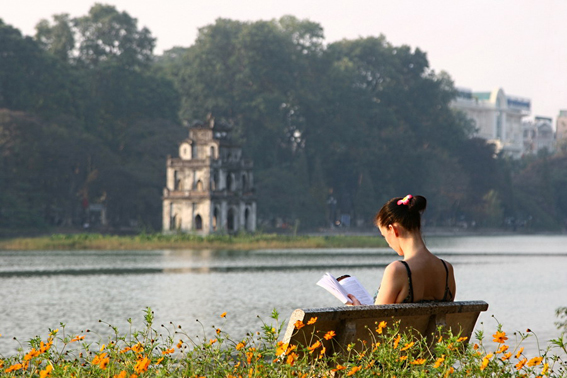 3 days in Sa Pa
To visit Cat Cat on the first day in Sa Pa
Located in the northwest of Vietnam, Sa Pa is an upland district of Lao Cai province, a quiet and modest land but hiding wonders of the natural scene. Sa Pa's scenery along with human creativeness, mountainous topography, and green color of forests create a so harmonious painting comprising romantic and poetic landscapes. Tourists can travel to Sa Pa anytime through year but the excellent time to visit Sa Pa is from September to November. At this time, Sa Pa becomes splendid with colorful flowers blooming all over hill slopes mixed with the ripe rice color in terraced fields.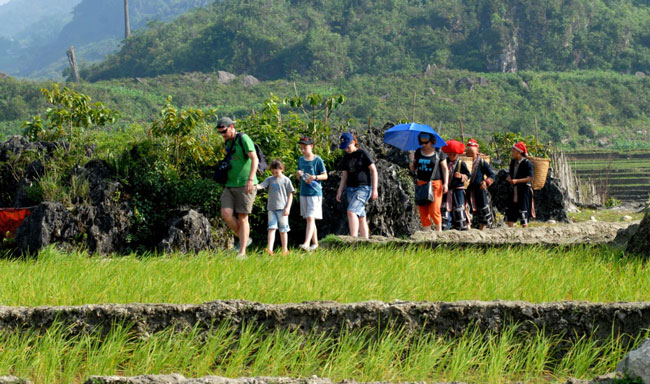 When traveling to Sa Pa, you can go by coach or train. However, we suggest you going by train that give you good chance to sightsee many landscapes in Vietnam. For your first day in Sa Pa, you should go to Cat Cat village and understand ethnic minorities's cultures . Moreover, the pristine nature here will let you have wonderful relaxing moments. Coming to Cat Cat village, you also admire the imposing waterfall named CatScat (according to French language). Cat Cat village was established in 19th century so it has long traditional customs are interesting to learn. Beside unique customs, Cat Cat also attracts tourists to visit traditional handicrafts like weaving fabric, embroidery. As you drop in Cat Cat village, should not forget to buy special handicrafts here to give for family and friends. After visiting Cat Cat village, you are also advised to spend time here enjoying local food such as Hmong's corn wine, corn cake, smoked meat that you could no find in anywhere except Cat Cat. In Cat Cat village, it is easy for you to find an inn to stay at night. You will have a lot of choices with modern and convenient houses are used for tourism services.
To travel to Sin Chai on the second day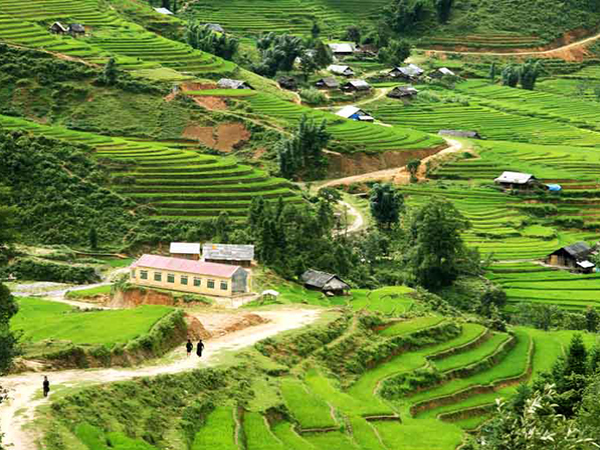 Touring in Sin Chai, you will have chance to contemplate Phanxipang top mountain of Hoang Lien Son mountain chain with 3.143 m above sea level. Also, you can admire Ham Rong mountain next to Sa Pa town. Tourists can move to there to take an panoramic view of the town, Muong Hoa valley, Sa Pa, Ta Phin looming in the dew. Today, Ham Rong is indeed a Sa Pa's fruitful land; stepping into Ham Rong, tourists is likely lost in fairy garden, enclosed by rush clouds and colorful flowers on the ground. There is a famous Old Church near Sa Pa town. Besides, tourist can travel to Ta Phin cave to see sparkling stalactites with different shapes such as the shape of dancing fairy, paddy field, twinkling forest….Specially, Muong Hoa valley contains 196 strange carved stones made by ancient people. Sa Pa's Bac waterfall pouring water down day and night makes magnificent forest sound. Coming to Sin Chai you will have chance to take pleasure flowers as peach blossom, plum blossom, gladiolus, pear blossom, rose, chrysanthemum. A walking or riding bike through mountains and forests in Sin Chai will be great choices for visitors to learn about mountainous areas and upland villages.
To view Ta Van village on the third day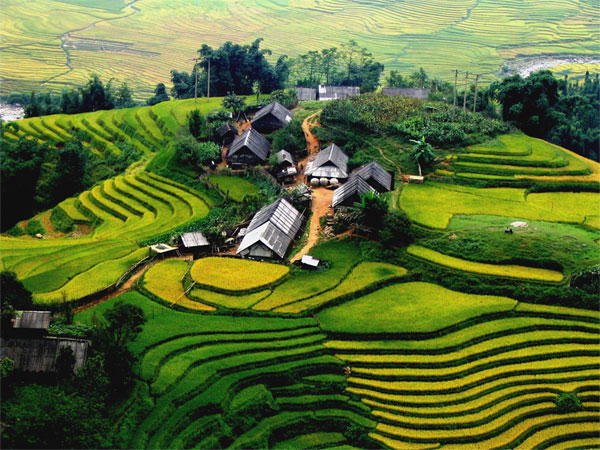 Ta Van village is home of H'Mong ethnic, Giay, and Red Dao, this beautiful village is lying peacefully in the valley of Muong Hoa. The road leading to Ta Van village is small and narrow. Tourist will view a fertile terraced field which adorns by the green of corn and rice along two roadsides. Previously, Ta Van is well-known for the customs and characteristic of the Giay in Lao Cai. They live together at the bottom, mountains, the valleys, along streams. During time in Ta Van village, you are recommended to taste some special dishes of ethnic Giay such as roast fish of Muong Hum, horse meat of Muong Khuong, sticky rice of Van Ban, enjoy festivals, folk games of the Giay: Nao Cong, Roong Pooc…or participate in tours of the village. Definitely, Thanks to valuable features, Ta Van is getting more and more attractive to tourists from everywhere.
Coming back to Hanoi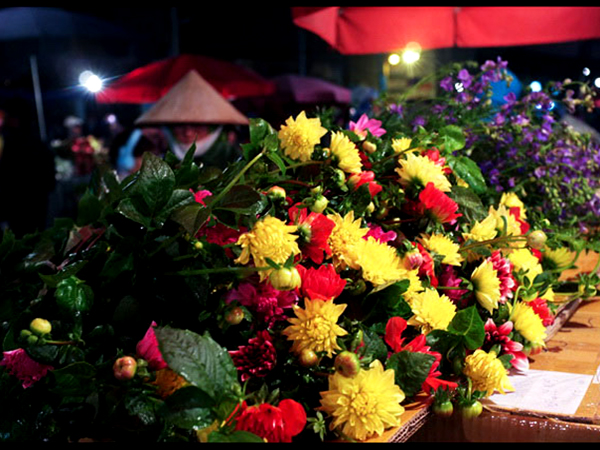 Moving the lovely town- Sa Pa, now is time to come back Hanoi and enjoy the last day in Vietnam. You will be arrival Hanoi early morning after one night on train. You should visit some morning market in Hanoi like: Quang Ba flower market – with so many kinds of flowers, Long Bien clue market – with so many kinds of fruits. Then you had better walk around to Old Quarter again to eat other delicious food of Vietnamese – street food for breakfast and buy unique gifts. After that, you should spend time relax yourself before leaving.
Vietnam- the country of beautiful landscapes, hospitable people are willing to welcome you all. Vietnam- the country of wonderful sceneries in November is waiting for you to visit!