A trek through the fields and mountains of Sapa is the highlight of your trip. You can visit indigenous villages and see the wonderful scenery of northwestern Vietnam. This guide will help you choose a trip that suits your needs and prepare everything for your Sapa trekking trip.
The best time to take a Sapa trekking trip
The dry season in Sapa starts from January to May every year. At this time, the weather in Sapa warmed up; especially in March when Sapa is bright by azaleas. Therefore, this is a very good time for trekking.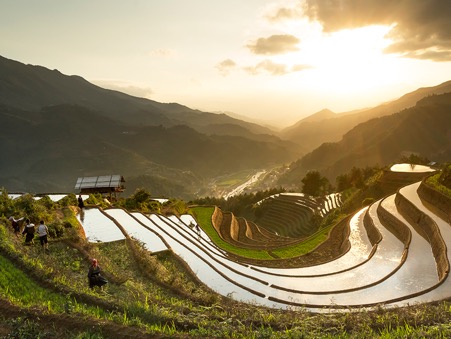 From June to August is known as the rainy season in Sapa. Therefore, trekking at this time is not easy. You need to be well prepared to ensure safety for trekking. However, to Sapa in June – July you will admire the fresh beauty of the green terraced fields.
September – November is a very good time for trekking. The weather of Sapa at this time is very cool, with little rain. You will see great scenery with terraced fields with brilliant yellow colors. Trekking Sapa in this period, you will have the opportunity to admire the sea of ​​clouds – one of the most attractive for tourists when visiting Sapa.
Things to prepare for Sapa trekking trips
You will go up and down the hills so you must have good health and endurance. A normal trip is about 12-15km per day and you walk about 5-6 hours. These difficulties are not the same as when you climb the mountain, the road here is not too bad even though there are no paved roads. That's why after heavy rains, the road becomes slippery.
When taking a trekking tour in Sapa, you should tell the guide about your health so that he/she can make the best decisions for your route.
Here are the items you need to prepare for a Sapa trekking trip.
Knowledge
Trek is a kind of experience and exploring the unique cultural space of ethnic minorities living here. In order to have a fun trip, you should learn about the village customs and practices, things to do and should not do when visiting villages.
Journeys
You must learn the cadastral map and the area topography to plan the trip. Calculate reasonable travel distance to prevent dangerous situations. See weather forecasts for preparation options. Prepare a letter of introduction if the trekking area is a border area or protected area with the management of the authorities.
Clothes
Since the trip is mainly a walk, you need to prepare neat clothes, sweaty and airy. Clothes should have many pockets.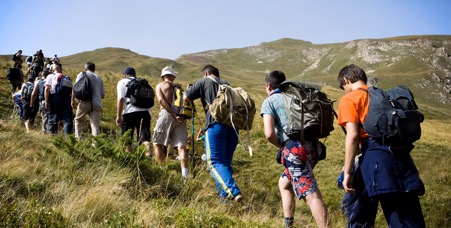 Walking shoes
You should prepare 01 pair of flat shoes, bata shoes or sport shoes. These shoes make your Sapa trekking trip more convenient (absolutely do not use high-heeled shoes and new shoes. They will make your foot very uncomfortable). Shoe material has to be waterproof and quick to dry.
Backpack
You will have to carry your luggage yourself during your trekking journey, so choose a backpack that is suitable for storage. You should prepare a backpack with belts to tighten on the back. Your backpack must have a foam mattress to create a smooth feeling and comfort for the whole journey that you will be wearing backpacks all the way.
Food and drink
A walk takes you a lot of energy and water, so you need to prepare enough food and drink to supplement your body when you need it. Some food to bring are Bread, canned meat, sausage, snack (note that you should bring a few candies to share with the children in the village during the visit).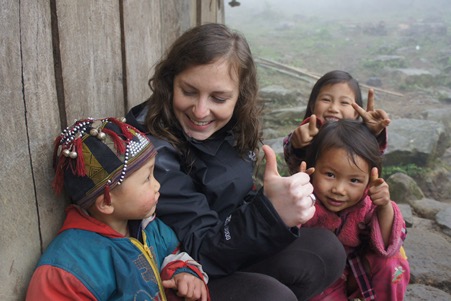 Medicine
Medications for colds, fever, diarrhea, antipyretics, antibiotics, bandages, red pills, vitamins, tonic and Snicker candy (a candy that provides very high energy) are indispensable. Vaseline is also necessary to prevent cracking.
The risks when trekking in Sapa
Problems of altitude sickness and prevention
The trekking paths in Sapa are relatively high compared to the sea level, so altitude sickness is one of the common problems when trekking in Sapa. This is a normal phenomenon for many people who must move on areas with elevations above 2400m. The reason is that the body has not been able to adapt to changes in pressure and air.
To limit this situation, you can apply the following measures:
• Move at the right speed so that the body has time to adapt gradually to the elevation change.
• Reasonable rest.
• Use high altitude sickness vaccine. It means that before trekking, you should see a doctor for advice and prescribe some medicines to help reduce this condition.
• Drink a lot of water. Research has shown that when the body loses water it reduces the ability to adapt to new heights. So you must promptly replenish the lost water for your body.
• Eat sensibly. Some foods help you limit altitude sicknesses such as pasta, bread, fruits, potatoes, …
Note: When trekking, if there are any symptoms of altitude sickness, you must immediately report to the team leader for support!
Injury during trekking
Walking for a long time in an area with complicated terrain like Sapa, the injury is very normal. The injuries you may experience include: knee pain, joint muscle or swelling in the legs, …
These are all treatable wounds. If you have problems, you can ask for help from other members or guides. Handling such injuries is a skill that any instructor has learned so you don't need to be too worried.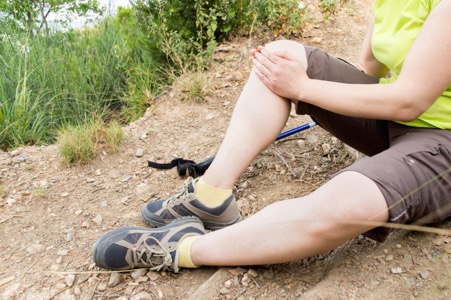 Is drinking spring water safe?
Spring water is not safe for your health. Therefore, you must prepare clean water to use during the trip. You can buy water at the motel or bring a water filter to filter before use. However, in some urgent cases, your body is severely dehydrated, the spring water is also considered a good solution you should use.
We believe that the above information will help you have a memorable Sapa trekking trip. If you have any questions, let's send for us to deal with it.