Sapa is a small town and a tourist attraction belonging to Lao Cai province, Vietnam. Though this is one of the hottest destinations in Vietnam and it's about over 370 kilometers in the distance from and to both Sapa and Hanoi, there are three options get here like by bus, by train or by motorbike. Actually, for a long experience, Hanoi to Sapa bus is evaluated as the best way as it has many advantages and you can choose transfer a day or a night. Especially, this kind takes shorter time than others type like train, motorbike with reasonable price.
There are now special passenger buses that offer a very comfortable and safe journey. These buses are specially designed for travelers and hence, are very comfortable to travel in and generally equipped with all the latest amenities such as music players and LCD screens for the fun and entertainment of the travelers.
Though it is faster and cheaper, it is considered more dangerous than moving by train. The way from Hanoi to Sapa is not an easy and cheerful way. You will definitely feel uncomfortable when stay in a narrow unconcealed space for more than 6 hours, depending on traffic and weather. Sleeper buses come in two formats: the most common is three rows of bunk beds running from the front to the back of the bus with a wide bed at the back, and the other has two rows of double size bunk beds or twin beds. Beds are far smaller than on the train, don't go flat and have limited storage: bags are kept in the under-bus storage.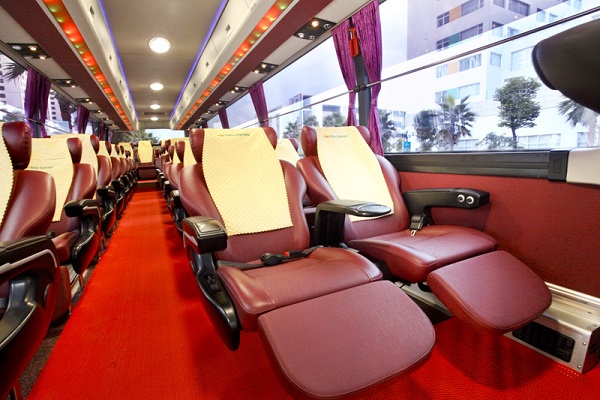 You can catch the bus at three bus stations such as My Dinh, Gia Lam, Yen Nghia and Nuoc Ngam with the bus named Hung Thanh, Hai Van or Ha Son. There are daily buses departing Hanoi at 6.30a.m or 10p.m with the price is around 250,000 – 350,000 VND. Hanoi to Sapa bus departs daily at 7am on the highway.
Traveling from Hanoi to Sapa is a fun filled experience via bus as it is a cheap, highly accessible and a comfortable mode of transportation. You will enjoy the scene of the Vietnamese countryside along the road and it is by far the quickest and easiest way to travel between two destinations.
Below are some popular busses that can be found for your Sapa trip:
The smart buses provide a comfortable journey allowing you to enjoy a pleasant bus ride to your preferred destination, unaffected by weather conditions. For a comfortable travel experience, the buses are fitted with upholstered seats that can be reclined. You will listen music and play movies for entertainment of passengers. Not only that through glasses as window, you will grace the pass viewscapes.
An innovative concept introduced a year ago, night sleeper buses are the most preferred bus type for those who want to save time. You will have a dream before getting Sapa on the bus. Especially, different with by train, when you catch up Sapa by bus, you don't need to stop in Lao Cai station. Otherwise, sleeper buses are setted up by comfortable service system and have berths instead of seats. Each passenger is assigned a berth to sleep on during the journey.
Finally, one suggestion for you is to choose the seater cum sleeper buses that offer you the seats and berths within the same bus. A smart bus or called mobi home has two rows of seats that regular buses feature and in addition it also features a row of berths above the seats on each side of the aisle. Therefore, depending on your budget, you can choose for either a seat or a sleeper berth on seater cum sleeper buses.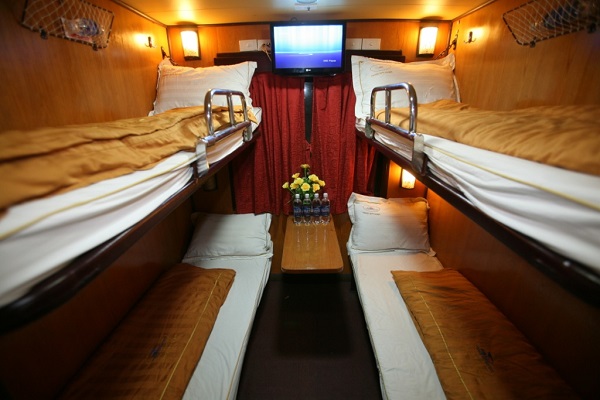 Some tips for Hanoi to Sapa bus:
– Safety tip: Let's secure your bags, lock your suitcase carefully and keep passport, money, important document carefully.
– What to bring: The assistant driver will give you the fast foods, however, you can bring some foods you want. Besides, to get the unforgettable trip, you should bring the devices, camera, something like that.
– You should wear comfortable, easily removable footwear and a pair of socks to save energy in the trekking.
– You should go directly to bus lines office for purchasing the bus tickets because some travel agencies will charge you some extra fees.
– Once you arrive in Sapa, you can ask the receptionist make reservation for your return bus.
Some places you should visit
Cat Cat village
Cat Cat village is one of the most popular attractions for tourists. The village dates back to the 19th century and was established by ethnic families, such as the Black H'mong in this mountainous region. A visit to this village gives a perfect opportunity to admire the quiet scenes of the local community going about their day-to-day life. Plus, this village is also known for its tradition of creating silver and gold jewellery.
In addition to getting a glimpse of the local ethnic people going about their daily life, it is also possible to get involved with some of the traditional activities including fabric weaving. Plus, this is a great time to shop for traditional handicrafts and souvenirs from the local craftsmen.
A further benefit of visiting the Cat Cat Village is the ability to use the road as an interesting and easy path for trekking. This village is only about a 25 to 30-minute walk from the center of Sapa, and the relaxed hike through the mountains will give the traveler an opportunity to gaze at the water buffaloes, waterfall, and rice paddies.
Y Linh Ho village
After finishing with Cat Cat village, you continue discovering Y Linh Ho village, which is a small commune composed of many small hamlets scattering on the very tough mountain terrain with high and steep mountains. Then this village is a home of Black H'mong. They wear the dark clothing and navy dyed with indigo which often seen in the hands of older H'mong women. Their houses are built on the farmland. As a result, the only way to get to the village is on foot on the road.
Ta Phin village
Ta Phin is another attractive village in Sapa Vietnam, approximately 17 kilometres to the west of the town of Sapa and home to the H'mong and Red Dao minorities that have been living in close proximity for hundreds of years while still being able to retain their unique cultures and traditions. By strolling around the village, it is possible to view the hill tribe houses, mountings and rice fields, as well as to understand the differences with the unique tribal communities. Additionally, in the Ta Phin Village, the tourist can shop for the locally made and distinctive brocades.
Note: It is too touristy now in Ta Phin and tourists are disturbed by Re Dao ladies who follow you wherever you go to sell their brocades. Our advice is not to book the tour to this village.
Giang Ta Chai village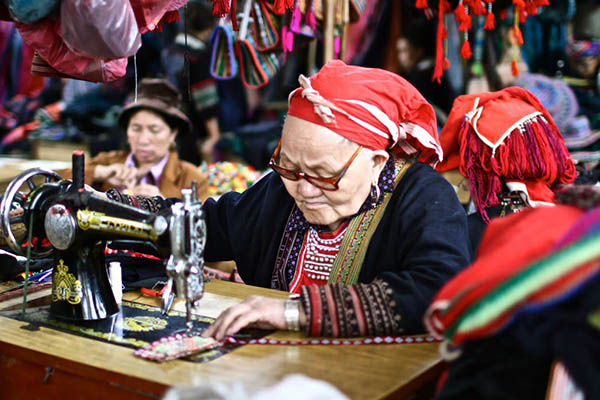 You continue walking cross a bamboo forest to Giang Ta Chai., which is home to a Red Dao ethnic minority village. Giang Ta Chai is known as a home of H'mong local people then you can know how they make their clothing. They typically weave and embroider the fabric themselves. You have a chance to buy the souvenirs from them such as crafts, embroidery.
You will grace a superb view of mountain and rice paddy fields of Muong Hoa Valley. Muong Hoa valley is famous for lots of colorful flowers. Therefore, you can have a chance to admire the beautiful views. You will start climbing uphill to a road. You continue driving back down to the Golden Stream and the Love Waterfall. Actually, Love Waterfall is the ideal place for relaxation because you have a chance to explore a legendary love story that has been told to generations in this land as well. If you stand from afar, the waterfall looks like a twinkling pyramid under the sun. Silver fall owns stunning views of surrounding mountains and lush forests. When you stroll on the road through the forest, you will grace the beauty of flowers with the various colors, which creates the particular scenery here.
Bac Ha market
Bac Ha market is located about 76 kilometers from the train station on Sunday. This market organized in every Sunday which is famous for the originality and authenticity that the traders still preserve. They provide several items such as handicrafts, food, home tools and blacksmith. Each has its own trait and worth joining. It is not simply a place for buy and sell but also an opportunity for people from different ethnicities to come and meet. Almost women offer their beautiful handmade traditional costumes and even for youngsters to find their dates. It is worth investing in the road is curvy and challenging, even after significant improvement.