If you cross the fascinating Muong Hoa River then go up to the mountain, you can reach one of the most amazing ethnic village of Sapa- Su Pan village in Su Pan commune which is often  referred to as a mountainous commune.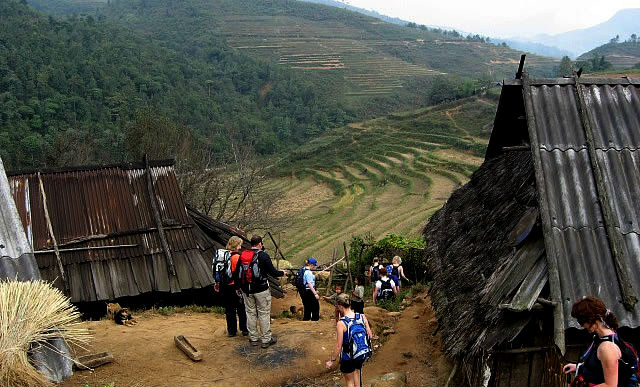 Sharing the position of next to Muong Hoa Stream or  Muong Hoa River at the fascinating Muong Hoa Valley to Lao Chai and Ta Van communes but Su Pan is a very mountainous commune since it perches on the mountain. Being a part of the highland on the east side of the main road, it is about 17 km from Sapa town and Su Pan commune with its 4 small hamlets is home of the Black H'mong and Red Zao. This village looking down to the Muong Hoa Valley is one of the poorest communes in Sapa due to the thin and poor soil (2/3 of mountainous land). Thus, with its unfavorable land conditions which is poor and slope, the people here are hardly able to cultivate rice but corn and some other kinds of staple food. However, these corn terraces are exotic and impressive spot for travellers coming and enjoying. If you walk uphill from the main road, you can catch the images of rudimentary houses built on the rocky land in which the locals grow corn and cassava for main food.Though it is a poor village and it receives lots of supported policies from Vietnam Government and charities, it is interesting that you will not see any commercialization which means the spot owns its pristinely natural beauty and attractions. Through the winding and slope path, you reach Su Pan and have chance to communicate with the people here to explore their culture and lifestyle.The simplicity of the ethnic and its naturally charming sights are still remained and seduce you with the fresh and comfortable trek. If you are lucky, you can get the sight of villagers who are in simple brocade clothes are working on their terraced fields but always with their optimistic and friendly smiles.
Besides agricultural activities, nowadays the local people can raise their income and support their living by making sophisticated brocades. Tourists coming to this village often see some group of women gathering together and talking while embroidering carefully and happily. Their products are embroideredwith traditional patterns such as birds, flowers, leaves and zigzag symbols with many colorful and eye-catchingthreads to produce small but sophisticated gifts for sales as souvenirs and they are definitely worth to buy for your family and friends. Tripping to Su Pan when coming to Sapa town is a high recommendation and remember to prepare for you with good shoes for trekking. Since you here in the Red Zao's land, it is worth to try their traditional herb treatment so-called herb bath.
Information:
– Distance from Sapa center: 17km (to the east)
– Area: 9.41 km²
– Residence: over 300 households, 4 small hamlets, mainly the Black Mong and the Red Zao
– Attractions: MuongHoa Stream (River), terraces, risky and winding paths, the Black Mong and the Red Zao, herb bath, brocades.