Sapa is a land that has long been dubbed as the destination of love, because of its romantic beauty and the foggy weather all year round. If you and your lover want to go exploring Sapa together, experience the local culture and cuisine here, let's find out what is the best homestay in Sapa for a couple. Being with the locals people in a mountainous area will be an enjoyable experience for both of you. There are so many choices of homestay for you.
1.  Sali house – best homestay in Sapa
Small but full of romance, maybe Sali house is the best homestay in Sapa for couples when visiting this town.
"Come here, no need to go anywhere, around the house was the beautiful scenery. The murmuring stream flows like a picture, the garden in front of the house is jammed, the whole night sky is huge, cloudy and starry, the spring air is wet and cold "… enough to make us want only side each other but do not want to return.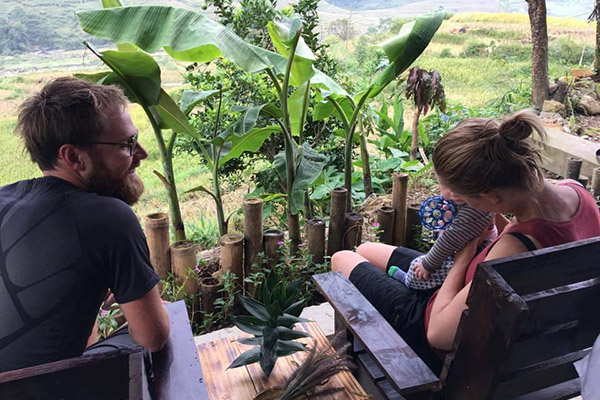 Staying in this house, you can look out onto the Hoang Lien Son mountain range or masterpiece – terraced fields. Slowly living in Sali House, you can go to the market together and make some delicious dishes, listen to music, read books, cook rice. As one of the few beautiful Po Mu houses in Sapa, Sali House is a place to escape for two people can slowly enjoy the sweet life together. Homestay has 5 bedrooms, blankets are used from indigo-dyed handmade jute fabric with eye-catching motifs, by the hands of the native Hmong.
An in-house library, a common living room, a super view bathroom, a regular bathroom (all with hot water), and a toilet. The kitchen at Sali House is also spacious with full cooking utensils. In particular, both the kitchen and the bathroom have beautiful view windows. Sali House meticulously accommodates guests with convenient services such as free wifi, free rice, free coffee, tea, breakfast, drinking water, scented candles and essential oils like real small warmth.
Price Book in Sali House for a double room is $30. It must be an unforgettable experience for any couple staying at SALI HOUSE – the best homestay in Sapa.
2.  Tavan Green Hills Homestay
Ta Van Green Hills is located at the end of Ta Van village, 8km from the center of Sapa town. It's another best homestay in Sapa for a couple.
By the beginning of 2017, the establishment of Homestay in the home. Ta Van Green Hills brings warm, friendly feeling to couples when staying here. Rooms have romantic views overlooking the valley and terraced fields. In front of the house, there are small streams, murmuring, feeling like completely away from the crowded streets, mingled with nature and enjoy the full holiday together. Sitting next to the flat rocks near the streams and reading books, there is no experience that could be more interesting and memorable.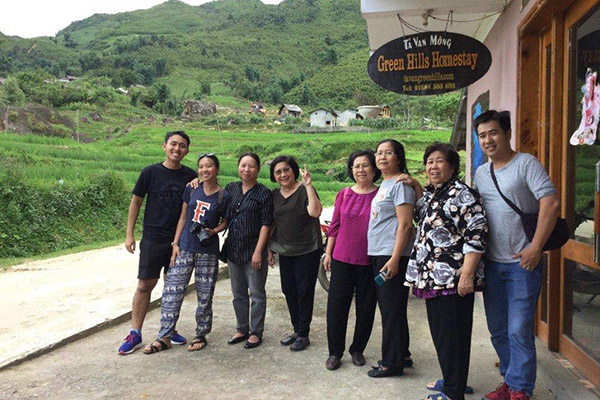 This guest house offers free WiFi in public areas, a 24-hour front desk, and a library. Other amenities include a terrace, a garden, and barbecue grills. There's also the convenience of free self-parking. Decor in the house lovely, impressive and unique to every detail. The bright morning, listening to the smell of oil and charcoal very pleasant seems completely immersed in space here. If you have the opportunity, let's experience the rustic experience this homestay in the land of fog.
The price for a double mountain view room is only $10. Ta Van Green Hills. This is little away from the center (around 7 miles) and gives the perfect feeling of sapa and locals in a comfortable way.
3.  Tavan Ethnic Homestay
Ethnic homestay is located in Ta Van Giay, belongs to Ta Van commune. It has a very romantic, peaceful scenery of rural village with lush green terraced fields, for a distance is vast Hoang Lien forest running out of eyesight. Sometimes, birds flying in the sky sing a love song of the mountainous area.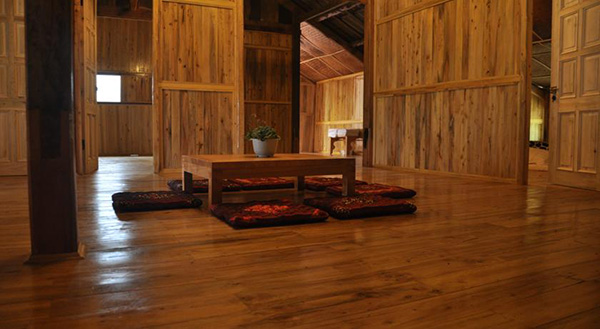 This house is designed according to the model of the Giay housing. Grasp the psychology of customers with different needs, Ethnic homestay has the bedroom types to suit the needs of the couple. It has 3 private rooms dedicated to the couple prefer private, quiet space. In addition, ethnic homestay has a minibar on the 1st floor serving snacks such as candy, snacks, drinks, wine, beer, … Surely, the top concern when choosing homestay of a couple instead of the hotel is because of the exciting entertainment. Here, fun activities are unstopped. After dinner, you can sing karaoke, go to catching frog, fish or cultural exchange with indigenous peoples…
After a night's rest, two of you can get up early to take a stroll around the village to get a feeling of fairy, peaceful, fresh and cool air of Northwestern mountains.
In addition, to Ethnic Homestay, visitors also have the opportunity to meet, learn about the people and customs of Ta Van Giay people. In particular, the Giay has an extremely rich and diverse cuisine.
Tavan Ethnic homestay has 12 rooms. It offers beautiful, spacious, clean room with a comfortable bed. With very affordable prices, only $15 for a double room, the couple has a quiet and romantic place to stay and experience so many interesting things about the culture, customs and traditions of the Giay community in Sapa.
4.  Tavan Chopai Homestay
Tavan Chopai Homestay is just 12 km from Fansipan Mountain. From here, guests can enjoy easy access to all that the lively city has to offer. With its convenient location, the hotel offers easy access to the city's must-see destinations. Fishing and hiking are common activities in this area. Guests can make free use of the bike and rent a motorbike. Tavan Chopai Homestay is 6 km from Sa Pa Lake and Ham Rong Garden – Ham Rong Mountain. Walks and treks are fantastic with local guides to help you understand their unique culture.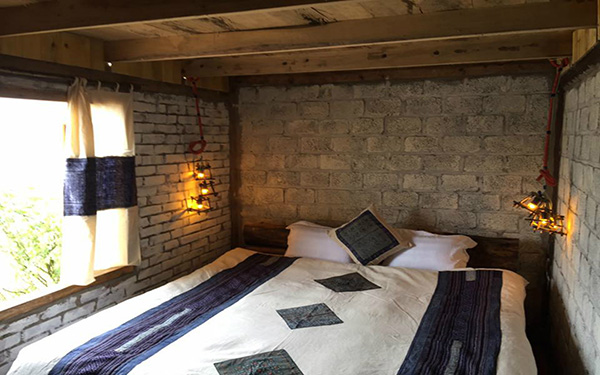 This homestay property features BBQ facilities and mountain views, while guests can enjoy a drink in the bar. There is a gift shop. Chopai homestay offered breakfast included, free internet, free Wi-Fi, free beer happy hour, free tour information, hot bath, towel, and spa. The open terrace bar will give you a relaxing mood. You also can admire the beautiful sunset on the top of Fansipan Mountain while listening some jazz or the local minority music. This property is one of the best rated in Sa Pa. Couples love this place especially because it's perfect for a two-person holiday.
This place is also considered to be the most valuable in Sa Pa! Just $15 for a double room. You will save more than you would like to stay at other accommodation in this city.
5.  Nam Cang Riverside Lodge
If you first experience the homestay model and want to be sure that your place is clean, professional and still close to nature, then there is no option at Nam Cang Riverside Lodge – a beautiful homestay. modern architecture in Nam Cang village.
This homestay has the natural surroundings that are as wonderful as a vivid picture. Go through a bridge across the river and you get to this beautiful homestay. The whole house is made of wood, a special wood that emits a pleasant aroma that makes you feel so relaxed, pleasant. Dark brown tones are used most of the decorations make the room warm to strange. Surrounded by stunning natural surroundings, Nam Cang Riverside Lodge features 7 double rooms for the couple and 2 family rooms with all the amenities of an upscale hotel. Bathrooms have stone floors, white tiles, and modern fixtures, all complemented by a view over the river.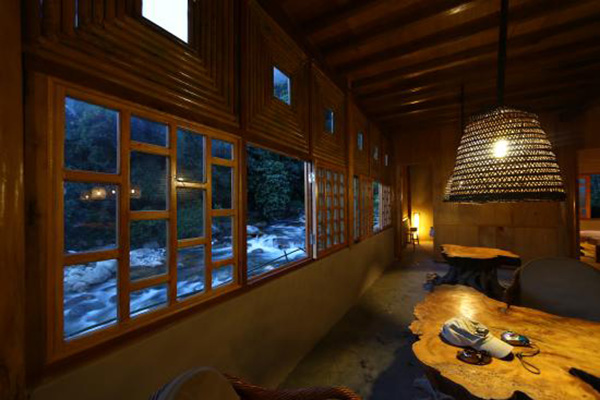 From here, you just take a few steps to get into the village, where the Red Dao people live to see the scene of life, explore the life of ethnic people here. The Red Dao people are very friendly and gentle, they often sell fine artifacts and handicrafts. You can buy it as a gift.
For entertainment, the village boasts two expert silversmiths who specialize in handcrafted jewelry, a bamboo papermaker, dozens of skilled weavers, embroiderers and seamstresses, and fishing lessons in the river. Meals are traditional Vietnamese dishes cooked over an open fire by a talented local chef and served at big wooden tables in the lodge's dining room. A long open terrace overlooks the river, with comfortable conservatory-style furniture in which to sink back and absorb the deep tranquillity and river valley sounds.
The special feature that many people like is the view overlooking the tranquil riverbank. There is something more interesting than sitting next to the river, listening to the murmuring water, sipping a cup of tea or coffee and watching the majestic mountains of Sapa.
Analysis the information, hope that both of you will choose the best homestay in Sapa that is suitable for your demand, and enjoy an interesting holiday in this destination of love – Sapa!