The town of Sapa in Vietnam is a popular stop for most tourists who arrive from Hanoi on the overnight trains. With the surrounding mountains and tribal villages, approaching the highest peak in Indochina, it is quite understandable why Sapa is so popular with hikers, climbers and travelers looking for markets and cultural immersion with the hill tribes. Sapa is famous for many traditional foods made by the ethnic groups. If you are worried about where to eat in Sapa, no problem because there are plenty of options, even for vegetarians in the list of 10 best restaurants in Sapa.
What do you eat?
Besides the luxury foods tastes in Europe in some restaurants, foreigners really like the traditional foods in Sapa. We offer the top delicious foods in here for you:
Com Lam
Com lam is made from glutinous rice. How to make Com lam? they have to mix the rice with a little salt and crushed ginger. They are using young bamboo hollow for containing rice and covered 2 head of tube with banana leaves. Each bamboo tube is about 30 centimeter long. They pour about 3/4 rice in the bamboo hollow, and add a little spring water. Then, the bamboo tubes were grilled on charcoal. When cooked, it will smell very fragrant and supple. You may eat it with a little sesame salt or other dishes like chicken, pork, egg,…
Thang Co
Thang Co is a featured dish of Mong people. You can easily find this dish in their villages and markets. The main factor to make Thang Co Sapa is the horse. A combination of this dish includes the horse's meat, heart, liver, innards and 12 kinds of spices. When eating, the broth and sliced horse meat are added to the pot. Thang Co is usually made from many vegetables such as "cai meo", "cai lau" and so on. Let's try Thang Co with corn wine – the fragrant wine of the highland region, it brings an unforgettable and pleasant taste.
Seven-color sticky
Seven-color sticky rice is a traditional dish of Nung people in Muong Khuong district, Lao Cai province. The seven colors of this dish are pink, light red, dark red, indigo, yellow-green, green and yellow. The colors of sticky rice are made of different kinds of leaves in the forest. The people here believe that eating the seven-color sticky rice on special and important occasions will bring good luck.
Dishes of salmon
You can buy a salmon in the restaurant and asked chefs into many dishes. They are processed into many dishes such as sashimi, fried, steamed, cooked curry,… However, salmon hot pot is the most favorite dish of many diners. Let's try once time before coming back your country.
Barbecue
Almost tourists come here to enjoy the tasty barbecue as it is very interesting. There are many foods make an unique taste of Sapa including potatoes, cassava, eggs, chicken wings, Meo spinach, stream fish, or "com lam"… everything seems to blend in perfectly that create an unique taste of Sapa. We believe that the various foods make your best feeling.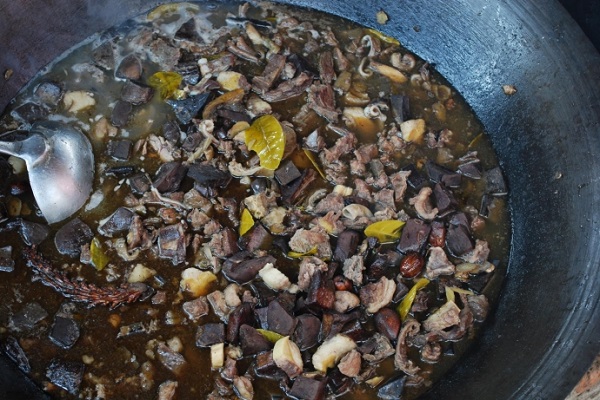 Sapa's Spinach
The simplest way to cook the Mong spinach is to cut them into small pieces together with some slices of ginger then boil with water to make a fresh warm soup. A more fancy way to prepare the spinach is to cook with the minced chicken and some ginger slices together with pinches of salt and teaspoon of fish sauce will create an unique taste and sense of irresistible smell. The Mong spinach also goes very well with stir fried beef, especially with the smoke bacon and the local Sapa hot pot. Just remember to twist the spinach instead of cutting so it won't lose the tasty flavor the the vegetable. You can buy this spinach in each home of ethnic minority or any Sapa fair market at the weekend. Most of restaurants always have this vegetables on their own menu. A bundle of vegetables cost about 10,000 Vietnam dong, so many travellers bring come back their home.
Grilled fish
This simple dish is incredibly delicious, and it is a pity if you travel to Sapa without trying the grilled fish. Sapa has many kinds of fishes, and their flavors are different from other fishes. The goby fish, bighead carp, etc. are usually found in the stream of Sapa. Almost of them are not so big, just as big as your fingers. When completing the catching fish process, you just need to make a fire to grill the fishes or cook them with some kinds of species to have an attractive dish. The sweetness and freshness of this dish are irresistible to any diners.
Sapa Cap Nach pigs
You can easily see the locals theft the pig in their armpit at the market, and this is also the origin of the localized breed pig. The locals let the baby pigs grow up naturally, and after one year, when they are more than 20 kilograms, they will be sold for meat. The Cap Nach pig is so famous that many restaurants use it to cook many delicious dishes. The soft, sweet and less greasy meat, as well as the crunchy skin, is the principal feature of the dish. Pig is usually marinated carefully in many kinds of spices and served with wine. You will fall in love with this dish at first sight!
The top of best restaurants in Sapa
Hill Station signature restaurant
The Hill Station Signature Restaurant is the perfect place to experience delicious foods of H'mong. The restaurant, located in the shadow of the tallest mountain in Vietnam, Mt. Fansipan, provides superb views as the diners indulge in the unique flavors of the north. One suggestion for you is to try the flash-cooked pork and the traditional Hmong-style black pudding. Get some glasses of homemade rice wine to go with, and it will be a perfect evening. This restaurant offers a cosy joint with quality food and drink to set up base when it's cold or foggy.
Nature view
Another location in which you can dine with a fantastic view of the hilly surroundings, Nature View, stays true to its name. On the menu are a mix of delicious Vietnamese and Western food items, and the dining experience is only further enhanced by the lovely service. It is also a great place to take some time to yourself, sit outside, above the clouds, and sip some local Lao Cai coffee as you enjoy a great book. They also had a decent number of vegetarian options on the menu so I'd say this is one of those places to eat in Sapa that vegetarians will like eating at. The chicken sautéed in lemongrass and basil, grilled salmon, and the yoghurt sautéed chicken are worth a special mention. Plus it's open 24 hours!
Little Sapa
Little Sapa is best for Vietnamese food and the prices are quite cheap than others. With a large, delicious menu and fast, friendly service, this is another great venue to get some local specialties. A must-try dish is the special Sapa mushroom-tomato soup, which will also help you stay warm in the chilly weather. The restaurant offers Chicken noodle soup. The fiery garlic sauce that sits on all tables is a great accompaniment to most dishes.The fiery garlic sauce that sits on the tables is a great accompaniment to most dishes, but take it easy!
Sapa O'Chau Cafe
Run by the Sapa O'Chau Travel Social Enterprise, this is a special café that serves as a meeting place for the socially conscious, a training facility for the students of the enterprise, an information center about the Sapa O'Chau project, and a place to organize treks and homestays. Sapa O'Chau is a non-profit organization that aims to promote education and employment opportunities for the Hmong ethnicity in Sapa and beyond. For cold days, the ginger tea sweetened with Sapa mountain honey served here is the perfect way to warm up.
Baguette & Chocolate
Another in the best restaurants in Sapa is Baguette and Chocolate. Their foods are made from a very good variety of snacks, main meals, tasty pastries and desserts to keep your tummy warm as well. Not only that, it offers the coffee that does great croissants, stuffed baguettes, all day breakfasts, eggs, coffee and desserts. Coming to Baguette & Chocolate, you also enjoy the Hanoi beer, Vietnamese's foods. You pick your kebabs from the display out front and they're cooked up for you on a barbecue and brought to your table. They do have a menu but it's easier to point.
Sapa Cuisine Restaurant
Hidden away, up some stairs in an alleyway, this restaurant surprises most patrons by how good the dishes are, despite the restaurant being quite empty. It has the location to thank for that. You are welcomed into a warm environment with smiles, and it only gets better from there. The food is healthy, cooked using organic ingredients sourced from local farmers. The menu changes seasonally, but dishes to keep an eye out for are the pumpkin soup and the lemongrass stir-fried tofu.
A Quynh
Here's a restaurant that is a little hard to find information about in English. A Quynh is a favorite among locals and famous for serving Northwest specialties; it is a great option for foreign travelers to try some unique dishes. Residents of Sapa come here to try their "thang co" dish made from meat and internal organs of horse, beef, buffalo, and pork. Other dishes that shine are the bamboo-tube rice, smoking-shelf buffalo, stream fish, sautéed and baked food made from wild boar, and horse hotpot.
Delta Italian Restaurant
Delta Italian Restaurant provides a full Italian dishes for someone who want to eat good pizzas, house-made pasta dishes and a reasonable selection of meat and fish. The wine list is good. You completely enjoy a pizza and a bit of competitive spirit with friends, although it's a bit pricier than other options in town.
Sapa Lotus
Next, Sapa Lotus is designed following the unique style. It offers Western food with a unique Vietnamese twist. Local dishes are available too, with a similar menu to other restaurants. Order family style – which means you get a couple of dishes and share with one another over chit chat. That's how the Vietnamese do.
Le Gecko Restaurant
Le Gecko Restaurant is known for its French cuisine like global cuisine including burgers and pizzas, although, yes, they also serve up a small selection of French mains and omnipresent Croque Monsieur. The drinks is interesting by the juice combinations and smoothies. It's certainly a good spot for a drink.