Stretching 1,650 kilometers from North to South, Vietnam is packed full of wonderful sights and experiences that are not to be missed. Its unique shape also means that you can start off your journeys in Hanoi, the highlands, local market in Sapa and deserted beaches, natural wonders in Halong Bay. The list of best things to do in North Vietnam is very impressive, for it really does offer many things for tourists including the landscapes, traditional foods, and the long culture.
 Discovering some famous destinations in North Vietnam
 Hanoi capital
Hanoi will be the first meeting point in northern Vietnam for many travelers who want to retain its original and distinctive rich history, heritage and attractiveness. One of the most important museums in Vietnam you shouldn't miss is the Vietnam Museum of Ethnology. The museum is known as the concentrate on culture home of the cultural heritage of 54 ethnic groups in Vietnam. There are many tools displayed in there such as artifacts, habits, dwelling, clothes, photos and so on. Continuously, you can see old houses and buildings of the inhabitants, and inside, with the rest of the exhibits. The best idea is to visit some of the villages directly with minority residents in the north of Vietnam.
You should take a cyclo tour around Hanoi Old Quarter in order to grace both of old-style and modern – styled streets. Spending two hours on complex of Ngoc Son Temple, The Huc Bridge, and Pen Tower, you will get more knowledge about Vietnam. With influences from all over the world, the city's Old Quarter still keep the interesting architecture and history.
One recommendation for you is to enjoy puppets performance which is traditional Vietnamese music and narration is in the Vietnamese language.. Water Puppet Theatre is mostly performances of farmers and glimpses of historical legends. The puppets are made from the wood of fig trees and their height is almost 90 centimeters. As a result, Water Puppet Theater in Hanoi – certainly worth a visit.
Sapa
The next destination on your tour is Sapa which has many beautiful scenes and the long culture of many ethnic groups. You will be guided to trek some of the remote minority villages then see plenty of Hmong and Dao people at the markets in town, too.
Visiting some villages is one of the best things to do in North Vietnam. Firstly, Cat Cat is the old village of ethnic groups which attracts tourists from all over the world for its distinctive customs and practices. After walking to Cat Cat Village, you will have an opportunity to see farms and techniques used by the people in the area. Cat Cat village, the home of the Black H'mong people, who is famous for its brocade weaving craft as well as its gold and silver jewelry making. Not only that, you can buy several traditional souvenirs and handicrafts from the local hosts such as twisting flax and weaving fabric.
This short trek to Shin Chai community village allows you for cultural acclimatization. Local people always take the time to make the textile weaving. They are willing to explain the names and function of the local flora for your understanding. The Red Dao ethnic people in there wear the colorful clothes. Thus, you will have a chance to participate in the village community.
Lao Chai village is a home of black H'mong people. From the above, you can admire a great view of the whole village open wide to offer the marvelous panorama of the village, backed by high mountains and facing the river. You discover deeply some of the H'mong's families. To have more understanding of their culture and customs, you can ask them. Local people in Lao Chai village also has the power experience in growing the rice farming near the bottom of the valley. Growing corn on the mountain slopes at the back of the village is the main of their income.
Bac Ha market is the big Sunday market of the Flower Hmong people. You can meet with the people of the local ethnic minorities in the neighborhood, mostly with the Flower Hmong and Tay. There are many ethnic groups come here to exchange the goods such as Flower Hmong ethnic group is Tay, Dzao, Tu Zi, Nung, Phula, La Chi, Lo Lo, Xa Fang, Lachi, Nung, Phu La. Bac Ha market is the place displayed animals and the products of the local people such as different textiles, saddles for horses, cushions, figurines and other handcrafted items.
Halong Bay
Halong Bay is one of seventh UNESCO World Heritage Sites. Hundreds of tiny islands, dozens of caves and innumerable deserted beaches offer to tourists. It is famous for its huge limestone karsts.
Coming Halong Bay, you have an opportunity on visiting the caves on the cruise. Following the trip, your cruise will come to several caves like Fighting Cocks, Duck, Finger, Incense Burner, and Stone Dog. Then Dau Go cave in Halong Bay beaches is the next point. It has the name by the remaining wooden pieces. The grotto as the picture of the ancient citadel and a scuffle of horses, elephants, and people. After that, you should visit other cave, like Sung Sot cave called" Surprising cave" is a large cave including two chambers.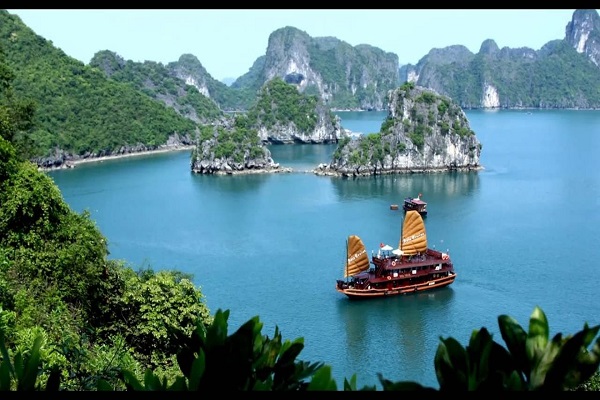 One of the most attractive things in Halong Bay is Sun World Park. Sun World Halong Park is the largest complex entertainment of Vietnam. Coming Sun World Halong Park, you feel living in a "Dragon Land" with plenty of captivating and novel attraction. Queen Cable car system and Sun Wheel in the park which has reached the world's record the most capacity cabin. Tourists can easily grace overview from above to get a perfect look of Hon Gai Port and Halong Bay from above. For complexity, while the young are playing adventurous games by walking in Zen Garden. Additionally, the suggestion for you is to visit in Halong Bay Tour is the Sun's wax museum.
Enjoying the traditional dishes in North Vietnam
One of the best things to do in North Vietnam is to enjoy almost traditional foods which are served on the restaurants and corner-streets.
Bun Cha
Firstly, Bun cha is tasty, accessible local dishes that shouldn't be missed during a visit to the capital. Try and push yourself beyond the stench and sample the exquisite mam tom sauce with your cha ca. You won't forget it. You may become a fan for life. There are many components to cook Bun Cha and it needs the good skills. You should drink beer and eat this food together. You can walk in the Old Quarter to enjoy other foods in order to get the enthusiastic diners.
Cha ca
Cha Ca is one of the unique specialties and many restaurants serve great cuisine. It ensures that almost foreigners love this dish and it is a Hanoi food worth flying for. Listening to the name of the dish, you can guess the main ingredient is grilled fish and other ingredients are vegetables, special spices. Especially, you can see how to cook this dish on the table and the savor of foods.
Pho – Vietnamese Noodle Soup
Pho is the most popular food in Vietnam. The particular types of Pho are beef, chicken, fish, and pig. The dish includes several ingredients with slices of beef, rice noodles and a plateful of vegetables. You have just paid 2$-4$ a bowl. Therefore, tourists have just paid a little money to get a cheap bowl of soup with ultra-fresh ingredients.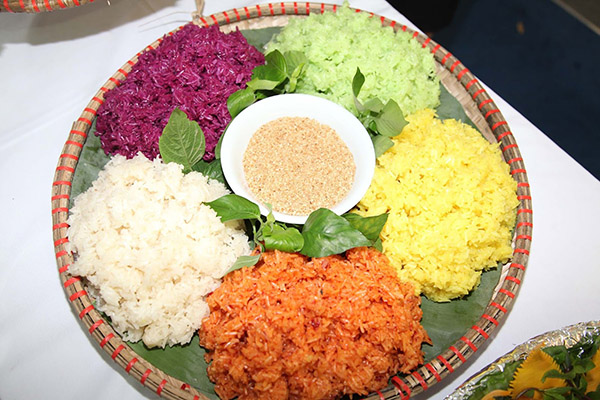 Banh cuon
Banh Cuon is made of a thin rice sheet rolled with small meat and dried onion. It is easy to find out the restaurants to enjoy this dish. And you can mix with the egg. Most people love rice noodles served with fresh herbs and bowl rice rolls. To enjoy the best food, you need to get Nuoc Mam of fish sauce is used in the dipping sauce. The dipping sauce may have been flavored with "Ca Cuong"makes the awesome sauce which made from the good shrimps.
Xoi
Tourists can enjoy the sticky rice. One of the special foods is the original version of Xoi Yen, where they flavor the glutinous rice with green mung bean paste and lots of chicken fat. There are many kinds of sticky rice like pig, bird, chicken, and so on Sticky rice in Sapa and Hanoi are true guilty pleasure by the attractive price.
Bamboo sticky rice
Coming Sapa, you will know "Com lam" food which is popular and favorite dish of the locals. Different from others, the rice is cooked in bamboo sections so that this food has the fragrance of bamboo, the harmonious combination of rice, stream water. In fact, local people need to collect the bamboo then cleaning and chopping them into small sections at about 30 centimeters in length. The locals mix rice with a little bit of salt in order to make the best work than stuff up bamboo. The water is cooked in this dish which is brought from the streams which is fresh and a little bit sweet. A most difficult thing in here is that you need to resolve the bamboo sections while cooking. When the dish is well-cooked, the burnt bamboo steam outside will be removed and thanks to the delicious taste of the sticky rice
Sea snails – a half of Halong's cuisine
Visiting Halong, you shouldn't miss Sea snails which are made from sea snails, but this is to emphasize the significant contribution of this irresistible food. There are types of sea snails in this beautiful bay.
Buying the popular souvenirs in North Vietnam
Vietnam is no exception since there are so many beautiful handicrafts and traditional things that you want to bring back home. Vietnam offers the plenty of souvenirs which are useful as great gifts for a beautiful home decor.
Silk
One of the most popular souvenirs in Vietnam is silk which brings the deep meaning. It is used in a scarf, paintings and many kinds of traditional costumes in Vietnam. Silk is made by the ethnic groups which have beautiful patterns, along with distinguished colors and sizes. In the tourism area, you can buy woven silk or products made of silk. The price is various for your choice.
Ceramic products
Ceramic products appear for a long time, which is a special gift for a Vietnam journey should be a ceramic vase, lacquer vase or such variety in a plethora of sizes, shapes, and colors. They are a reasonable price to buy for your friends and family.
Sand paintings
Sand paintings are the art which is created by pouring the colorful sand between two glass panes or in a specially designed mug or vase. There are four categories of sand painting in Vietnam: landscape, labor scenes, portrait, and the classical art of calligraphy. The layers of sand form an incredible piece of art which creates an excellent souvenir to buy in Vietnam.
Conical hat
Called another name "non la" which is a symbol of Vietnam for over 3000 years old. It is made of bamboo cataphylls and decorated with pictures of flowers or Vietnamese girls. Conical hat is usually used by local women or grannies, they use it as an umbrella during rains or as a sun protector during summer days. Otherwise, it is for performance or a fashion item worn with any kinds of Vietnamese traditional costumes.