Sapa is an amazing destination for your holiday. It is not impressive for its superb landscapes and beautiful villages but its unique cuisine. If you manage for you a trip to Sa Pa, don't forget to try exotic but tasty food here.
Referring to Sa Pa, it is a big mistake to forget its characteristics of specialities such as grilled fish, toasted "cap nac" pig, mushroom fried with meat, and particularly vegetable-made dishes that are so fresh, yummy and aromatic.
Enjoying ethnic meals
Sa Pa's cuisine is so diversified but amazing that it takes you a lot time to explore the whole identities of this gastronomy. To enjoy the entire cuisine here, you must spend time on eating a village meal which means eying your meal at a village with the ethnics, besides having dishes on the menu at restaurants. The meal at the village is simple but cozy and memorable, which makes your meal realer and more delicious. Tourists coming to Sa Pa usually spend time ti explore the villages here and then enjoy ethnic meals in true sense with tasty rice, fresh vegetable, self-produced meat and a little bit corn wine or sticky rice wine. All are home-made and you both have a simple but delicious meal and do not worry about some chemicals left in the food as dishes in the big city or other places because of the business benefit.
If you do not want to try a village meal, these followings that are all specialities are so recommended to you.
1. Sapa Cap Nach Pigs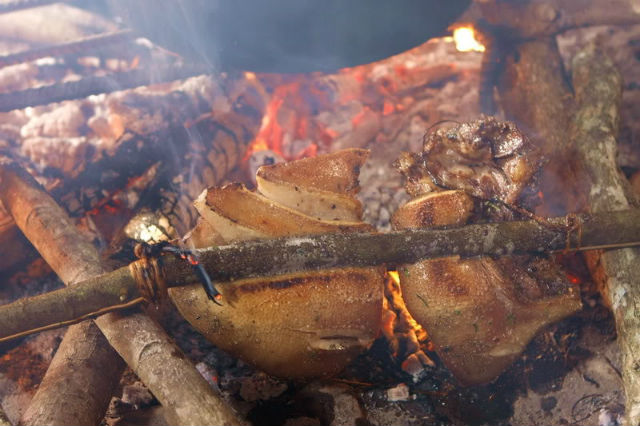 "Cap Nach" pig means you can carry the pig under your arm. At the fairs of Lao Cai, you can easily see local people selling small pigs whose weight is less than 20kgs, sometimes they are only 10kgs or a little bit more so that people can put it into the baskets, even put in the armpits. "Cap Nach" pigs are special food of Sapa because they are not locked up but had to find food by themselves, which means they are fed as a wild pig so that it can be cleaner and more healthy, brawny and firm than others, and such pork is also more delicious and tastier.
2. Sa Pa "Mam da"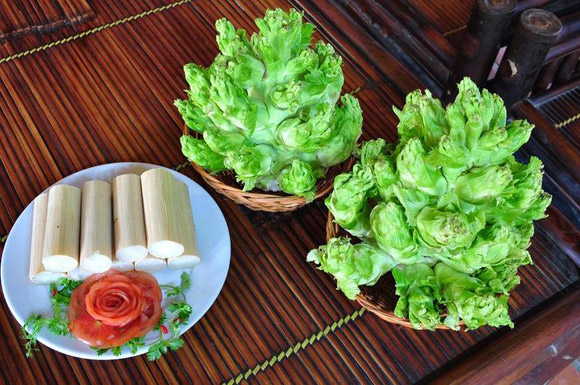 It is a kind of vegetable raising from rock. It lives in cold weather, from November to March, and grows on the top of high rock mountains only. This special vegetable is a kind of nutritious food and a medical herb for osteoarticular treatments. It tastes a little bit sweet and so aromatic as sticky rice but more attractive. With the unique cooking style of the ethnic, this dish is both delicious and exotic that is in this upland place – Lao Cai.
3. Sa Pa "Pau Co" pudding
This id one of the upland ethnic cakes that is usually made from June to October in Sa Pa annually. When enjoying "Pau Co", you will find aromatic sticky and so yummy at the first bite.
4. Sapa Thang Co
"Thang co" is one of the most famous specialities of the H'Mong in the northwest of Vietnam, especially in Sa Pa. "Thang co" is usually used for festivals or special days and occasions. On the weekend, it is sold at the fair and served right at the fair. Its name means a pot of soup which includes meat, organs of horse, vegetables and special kinds of spices. Although "Thang co" is cooked to serve all people in Sapa, especially to serve tourists by the Dao, Tay, the special flavors that tourists can be unforgettable are made by the H'Mong only. With the H'mong's recipe, "Thang co" is not only delicious and attractive but also shows the ingenuity and cultural beauty of ethnic.
5. Nung Din's "Thit gung" in Bac Ha
It is a kind of special ethnic food which is mainly made of backbones and rips and ginger. Backbones and rips are chopped and mixed with a large amount of crushed ginger and then the mixture is processed by stewing or steaming to be the vary delicious and amazing dish to enjoy. It is simple but yummy with its unique taste that is long-standing with Nung Din people's customs.
6. "Khanggai" dried meat
It is a specility of Mong people and made of meat such as beef, pork or even horse meat that is cut off into 1-3kgs pieces and stringed and then hung above the stove for storage. To make it into a delicious dish, Mong people usually fry it with tomatoes and bamboo shoots. This is really tasty and aromatic. It will be a pity if you miss this amazing dish. For recommendation, you should enjoy it with a little ethnic wine to increase the taste.
7. Sa Pa peach fruit
In summer, Sa Pa attracts a lot of people coming here by its natural specility – Sa Pa Peach fruit. It is so amazing to enjoy this nutritious fruit since it is always succulent, juicy and a little bit sour and typically aromatic.
You can buy this kind of fruit in fruit stalls at the pavement of the town and markets in Sa Pa.
8. "Cuon Sui"
It is obviously one of a kind food as its wonderful aroma and taste. Cuon sui os a unique dish that you must eat it in case that you are on your trips in Sa PA. It is made of white rice noodles and dried arrowroot noodles and beef with prepared sauce of special ingredients and spices and finally, it is sprinkled with peppers, fried peanuts and some pieces of red chili. Before enjoying it, you need to mix all the ingredients carefully to get its most aromatic and yummy taste. Besides Thang Co, Cuon Sui is one of the unique specilities in Lao Cai, which tourists coming here must have it at least once.
9. Ethnic wines
Besides your regular taste of wine of champagne, whisky or gin, it is time to try other recommendations on your trips in Sa Pa. Corn wine seems to be the most famous wine in Sa Pa, which brings you the unforgettable tasty. Besides, since Sa Pa is favored by the nature for a lot of succulent and juicy fruits, the ethnic usually use such kinds of fruit to make wine. It is so high-recommended a try.
Where to eat
On your adventurous day in Sa Pa, these are tips for your meals. You can have your breakfasts at "Nha San" noodle restaurant in Sa Pa's market or "Hoang Ngan" restaurant is opposite it. "Pho ga" is so recommended for your new day. What about your dinner, it is better for you enjoying at the center zone and around the church. There are many food stalls serving delicious grilled and baked dishes.
Recommend restaurants: although it is said that you need to enjoy this dish at the ethnic market to have the pristine taste, you can enjoy it at some following restaurants cause it is a popular specility now. You can have Thang Co at Quynh Anh near the central flower garden on the left. These restaurant is nice and clean and Thang Co here is so delicious and safe since it is not the same as Si Ma Cai's.
If you want to both have meals and sightsee, there are several restaurants with good views and food to you. They are Red Dao House Restaurant at ThacBac Street which is in a traditional wooden house on stilts mixed by Vietnamese and Western cuisine to enjoy the panorama of Sa Pa or Baguette & Chocolate at Thac Bac st, Chapa at 040 Cau May street, especially Gecko for contemplating superb Fansipan and Ham Rong at 4 Ham Rong, Sa Pa town.You can also take a rest at Nature View restaurant which is at 51 Fasipan street and famous for its view of Fansipan and Muong Hoa with stretching terraced paddy fields.