Currently, Sapa is the hotkey in traveling as it is attractive both of locals and foreigners when coming to Vietnam. As you known, Vietnam tourism is developing fast in the region however, many locals still live a very basic life. Hence, visitors will get more experience in the mountainous region by its ethnic villages, colour markets, traditional foods and so on. One of the most popular markets in Sapa is Cao Son market.
Cao Son market is situated in Cao Son commune, Lao Cai province. Coming to this market, you will have the chance to interact and approach to the daily life of ethnic. To catch up Cao Son market, you need to pass several routes. Departing early from Lao Cai for about 130 kilometers, you will enjoy the beautiful scenery on the road. Then you lead up into the mountains through Pine Tree forests and villages that surround the tiny markets. Next, if you want to have the opportunity to cruise on the river and soak up the natural landscape, they will join tours on the Chay River. Besides, you can also enjoy a cruise on Chay River to enjoy the beautiful scenery along the riverbank. There are four biggest villages of 4 ethnic groups of H'Mong, Phu La, Black Dao and Han in Muong Khuong. The market has only met on Wednesday.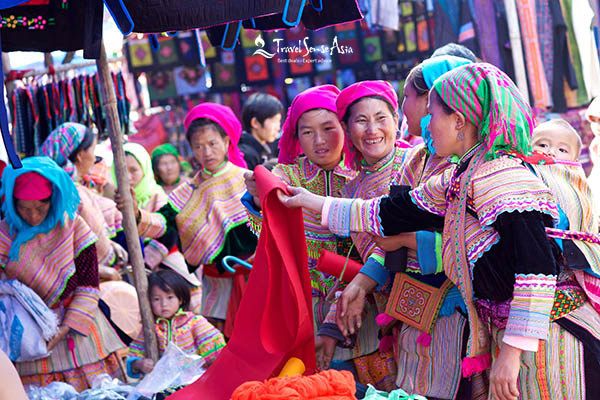 In the fair, early in the morning, people from villages come to the market sequentially. They go into each group, in pairs and one by one. People use horses to pack the goods or use motorbike, bike… The girls of H'Mong and Dao wear a pretty dress with delicate flowers, bright colors, which creates the charming picture.  
Like other big markets, Cao Son market is divided into several squares. The item with the flavor of mountains such as vegetables, herbs, mushrooms, black mushrooms, honey, corn, housewares, jewelry… that gather into one area, arrange the type of goods. Especially, tourists can see the range of brocade with vivid patterns. These products show the ingenious talent of the H'Mong, Phu La and Dao women.
You will be offered the most secluded, peaceful villages and the traditional practices such as distilling wine from corn and making bacon. When tourists come here, they are surprised by some cuisines of tastes of buffalo meat, horse meat and beef of the H'Mong people. Moreover, to eat more and more meat, you can combine with Coc Dam, Coc Ngu wine. In the bustling atmosphere, you will have to sit and enjoy the ethnic cuisine of them. Thus, coming here, you get the experience in the customs of some ethnic groups living around here. Tourists can visit Cao Son market without an entrance fee. You should bring a camera to keep the memory in the trip.
The main traders of Cao Son Market are the Mong, Phu La, Dao, and Han Den people. Those ethnic groups majorly live in the four biggest villages of Muong Khuong District.
From the early morning of Wednesday each week, you can easily catch sight of people from many places coming here to trade goods and foods. Many people in the ethnic minorities come to trade local products. They usually go in groups, in pairs and sometimes, go alone. Some people bring the "gui" on their back, some others use the horse, motorbikes, bicycles to carry the goods. The Mong and Dao girls are lovely and pretty in colorful clothes and umbrella with elegant, subtle patterns. All of these create such a spectacular and lively image that you will never forget.
The list of local foods in Cao Son market
Reading almost recommendations from tourists who came to Sapa, this destination is evaluated as the paradise for tourists to relax. Visiting Cao Son market, tourists will be enchanted by its fresh air, cool climate, outstanding scenery and especially the amazing culinary scene. Moreover, everyone completely enjoy 10 local foods in this market.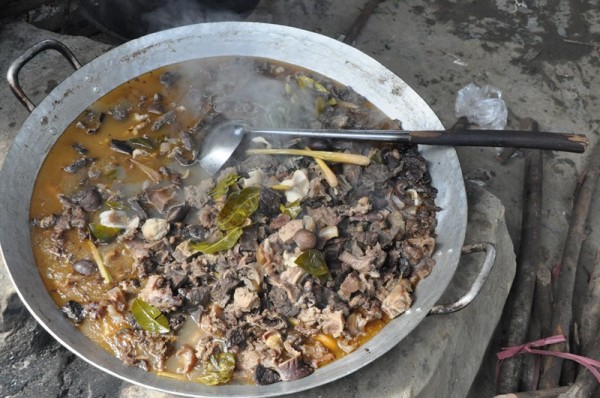 1. Thang Co
For hundred of years, Thang Co is the traditional soup made of horsemeat, horse's viscera and horse's bone of Hmong people. You will get the best feeling when trying once time this foods as it comprises of 12 spices from cardamom, ginger, citronella, anise to cinnamon twig. The chef needs a high skill to cook this dish. To bring the best flavor of Thang Co soup, you can mix it with fresh vegetable and a special red hot pepper name Muong Khuong. One suggestion for you is to call one cup of corn wine when enjoying Thang Co.
2. Sapa Cap Nach Pork
Cap Nach pork is a specialty of this mountainous region. Visiting the ethnic groups, you will see all pigs are free to look for vegetables. Thus, the meat of Cap Nach pork is more delicious than others. The ways to make this dish is diverse. Almost locals usually roast a pig directly on charcoal. Therefore, after enjoying this food, almost people agree that the skin covering the pork is very brittle while the pork inside is very delicious and fleshy. You also like stir-fry thai pork with little herbs.
3. Day Cake
Day cake has been in Vietnam for a long time since the Hung King. This cake is made of glutinous rice and green peas. This white cake is not made easy like looks. One of the most important factors is the skill of choosing the best glutinous rice. The rice need to be dried out carefully. Buns are made from green peas which softly and smoothly is grinded. When you enjoy the cake, you could see a beautiful green mixture inside. Locals usually try Day cake with the rolls, meat to increase the tastes.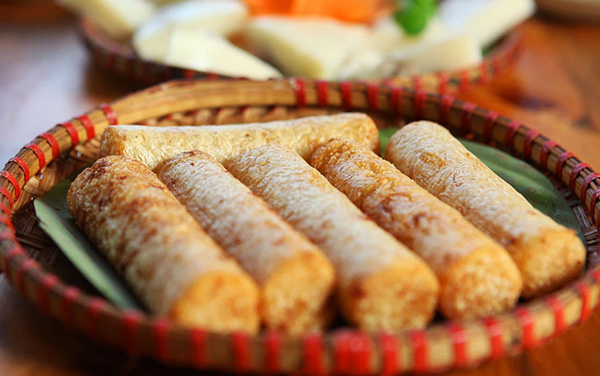 4. Salmon Sour Hotpot
Another food you are easy to find out in Cao Son market is Salmon Sour Hotpot. As you known, around year, Sapa has an extremely cool weather that is suitable for salmon to exist. Therefore, it is very convenient to enjoy this food. For long years, salmon sour hot pot is a familiar food to local people. The food has a timeless quality. You will be surprised when enjoying this hot pot. The most important elements in this food is the broth. The broth is a combination of vegetables and freshly caught salmon. Unlike other fish, salmon in Sapa brings to people an elegant and delicate flavor.
5. Bamboo sticky rice
"Com lam" is very popular and is a favorite dish of the locals and tourists. Different from others, the rice is cooked in bamboo sections so that this foods has the fragrance of bamboo, the harmonious combination of rice, stream water. In fact, local people need to collect the bamboo then cleaning and chopping them into small sections at about 30 centimeters in length. The locals mix rice with a little bit of salt in order to make the best work then stuff up bamboo. The water are cooked in this dish which are brought from the streams which is fresh and a little bit sweet. A most difficult thing in here is that you need to resolve the bamboo sections while cooking.
Sticky rice cooked in bamboo is the featured dish of the ethnic groups in the Northwest of Vietnam. When the dish is well-cooked, the burnt bamboo steam outside will be removed and thanks to the delicious taste of the sticky rice
6. Brook fish
Apart from salmon, brook fish is also a popular and favorite dish of both local people and tourists. Fishes are catched up in the stream so they ensures the freshly meat. The locals normally grill the fish on charcoal. Thus, brook fish adapts all the required best foods like now crunchy, greasy, and packed full of tastiness.
7. Tao Meo wine
Tao Meo wine is a popular and original wine of H'mong people which is made from Tao Meo fruits. Tao Meo tree is a kind of tree grows naturally on Hoang Lien Son Mountain. You also find out this fruit in the local market to soak in the the wine by yourself from August to October. It is very famous with the locals and travellers who are seeking something unique in the mountainous region by the amazing natural wine flavor. Tao Meo wine comes perfect with unbelievably good brook fish.
8. Dried Meat
One of the favorite foods in Vietnam country is the dried meat especially dried buffalo meat in the mountainous region. Especially, in Tet holiday, the demand of Vietnamese families is increasing strongly as the dried meat is like the gift. Meat is well dried with an addition of seasoning. Each dried meat can be stored for years. This food hosts a unique taste that can't be seen in anywhere of Vietnam. If you are a finger food lover, this food is created for you.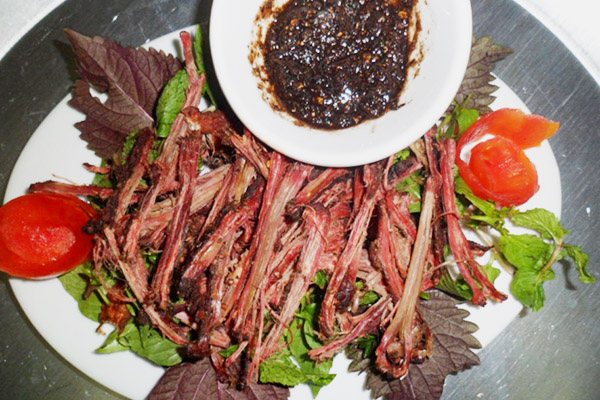 9. Cai meo Sapa
Cai meo, which is a popular vegetable in Sapa, is processed in various ways to create different dishes. The locals usually stir-fry, cook, and boil the cai meo or serve it with the hot pot. In general, the simplest way to process this kind of vegetables is to slice it into small pieces, mix it with ginger and boil them together to have a nutritious soup. This soup is often served with wine.
10. Black-Bone Silky Fowl
The Black-Bone Silky Fowl of H'Mong people is very special because its bone and meat are in black. It is grilled with honey. The crunchy skin and the black chicken meat offer such a refreshing taste. The scientists have proven that eating black-bone silky fowl can help you increase your sexual ability and treat heart diseases. The delicious and excellent taste of this dish will surely meet your need.
You not only enjoy the stunning dishes, but you also know the stories behind the food. Spending time visiting Cao Son market, tourists can enjoy tens of cuisine suggestion for a mountainous trip, are what you should take consideration for a memorable food trip.