On the map, Hoang Su Phi is a district located on the west side of Ha Giang province and near to the border with China. Whether you are seeking an outdoor adventure or the chance to simply watch the locals tend to their rice fields. Therefore, Hoang Su Phi will absolutely satisfy your appetite for unique travel. Authenticity, beautiful mountains and tranquillity – these are the best words to describe this place. Along with the terraced fields, Hoang Su Phi is home to twelve ethnic groups. In this article, we pleasure to provide things to know about Hoang Su Phi in Ha Giang.
Getting to Hoang Su Phi
There are two ways to get Hoang Su Phi from Hanoi are car and motorbike. Those who are on the budget can take a public bus at My Dinh station in Hanoi. You will spend about 6-8 hours to approach Ha Giang city from Hanoi capital. There are both overnight buses and day buses from Hanoi to Ha Giang city. One suggestion for you is to set the overnight buses to save time and have relaxed on the road. Another option for you is hiring motorbike to visit Hoang Su Phi. However, it is more dangerous than by bus because of the traffic jam and some problems on the road. Before hiring the motorbike, you should test its quality to ensure the safety.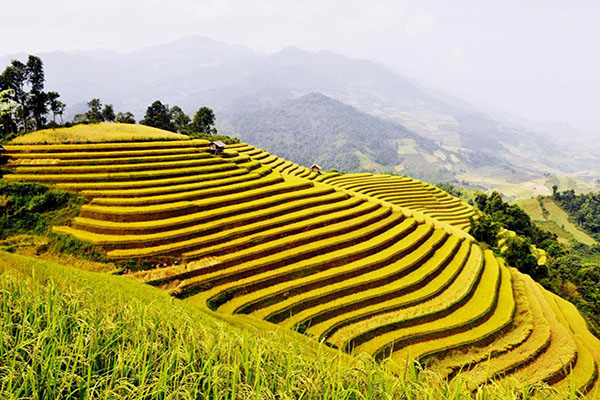 Culture of Hoang Su Phi
Visit a stunning locale which is as vibrant in culture as it is in its history, magnificently blending tradition with innovative waves of thought. Scaling up into the heavens like steps of the giants, these beautiful green pastures are renowned worldwide for their scale and have been designated as a national heritage site by the Ministry of Culture. The province's rice fields are not only an important contributor to food and tourism but are the home for many of Vietnam's ethnic minorities like Mong, La Chi, Dao and Nung, giving it a diverse appeal. Its cultural and social allure, along with its spectacular historic and natural legacy has helped to drive Vietnam's booming tourism sector, making the country one of the most popular tourist hotspots in Southeast Asia.
Hoang Su Phi weather
Climatically, Ha Giang province has two seasons like dry and monsoon, dependent on the altitude of the region. The two northern Indochinese climatic zones of the border influence the climate in the part of the province. The lower areas in the province such as the Lo River Valley and the town of Ha Giang have the temperature higher than others. The best time for visiting Hoang Su Phi in Ha Giang is for photographers mainly from September to October, when the rice is changing to golden color and in October there is a harvest time to witness ethnic minority farmers at work in the beautiful yellow rice fields.
The average annual temperature in Hoang Su Phi is 22.78 °C; the monthly averages range from a low of 15.48 °C in January to a high of 27.88 °C in July. The annual rainfall in Hoang Su Phi is 2,430.1 millimetres; the monthly average varies from a low of 31.5 millimetres in December to a high of 515.6 millimetres in July. The average annual humidity level is 84%.
Trekking in Hoang Su Phi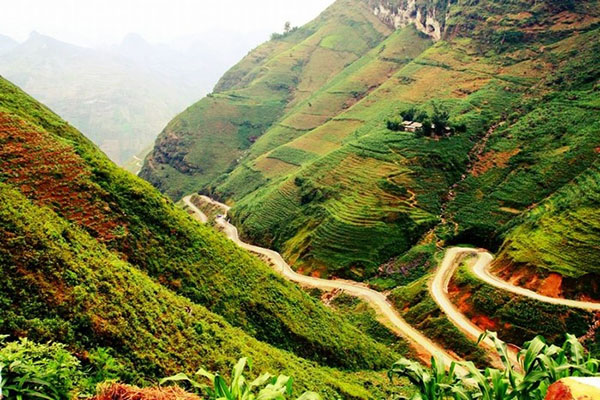 There are plenty of hiking opportunities in and around Hoang Su Phi district. Discover the jungles, mountains and hill tribes around Hoang Su Phi in Ha Giang on a hill tribe trek. Traveling to Hoang Su Phi charmed all visitors for the beauty of the wild mountains and the authentic culture of the local ethnic groups. Maybe you just want to trek through the jungle or maybe you really want to get away from the crowds we have something to suit. We can combine most treks with other activities such as homestay experience, bike tours, scooter trips, charity projects, educational, student travel, community, volunteer works.
Thong Nguyen where is a small village of Hoang Su Phi and got an opportunity to stay with a local Dzao family in Nam Khoa. The way up high got the view of all Nam Khoa and somewhere was there Mr. Kinh's house. Nam Hong village, a small hamlet in the mountainside by Man Ta Pan (Red Dao ethnic minority group). Nam Hong village has some great roads offering some fantastic rides for enthusiastic mountain bikers. The region of Ha Giang provides some options for someone who want some mountainous challenges and who prefer long flat rides.
Tourists will follow trails winding through rice terraces across Nam Khoa village, a place inhabited by the Man Ta Pan ethnic group. It is the good time to admire the stunning views of the terraces and discover the daily life of the inhabitants throughout this trek and you will most notably meet Man Ta Pan and Long Tunics Dao. The trek itself was not hard but the weather condition made it tougher than normal. Therefore, you should search the weather forecast before trekking. That sunbeam created a great exposure on how green the rice fields were.
Continuously, travelers can learn about the culture of the Red Dzao and visit tea field nearby in Phin Ho village to learn about the oldest Shan Tuyet tea trees and its importances in their culture and lives. Another place which you don't miss the trip is Nam Ai, where the Long Tunics Dao settles down. More chance to see the differences between the Red Dao and the Long Tunics Dao as well as enjoy an amazing meal with garden-produced ingredients. At Nam Ai, you will see old tea plant (more than 100 years old) with buds have white hairs, it is called Shan Tuyet tea – a famous tea in Vietnam. And enjoy fresh tea in here.
Next, travelers will come to a homestay of Ning ethnic group or Man Ta Pan ethnic group. You should choose Nung ethnic because it is a chance for you to know more about them.
Cycling in Hoang Su Phi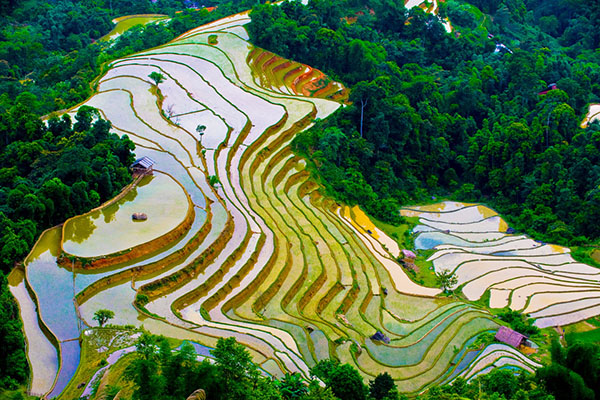 Hoang Su Phi is surrounded by mountains, rice fields, and luxuriant forest. Cycling in Hoang Su Phi to discover Vietnam's hidden places. Hoang Su Phi has some great roads offering some fantastic rides for enthusiastic mountain bikers. We have a range of road and mountain bike tours around Hoang Su Phi and the region of Ha Giang, northeast Vietnam providing options for both those who want some mountainous challenges and those who prefer long flat rides.
Markets in Hoang Su Phi
Hoang Su Phi market is in session every Sunday which offers a great opportunity to learn about the life of the local people such as the Nung, the Flower's Hmong, the Tay and the Ha Nhi people would be gathering from around 06 O'clock in the morning. The market is located on many streets in Hoang Su Phi commune. If you get tired with the bustling atmosphere, you can easily head to other tourist spots nearby like terraced rice fields of Ban Nhung, Ban Luoc, San Sa Hi and Thung Nguyen.
Coming to Ban Phung village where the H'mong ethnic minority people are living. As soon as we arrived at the village, many H'mong children and young boys came out to see us taking photos. Ban Phung is home to La Chi. They have interesting cultural and spiritual practices, the custom of the funeral is unique in particular, however, are quite shy being in front of the camera. A couple of the Nùng ethnic minority girls approached me to sell some embroidery products.