Coming to Sapa, you cannot ignore to visit the village by trekking in order to explore the nature as well as majestic beauty of the green fields, mountain and waterfalls. Trekking has long been a popular kind of tourism activities. In Vietnam, trekking is more and more develop for the nature lover and would like to have experiences on their feet. Go trekking is a type of explore and discover the unique culture of ethnic minorities so to have more fun for your trekking trip, you should find out about the village, customs, things to do and not to do when visiting those villages. Besides that, you also need to clear the maps and terrain area to make plan that suitable for your health and prevent the dangerous situations. From Sapa trekking guide, we believe that you will have an unforgettable trip in the paradise landscapes.
What to pack?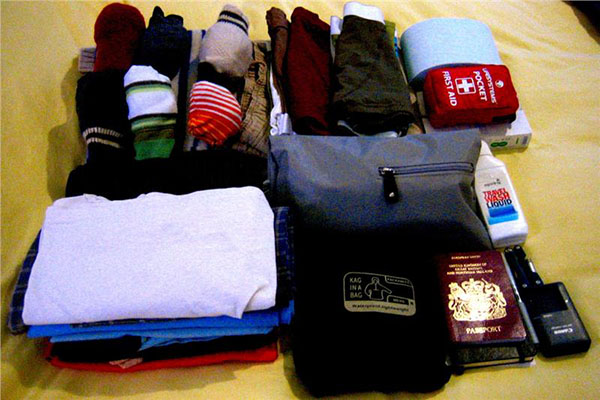 To have the best experience in Sapa, you are suggested to be well-prepared before starting. The average temperature in Sapa is much lower than Hanoi, and the mountainous terrain may require specialized tools. The first Sapa trekking guide is your luggage need to include: drinking water, good trekking shoes or rubber boots, a walking pole, raincoat, windbreaker, insect repellant, flashlight… Spare shorts, T-shirts plus earplugs, sunscreen, insect spray and a small first aid kit are also handy. If visiting in winter, snow and cool temps are on the agenda so bring a proper jacket and long pants. Ditch you heavy luggage in Hanoi or your base so you've just got a day pack and a small bag when you're in the Sapa region. Therefore, one suggestion for you is to search for the weather forecast in order to bring the suitable clothes. Next, you will be conflicted with the weather, foods different from your convenience, so it is better to bring some medicines for: Cold, fever, diarrhea, antipyretic, antibiotics…. Additionally, you should bring bandages, red medicines in case of injuring in order to trek. Your luggage should also has the belt to tighten and its strap is soft to feel smooth and relax for the whole journey. Finally, trekking journey makes you to be consumed a lot of energy and sweat a lot so you need to prepare enough foods and drinks to supplement when needed. Some foods should be carried such as: bread, snacks, sausages, canned foods…. and water.
Where to stay?
There are many standards of accommodations here from hostels to the luxury hotels. It is very easy for you to find the information and booking your services.
The luxury hotel is the perfect location for guests who want easy access to all the restaurants and shops in Sapa and also enjoy the comforts of a restful hotel on a quiet street. All room are prepared a private bath, wifi, cable TV, refrigerator, and safe. Especially, through windows, you will grace the rice-terraced valleys and Fansipan Mountain. The owners are experienced guides with a deep knowledge of the area and its indigenous customs. They are committed to provide customers with hospitality experience with exceptional services in the most unique and fabulous atmosphere.
The second choice for tourists is luxury homestay which is called guesthouse style homestays, which are larger and more modern than traditional types. There are more convenient for people clearly, no separate bedrooms or bathrooms by equipping the standing shower, hair-dryer and free toiletries. However, some rooms generally use the bathroom. The luxury homestays are prepared for the modern facilities such as Wi-Fi Internet, cable TV, electricity. All dishes are cooked suitably with the tastes of tourists and more and more attract them. You completely request the menu for house owners. There are facilities to buy soft drinks, beers or water at an additional cost.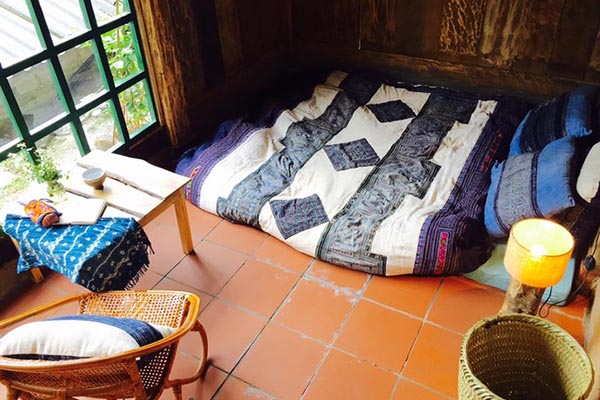 The third choice for you is traditional homestay which you should stay to get more experience in the trip. In Sapa, you have many options for choosing the local house in several ethnic minorities in the areas. The living in traditional homestays, you will get less convenient and less secure than in luxury homestays. In this kind, there are some regional activities giving you the actual experience of local life, traditions and lifestyles. The local hosts are so friendly and generous to show you their normal life as well as serving some very delicious local dishes. It is great experiment. In addition, you can cook and eat with your family host. As a result, you will enjoy more the traditional foods and drinks like wine of ethnic group. Besides, local hosts will share for your needs of trekking process to fully discover the beauty of the mountains, valleys in Sapa. To sum up, the expenditure of that accommodation during the journey is very cheap.
Where to go?
Cat Cat village
Cat Cat village is located at the foot of Fansipan Peak and situated in a beautiful valley about three kilometers from Sapa Town. This village is appeared from a long time, which attracts tourists from all by its distinctive customs and practices. This is a village of Black H'mong people where you can discover many interesting facts about their daily life as well as culture and architecture. Thus, you should choose the several traditional handicrafts from the craftsmen such as twisting flax and weaving fabric to hold. Then you will know the color of traditional clothes made by women.
Lao Chai – Ta Van village
You admire the spectacular natural scenery with the terraced rice fields. Ta Van is a small group of Dzay people in Northern Vietnam, they still keep a rich and traditional culture, where you can grace the life of ethnic minorities. Traveling Ta Van, you know how they make their traditional clothes, handicraft, indigo… During the time in Ta Van village, you are recommended to taste some special dishes of ethnic Giay such as roast fish, horse meat, sticky rice. Not only that you enjoy the local games: Nao Cong, Roong Pooc…or participate in tours of the village. Of course, the biggest valley which you shouldn't miss as it offers to the awesome landscape of the golden rice terrace field in Vietnam.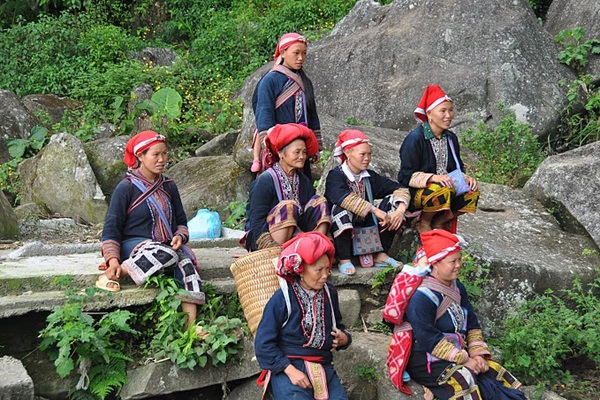 Ham Rong mountain peak
In Geography, Ham Rong Mountain is located nearly to Sapa town center, which is one of the place in Sapa trekking guide. Thus, it is easy to get it. One suggestion for you is to bring the devices, camera to take the photograph when walking at leisure to the top of this mountain just to relax while looking at scenic surroundings. The site has been restructured with typical natural landscape and resting station for climbers. Catching up Ham Rong peak is not waste your energy as you think, on the contrary, this peak is very easy to top as its path is not so steep. Continuously, you keep the walking to grace panoramic view of the whole Sapa town might make one's heart beat faster. Muong Hoa valley and villages of ethnic people have created an amazing picture of nature.
Fansipan
Catching up the top of Fansipan Peak called the Roof of Indochina is the most challenging level for trekkers. Thus, you will need to spend two days and one night finishing the hike. You can't trek by yourself as the dangerous so you need a local experienced guide and porter who brings your luggage as well as understand the route deeply. After passing Cat Cat village and crossing Muong Hoa River, you need to trek upward for nearly 7 hours to reach the first campsite at a height of 2300 meters. After passing the first step, you will take challenges in the next step with hiking since you trek through the arrowroot plantations and bamboo forests. To save your energy, you should overnight in the tent in the mountain slope facing west, near a mountain stream. On the next day, you will conquer to the peak of Fansipan Peak, with the height of 3143 meters. After a difficult climb maybe three hours to pass the dense bamboo forest, the climbers are rewarded with the magnificent wild green nature with blue sky and a sea of clouds around the mountain. Standing on the peak of Fansipan is an amazing and victorious feeling. Do not forget to take pictures from different directions because this might be an once-in-a-lifetime moment.
What to eat?
There are great local foods sold in Sapa's wet market and along every street. You will enjoy the chicken, pork, fish, mushroom and grilled eggs in the cool weather of Sapa. Besides, another food you shouldn't miss is "thang co"- horse meat, five-color sticky rice, a local wine that also attract tourists. Thang Co is the traditional food of Hmong people, which is a traditional soup which has special tastes.
Next, Com Lam is a famous rice dish of the ethnic minority people, which cooked by sticky rice and grilled in the bamboo tubes. Sticky rice is put in a bamboo pipe and added some water. The bamboo chosen should be fresh and young.
Additionally, the small pig's weight is less than 10kg so that people can put into the baskets, even put in the armpits. Self-feeding on steep slopes and struggling with cold weather throughout the whole year have made this type of pig's meat more shriveled. There are many favorite traditional dishes processed from this pig. Its meat can be steamed, boiled, baked, stewed, and the taste is very delicious.