Sapa is a one of Vietnam's most popular destinations, which is a mysterious land with a great number of spectacular sceneries and the special culture of the ethnic groups. However, there is no nearby airport the only option for getting there is to travel by road or rail and, despite being only 380 kilometres from Hanoi, it's a time-consuming exercise whichever route you take, so choose carefully. From Hanoi, the most popular way is by overnight train to Sapa Vietnam as its convenient. However, the second option for you is transfering by bus as it is faster.
Getting to Sapa by train
Depending on the running train time, you should take a taxi from your hotel before 30 minutes to avoid missing. Traveling by train takes about 8-9 hours and the train only stops in Lao Cai, where is the province of Sapa. Therefore, it will take about hour to get to Sapa from Lao Cai station. The final 30 kilometers to Sapa is travelled by minibus (50,000 – 60,000 VND), taxi (350,000 VND) or private transfer (example hiring motorbike, or bus of tour firm).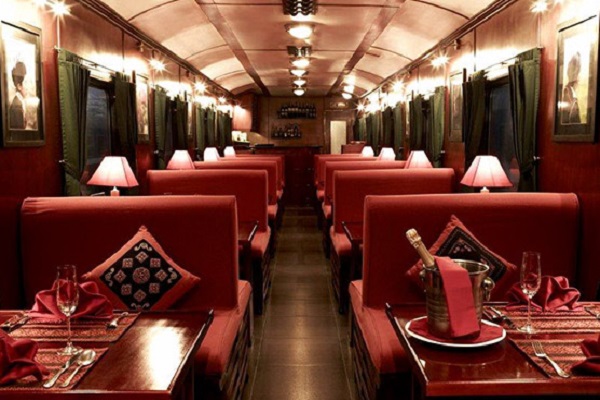 Train often departs at between 8p.m and 10p.m, and you can catch a good sleep before getting worked up by the beautiful mountain scenery at dawn. There are also day trains which are not as comfortable as night train. It also takes a longer time to travel as it makes more stops.
Ticket for night train is 700,000 – 1,600,000 VND/person/way (the most expensive one is Victoria express which is exclusively for in-house guests). Ticket for day train is 200,000 – 400,000/person/way
However, nowadays, most visitors choose to get from Hanoi to Sapa by overnight train; it's more comfortable and safer than a bus or motorbike, and a lot cheaper than hiring a car. One of reasons is when you choose a private operator, you will sleep in private, clean and comfortable cabin with four berths and fully equipped. Seats or beds can be booked through travel agents in advanced so it's very convenient for you. Although the overnight sleeper trains can bring new feeling for you, you should arrange some hours in the next day to catch up on sleep to save energy.
What are the best places in Sapa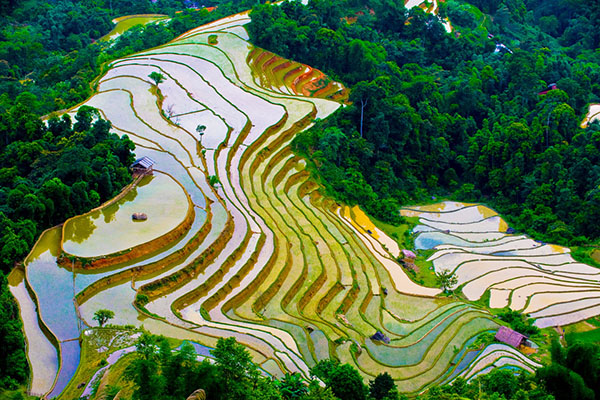 As you know, Sapa is a perfect destination with many magnificent places for trekking and admiring, you should take a photo such as as Fansipan, Cat Cat village, Silver Waterfall, Muong Hoa Valley, Terraced rice fields and so on. Sapa is famous for both of many beautiful scenes and the wonderful weather and the unique food of the Northwest forests. One of the traditional foods attracting foreigners is Bamboo cooked rice (Com Lam) cooked by sticky rice and grilled in the bamboo tubes.
Cat Cat Village is located near the bottom of the deep valley right at the foot of Fansipan Peak and it is situated in a beautiful valley. Cat Cat is known as the old village of ethnic groups which attracts tourists from all over the world for its distinctive customs and practices. This is a village of Black H'mong people where you can discover many interesting in their daily life as well as culture and architecture. Besides, you try their clothes to take the photo, you also purchase some traditional souvenirs and handicrafts such as twisting flax and weaving fabric.
Continuously, a suspension bridge will lead you uphill to Y Linh Ho village. This village is a small commune which is created by many small hamlets. Y Linh Ho village is home of the Black H'mong, who wear the dark clothing. The older H'mong women usually wear navy dyed with indigo in the hands. Their houses are built on their farmland and dry rice on the steep hillsides. As a result, the only way to get to the village is on foot on the road.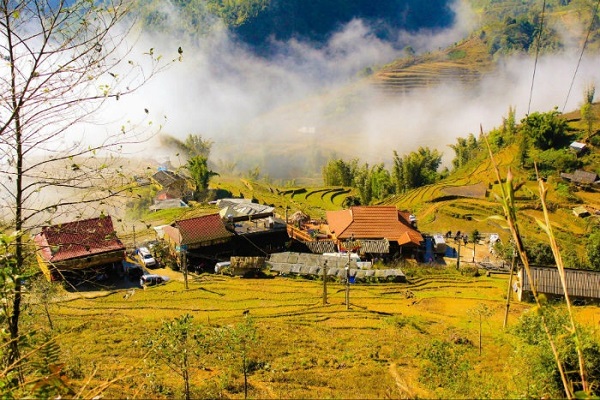 You are continue passing a bamboo forest to Giang Ta Chai. This village is one of the best trekking in Sapa and is home to a Red Dao ethnic minority village. Giang Ta Chai is located in the opposite to Muong Hoa stream and was hidden by old trees and bamboo groves. Coming here, you maybe free to discover the life of ethnic minorities; the spectacular natural scenery with the terraced rice fields. Next, you visit Sapa's ancient rock with diversity images including big shape and small shape. Approaching the life, you can know how they make their clothing. They buy the necessaries at a local market and weave and embroider the fabric themselves. Their many crafts, their embroidery is stunning. Traveling by train to Sapa Vietnam offers a superb view of mountain and rice paddy fields on the other side of Muong Hoa Valley.
Muong Hoa valley is blooming with lots of colorful flowers created the various beauties. If you travel on the best time – the rice terraces are full of water at which you can contemplate one of the best scenery like the reflection of the sunshine on the fields' surface. Silver fall offers stunning views over surrounding mountains and lush forests belonging to Hoang Lien National Park. After taking a rest nearby a waterfall to refresh, you will start climbing uphill to a road, the car and your driver are ready for your journey back to Sapa.
Traveling by train to Sapa Vietnam you shouldn't miss the largest markets in here. For distance, on Sunday, Bac Ha market is famous for the originality and authenticity that the traders still preserve. To approach the market, many ethnic groups pass the mountains and hills. Yet the distance has never discouraged them from joining the Sunday colorful market. The main square is separated in order to display the particular products such as handicrafts, food, horse, poultry and blacksmith. Each has its own trait and worth joining. It is not simply a place for buy and sell but also an opportunity for people from different ethnicities to come and meet, for women to demonstrate their beautiful handmade traditional costumes and even for youngsters to find their dates.  Bac Ha can be your option, if you want a relaxing place to get away from the tourist crowd in Sapa, or simply fond of taking unique photos. It is worth investing for the road is curvy and challenging, even after significant improvement.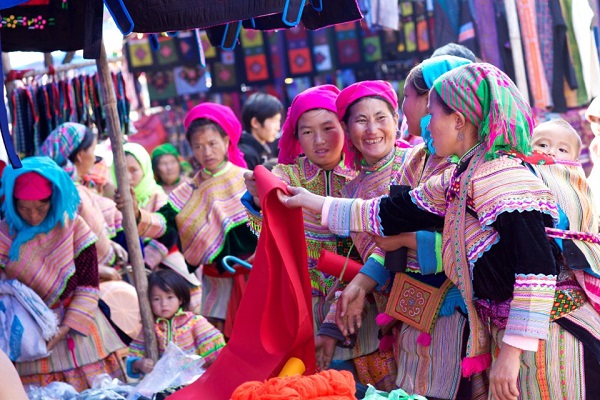 You will walk to Trung Do village which  is home to the Tay minority. The villages of Tay people are always set up at the foot of a mountain or a stream and a mountain, a field, or a river. Each village contains about 15-20 households. A large village is divided into many small hamlets. The houses are built on stilts or level with the ground. You should stop by a traditional Tay house for enjoying a cup of tea before taking a boat cruise upstream the Chay River. The scenery is very beautiful on both sides of the river. The boat trip will end at Coc Ly where your vehicle will be waiting for you for the journey to Lao Cai Station.
Finally,  we hope that our suggestions will bring the useful in the traveling by train to Sapa Vietnam for you. If you have some troubles, let's send to us to get the awesome trip in Sapa.