Being one of the most attractive tourism spots in Northern Viet Nam, Sapa seduces lots of visitors in all over the world with not only its naturally breathtaking landscapes but also its own ethnic villages and people. Thus, tripping through ethnic villages is one of the must-dos that are highly recommended doing when you come to in this upland town. The followings can be your ideal trekking if you intend to explore more about an unforgettable Sapa.
Perching at the 2000m higher than the sea level, Sapa is definitely favored by the nature with its fantastic weather and stunning natural beauty like Ham Rong, Silver Waterfall, Muong Hoa Valley and rice terraced fields in SaPa are voted as one of the most breathtaking. However, to contemplate these attractions, you can't help missing touring through the town's ethnic villages and home staying at the local's stilt houses. The best time to take a tour to Sapa's villages is in April and late September because it is the harvest time when all of the terraced fields are ripe and the yellow covers throughout the villages. However, Sapa looks fascinating all year round, so you can trip to this land whenever you want, even in the winter when the beautiful snow falls. One reason that forces you to spend time on trekking such villages is that you can enjoy the true taste of the locally awesome food that you could not find in any restaurants though in Sapa. In general, vegetable, fruits, fish or meat are those supplied by the ethnic themselves. Thus you could get the authentic and fresh aroma and taste which you may never forget, especially "Thang co", "Khang gai" or corn wine. To reach this upland place, you can go by jeeps, motor taxis, motorbikes or even bicycles but remember that roads to Sapa are quite winding. Anyway, to make one of your best holidays, trekking through Sapa's ethnic villages is a must.
#1. Ban Ho
Ban Ho is also a must-go on your trip to Sapa's ethnic villages. Situated at 30 km distance from Sapa town to the South West, the village is home of Mong, Dao, Tay, Day and Nung people living together. Weather here is considered the coolest and suitable for all year trips. No one coming to this place can resist praising of the charming natural beauty, pristinely long-standing customs and friendly and hospitable locals. The indispensable images symbolizing Sapa are still mighty terraced fields then scattered stilt houses with unique architecture and winding pure streams as Muong Hoa and Lave ones. Ban Ho appeals the large number of tourists coming by its stunning features like superb waterfalls, legendary mountain ranges and many characterized culture heritages. You can get a free guide by Dao women to know an impressive Ban Ho in real. Winding adventurous pass paths may give you lots of challenges; however, it is absolutely an amazing experience with the paths reaching to the village. Tripping to Ban Ho if on occasions, you could take part in some interesting festivals of the local who are mainly the Tay, including "Xuong dong" festival and join in lots of fascinating activities such as Sap dancing, Xoe dancing. Remember to buy yourself some brocade items like pillows, purses and wallets. On your way to Ban Ho, you are recommended visiting town's market to buy you the fresh and nutritious vegetable and fruit here due to its delicious taste. You are also recommended spending a little time visiting Ta Trung Ho and Seo Trung Ho villages where also concentrate the Dao and Hmong, and Giang Ta Chai village before entering Ban Ho, by the way.
#2. Ta Van
At 8km distance from Sapa Town, Ta Van village is home of many ethnics living which are mainly the Day. It is an amazing destination owning lots of Sapa's must-sees like Ancient Rock Field, Cau May and a place full of traditional features characterizing this upland town such as special food and unique stilt houses. Coming to Ta Van, you also should pay a visit to its neighbor This tourism spot also bring you lots of chances to enjoy its delicious fruits and peach fruits and plums for examples. You can go to Ta Van by jeeps, motor taxis or even trekking. If you follow the winding pass path down to the Hoang Lien Son Mountain Range's foot, you will meet one of the most stunning spots of Sapa – Muong Hoa Valley and contemplate the breathtaking Ham Rong Mountain on the way to the great mountain range. Though the pass path is quite creep and winding, it must be your best experience, especially you are adventurous visitors. However, discovering the ethnic life, long-standing culture and unique custom here is indeed your must-do in Ta Van for the most memorable trip to Sapa. That's why home stay in this ethnic village is definitely highly recommended. Anyway, coming to Ta Van, you shall enjoy the real Sapa and its hidden beauty on which you can't help missing out.
#3. Lao Chai


Lao Chai is located right in the largest and most beautiful in Sapa town that you can get the panoramic view from the town center or on Ham Rong Peak. Being 7km away from the Sapa's center, Lao Chai magnetizes many tourists trekking from the town to this village, instead of riding or driving, on the Muong Hoa path and other winding pass path to reach the village. Although there are equipped with some kinds of modern furniture, life in Lao Chai is still pristinely traditional. From September to next April is considered the best time for visiting Lao Chai with the most wonderful rice terraced fields. If you have a chance to stay a night at Lao Chai or come here before rising sun, you can get the most amazing moment of breathtakingly superb picture of nature dimly loomed in the thin veil of morning. This place is also home of the H'Mong, so you could enjoy the specilities of H'Mong people with the most authentic and true taste then ever.
#4. Cat Cat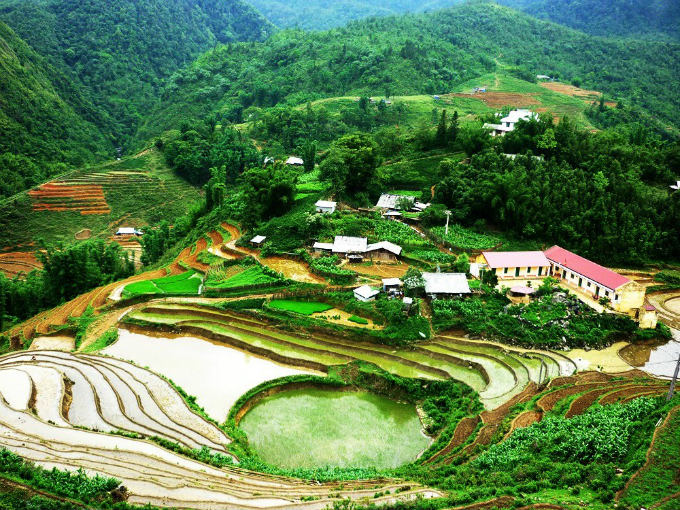 Located at 2km distance from Central Sapa Town to the West, which is one of the most long-standing villages, Cat Cat remains in full its traditional handicrafts like growing cotton fields, weaving fabric, making jewelries and unique customs. The village lying between the Hoang Lien Son Mountain Range and superb Fansipan Peak is home of the Black H'Mong where human's life harmonizes with the pristine nature. It will be highly recommended if you want to enjoy relaxed moment away the hustle and bustle pace of modern life. You can ride a motorbike or trek 2km from Sapa's center to Cat Cat. With the strong development of tourism in Sapa, there are more and more young people who can speak English and French and guide you to their most featured spots in the village, so it facilities so much for attracting lots of visitors to this place. You will have a chance to join in the local's daily work like growing, weaving, making handicrafts. Most of Mong people's furniture is decorated with vivid images of nature such as birds, flowers and woven fabric here is one of the best brocade items in Sapa. You can contemplate the superb the picturesque image of big watermills, Cat Cat waterfall, Fansipan Peak and all Hoang Lien Son Range or discover the hydropower plant besides enjoying the special and yummy dishes here. This is absolutely an amazing tourism spot that you can't stand ignoring.
#5. Ta Phin
At 12km distance from Sapa to the North West, Ta Phin plays one of the important spots in the key tourism route in the upland town. Pristinely unique beauty of the nature and preserved traditional characters of the Mong and Dao create the various and attractive tourism potential. Coming to Ta Phin, you can visit the ancient colonial-style monastery, the fabulous Ham Rong to the South East and the Mong, Dao's brocade houses full of vivid brocades and handicrafts. One interesting recommendation for you is to enjoy the herb bath at local to get better health and relaxation for the next trekking days. This is the best chance to enjoy the taste of many famous specilities in Sapa like "Ruou thoc" (a kind of Red Dao's wine), "Black Chung Cake", corn cake, colored sticky rice and fermented pork. Anyway, Ta Phin is a highly recommended spot you must go for sightseeing many awesome types of scenery, savoring the true ethnic cuisine and exploring the traditional life.
Anyway, whether you discover Sapa as the route above or not, it is extremely worth you a visit to explore this upland town via the authentic and pristine ethnic villages. Remember to try food and join in traditional festival here for your most fantastic trip.