Tropical Storm Wipha, which formed in the South China Sea between the Philippines and China, will bring the risk of flooding and locally damaging winds to the region in the coming days.
Wipha is expected to enter the northern region of the Gulf of Tonkin later on the afternoon of August 1 and could gain further strength.
The storm is forecast to make landfall on August 2 and later weaken to a tropical depression as it moves further inland.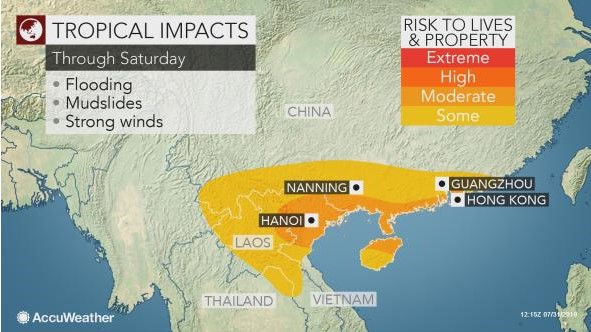 Due to the impact of tropical storm Wipha, heavy rains are expected to pummel the provinces in the northern and north-central regions with rainfall ranging between 100-300mm, and even 400mm in several locations.
In the capital Hanoi and North Vietnam (including Quang Ninh, Lang Son, Bac Kan, Cao Bang, Ha Giang, Yen Bai, Lao Cai, Hoa Binh, Son La…), the storm will also bring heavy rains and thunderstorms.
You should update the latest news about this storm, contact to your travel agency to make plan B. Remember, your safety is first.
We always support you 24/7.