Sapa is one of the most attractive destinations in Northern Vietnam because of its stunning landscapes, culture market days and traditional foods,… Sapa is home to different ethnic tribal groups which is located about 350 km northwest of Hanoi. There are many ethnic groups such as the Hmong, Dao, Tay, Giay and Xa Pho. Many travellers really like the highland tribes, iconic rice paddies and forest treks when coming here. The highland region in the Northwest of Vietnam is blessed with awe-inspiring natural beauty and famous for spectacular landscape, wonderful villages of the ethnic monitories, the rice terrace, and unique markets. You should discover the most popular Sapa market days and enjoy almost foods in there.
Sapa Markets
Sapa market days are one of the interested places when traveling to the Northwestern highland. You can easy to find out a great number of handcrafted products made by ethnic groups at almost markets. In the very early morning, hundreds of ethnic people in colorful minorities are concentrated on Sapa markets. All days in every week, markets are held on so you shouldn't worry about the schedule traveling plan. However, these are not only for trading until late afternoon, but also for socializing and unwinding after hard working days.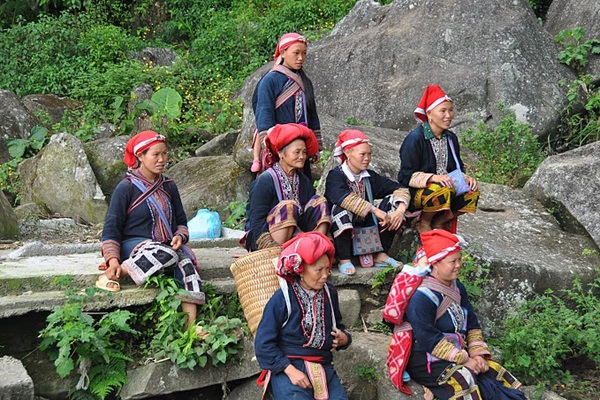 You will be attractive by the unique brocade products in vibrant colors, and subtle patterns of the H'Mong, Dao Do, and Giay. Otherwise, there are fruits, vegetables, and spices which are also favorite goods of tourists. When entrancing in the market gate, tourists will see mountain fruits like peach, apricot, pear and plum.
You should buy souvenirs for your friends and relatives once visiting this market. For example, there are ethnic silver jewelry, medical herbs, forest honey, natural medicines and ganoderma. A number of embroidered skirts, handbags, blankets, and table covers is made by the indigenous. If you really like colorful costume of H'Mong, Dao people in Sapa, you also is easy to look for authentic ethnic fabric. No doubts, sellers can speak English fluently.
Going to Sapa market in the morning, you should enjoy a lot of favorite breakfast of steamed corn wheat, horse soup and corn wine. These are traditional food of local people and must-try for any tourists who come here.
Bac Ha Market
This is the most famous and most colorful market of Sapa, which is located in Bac Ha district in the Northwest region. You can buy several goods such as handicrafts, traditional costumes and food. Various tribes are gathering at this market.
To approach up Bac Ha market, you have to pass the beautiful valleys, go through tortuous paths. For the ethnic groups, they have to wake up in the early morning or the night before to carefully prepare for their trading goods in the next morning.
Bac Ha Market offers almost every products you want in the highland like vegetables, foods, fruits and wines. The foods at this market are very special and delicious. It is a pity if you don't try them. You should enjoy the hot "thang co" dish and drink corn wine.
Muong Hum Market
Secondly, Muong Hum market is located in Ban Seo, which helps you discover the authentic experience of the local hill tribe culture. Like Bac Ha market, Muong Hum market is also held on Sunday, which is as busy and excited as a lot of participants including Ha Nhi, H'Mong, Giay, Dao Do and Dao Tuyen people.
Coming here, you also deep in all valley with a lovely and gentle stream, the scenery here is very spectacular and picturesque. You can be available take a beautiful photo when catching up the sight of  horse passing the viaducts endlessly in colorful. The women wear the most beautiful clothes, which impress everyone.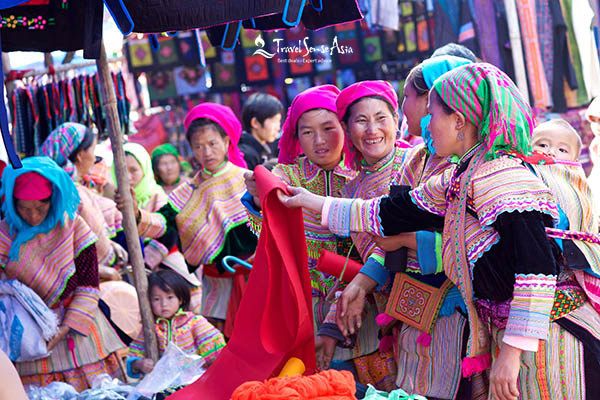 Can Cau Market
Can Cau Market is located in Can Cau Ward, Si Ma Cai District which is the most famous and biggest market of Sapa. This market is usually held on Saturday and Sunday along the streets. Coming the market, you will see several ethnic minorities such as Mong Hoa and Giay, Dao people.
Can Cau Market is divided into separate areas. The same to other largest markets, this market also offers tourists a wide range of products such as vegetables, herbs, spices, wines and brocade products. Besides, there are many food stalls providing traditional dishes, which also impress both of local people and tourists. You can buy several items with cheap price including handicrafts, traditional costumes food, and various tribes are gathering at this market.
Coc Ly Market
Be held on Tuesday every week, Coc Ly is a market of the ethnic groups, who is living in the Northwest of Bac Ha District, located near the viaducts passing through Chay River.
Coc Ly market is built on many squares of displaying goods. Coming to this market, you can find a lot of items, which are handicrafts, herbs, vegetables, Cloud ear fungus, honey, utensils, necklace, clothes, and brocade products. All of them are displayed on the nylon canvas, which is placed on the ground.
Additionally, you can go to the unique feature of the areas for trading domestic animals such as buffalo, cow, pig, chicken, dog, horse, and cat, etc. This area is always filled with the excitement and animation of sellers, customers, and visitors.
In addition, you can find to the area for serving traditional foods in order to  enjoy the fragrant smoke of grilled foods and talk with friendly people. You cannot resist to this appealing attraction. You can ask the guide tour where you can enjoy the delicious local foods as a must-do thing.
Cao Son Market
Another Sapa market days is Cao Son. This market is located in Muong Khuong District which is about 80 kilometers from Lao Cai province. Coming to Cao Son Market, you are offered the chance to enjoy the cultural combination of ethnic groups near Chay River. And you also grace the beautiful landscapes around here.
The main suppliers of Cao Son Market are the Mong, Phu La, Dao and other ethnic groups. They majorly live in the four biggest villages of Muong Khuong District. Each week, the market is held on Wednesday. You can easily catch sight of people from many places coming here to exchange. They usually go in groups, in pairs and sometimes, go alone. You will see some people bring the large basket on their back, additionally, some use the horse to carry the goods and some bring the products by motorcycles or bicycles. Almost girls in all ethnic groups are pretty in colorful clothes and umbrella with elegant, subtle patterns. All of these create such a spectacular and lively image that you will never forget.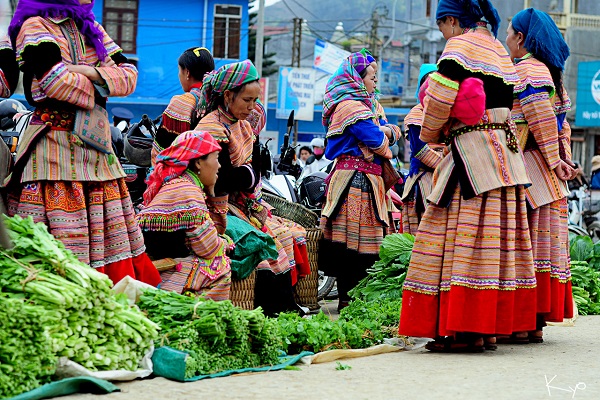 The list of traditional foods
Sapa is not only famous for magnificent beauty of nature, the fresh atmosphere, but also a place is famous for many special foods. There are Cap Nach pork, Thang Co, salmon hot pot, grilled dishes, seven colours sticky rice. We will give you some suggestion of what food you must try when visit Sapa.
Cap Nach pork
If you visit ethnic villages, you will see all pigs are free to find food in the forest or garden since they are piglet. Therefore, after 1 year the pigs weight just about 20kgs. This kind of pork is very special with fresh thick meat, crispy sweet skin, and favour is pretty fragrant. Under the skilful hands of chef, Cap Nach's meat was steamed, roasted, grilled. Every cuisine is delicious and hard to refuse.
Grilled food
The weather in Sapa is cool all year, that why every tourist never forgets to try grilled dishes when visit here. Specially, there is a street where people sell only grilled food, it is Ham Rong Street.
If you are fond of spicy food, skewers are you best choice. It is the most common grilled dish here. Chunks of meat are coated with spices, oil, and chilli powder and skewered on bamboo sticks and grill. Each of type has different spices, you have many options. For distance, you also can enjoy various perennial grilled food such as corn, sweet potato, cassava, and other birds. All of them are very sweet and fresh, and prices of just 3,000VND- 15,000VND per dish.
Thang Co
The most famous dishes of H'mong in Sapa is Thang Co which usually use for festival or special day. It is sold at the fair in the weekend. It is a mixed soup which includes meat, organs of horse, vegetables and special kinds of spices. Today, Thang co is cooked to serve all people in Sapa, especially to serve tourist. Now, the Dao, Tay people also know how to cook the dish. However, the special flavours that tourists can unforgettable are made by H'mong. Therefore, you not only enjoy the delicious foods but also you know more about the cultural beauty of ethnic.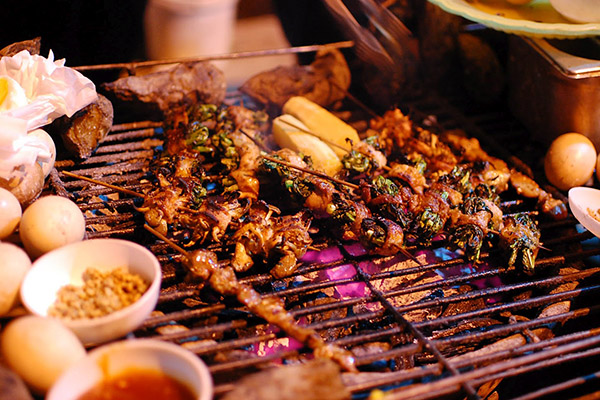 Salmon hot pot
Salmon hot pot will bring you a unique flavor, fresh-toned, low-fat, fresh red meat which is very nutritious. The broth cooked with salmon bones so sweet will be eaten with fresh vegetables. A salmon hot pot is not too expensive, with about 500,000VND- 600,000VND you can have a pot for 3- 4 peoples.
Seven colors sticky rice
Travelling to Sapa, you will have a chance to enjoy seven colours sticky rice- a traditional dish of Nung ethnic minority in Muong Khuong, Lao cai. Sticky rice is processed into colours: pink, scarlet, crimson, dark green, yellow green, and white. All of its colours are made from the leaves of forest trees so it is good for health.
Travel Sense Asia hope that through this post, you can find some useful information and beautiful places to note in your list of things-to-do when traveling to the Northwest of Vietnam. It ensures that you will have a memorable and enjoyable time at those destinations.