Mountainous areas of northern Vietnam is among the best places all over the country for trekking. Depending on their trekking skills and ability, tourists can choose the trekking route which is most suitable, as Sapa offers a wide range of trekking spots from easy to hard level. Sapa has a gorgeous landscape of mountains and rice fields, and it should be on your bucket list. You have decided to end our month long Vietnam trip exploring the gorgeous rice fields of Sapa. Sapa is a hidden charm that has so many activities to offer, plan your trekking route with this comprehensive guide to where to trek and stay.
What to take in your backpack during Sapa hiking trails?
Water: You should take enough water as 1.5l per person and finished it all.

Food: Also, you took some breakfast and lunch which you bought back in town. Because you eventually decided to have lunch in one of the local restaurants among the rice fields, so your taste will be not suitable with the local hosts. You got some spring rolls, omelet, vegetables and rice. You actually recommend to eat lunch there so you don't have to carry around food! But of course, it's good to take some snacks with you.

Sunscreen: It was really sunny when you were there, so you had to wear enough sunblock not to get burned.

Hat and sunglasses: If it's warm and sunny, it's essential to protect yourself!

Camera: One suggestion for you is to take lots and lots of photos to keep the memories in the journey.

Map: You went without a map, but we didn't have a specific place you wanted to see. If you want to see a certain village or find a specific homestay, you should bring the map or ask the local people by the way.
Easy Sapa hiking trails
In this simple level, you can walk to the region and the tribal residents while watching the stunningly beautiful natural landscapes of northern Vietnam. The trekking tours will start from Hanoi, one suggestion for you is to transfer to Sapa by the train.
You walk to Muong Hoa Valley before turning right to a foot path downhill.  This is one of the most popular trekking routes in Sapa and tourists have a chance to witness the highest part of Hoang Lien Son mountain range as this is including Fansipan Peak if the weather is nice enough. Cat Cat village is an ideal trekking route for someone who want to gain more challenging. This is a house of Black H'mong people, so you can catch up many interesting facts about their ordinary life as well as culture and architecture. Coming to Cat Cat village, you will know how to make the traditional clothing, hemp being dyed and women weaving colorful. Continuously, you come to Shin Chai village, the local people in here will spend the time to teach textile weaving. Usually, they take the group on a locally built trail. Coming this village, there are many flowers like peach blossom, gladiolus, rose, chrysanthemum, pear blossom, so you can grace them.
After two hours of climbing up and down the hills, people will reach Lao Chai- one large village of H'mong people, and then Ta Van village, the area where Zay communities gather. One suggestion for you is to choose to overnight at Ta Van. You will find out more about the culture of ethnics people by joining their meals or visiting local homes and schools.
Medium Sapa hiking trails
One more step, the medium level of trekking is quite different to the easy level so you need save your energy to get the target. You will take two hours to walk through Cat Cat Village situated at the foot of Fansipan Peak then approaching Muong Hoa valley. After catching up Cat Cat village, you can approach the local life including traditional crafts of the indigenous; stream-crossing bridge, terraced fields and some off-roads. With many ups-and-downs, Cat Cat Village could be a suitable choice for hikers, who would like to practice in advance, prior to conquering the Fansipan Peak, the roof of Indochina.

Nearly Cat Cat village is Y Linh Ho village, you have uphill to this village, which is a small commune composed by many small hamlets scattering on the very tough mountain terrain with high and steep mountains. Y Linh Ho village is home of Black H'mong who usually wear the dark clothing and navy dyed with indigo. You can see them in the hands of older H'mong women. Their houses are constructed on their farmland. As a result, the only way to get to the village is on foot on the road.
Ham Rong mountain
Ham Rong garden is the mainstream place for many foreigners, which is located not very far from center of Sapa town. Ham Rong is one of Sapa hiking trails which offers many types of flowers and orchard gardens. On the road, you will see the various of stones, then a numerous orchid gardens with more than 6000 orchid plants belonging to 194 kinds. There are a lot of indigenous flowers grown along the paths such as hydrangea, geraniums, and cherry blossom. In there, you will find some fruits like peach, plum, and pear are also found here. In the morning, the scenery was hidden in the fog from bamboo flute.
Silver Falls and Loves Waterfalls
From Sapa town, you go to the west about 12 kilometers, you will meet Silver Waterfalls down from 200 meters creating the futuristic sound of the jungle. After coming Silver Waterfall, you should hike Love Waterfall. In history, the name of waterfall originates from a legendary love story that has been told to generations in this land. This waterfall was the bathing place. Following the story in long time, the sound of a young boy near the fall, so she listened to his melodies. Her parents know the secret, and they forbid her coming back to the fall. Her passion is transformed herself to a bird in order to live with her love forever. From then on, the name Love is born. If you stand a far, Love Waterfall looks like a sparkling stream of light.
The most challenging level for you is trekking to the top of Fansipan Peak called the Roof of Indochina. Thus, you will need to spend two days and one night finishing the hike. For the safe, you should not trek by yourself and need a local experienced guide to lead the way and porter who brings your luggage as well as understand the route deeply. Continuously, you pass Cat Cat Village and trek upward for nearly 7 hours then reach the first campsite at a height of 2300 meters.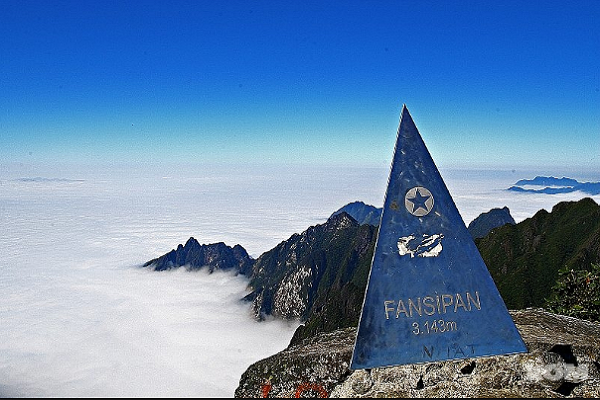 Hard Sapa hiking trails
You should overnight in the tent in the mountain slope facing west, near a mountain stream. On the next day, you will climb to the peak of Fansipan Peak. Finally, you can grace the best panorama of Vietnam after spending three hours to the peak.
For the experience of trekkers, from October to May is the most suitable season to discover Fansipan as its advantages. When trekking in Fansipan Peak, you should prepare some necessary items. The one can hold about 3-4,5 kg and has straps on chest and abdomen, which should be strong and fixed. The shoes should be soft, thick, waterproof and have good friction, high neck and sweat absorbing or tourists had better choose the dedicated hiking shoes, if not,. If you travel in the months from March to May, bring the summer clothes. However, you need to bring the necessary goods like: sweat wicking, good wicking, good elasticity and ventilation when you visit Sapa in three months from October – December. Besides, you should carry important items such as phone, backup charger, medicine, notebook sleeping bag and so on.