In Sapa, local ethnic minorities live in remote villages which are quite far from each other. Weekly markets are meeting points for them to exchange goods, cultures, to make new friends, and to find their lovers as well. The impression you could get is the lively markets reflected by different colourful dresses of many local tribes coming here. Sapa Market Tours offers us beautiful views over the valleys, small villages of the local ethnic minorities and colourful markets that take place only one time in a week. Let's discover the most famous markets in this picturesque town with us, so that you will have a detailed look at the incredible culture of the locals here.
List of the Sapa market tours
Bac Ha market
Bac Ha Market is located in Bac Ha District, Lao Cai Province, which is 70 kilometers from Sapa town. Bac Ha Market is the biggest minority peoples market in Northwest Vietnam, which holds in every Sunday. Alive with the bright colours and extravagant costumes of the local people, here you will meet Flower Hmong (Red Hmong), Black Dao, Tay, Nung, La Chi, Phu La and other minority groups who come from far and wide to buy and sell a wide variety of goods and livestock, to exchange news and to renew friendships. In the past the market was a center for trading horses but now that motorbikes have replaced them it is more common to see buffalo, cows, goats, fish and other livestock being traded.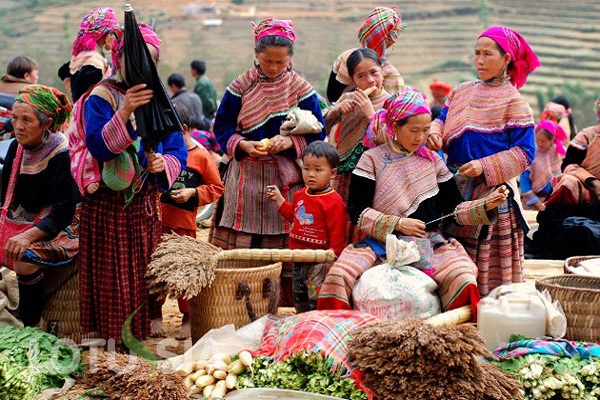 Can Cau market
This Market is located in Can Cau Ward, Si Ma Cai District and below the Chinese border. Can Cau is a busy market which is held every Saturday. It is a colourful, vibrant market where you will encounter minority peoples such as the Flower Hmong (Red Hmong), Nung, Phu La and even Chinese people from across the border. This market is usually held along the streets, right under the spectacular rice terrace.  Can Cau Market is divided into separate areas. It also provides you with a wide range of products such as vegetables, herbs, spices, utensils, and brocade products. Besides, there are also many food stalls serving traditional dishes, which also attract a lot of locals and tourists.
Coc Ly market
Coc Ly market is a market of the ethnic groups, who are living in the Northwest of Bac Ha District, Lao Cai Province. It is only held on Tuesday every week. This market is usually located near the viaducts passing through Chay River. Enjoy the peaceful life of 6 different minority peoples (Flower H'mong, Black Dzao, Tay, Dzay, Ha Nhi and Nung). The market is the chance for the minorities to meet and share joy and sorrows after the crops, to exchange one another's experience. Coc Ly market is also divided into many separate areas. At this market, you can find products and goods, which are mainly specialties of the forest such as vegetables, herbs, Shiitake, Cloud ear fungus, honey, rice, utensils, necklace, ring, clothes and brocade products. All of them are displayed on the nylon canvas, which is placed on the ground.
Cao Son Market
Cao Son Market is situated in Cao Son ward, Muong Khuong District, which is about 80 kilometers from Lao Cai City. On coming to this market, you are offered the opportunity to enjoy the cultural combination of ethnic groups near Chay River. Coming here in every Wednesday, you will find Flower Hmong (Red Hmong), Phu La, Black Dao and Chinese traders engaged in business. Those ethnic groups majorly live in the four biggest villages of Muong Khuong District. They usually go in groups, in pairs and sometimes, go alone. Some people wear the "gui" (a large basket) on their back, some use the horse to carry the goods while some go to Cao Son Market by motorbikes or bicycles.
You will enjoy the beautiful scenery along the road until you arrive in Muong Khuong town. From there, you turn into a dirt road, which goes up in mountains. Pine trees forest, villages surround tiny market. Flower Hmong, Tay, Dzay, Tu di ethnic minorities come to buy and sell local products such as food and material for agriculture and fabric. You will then be able to visit the most secluded peaceful village and have an opportunity to see the people still distill the wine from corn, making bacon in the most basic way and offering the special corn cake to anyone who drops by their house.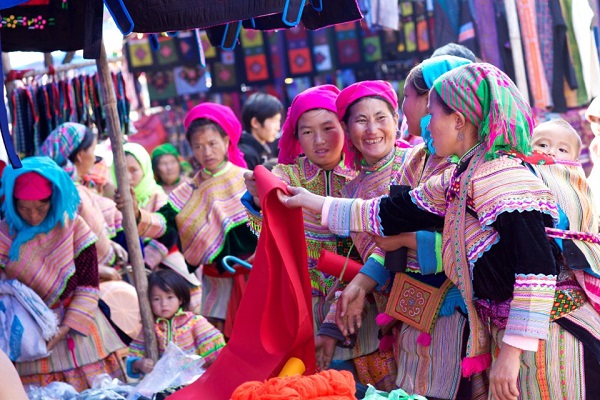 Muong Hum Market
Another market in Sapa market tours is Muong Hum which is a favorite destination for those who travel to Sapa. Muong Hum Market is located in Bat Xat District, which holds on Sunday every week. On Sunday, the market is as busy and excited as a large party of Ha Nhi, H'Mong, Giay, Dao Do and Dao Tuyen people. Because this market is located in a small valley with a lovely and gentle stream passing through, the scenery here is very spectacular and picturesque. You can easily catch sight of people and horse passing the viaducts endlessly in colorful and unique clothes of their community. This image is so lovely that you may want to take a beautiful photo immediately. The girls and the kids wear the most beautiful clothes, which not only impress the boys but the tourists as well.
List of the traditional foods found in Sapa market tours
On the other hand, the area for serving traditional foods of the ethnic groups is also very excited thanks to the harmonious combination of the fragrant smoke of grilled foods, the sounds of people chatting, the laughing of friendly people. On passing by this area, you should take a rest, sit down and enjoy the delicious local foods as a must-do thing.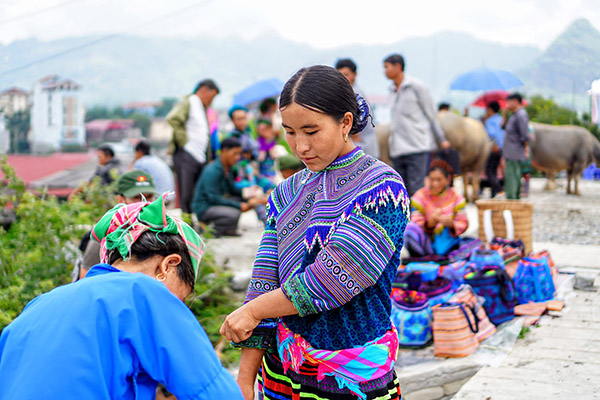 Com Lam
This is a famous rice dish of the ethnic minority people in the Northwest of Vietnam cooked by sticky rice and grilled in the bamboo tubes. Sticky rice is put in a bamboo pipe and added some water. The bamboo chosen should be fresh and young. To get a more delicious taste, local people usually use natural materials like stream water and some salt. The bamboo pipe then will be sealed up by banana leaves and roasted above red coals or hot fire in 30 minutes. When it is done, the singed skin of the bamboo is removed, leaving a thin cover that is also peeled away when you eat.
Seven-color sticky rice (Xoi Bay Mau)
Xoi Bay Mau is a traditional food of Nung people in Muong Khuong District. The seven colors include pink, light red, dark red, indigo, yellow-green, green and yellow. The colors of sticky rice are made of different kinds of materials in the forest. Thus, the local people believe that eating the seven-color sticky rice on special and important occasions will bring good luck.
Thang Co
Thang Co is the traditional food of Hmong people and it has been cooked for hundreds of years. Thang Co is a type of soup which is made of horsemeat, horse's viscera and horse's bone. You might feel a little bit panic-stricken when hearing about the ingredients but that feeling will be blown away once you taste it. Cooking this dish not only requires time but also the skill of cooks. The locals stew horsemeat with these 12 spices in a big pot within a couple of hours. To elevate the flavor of Thang Co soup, they serve it with fresh vegetable and a special red hot pepper name Muong Khuong.
Cap Nach pork
The small pig's weight is less than 10kg so that people can put into the baskets, even put in the armpits. Self-feeding on steep slopes and struggling with cold weather throughout the whole year have made this type of pig's meat more shriveled. There are many favorite traditional dishes processed from this pig. Its meat can be steamed, boiled, baked, stewed, and the taste is very delicious.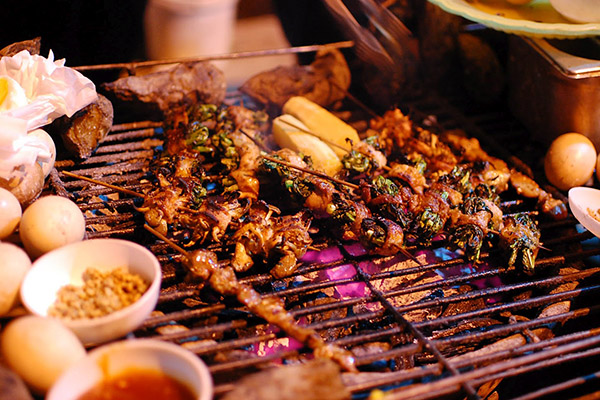 Grilled fish
This food is incredibly delicious, and you should not miss if you come to Sapa. Sapa has many kinds of fishes, and their flavors are different from other fishes. The goby fish, bighead carp, etc. are usually found in the stream of Sapa. Most of them are not so big, just as big as your fingers. When completing the catching fish process, you just need to make a fire to grill the fishes or cook them with some kinds of species to have an attractive dish. The sweetness and freshness of this dish are irresistible to any diners.
Tao Meo wine
Tao Meo wine is a popular and original wine of H'moong people. It is made from fruits of Tao Meo tree – a kind of tree grows naturally on Hoang Lien Son Mountain. From August to October, it is harvested so you can buy the fresh Tao Meo fruit. It serves up an amazing natural wine flavor for those who are seeking something unique in the mountainous region. Tao Meo wine comes perfect with unbelievably good brook fish.

Sapa is organized a dozen of local markets everyday in the week. Thus, although you visit to the destination anytime, you explore one of these market. From the list of Sapa market tours, we believe that you will have the attractive trip in here.