Sapa today becomes one of the most favorite tourist destination of Vietnam, a natural starting point for unique experiences in the atmosphere of the mountainous north this country. There are many unique opportunities to explore the hidden trails, breathtaking sceneries, unmixed culture and way of life…but without the availability of basic accommodation. You can sleep in the house of ethnic villages, or even in outdoor tents. Therefore, homestay is the best choice for you to immerse in life and nature of Sapa. Here, we would like to introduce some interesting homestays with very favorable prices that you should refer to before starting a trip to Sapa.
Eco-Palms House – Best view, best price homestay in Sapa
On the list of affordable homestays which have an ideal view, we must certainly mention to Eco Palm House. Located in Lao Chai village, this homestay is not far from Ham Rong Mountain and Stone Church in Sapa. You just need to take only 30 minutes to go from Sapa town to Eco Palm House. Not a luxury resort, Eco Palm House will bring you only necessary services but it can be a "paradise" for nature lovers who enjoy the experience and look for the peace.
Situated amidst a beautiful rice field, this homestay owns 6 private bungalows. Every bungalow is designed as a local house of the ethnic people who live in Sapa: a Black Hmong's house, a Flower H'Mong's house, a Red Dao's house, a Day's house, a Tay's house and a Xa Pho's house. These bungalows are made of natural materials such as wood, bamboo, tree…which is cool in the summer and warm in the winter.
These bungalows are equipped with some chairs comfortable. You can bring it out the balcony, drink a cup of tea, enjoy the scenery of Hoang Lien mountains and the beauty of Muong Hoa valley. Every moment beside your family becomes memorable. The host will also prepare 2 traditional ethnic costumes in each of bungalow for guests to take some photos or wear to go to the market like the locals. Of course, Eco Palm House also provides quotidian amenities for guest such as available 24/7 front desk, daily housekeeping service, turn-down service with visitor's choice of pure essential oil for complimentary.
If you choose Eco Palm house as your base, you should not miss two utilities of this best price homestay in Sapa: Eco Palm House Spa and Eco Palm House Restaurant. The food here is extremely delicious, both traditional and European dishes.  And after a day of exhaustion from amusement, Retreat Package from this homestay spa will be a great gift for you. With Herbal Bath and Signature Treatments, you can relax, detoxify, and rejuvenate yourself. They also provide healthy drinks and organic foods that can keep you well during a week of retreat.
With all the above-mentioned facilities, this homestays in Sapa offer only a modest price: $ 15 / night / public room, $ 80-100 / night / double room. It is a reasonable price for a comfortable homestay in Sapa where you can leave the noise of the city and immerse yourself in beautiful nature.
Phơri's House – Where you feel like home
Being one of the best price homestays in Sapa which is searched the most by young tourist, Phơri's House also attracts a large number of visitors who love the peaceful nature of this mountainous north. Located 8km from Sapa town, you will only take about 20-30 minutes by taxi or motorbike to go along Muong Hoa street to Ta Van. Phơri's House is a beautiful little house located at the end of Ta Van village.
All the rooms at Phơri's House offer views of the valley and terraced fields. This house is lovely and unique to every detail. Every morning, Phơri's House is filled with the smell of essential oil and charcoal extremely comfortable, giving you a warm and familiar feeling. In the garden, there are many clean vegetables. And the kitchen is full of gadgets for anyone who loves to cook. In addition, there are also wines, teas, and coffees for visitors. If you are here, limit the use of plastic bags and plastic bottles. Instead, you can use a home-made canvas bag. And, of course, split the garbage into three categories in accordance with the rules of the home.
This best price homestay in Sapa can be an ideal choice in Sapa for someone whose favorite is nature. In front of the house, there is a small stream, make you feel like it's completely gone in crowded streets. You can blend with nature and enjoy your full holiday. You can go out in front of the stream, sit on a large stone and enjoy your favorite book. In the afternoon, you can walk a little higher up, sit down on a field and look down under the terraced fields, enjoy fresh air and peaceful nature. And that is enough. Enough for a few days to really relax, do nothing, do not think of work, just feel like home.
The last great detail is the price of this homestay in Sapa. It only costs $ 30 / night / double room and 10$/person extra. You also can book the whole house for 120$/1 day for up to 14 members. Luckily, it does not raise the price in Tet or the other holidays. Moreover, at some services around, you say the name of Phơri's House, you will be reduced by 10% – 20% for all invoices.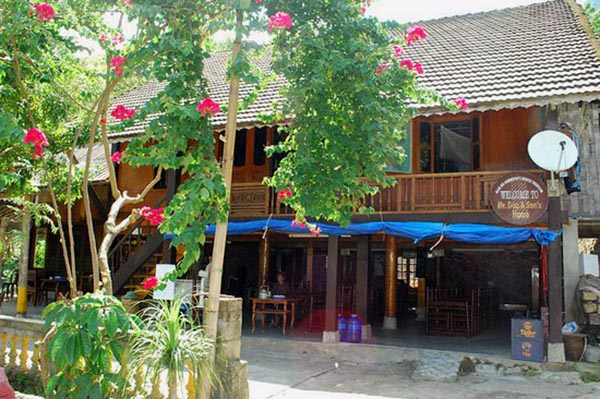 Nam Cang Riverside Lodge
If this is your first experience in a homestay and you want to be sure that your accommodation is clean and professional but still close to nature, let's go to Nam Cang Riverside Lodge – a homestay with an affordable price and a beautiful, modern architecture in Nam Cang village.
Located in Nam Cang village, Nam Cang Riverside Lodge is about 30 km from Sapa town center. This is the place where Red Dao ethnic minorities live for a long time. Just go over a small bridge across the river so you can come to this beautiful homestay. Nam Cang Riverside Lodge is comprised of 7 twin / double rooms and 2 family rooms with all the comforts of a luxury hotel like restaurant, spa, daily housekeeping service, turn-down service,…
This homestay owns a wonderful natural surrounding as a vivid picture. Nam Cang Riverside Lodge offers a beautiful view of the river. There is nothing better than sitting beside the river, listening to the murmuring water, drink a cup of tea and admire the majestic mountains of Sapa. In addition, during your holiday here, you just need a few steps away from the village, where you can explore many interesting activities of indigenous people. The Red Dao people are very friendly and gentle. They often sell some decent handicrafts so tourists can buy as a local souvenir when coming here.
The price for a room of Nam Cang Riverside Lodge is about $ 100 / night, depending on the type of room you choose. It cannot be the best price homestay in Sapa compare to the other but totally reasonable for all luxury services and its amazing view.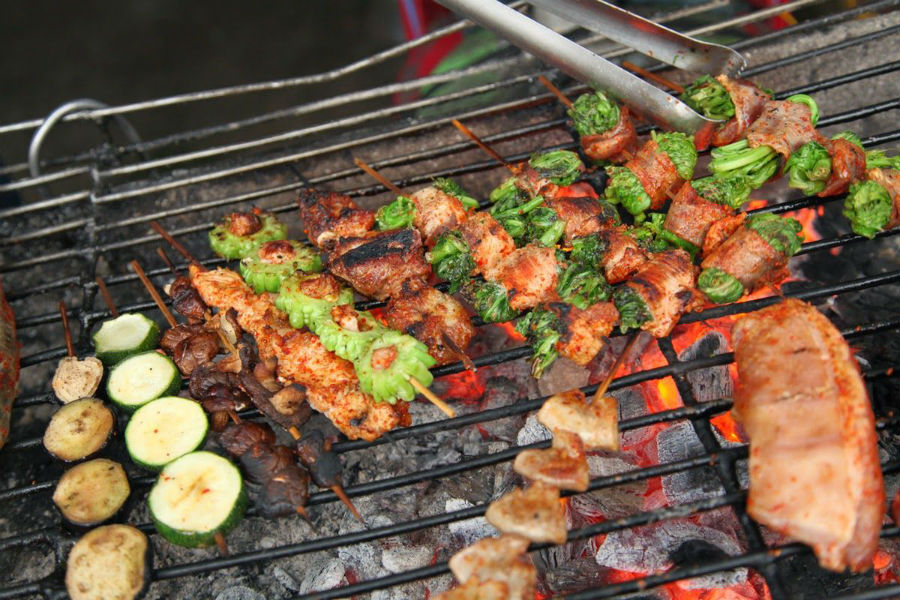 Viettrekking Homestay – at the end of Hoang Lien street
If you have a budget, Viettrekking Homestay can be your best option when you come to Sapa. Located at the end of Hoang Lien street, VietTrekking Homestay is an address cannot be better for visitors, especially people who love to explore the magnificent landscapes and rich cultural values of ethnic groups here. This is one of the best price homestays that will bring you the feeling of waking up every morning and thinking that you are in a paradise rather than Sapa again!
Situated opposite Hoang Lien mountain, VietTrekking Homestay is completely separate from the hustle and bustle of downtown, suitable for those who want to find somewhere simple and peaceful. However, this beautiful homestay is quite close to the center that you just take about 5 minutes to move here. It's extremely convenient.
The most special point of VietTrekking Homestay is the view of the beautiful cloudy sky. This small house on the cloudy sky is an ideal place to admire the sunshine every morning. Leaving your eyes to the left, you will see the radiant dawn on the floating cloudy sky. Leaving your eyes to the right, you can admire majestic Fansipan and Hoang Lien mountains
While Hanoi or other places are on hot summer days, in VietTrekking Homestay, you will see four seasons are available in one day. Morning is spring; the midday sun is like summer; afternoon is windy autumn and night is the cold winter.
VietTrekking Homestay is not too spacious. There are 6 rooms including 4 single rooms, 1 double room, and 1 public room. In addition, the price is quite affordable: $ 8 / night / single room, $ 13 / night / double room and $ 2 / room extra on weekend. With the public room (for up to 12 members), VietTrekking Homestay offers only a modest price of $ 3,5 / person. It's really a reasonable price for all of its comfortable services and magnificent view.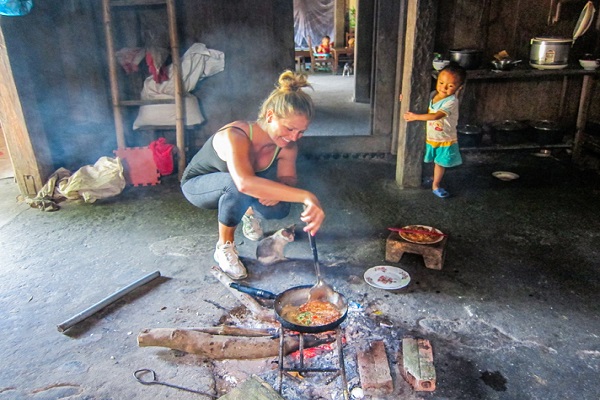 Little Sapa Homestay – The best price homestay in Sapa for your journey
Little Sapa Homestay or Little View Homestay, is on top 3 best price homestays in Sapa on Tripadvisor right now. Located in a small gate of the busy Cau May Street in Sapa, it is convenient for you to take a stroll and explore this busy street or Stone Church of Sapa and experience other attractive places: Cat Cat village, Ham Rong Mountain, Fansipan slings, Love Waterfall,…
Little View Homestay consists of 15 rooms named after ethnic minorities living in Sapa such as Mong, Dao, Tay, Giay, Xa Pho and designed in mixed ethnic cultures. This affordable homestay also offers a warm space and a spacious garden for visitors to relax. All of the rooms of Little Sapa Homestay have an area of 10 m² and are luxuriously wood-paneled. The bed is also extremely spacious enough to give visitors the feeling of ease as comfortable as home
In Little Sapa Homestay, you will receive a friendly and enthusiastic welcome, experience the atmosphere of life in the center of Sapa town, learn the culture of the ethnic minority living in Sapa land and visit the famous tourist spots. The best service with staff members is family members can give every visitor unforgettable moments when they choose this homestay like an accommodation.
With majestic mountains, beautiful fields, picturesque valleys, Sapa is a wonderful gift for every tourist, both of local and international tourists. Each trip to Sapa is like a journey back to Mother Nature, with peace, with friendly people rustic. And homestay will be the house where you can immerse in peace, forget all worries, sorrows. Hope that with this information, you can choose a suitable homestay in the misty Sapa town. Wish you have full of memorable experiences in Sapa!