Are you setting a schedule of Sapa mountain trek? This tour is offered for those who want to spend their time to admire one of the most beautiful tourist sites in Vietnam. Coming to Sapa, you will have a chance to discover many stunning landscapes in here and learn new things about hill tribe people. You completely expand more knowledge and information about the attractive destination.
When tourists talk about trekking in Sapa many years ago, they should hike the hill country through remote villages, discover ethnic minority groups who still live traditionally unencumbered by the modern world. A desire that Sapa will deliver an unexplored wilderness experience.
Some necessary items prepared for Sapa mountain trek
To get the best trip in Sapa, you should prepare the necessary things such as light package, comfortable shoes, much water… And you can check the weather again because in Highland region, the route is difficult for you to trek, and you should prepare raincoat and plastic boot. Sapa has a similar climate with the rest of the country – seasonal changing weather. In the summer, the humid and hot tropical weather is the norm while in the winter; the milder temperatures dominate the pretty town with fog and even snow in some recent years. It is recommended that the best time to visit Sapa Vietnam is from March to May or from September to November. In those times, you can enjoy the relatively cool with temperatures (15°C to 20°C) and humidity. The nice weather is ideal for visiting the spectacular natural landscapes and fascinating cultural diversity. However, it maybe happens the change of temperature and irregular cases. Therefore, you need to bring medicine to keep the good health.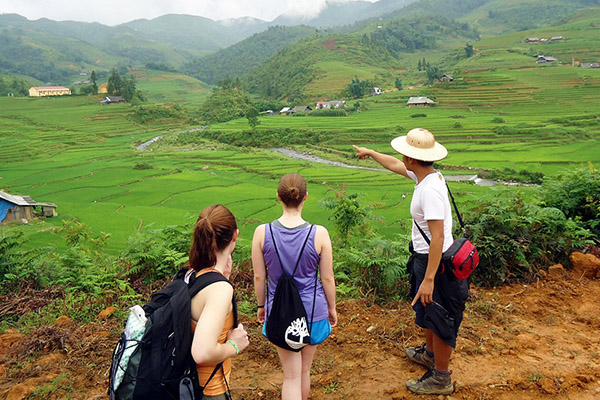 As you known, trekking will waste your energy so you need to save the healthy by bringing small luggage to save the energy. In the experience of trekkers, towels and bedding were not necessary. If you do a long trek, hiring a local porter is a good idea. Taking a rope with you is somehow very useful. The accommodations arranged by the tour were at a small family-run guesthouse. You had clean bed sheets, warm blankets for the night, and fresh towels. That really was all you needed. Besides, you will need the suitable clothes, coat, raincoats, sport shoes, compass, some medicines, vitamin, fastfood, and snack, candy… The most important thing is water as you will be thirsty during trekking process. Some skin care cosmetics are also required. And you should wear good shoes, bring a raincoat because of the changing weather. When it rains the trekking road leading be muddy so you would better have a walking pole.
As you known, coming to the mountain, you make sure you bring your camera and that the battery is fully charged as its dangerous. You are free to take lots of photo breaks every time. Especially, the best moment should be gained when you came over a hill or reached yet another lookout point. Additionally, you also bring the mobile phone, traveling notebook and camera to search more clearly the knowledge anytime you want.
Trekking villages of ethnic people
Cat Cat village
This village is known as the old village of ethnic groups which attracts tourists from all over the world for its distinctive customs and practices. Visiting Cat Cat, tourists will be impressed by the peacefully picturesque sceneries. You can take a photograph of living of local people, the landscapes. Women completely make colorful pieces of brocade. And their children play around with pets or even livestock. Especially, women completely spend much of time to dye them with special leaves and embroider beautiful patterns of flower and animal. Moreover, you will be taught the main skill at manipulating sophisticated gold and silver jewelry.
Y Linh Ho village 
You will visit to some H'mong families and watch them doing their daily works.Y Linh Ho village is known as a small commune offering by many small hamlets scattering on the mountain terrain. Y Linh Ho village is home of Black H'mong who usually wear the dark clothing and navy dyed with indigo. You can see them in the hands of older H'mong women. Their houses are constructed on their farmland. As a result, the only way to get to the village is on foot on the road. You come to Y Linh Ho can find many distinctively handmade brocades made by ethnic people. You should buy some souvenirs as they have numerous bright colors and patterns such as a bag, purse, skirt, and even backpack and coat.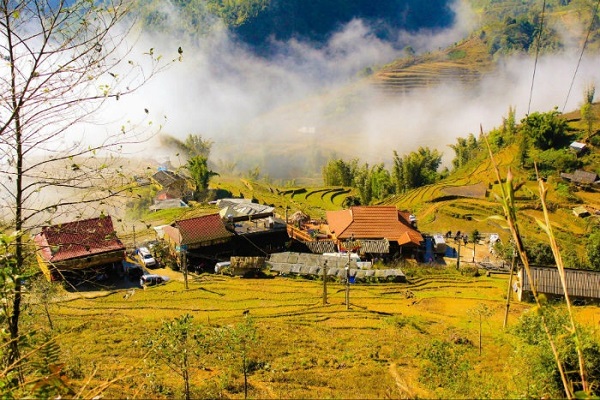 Ta Van village
Tavan village is an exciting place in the Muong Hoa valley, located about 10 km from the town of Sapa. Officially, it is necessary to come here with a guide and a purchased ticket in price of about $2. However, you can entrance freely without the guide tour. It's up to each of you what you prefer. If you choose a motorbike to transfer, you will get more experience in the trip. And you can admire some particular views around mountain.
Ethnic minorities: Hmong, Red Dao, Giay

Population in this village is approx 1000

Treks with local people in Hoang Lien National Park or to Seo My Ty tank (7 km)

A few shops, restaurants offering many traditional foods
Ta Phin Village
Crossing the terraced rice fields,  travellers will approach to Ta Phin where is one of the most attractive destination in Sapa Valley Tour. The most attractive of this village is approaching the living of Red Dao's women. In fact, they keep inside their hand's colorful reels of thread and cloths. The local host will offer the goods to the customers. Amazingly, most of them can speak quite well, they can understand your mean meaning. So if you want to understand something, you can say with them. You can buy the handmade brocades by ethnic people. You will be attracted by the numerous bright colors and patterns of products like bag, scarf, purse, and coat. As you know, this village is the main supplier of brocades for souvenirs shops and the products are exported to foreign countries as well as they love its design. Thus, you can buy several souvenirs. Especially, if you meet the marriage with the local hosts, you can join a Red Dao's wedding to see how they prepare and many complicated customs for this occasion.
Sapa mountain trek
Muong Hoa Valley 
Another place you shouldn't miss is Muong Hoa valley which owns lots of colorful flowers in a wide range of various beauties. Two lines of the mountain surround this valley. It is far from town about 14 kilometers. Crossing Muong Hoa river, you will approach Muong Hoa Valley. On the way, you can learn more about how is the rice cultivating.
Coming here, you can go to waterfall to grace the line streams downhill to the Muong Hoa. Continuously, you visit to the ethnic minority people of H'Mong, Dao, and many others. They have been working on the sloping land and living their own ways for hundreds of years.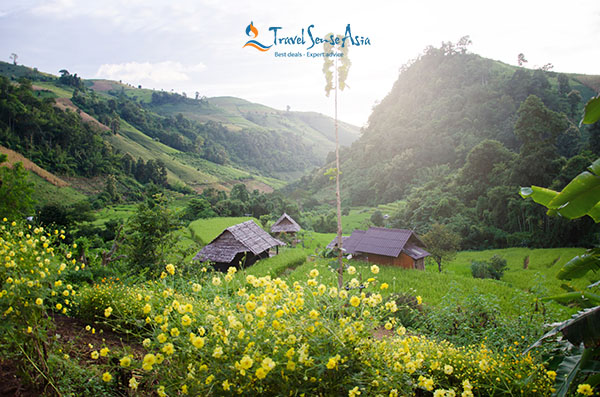 Ham Rong mountain
Actually, you stand on Ham Rong mountain, you will admire the wonders of nature like vast heaven and the majestic mountains from above. Thus, you completely get the strange feeling when coming here. In Geography, Ham Rong Mountain is located nearly to Sapa town center. Thus, it is easy to get it. One suggestion for you is to bring the devices, camera to take the photograph when walking at leisure to the top of this mountain just to relax while looking at scenic surroundings. The site has been restructured with typical natural landscape and resting station for climbers. Catching up Ham Rong peak is not waste your energy as you think, on the contrary, this peak is very easy to top as its path is not so steep. Continuously, you keep the walking to grace panoramic view of the whole Sapa town might make one's heart beat faster. Muong Hoa valley and villages of ethnic people have created an amazing picture of nature.
Fansipan
Catching up the top of Fansipan Peak called the Roof of Indochina is the most challenging level for trekkers. Thus, you will need to spend two days and one night finishing the hike. You can't trek by yourself as the dangerous so you need a local experienced guide and porter who brings your luggage as well as understand the route deeply. After passing Cat Cat village and crossing Muong Hoa River, you need to trek upward for nearly 7 hours to reach the first campsite at a height of 2300 meters. After passing the first step, you will take challenges in the next step with hiking since you trek through the arrowroot plantations and bamboo forests. To save your energy, you should overnight in the tent in the mountain slope facing west, near a mountain stream. On the next day, you will conquer to the peak of Fansipan Peak, with the height of 3143 meters. After that, you need to spend three hours to pass the dense bamboo forest, but it is worthy as from the peak, you can grace the best panorama of Vietnam.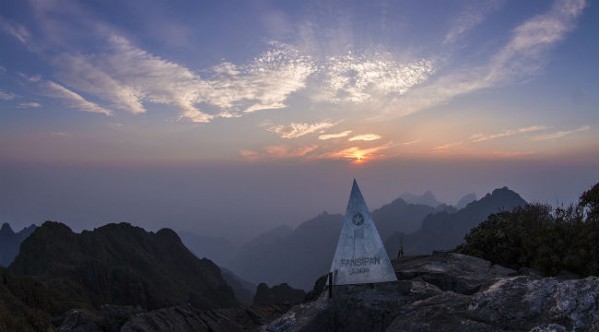 One suggestion for you is trekking on the top of Fansipan is from October to May as its advantages. When trekking in Fansipan Peak, you should prepare some necessary items. Tourists had better choose the dedicated hiking shoes. You bring your shoes to trek mountain need to be ensured the characteristics of soft, thick, waterproof and have good friction, high neck and sweat absorbing. If you travel in the months from March to May, bring the summer clothes. However, you need to bring the sweat-wicking, good wicking, good elasticity, and ventilation when you visit Sapa in three months from October – December. Besides, you should carry necessary items such as phone, backup charger, medicine, notebook sleeping bag and so on.