Sapa is the best choice you spend your free time in the traveling as it is a beautiful mountainous region in the Northern Vietnam. It also owns the perfectly green environment full of lush hills, tea plantations and agricultural land. Not only that this destination is famous for the eight ethnic tribes that live in this part of the world.
For distance, Sapa has voted in the top list interesting destinations for someone who wants to get experience in the lives of Vietnamese ethnic minorities. Sapa is focusing on the development tourism field so many services are offered for customers. For example, the local people open more and more the souvenir shops, restaurants, and retail shops and their homes for guests. Thus, Sapa became a very popular destination to participate in a homestay experience with the local people.
Currently, there are two types of homestay in Sapa. You have a choice either a luxury homestay or a traditional home. In both, you will expect to experience village life in all its glory. Choosing the homestay to overnight, you will get the actual time with the wonderful ethnic group community. Especially, many homestays are set within the famed rice paddies and have incredible views. On the downside, numerous travelers expect to be woken early by roosters or livestock to get more experience. You can ask a tour guide or read the recommendation on some websites to choose the type of homestay you want to stay.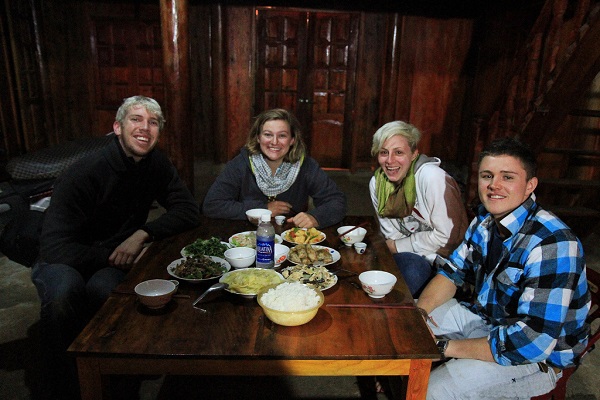 However, in this guide, Travel Sense Asia provide the most popular Sapa tour homestay for you. Thus, if you want to get the best experience in the trip, you should book the traditional homestay.
The traditional homestays which are owned by local people and closet the local living. Don't worry about the booking, when you come to Sapa you can ask the local people where you should spend night. You will have many options for homestay as there are several ethnic minorities in the areas surrounding Sapa's central districts. Different from luxury homestays, the traditional homestay also equipped with a sleeping area but the bathroom and toilet facilities vary which are shared by many people. In fact, some homes in Sapa have no toilets, whilst others have one simple toilet. Thus, choosing traditional homestays, you will get less convenient and less secure than in luxury homestays and hotels.
Received many recommendations, almost travellers have appreciated highly this regional activity since it is the chance for them to get actual experience of local life, traditions and lifestyles. No doubts, the local hosts are so friendly to show clients their normal life. Clearly, they let the travellers join the daily works as well as serving some very delicious local dishes. And you should eat with your family host and generally enjoy the hospitality of Sapa's local people. Hence, you will know how to cook the traditional foods and drinks of ethnic monitories like wine of ethnic group. Of course, it ensures that some days in the magnificent ethnic villages in Sapa will be really great. Besides, if you have plan trek the mountains, villages and others, the local people will spread their experience and knowledge in trekking. Thus, the hosts are willing to adapt your needs of multi-day trekking plan to fully discover the beauty of the mountains and color of valleys in Sapa. To conclude, the fee of traditional homestays are very cheap.
Understood the demand of tourists, many popular homestays are opened in Sapa like Ban Ho village, Lao Chai village, Ta Van village, Ta Phin village,… A lot of travelers choose Ban Ho village is the home. It is home to the Tay ethnic. They encourage tourists to rent a room that makes the attractiveness of Den village. Next, It is about 8 kilometers from Sapa town, you will go to Ta Van village which is a village of the Zay and H'mong ethnic people. From Sapa town, you can move to Lao Chai village which is located on the west bank of Muong Hoa river. You can have chance to know more about the village of black H'mong ethnic group.
Price per night: VND 100.000 – 150.000/person
The schedule of Sapa tour homestay you can consider
On the first day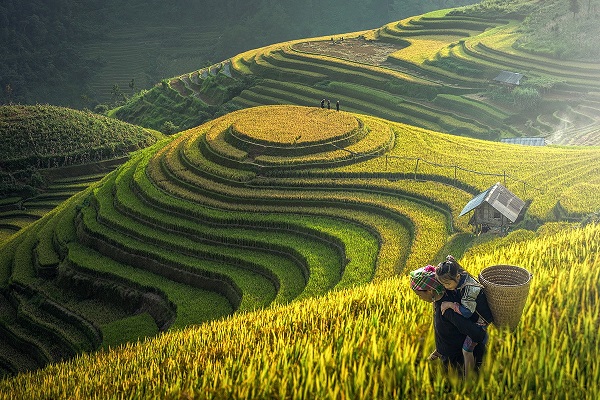 You will start the first trekking day with a short drive to the H'Mong village, this is Cat Cat Village, near Sapa town. You will start an easy trekking route by walking around the village. On the way to trek, you will visit the old Hydro Electric Power station, built by French many years ago.
You then take a short hike on a path down the valley to Muong Hoa River and continue to trek to 2 other villages – Y Linh Ho and Lao Chai village. They are the villages of Black H'Mong people who immigrated from China about 300 years ago. You can find the traditional custom of them, especially their clothes. The women of Black H'mong are well-known for making cloth from hemp and dying it a deep indigo blue. The women usually wear long blouses decorated with batik flowers over short trousers and wrap long scarves around their legs. Besides, they wrap their long hair around their head and wear a blue turban. You also see the men wear long jackets with shirts, along waistcoat embroidered and a small hat. However, to be more convenient, today some H'mong wear Viet or western clothes. It is easy to meet them in this clothes style. During the trekking route, you will enjoy the overall pictures of the villages between terraces and visit the H'mong people living in the wooden and bamboo houses.
Have lunch in a Black H'mong house, you can find other traditional customs, visit their house, enjoy the special food and do sightseeing around.
In the afternoon, say goodbye the hosts, you will continue to trek to Ta Van village, which is the village of Zay minority. During the route, you will immerse in the stunning landscape and have a short rest in a trekking way. At the end of this day, you will reach this pretty village with the hospitality host. You have a chance to discover the rich cultural heritage of them, including many ancient tales, proverbs, poems, puzzles, alternating songs. Especially, the people will be recognized by the clothes. Women wear a five-paneled vest open at the sides and the buttons under the right armpit with the trousers. And they wear hair wound around the head or wind it in a turban. Zay men are simple, they wear the trousers, short vests with a turban around their heads.
You can go to restaurants to enjoy the dinner or you also enjoy the meal with the host as this is the best experience of sapa homestay tours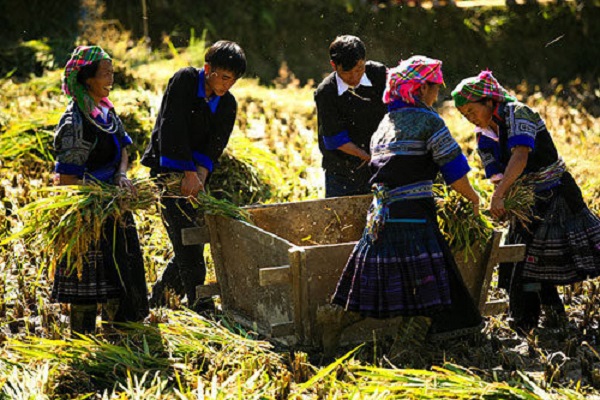 On the second day
Getting up early to enjoy the fresh atmosphere of this beautiful place. Having breakfast and prepare your luggage before saying goodbye to the hosts.
Today, you will have a trekking to Giang Ta Chai village which is the home of Red Dzao minority. You will trek along the paths between the majestic terraces; on the way, you will reach the silver waterfall and suspension Rattan Bridge. You will have a chance to meet the local people, interact with them and share the cultural experiences with their families. You can try one time to wear the traditional clothes of Red Dao women that are long blouse over trousers. Their clothes are colorfully embroidered with designs that appear on both sides of the material. The men typically wear a short shirt with long trousers, and a headscarf. Both men and women have a square piece of fabric on the back of their shirts which represents that they are children of God. Many women shave their eyebrows as well. Women also wear a distinctive red turban and red tassels.
You will continue along small paths in the terrace fields, cross the Muong Hoa river – the stunning river of Sapa and trek up to Su Pan village, which is the pretty village of Sapa. You can interact with the local people and visit a primary school of Su Pan commune. You can have a short rest during the route and have a picnic in the Red Dzao family or on the way come back to the pick-up point.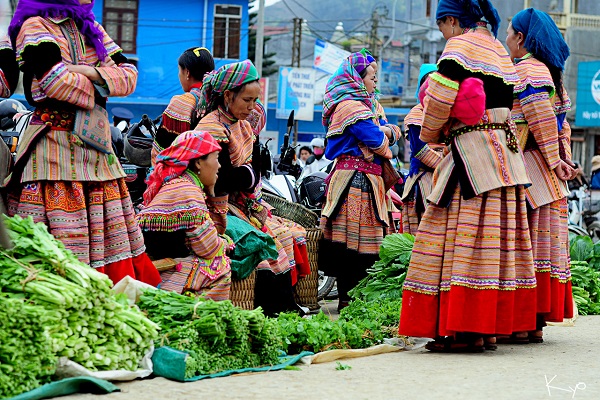 Bac Ha Market
Another experience in Sapa you shouldn't miss is visiting the local markets as these places help you understand more and more. Bac Ha market is opened in every Sunday which is famous for the originality. Thus, you should set up the plan traveling to come the Sunday colorful market. Many people come from so far to cross the mountain in order to get the place. The structure of this market is separated to the main square where is displayed a particular product such as handicrafts, food, horse, poultry and blacksmith. Each has its own trait and worth joining. It is not simply a place for buy and sell but also an opportunity for people from different ethnicities to come and meet, for women to demonstrate their beautiful handmade traditional costumes and even for youngsters to find their dates. Traveling to Bac Ha market, you will take the unique photos. It is worth investing for the road is curvy and challenging, even after significant improvement.
Trying almost traditional foods is also what to do in Sapa Vietnam. If you are seeking for special food, Sapa will not let you down. Don't worry about somethings, Sapa provides both of traditional foods and western foods for foreigners. If you want to enjoy many traditional foods, you should go to local markets. Some people said that nothing is better than some hot barbecued chicken, pork, fish, mushroom and grilled eggs in the cool weather of Sapa. Therefore, if you have a chance coming here, let's try it once time. Next, Thang co – a favorite dish of the H'Mong which is hotpot made of horse meat, internal organs and bones. Salmon hot pot, black chicken, and bamboo sticky rice are also worth trying. Another famous rice dish of the ethnic minority people is Com Lam, which cooked by sticky rice and grilled in the bamboo tubes. Sticky rice is put in a bamboo pipe and added some water. The bamboo chosen should be fresh and young.