Are you worry about what to do in Sapa Vietnam? Actually, coming Sapa, there are lots of things such as trekking, cultural travelling, homestay, shopping at ethnic minority markets and street food. Of course, Sapa is the ideal place for trekking lovers as a mountainous picturesque district with numerous of wonderful attractions. You have more options for trekking from easy to difficult like walking around the town, visiting some tribal villages and climbing to the top of Fansipan at the height of 3,143 meters above sea level. There are the beautiful scenes of valley, terraced rice fields and numerous fantastic.
Experience in homestay in Sapa
When you travel to Sapa, homestay is a great choice because of its experience. The real homestays called traditional homestays which are homestays of local people and close the local living. Different with almost homestays in the tourism area, when you come to Sapa you can ask the local people to overnight during the trip so don't need to book before. You will have many options to overnight because, in the areas surrounding Sapa's center districts, there are several ethnic minorities. These homes also come equipped with a sleeping area but bathroom and toilet facilities vary which is shared by many people. You have a chance to approach this regional activity to get actual experience of local life, traditions, and lifestyles. The local hosts are so friendly and generous to show you their normal life by letting them join the daily works as well as serving some very delicious local dishes. You can eat with the local host. As a result, you will enjoy more the traditional foods and drinks like a wine of ethnic group. Moreover, overnight at the real homestay, you will be shared the role of your trekking experience. Clearly, they will share for your needs of multi-day trekking plan to fully discover the mountains and valleys in Sapa. The cost of that accommodation during the journey is very cheap.

There are so many the real homestay both of King and ethnic groups.
Explore almost destinations in Sapa
To respond for the question what to do in Sapa Vietnam, tourism should come to several below places.
Cat Cat village
You take two hours to approach the first village in here which is Cat Cat village This village is situated in a beautiful valley about three kilometers from Sapa Town. And Cat Cat is known as the old village accumulated the distinctive customs and practices, which attract more foreigners. This is a home of Black H'mong people. Thus, you can discover many interesting facts about their daily life as well as culture and architecture. Of course, you have a good opportunity to choose several traditional souvenirs such as twisting flax and weaving fabric with the cheap price which made by the craftsmen.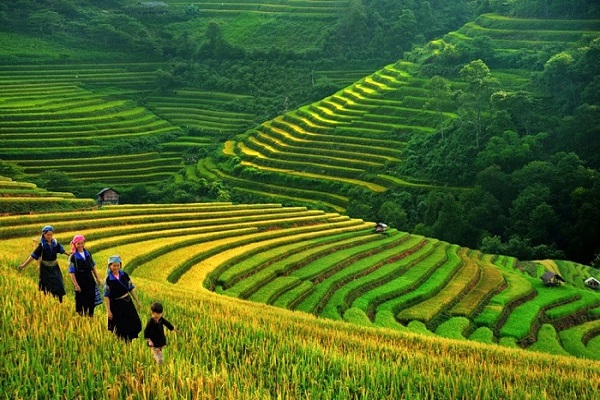 Y Linh Ho village
You will trek through the valleys surrounding the village of Y Linh Ho. This village is famous by many small hamlets. Y Linh Ho village is a house of the Black H'mong minority and people in here has the custom like wearing the dark clothing seen in the hands of older H'mong women. Almost houses are built on their farmland. Thus, to get the village is on foot on the road.
Lao Chai village
Continuously, you come to 3 different villages of Black H'Mong, Dzay, Red Dzao hill tribes. Lao Chai is a village of Black Hmong ethnic people. Thus, You will know the daily activities in here like making their traditional clothes, handicraft and so on. Moreover, you have a chance to visit the biggest valley owning the golden rice terrace field in Vietnam. Finishing the discovering Lao Chai village, you continuously walk to Ta Van which is a village of Giay people. It is a small ethnic group who preserve a rich and traditional culture. You can choose a menu of local family in one of the beautiful traditional houses located on their rice paddy fields. After that, you can have a short sleep in the local people.
Giang Ta Chai village
To catch up Giang Ta Chai village, you need to walk through a bamboo forest. Giang Ta Chai village in Sapa in Vietnam is one of the best trekking where is home to a Red Dao ethnic minority village. In geographically, Giang Ta Chai is located in the opposite of Muong Hoa stream, especially; it was hidden by old trees and bamboo groves. Approaching the life of H'mong local people, you can know how they make their clothing. They usually buy the yarn at a local market then make weave and embroider the fabric themselves. Their many crafts, their embroidery is stunning. This village offers a superb view of mountain and rice paddy fields on the other side of Muong Hoa Valley.
Ta Van village
Ta Van village is where many Vietnam ethnic minority groups live. You will have an opportunity to study how they make their traditional clothes, handicraft, indigo… Otherwise, you will visit the biggest valley which offers to the awesome landscape of the golden rice terrace field in Vietnam. Dzay people live in Ta Van village. It is a small group of ethnic people and they still keep a rich and traditional culture. There are many delicious foods such as Bamboo cooked rice (Com Lam) cooked by sticky rice, five-colored "Xoi Nam Mau", chicken of Mong ethnic people, fruits… However, street foods are not cheap.
Muong Hoa Valley
Muong Hoa valley is known as the paradise of colorful flowers in a wide range of various beauties. You can coming on the time of water cover the rice terraces leading the reflection of the sunshine on the fields' surface. Silver fall offers stunning views of the water falling  from the forests belonging to Hoang Lien National Park down. After taking a rest nearby a waterfall to refresh, you will start climbing uphill to a road, the car and your driver are ready for your journey back to Sapa.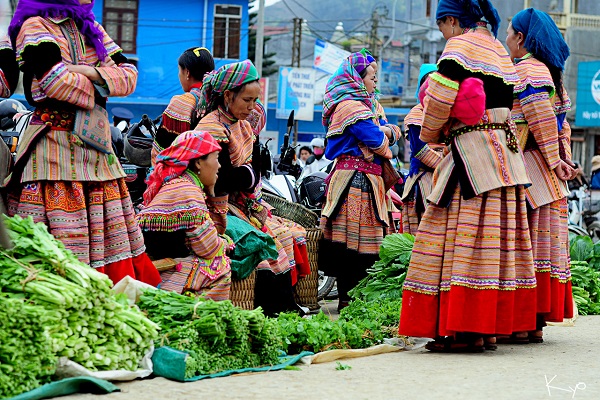 Bac Ha Market
Bac Ha is a remote district of Lao Cai province. Bac Ha market organized in every Sunday which is famous for the originality and authenticity that the traders still preserve. Yet the distance has never discouraged them from joining the Sunday colorful market. Many people come from so far to cross the mountain in order to get the place. The main square where trading takes place is divided into smaller section, specializing in a particular product such as handicrafts, food, horse, poultry and blacksmith. Each has its own trait and worth joining. It is not simply a place for buy and sell but also an opportunity for people from different ethnicities to come and meet, for women to demonstrate their beautiful handmade traditional costumes and even for youngsters to find their dates. Travel to Bac Ha market, you will take the unique photos. It is worth investing for the road is curvy and challenging, even after significant improvement.
Fansipan
Catching up the top of Fansipan Peak called the Roof of Indochina is the most challenging level for trekkers. Thus, you will need to spend two days and one night finishing the hike. You can't trek by yourself as the dangerous so you need a local experienced guide and porter who brings your luggage as well as understand the route deeply. After passing Cat Cat village and crossing Muong Hoa River, you need to trek upward for nearly 7 hours to reach the first campsite at a height of 2300 meters. After passing the first step, you will take challenges in the next step with hiking since you trek through the arrowroot plantations and bamboo forests. To save your energy, you should overnight in the tent in the mountain slope facing west, near a mountain stream. On the next day, you will conquer to the peak of Fansipan Peak, with the height of 3143 meters. After that, you need to spend three hours to pass the dense bamboo forest, but it is worthy as from the peak, you can grace the best panorama of Vietnam.
Try once time the traditional foods
Trying almost traditional foods is also what to do in Sapa Vietnam. If you are seeking for special food, Sapa will not let you down. Don't worry about somethings, Sapa provides both of traditional foods and western foods for foreigners. Moreover, there are great local foods sold in Sapa's wet market and along every street. Some people said that nothing is better than some hot barbecued chicken, pork, fish, mushroom and grilled eggs in the cool weather of Sapa. Therefore, if you have a chance coming here, let's try it once time. Thang co, a favorite dish among the H'Mong tribe is hotpot made of horse meat, internal organs and bones. Salmon hot pot, black chicken, and bamboo sticky rice are also worth trying. Next, Com Lam is a famous rice dish of the ethnic minority people, which cooked by sticky rice and grilled in the bamboo tubes. Sticky rice is put in a bamboo pipe and added some water. The bamboo chosen should be fresh and young.