Coming to SaPa and its awesome sceneries particularly from August to November, you might seem to forget all the hustle and bustle of life, take it easy and have chances to contemplate so many interesting tourist attractions and then experience the unique about culture and lifestyle and of course exotic cuisine of the ethnics here. SaPa is favored by the nature for its numerous landscapes of which you just want to sightsee all. Here are the 10 must-see attractions extremely recommended as you go to SaPa.
# 1. Muong Hoa Valley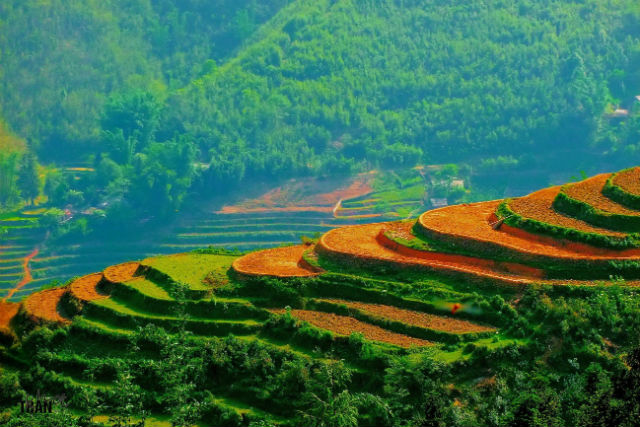 On the top of being stunning from every point of view, this valley is indeed fascinating with small villages and terraced rice paddies, superb mountains and breathtaking waterfalls. There is a stream running through the middle of the valley, which makes Muong Hoa so spectacular. Considered as the most beautiful in Sa Pa, it is very a good opportunity for you to see not only the villages inhabited by Black Hmong people, Dzay people, Red Dao, etc. but also the way the friendly and hospitality ethnic live. The best way to explore the valley is trekking and homestay. If you go to Sa Pa in August and early September, which is just before harvesting season and the valley is stunning with smoothly green rice fields along with a better weather for travel, you will have chances to see a lot of activities and amazing rice terraced fields. You also should spend at least a night in the valley with local family particularly do not miss it on the way to Ta Van village then you will get more experience, stories and legends of the mountains, jungles and people here. In short, the scenery in Muong Hoa is magnificent and breathtaking, and walking up in this peaceful valley with a day of trekking ahead brings you a unique and unforgettable travel experience. Thus do not miss out on this destination.
# 2. Love Waterfall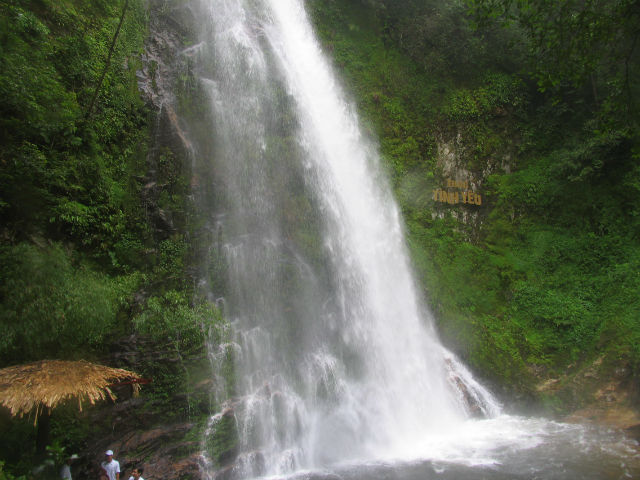 Sa Pa is not only well known for the charm of  misty town and terraced rice fields stretching continuously on the mountains, but also for its romantic waterfall called Love. It is located about 4km to the North-West of Sa Pa Town in San Sa Ho Commune, Sa Pa, Lao Cai Province and the waterfall will be indeed a "must-see" destination if you are on the Sa Pa tour. Riding on a red soil road which winds through a primeval forest of lush ancient ivory trees and rhododendron vivid flowers to the waterfall, you have a chance to enjoy a perfect painting-like landscape so-called Love waterfall. It is about 100m high, starts from the Peak of Fansipan Mountain and rushes noisily into the Gold Stream like a never-ending song with the melodies of white water streams. Running under the waterfall, the Gold Stream winds along with green grass plots and bamboo clusters, forming a poetic image and memorable watching. The stream flows to the forest endlessly, to some places that only passionate people dare to venture into, so if you are the tourist of nature and who are adventurous, it must not be miss.
#3. Ta Phin Village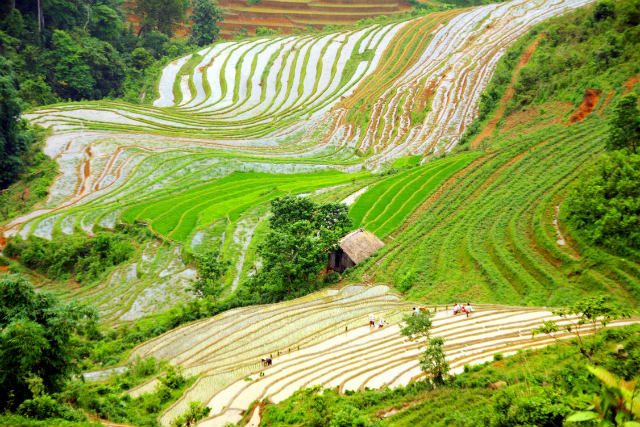 Being a picturesque 30-min drive North of Sa Pa, Ta Phin village is alive with the daily life of the Kinh, Red Dao and Black Hmong people. There is a splendid view of the valley on one side and mountain on the other since under the valley, there are a crystal water stream winding along green terraced rice fields, lines of corn trees in the distance and the people who are amazingDao ethnic ladies with colorful patterns hemmed in collars, sleeves and laps together with a white hat and shoes. The mountainous road can make you difficult in travelling by cars, so it is so recommended you hiring motorbikes or calling motorbike taxis with reasonable price and experience plus of advices and tips. Coming to Ta Phin, you will come to catch sight of groups of Red Dao women in colorful clothing that are all made by themselves. Ta Phin is a brocade village where tourists can find the distinctively hand-made brocades and handicrafts which are all eye-catching with numerous bright colors and patterns, ranging from bags, scarfs, purses to skirts and even backpacks and coats. Despite its long-time existence, the village still remains its special customs and cultures like traditional Red Dao wedding and its many complicated customs for this occasion. There are also a lot of local festivals in which you must participate like dancing festival, greeting for the new house, oath-taking ceremony and you will understand more about the ethnic life.
#4. Tram Ton Pass (15km from Sa Pa town)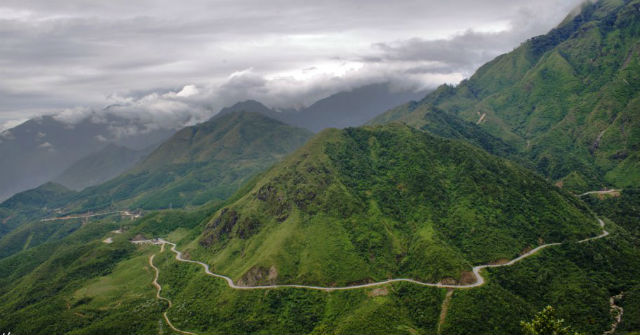 To be the path to Fansipan – the highest mountain peak in South-East Asia, it starts with points for the easy and medium trek to you get the peak of Fansipan. You are recommended to hire a motorbike and ride up on your own way to Tram Ton Pass and experience yourself the amazing and breathtaking sceneries, which reveals another long and dramatic view down the other side of the mountain here. Drop by Love Waterfall on the way because it is really worth you a visit. At 1900m of height, Tram Ton is the highest pass in Vietnam and often referred to as Heaven Gate, since its picturesque landscapes and magnificence resemble a gate to the Heaven. It might be well worth you coming up to experience the incredible views from the top of this pass which offers an unobstructed view of the magnificent Fansipan on the other side of the valley with immense lush forest, especially on clear days and blue sky. You can also obviously witness the bizarre climate change of its unique splitting temperature, which means on SaPa side, it is cold and foggy meanwhile on the other side of Lai Chau a few meters away, it is sunny and hot. One more attraction of the pass lies on looking down a few hundred meters below on the Lai Chau side and you may see crystal clear and splendidly shining blue sky.
#5. Thac Bac Waterfall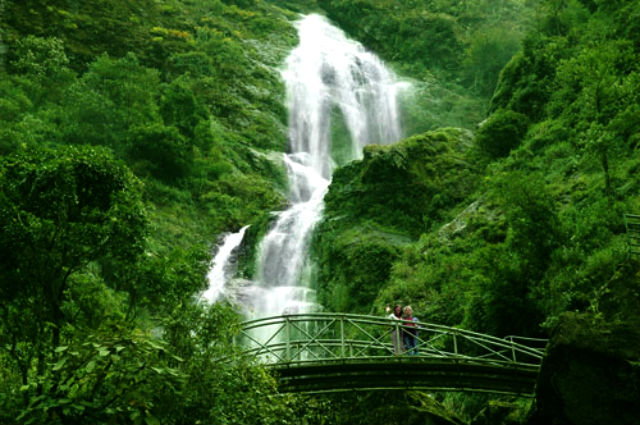 Thac Bac Waterfall or Silver Waterfall is often combined with the Tram Ton pass as it is both on the way. It is indeed a brilliant photo opportunity ans well worth a visit due to its spectacular views which seem to start from the sky above and its gorgeous combination of the landscapes and the nature around. Pouring water from 500m high, the waterfall is one of the unique attractions of the marvelous but charming "City in mist", Sapa. You tourists will have chance to enjoy in the cool weather and grandiose landscape since Thac Bac is considered one of the most beautiful waterfalls in Vietnam. It looks like a picture with two main colors: green from the forest and white from the waterfall, so you must take photos as many as possible to save spectacular images of this place. From the distance, the waterfall looks like a white giant dragon looking down from the sky. You can reach the Silver Waterfall by motor bike or by car in half an hour, and it is really recommended to do. From there you may also see stunning views of the surrounding mountains and the last forests belonging to Hoang Lien National Park.
#6. Quang Truong Square (Sa Pa Central Square)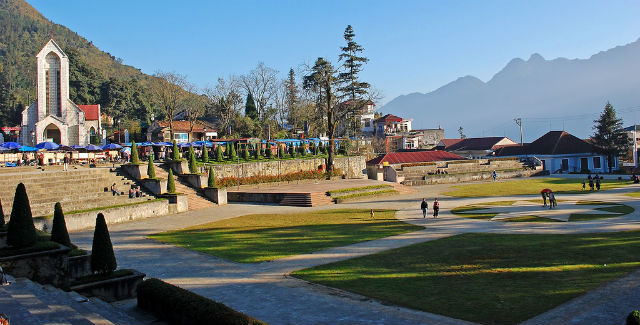 This is the main center of Sapa and it is quite a bland and distinctive place but what make it special is the people the mix of ethnic including Viet, Black Hmong, Red Dao, Zhia, which makes this place a very special one for you exploring. Recently rebuilt as a huge stone amphitheater, the silhouette of the mountain ranges loom above overlooking Quang Truong Square in this famous little mountain town. The amphitheater is a focal point for both official functions and somewhere for kids to kick around a ball while the hill tribe market is still the heart of the once French mountain town. With enough space to seat several hundred people, it is a public place where people can sit around and enjoy the sunset and soak in the custom atmosphere of the trinket trade and offered handcrafts. It is recently part of the government rejuvenation project of Sapa as it prepares to welcome increased numbers of international tourists looking to experience a little bit of Vietnam's exotic tribal culture and vivid ethnic. Being in center, it is next to the old French Stone Church. One special note on your to-do list on your trip to Sa Pa is enjoying Sa Pa's food in cuisine section next to Quang Truong Square. The section is so busy at night, where offers many exotic but delicious grilled and baked dishes like baked eggs, grilled intestines, grilled gastric and baked chestnuts, etc.
#7. Stone Church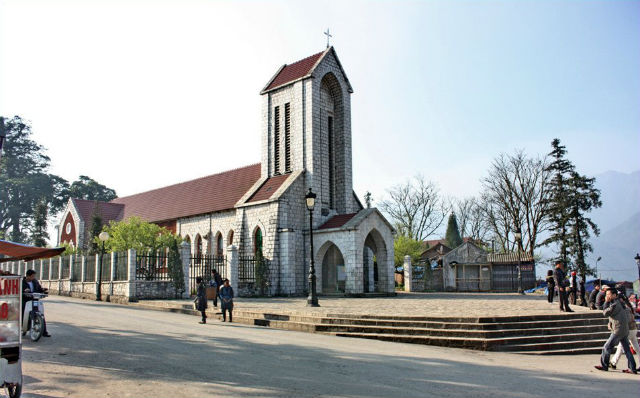 Stone Church, or another name as Holy Rosary Church, it was constructed in the 1920's. Unlike churches in Europe, there are no gold chalices, carved alters or demonic-looking statues at all, but the white walled interior is plain featuring stained glass windows and designed in the usual church floor plan of a crucifix layout with the alter at the top. The church is always a place where holds many traditional cultural activities of ethnic minorities in Sa Pa, do you may have chances to experience such activities to understand more about the Vietnamese ethnic's lifestyle and customs, especially on Saturday, when the local have their performances with flute, trumpet leaves, "xòe" dance creating sparkling, magical atmosphere in Sapa. The Stone Church is probably Sapa's most visible landmark which is situated on a high point that overlooks the town and Quang Truong Square.
#8. Ham Rong Mountain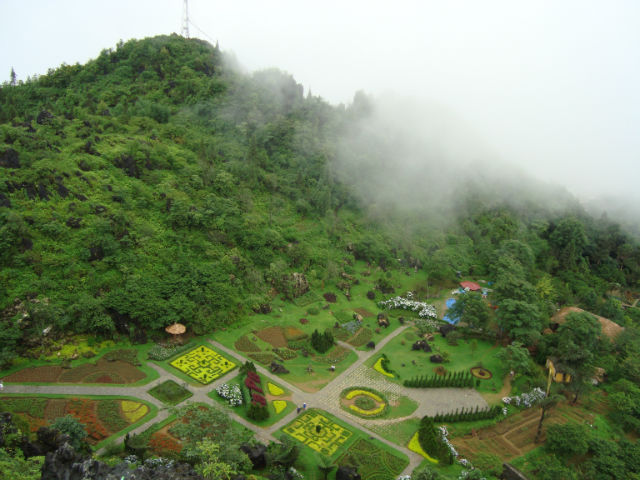 Being one part of  Hoang Lien Son mountain range, the first impression in Ham Rong Mountain is not its key position but the large area of flowers, orchard gardens, superb jungles and then amazing rocks. When going to Sa Pa, you can climb uo Ham Rong Mountain to enjoy a cool atmosphere and charming landscapes like cloud ground and stone garden, gardens of medicinal plants and specific houses on stilts of ethnic minorities which all create the panoramic view of Sa Pa from the top of the mountain. In sunny days, you can even see the peak of Fansipan under the clear sky from here and this is also home to French villas and terraces fields. Particularly, sdnding at the top of Ham Rong, you can contemplate the panorama of SaPa town, Muong Hoa Valley and Ta Phin Village and you seem to be lost in a paradise with cloud covering around you and vivid flowers on land. Ham Rong is indeed a fruitful landscape of Sa Pa and up to Ham Rong, travelers seem to sink deeply in the beauty of the garden, the clouds rushing sealed the trunk, flowers brightening on surface and winding paths full of free-shaped rocks.
#9. Sapa Ancient Rock Field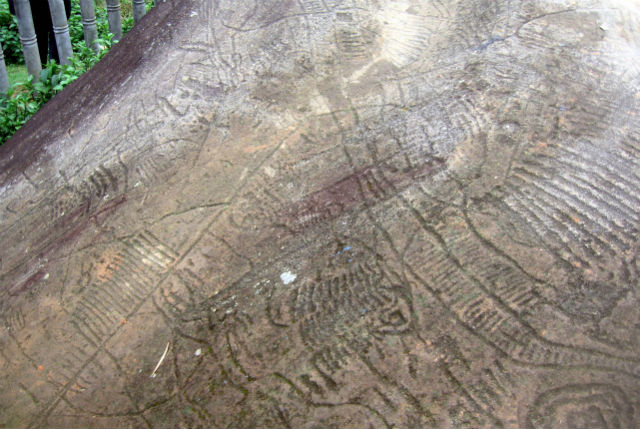 Sapa ancient carved rock spreads out on the territory of three communes of Ta Van, Hau Thao and Su Pan and it is located in Muong Hoa valley with an area of about 8 km2. Situated on the steep winding mountain road, the ancient rock field is consisted of 159 small and large boulders alternating in trees, near the side of the road or in water rice paddies, which creates the picturesque landscape appealing tourists so much. When you are getting off the bus, let walk along with the guide (if any) to explore the beautiful panorama of huge and awesome rocks and you can be amazed at the miracles of the nature. 159 stones under the tough weather are still impassive, clear with etched graphics; the writing in the form of primitive to advanced, and it is praised as the159 ancient stone steles in Vietnam, which we can recognize the shapes such as square, rectangle, the single line features, double lines, parallel lines and cross lines, the human figures, bird's pictures, scenes activities, etc. if focally watching. Moreover, impressive images including a da chong (the husband stone), da vo (the wife stone), as well as stones that look like tigers and a Stella, are proven by archaeologists that this area has been inhabited since ancient times. As all of its beauty and attractions, this fascinating Sa Pa's destination draws the attention of scientists and tourists so much.
#10. Coc San Cave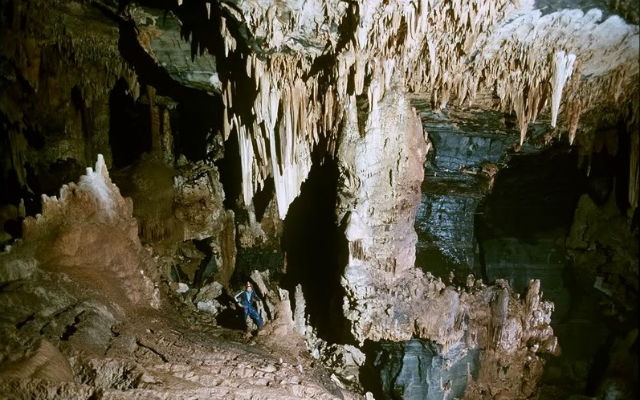 Ranking the tenth position of the 10 must-see list on your trip to Sa Pa, it is not a complete tour if you miss out on this fascinating cave. Located in Coc San Commune, Bat Xat district, Lao Cai City and about 7km, Coc San is a system of caves and waterfalls of different size, which is considered as 9th must-see destinations on Sa Pa tour. From Highway 4D, there is a small 1km long road leading to Coc San. You can see by your own way the special view of the cave including virtually a waterfall, then pouring water from the top down to a cave, which the special thing  lies in each waterfalls and back of the water flows has a cave. Coc San owns its harmonious beauty of scenery and space. People coming here could contemplate theirselves the magical mystery of the natural picture with the waterfall, the rocks and caves' stalactites.  In particular, from the peak of mountain, you will have chance to see a panoramic view of peaceful Coc San or stretching terraced paddy fields and also see Cao Son mountain ranges which is hidden in the fog as a breathtaking painting.
These landscapes above are so recommended to be 10 must- see tourist attractions on your trip to Sa Pa. It is also worth visiting other destinations like Cat Cat village, Tien (Fairy) Cave, Coc San and of course Fansipan Peak if you're so adventurous.