This trip including 2 days hard trekking and 1-night homestay in tribal villages is really a great challenge to hikers who love adventure, admiring wild nature of Hoang Lien Son mountain range, exploring the colorful and fantastic culture of the remotest ethnic minority villages.
If you want to get more experience in the trekking in Sapa, you should overnight in homestay. Staying with a local family, sharing their home, eating with hosts, you discover the region of Sapa. You will have a chance to learn more about the interesting local and enjoy the gorgeous landscapes.

On the first day: Lao Chai – Ta Van village
At 8:00 am the tour will start from Sapa town, take a 6 km walk down to the South East of Sapa along the side of Muong Hoa Valley to Y Linh Ho Village of the Black H'mong. Tourists will walk to 3 km for trekking down to Lao Chai Village of H'mong people through a small bridge which leads to Muong Hoa valley. Lao Chai is a village of black H'Mong ethnic group. Lao Chai is a commune composed of three large villages with over 100 families of the Black H'mong ethnic, and people here are quite hospitable. It is about 7-8 km southeast of Sapa town, also the beginning of Muong Hoa valley.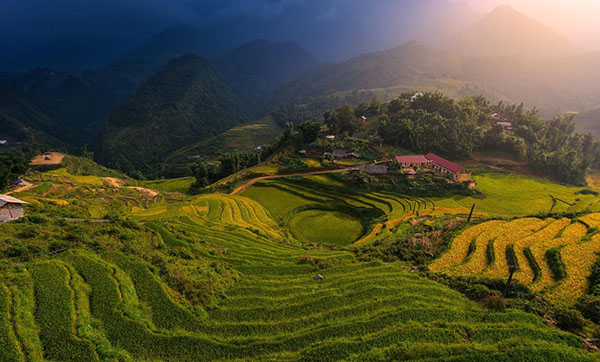 There are a lot of beautiful trails to explore in the whole valley! Just drive a bit around, get off sometimes, walk around the minority villages, and enjoy the views. It ensures that you spend one of 3 days in Sapa in the village. Some other villages you can drive to are Ta Van, Si Phan & Su Pan. After the Lao Chai village, you walk to Ta Van, a village of Giay people. It is home to 150 households. Giay minority is a small group of ethnic people living in Northern Vietnam, they preserve a rich and traditional culture. Your tour will arrange a lunch with a local family in one of the beautiful traditional houses located on their rice paddy fields. After that, you can have a short sleep in the local people.

The tour continues walking from Sapa towards Muong Hoa valley where we can admire the magnificent landscape and discover the wonderful scenery of Hoang Lien mountain ranges. You should trek through terraced rice paddies and meet minority villages along the Muong Hoa River then you can hear a nice swim.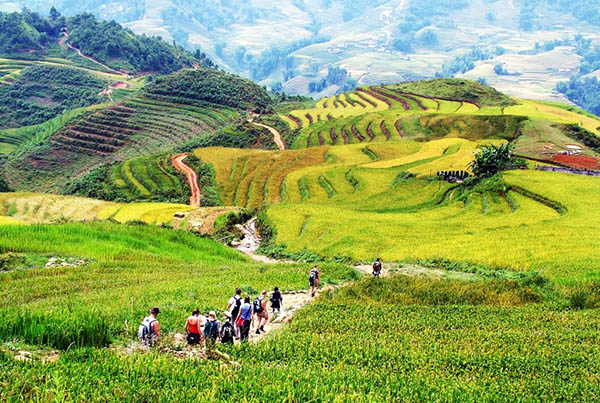 Continue visiting Ta Van village – this is the home of a different ethnic minority group but Giay people account for the majority of the population. If you trekking in Sapa with a local guide, you will know the difference between Giay people with others, via the nobly humanistic values in characteristics and the special culture. Sapa offers the most impressive feature for you when trekking Ta Van village. This ethnic settled in the foothills and the valleys along the stream. However, Giay people live in the same resident locality, they have exchanged and under the influence of other culture and customs from other groups like Nung, Thai, Tay people. Taking carefully, a road to Ta Van Village is small and narrow which is covered by fertile terraced fields embellished with the green color of corns and rice plants. Setting foot in Ta Van Village, tourists may be amazed by the simple but tidy and clean appearance of the village.

On the second day: Giang Ta Chai – Su Pan
After a recharge with a delicious breakfast at the local restaurant, it is time for you to be ready for your last day in Sapa. Our first destination today is Giang Ta Chai village – 13 km northwest of town which is the residence of Red Dao ethnic.
The trekking tour to Giang Ta Chai will offer you an enjoyable experience and a stunning view of nature Northwest Vietnam. Hike through scenic terraced fields, go over a lush bamboo forest which belongs to Hoang Lien National Park, you can see a picturesque waterfall in Giang Ta Chai village. Nestled in the beautiful Muong Hoa valley, Giang Ta Chai the more becomes small, beautiful after a lot of old trees and bamboo green scrub.
Giang Ta Chai village is also unique in traditional cultural activities of the Red Dao. Approaching the ordinary life of local H'Mong people, you can know how they make their clothes. They buy the fiber at the local market, after that, weave and embroider fabric. Their handicrafts, their embroidery products are resplendent.
Besides their beautiful handicraft products, Giang Ta Chai also attracts tourists by the interesting customs such as the system of wedding ceremonies; dancing protocol, traditional songs,… Here, visitors also enjoy the food with bold flavors of the forest: grilled fish, mushrooms, sour bamboo shoots, salted bacon. Particularly, the rice wine of Ta Chai Dao has a characteristic aroma, mellow and refreshing, black Chung cake with cardamom… will be a gift for visitors to enjoy and buy for relatives.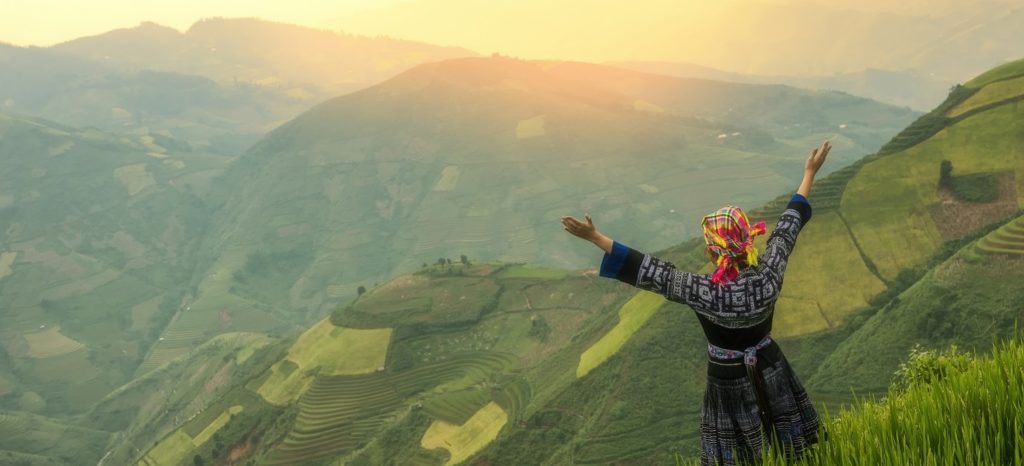 Now, it's afternoon. This is also the time for you to depart to the last stop of your 3 days in Sapa: Su Pan village where also be referred to as " a real mountainous commune. Situated on the low hills in the east of the main road 17 km from Sapa town, Su Pan consists of 4 small villages of the Black H'mong and Red Dao people with terrain looking down Muong Hoa valley. From the main road, visitors can see the rudimentary houses nestled among the green cornfields. This small village offers a magnificent terrace field which is green in spring and golden in the harvest.
Going to Su Pan, you will also have a good chance to explore traditional products, phoenix paintings, stylized flowers paintings, beautiful bags combining of ethnic minority pattern with the modern pattern embroidered by the skillful hands of the local women. Don't forget to taste a cup of corn wine and enjoy the pungent taste and pure sweetness as the crystallization of heaven and earth.