Being compared as amazing destination for newly-married couple and foreign tourists, Sapa, which is far 350 km north-west from Ha Noi. Locating at altitude of 1500-1650m, Sapa is embraced by magnificent appearance with green forest, majestic mountains or romantic falls. Surprisingly, if tourists fail to experience Vietnamese climate, Sapa holds the key to your nuisance. It is endowed with amazing weather including four seasons: Spring in the morning; Summer with sunny in the afternoon; Foggy Autumn in the evening and the cold of winter.
If you used to set foot on Sapa but failed to enjoy typical cuisine here, it is really your big loss. Let the party begin with list of Four most famous foods in Sapa right moment:
1. Thang Co – Unique Specialties from Sapa.
Let's warm up your morning with a cool experience with Thang Co, which means a pot of soup which mixes meat, organs of horse, vegetables and special kinds of spices. Back to the past, Thang Co is traditional dishes of H'Mong in North-west Vietnam and cooked in festival or special events. However, it is now pretty easy to be served a bow of Thang Co in the morning market of Lao Cai. Never ever tourists experience something amazing this way. The flavors of all the mixture are blended in the soup that will keep you stay away from the cold and be ready for a brand-new journey.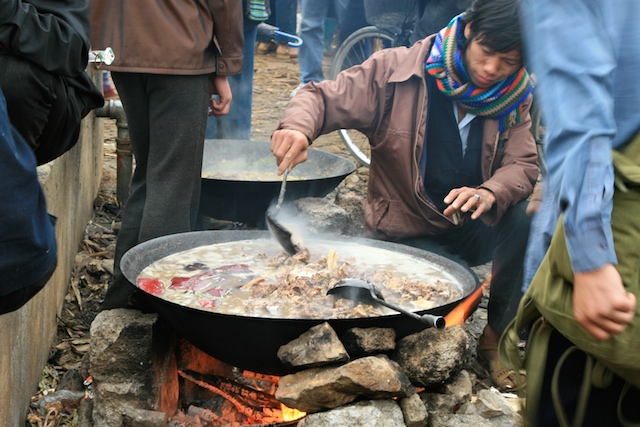 2. Recover your Day with Khang Gai Dried Meat and Five-colored Sticky Rice.
It is an amazing combination to get dried meat and sticky rice in a meal to regain all the strength after a long morning discovering magnificent mountains or endless rice field in such romantic spot. About 2-3 kilogram hung up meat of horses by the H'Mong will shape the Khang Gai Dried Meat, which is a traditional dishes applied simple methods of storage among many ethnic minority yet still keeps the original flavors of meat. As regard to the five-colored sticky rice, tourists can easily find it when visiting Ta Van, this dishes is made from sticky rice with five different colors created by available trees in the high mountains. Fleshiness, fragrance and crispiness of dried meat is mixed with …. Of sticky rice would make your lunch perfect.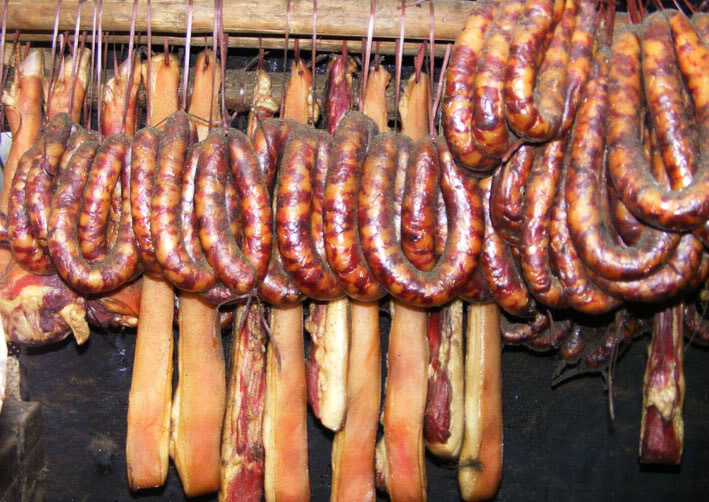 3. Baked Dishes to Eliminate Freezing Winter Evening in Sapa.
Diverse-Delicious-Different are three words describing the baked dishes of Sapa in the Evening. A wide range of foods from baked meat, baked eggs, baked rice together with baked beans and baked mushroom will make your night. The special flavor is equally blended in spicy flavor of spices, which is certain to keep tourist an unforgettable day in Sapa.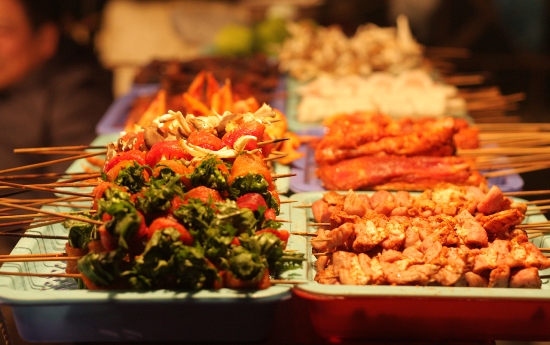 Pack your case and be ready for an amazing trip to discover Sapa now!
Thien Tran/Sapa Tours