Sapa is widely known as the most wonderful snowfall scene in Vietnam. There is nowhere more ideal than Sapa not only for domestic visitors but also for foreign tourists to experience a snowy winter in a tropical climate nation.
The majority of travelers to Sapa choose the right time to see the first snow. Snow practically falls at the end of December which is the great time for a Christmas holiday and New Year vacation. The cold in Sapa is different from that of other cities in Vietnam thanks to snow. It is also distinguished from that of Western country because of the bitter cold as a result of typical tropical climate.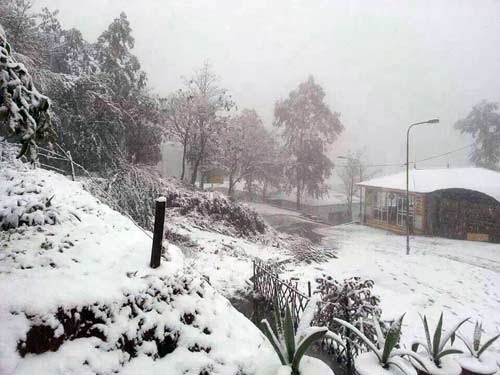 Travelling to Sapa at this time, visitors may contemplate beauty-spots as breath-taking as in pictures described in the Snow Queen fairy tale of Andersen. The landscape from house roofs, forest, garden to the road are all covered in snow. In the early morning, the entire town seems to be shrouded in fog, which makes scenery more vaporous and mysterious. Once the sun rises, the fog will lift but snow still remain. It is easy to catch a snowflake hanging on the twigs while walking on streets. However, do not think that snowflake is the only flower able to survive in this weather. There are a larger number of other flower and plant species accustomed to this cold. No matter how cold it is the ground orchid and persimmon still blossom to prove its great vitality. Species of flowers in Ham Rong garden still keep their freshness as well. In particular, cherry and plum blossom are in bud, which are preparing for their blooming in Lunar New Year.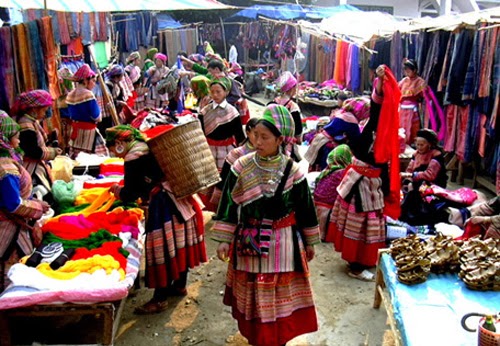 The town is crowded with visitors having a tour to Sapa to see snowfall.  They go sight-seeing, make snowman and take memorial photographs everywhere. Local people still work hard like any normal day but with more colorful weaved clothes. The market is more bustling than any occasion with ethnic people flock to the center to sell or purchase goods. Wood-stoves are fired here and there to warm the atmosphere. Going into the market, enjoying a hot soup after a sightseeing trip, you may feel all traits of life in Sapa. Now that this is the time of great celebrations, specifically, Christmas and New Year's Eve, hotel, restaurants and foreigner streets are well decorated with lanterns, sparkling lights and so on. With those things, Sapa will give you a truly unforgettable winter.
Follow are some tips to have a nice Sapa tour in winter:
–       Prepare enough warm clothes in case of the unexpected low temperature, especially tourists from tropical nations.
–       3-stars (or higher) hotels are highly recommended for their heating system.
–       Ethnic home-stay overnight service is suggested to limit because the temperature can fall heavily at night. And local people's houses are colder than in the town. (However, tourists may visit ethnic villages in daytime without worry)
In case of thick snow, driving a car is difficult to some extent. Therefore, transporting by train from Lao Cai is advised.
By Phạm Thanh Hà/Sapa Tours