Sapa is famous for not only beautiful, grandiose landscape but also numerous kinds of food which attract tourists. I am sure that this land is a promising destination for every tourist. If you have no idea about cuisine in Sapa, let me give you some suggestions.
1. Roasted food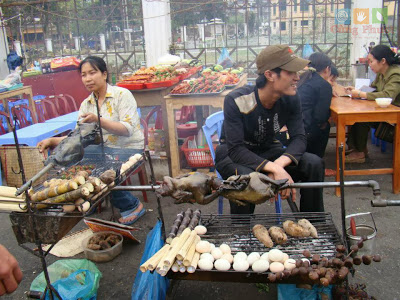 Your trip will be less exciting if you don't taste roasted food in cool and fresh atmosphere of mountainous Sapa. Roasted food is so many that you are not able to serve all kinds except for having a long-time trip. Main ingredients of this dish are beef, pork, fish, egg, etc. which are very popular everywhere, but they have special favor because of recipes and spices of local people. The raw materials are ingeniously marinated, combinated with specific herbs only in Sapa, so the favor is entirely defferent from favor of roasted dish you've eaten elsewhere. Also thanks to a bit sour and sweet taste of vegetable got from the forest, you are attracted and want to eat much more! Sipping San Lung wine, chatting with friends at cool night in Sapa must be an exciting moment.
It is very difficult to list all the name of roasted dishes, but I point out some most popular ones:
– Roasted beef
– Roasted pork
– Roasted chicken wing and leg
– Roasted chicken egg
– Fish from stream being roasted
– Roasted hot dog
– Roasted corn, batata, brinjal, etc.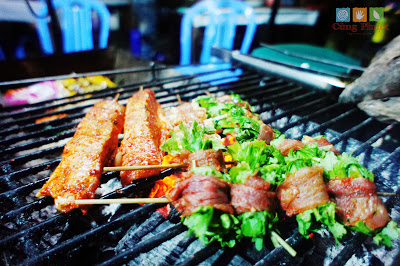 Roasted dishes are sold everywhere, it is very easy for you to find a restaurant, an eatery or even a vedor on sidewalk such as cuisine market near the Church and Bac Waterfall.
2. Salmon in Sapa
It's a pity if you don't serve some foods made from salmon when visiting Sapa. Besides, you can see the local people feed salmon. What an exciting experience! This kind of fish lives in regions having cold weather such as America, Europe. It is imported to breed in Vietnam, but only successfully in Sapa. That's the reason why salmon dishes are considered as the most unique menu in Sapa. With its delicious favor, attractively pink flesh, high nutritional value, salmon becomes a luxury food for tourists. People want to taste salmon because of not only its favor but also being curious.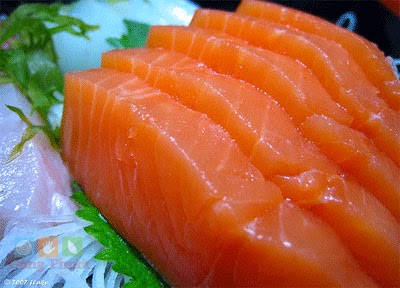 Roasted salmon is a well-known dish of Sapa. Roasting fresh salmon beside stream, sipping "tao meo" wine, you will have an experience that you can't find any elsewhere. Viet Discover Restaurant at 015 Thach Son Street, Sapa is a suggestion for you to serve this delicacy.
3. " Cap nach" pig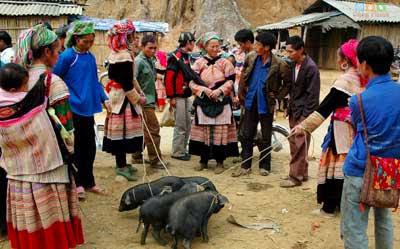 "Cap nach" pig, in fact, is such a small pig that local people can carry under their arm. This kind of pig lives as a wild animal, so its meat is very sweet. It is sold popularly in some mountainous market such as Muong Hum, Sin Cheng, Bac Ha, Sapa. Its meat is cooked into many deserve and attractive dishes like baked, stir fried or steam boiled pork. To cook a perfect dish from "cap nach" pig, it requires some indispensable herbs and spices called "nhoi" leaves, "doi" and "xeng" grain. These specific spices and mixed with salt, green chilli to creat an unique dipping. Anyone having an oppotunity to eat "cap nach" pig dishes will definitely remember forever.
Address: Hoang Ha Sapa Hotel at 08B Thac Bac Street, Sapa.