Coming to Sapa, you shall need to arrange Giang Ta Chai village on your trek list because it is one of the most amazing destinations for traveling and spending your holidays in this upland town.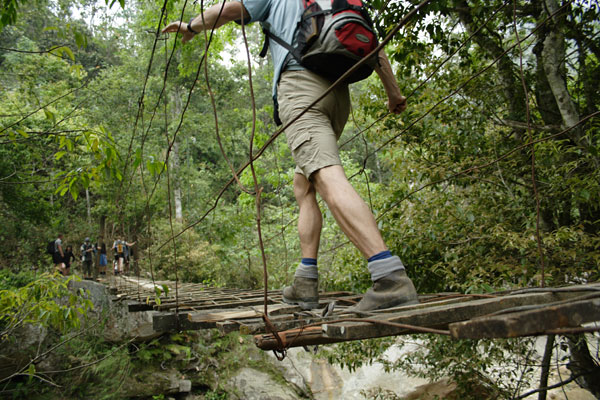 Giang Ta Chai village, an ethnic village in Sapa, Lao Cai always deserves you to explore and experience in more Sapa's attractions. The village is situated on the foot of Fansipan Mountain, at the right side of fascinating MuongHoa Valley, next to MuongHoa Stream. Coming to Giang Ta Chai, tourists are offered with numerous gorgeous views of superb mountain ranges,adventurous bamboo forests, huge rice terraces and challenging trails to the village. Opposite Su Pan Village in other bank of Muong Hoa Stream, the village is a worth to try besides other ethnic villages since it is so fascinating with naturally beautiful attractions like big century-old trees, green bamboo groves, amazing terraces and next to a giant and superb waterfalls. From the main road, you can see the trail to the village – one of the most interesting engagement to tourists coming and challenging themselves with the narrow and small path to the village and it is more fascinating when you need to across MuongHoa Stream and pass Giang Waterfalls to reach Giang Ta Chai housing at giant Hoang Lien as it is so excited and challenging. From my point of view, stone fences here are fabulous attractions that are one of the most impressive images of the upland in Northwestern Viet Nam. Stone fences in Giang Ta Chai are so amazing and well-made, obviously. When coming to this village, you should pay a visit to Giang Ta Chai Waterfalls and bamboo forests as well as across the stunning Cau May (Cloud Bridge or May Bridge). Being as a well-known destination for exciting trekking tours and holidays in Sapa, Giang Ta Chai appeals travelers, particularly who love adventuring and exploring, to its interesting trekking paths through bamboo forests and giant old trees, rice fields, manmade suspension bridge to reach the other side of the streams. A warning is that boots are highly recommended for a trip through the bamboo forests since it may be very slippery and a bit wet in case of rain and preparing a walking stick if needed. If you are adventurous, this trek is a must. You can follow the normal trails to get to the village or try adventurous trekking routes that are usually up to the mountain to Su Pan Village and it shall be so amazing and experienced if you choose the latter.
Giang Ta Chai is home of the Red Zao. These ethnic people prefer building their houses in areas of gravelly soil on the mountain sides and reclaiming surrounding lands for cultivation. Coming to Giang Ta Chai, travelers will have chances to meet and communicate with the Red Zaothen experience their lifestyle and explore their unique culture and customs as well. Each minority in Sapa has the joint characteristics and its separate outstanding features waiting for visitors to come and discover. Therefore, the Red Zaoethnic whichis the second biggest group (after the Hmong – 53%) also have lots of amazing culture and norms and the people themselves that are available for you experiencing. One of the visual features of this ethnic is that they always wear very colorful brocade clothing which are their traditional costumes with vividman-made embroideries and adornedcoins on their clothing. Their brocade products are sophisticated and vivid too and you are recommended buying them as souvenirs or remembrance of the Giang Ta Chai village and its Red Zao. Staying overnight on in Red Zao's houses and trying their traditional treatment which is herb bath with up to more than dozen kind of herbs is so high recommended.
Anyway, Giang Ta Chai village itself and its people always are the best attractions seducing travelers to the upland Sapa.