Sapa is known as a rare destination that climate is favorable for travelling all the year round. Nevertheless, if you take a trip in spring you will see a paradise on earth for sure. The best time for enjoying blossom scenery is in February and March. The weather may be a little cold but sunshine will make you warmer in the daytime. It is also foggy in break dawn so sight-seeing in the late morning is advised. Different from the flower city – Da Lat, the unique feature here is that Sapa flowers carry a wild beauty of North West Mountain. The most outstanding flower is cherry blossom (also peach blossom) which is considered to be the symbol of Sapa. Cherry blossom blooms at the beginning of year and wilts when spring pass. This flower is seen everywhere, on the slopes, in the gardens or along the road. There is even a forest of peach tree here which looks like a white-pink bubble in season. People usually transport them to plain for celebrating Lunar New Year festival.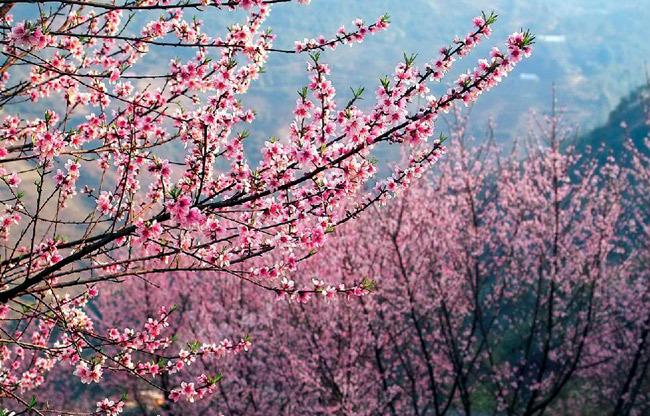 There is a white color flower blooming at this time, too. It is plum blossom. Dissimilar from peach flower, plum blossom is spotless white that looks like snowflakes. This flower bloom in just 2 or 3 weeks, after that it will begin to wilt for young fruit. Plum fruit has a good taste and is easily purchased in market. Besides, there are so many kinds of flowers such as pear flower, wild apricot and even flowers having origin from other countries.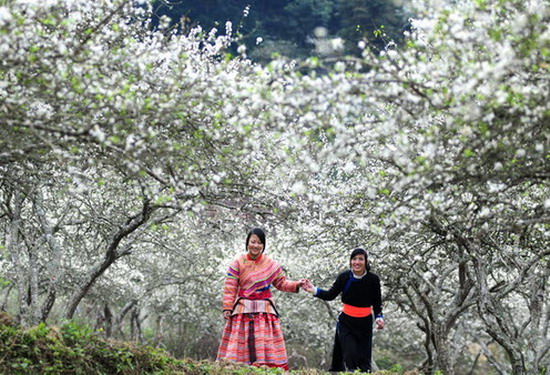 The ideal place to enjoy flowery picture is on Ham Rong Mount. It takes you about 20 minutes to walk there from the town. Along the road, you are able to contemplate not only an cherry blossom and plum blossom garden aforesaid but also brilliant color of an orchid garden along with a variety of other flowers. For instance, do quyen flower (also water-rail) varies from pink, white, and purple to yellow one. The combination of colorful flower draws a breath-taking picture that you have never ever seen before.


From the peak of Ham Rong, which is called Cloud Yard, you are able to see an overview of Sapa with super mountain ranges, the picturesque scenery of Muong Thanh Valley and Silver Waterfall in distance. You will have the feeling of touching cloud and that the town is drifting and bobbing on the ground as well.
The flowery paradise in Sapa will make you never forget this destination once coming here.
– So Ah –