Located in the mountainous Northern Vietnam, Sapa is one of the country's most breathtaking destinations for cultural discovery. Home to tons of ethnic minority communities, enduring cultures, and traditions and magnificent tiered rice paddy fields, this former hill station is a magical place to experience the diversity and charm of northern Vietnam. As the high recommendation of almost foreigners, Sapa is one of the best tours of Vietnam with historical culture and strange adventure.
 JOURNEY HIGHLIGHTS
Trekking through emerald paddy fields along Muong Hoa Valley
Meeting friendly, colorfully dressed locals in Cat Cat Village
Experiencing some of Vietnam's best panoramas near Lao Chai
Experiencing the feeling at homestay
Meandering through the vibrant stalls of Bac Ha Market
Enjoying the local foods
So many destinations in Sapa
Sapa is a perfect destination with many magnificent places for trekking, sight-seeing and taking photo with many magnificent places as Fansipan, Cat Cat village, Thac Bac (Silver Waterfall), Muong Hoa Valley, Terraced rice fields… One of the most attractive activities in Sapa is trekking Fansipan which is the hard opportunity for someone who wants to take the challenge in the life. To reach the height of 2300 meters, you must pass Cat Cat Village, cross Muong Hoa River and trek upward. Located in a beautiful valley about three kilometers from Sapa Town, Cat Cat is the old village of ethnic groups-attracts tourists from all over the world for its distinctive customs and practices which have been lost in almost ethnic villages. This is a village of Black H'mong people where you can discover many interesting facts about their daily life as well as culture and architecture.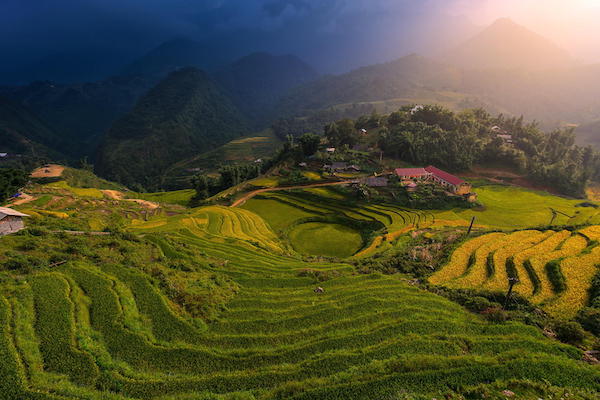 From Sapa town, tourists will depart for a walk to Muong Hoa Valley by following the main road for about an hour before turning right to a footpath downhill. Actually, Muong Hoa is considered as the largest farmland for rice growing in Sapa. Moreover, it is a place accumulating strange carved stones, along through the mountains. Of course, you need to explore the magnificent Muong Hoa Valley to enjoy its breathtaking landscapes. Then you will visit small, isolated hamlets and villages in order to meet the Black H'mong, Zay and Red Zao at home. Muong Hoa River peacefully flows through the valley. On rice season, the rice farmland valley is mixed different shades of green and yellow.
Terraced rice fields are the attractive things of best tours of Vietnam as they were voted as one of seven most beautiful and impressive terraced rice fields of Asia. If you come to Sapa in September and October, the terraced rice fields look like golden silk scarves above green mountain slopes, making the mountainous beautiful landscape.
 A stunning of traditional foods
 Sapa is famous not only for many beautiful scenes and the wonderful weather but also for the unique food of the Northwest forests. One of the traditional foods attracting foreigners is Bamboo cooked rice (Com Lam) cooked by sticky rice and grilled in the bamboo tubes. Next, Five-colored "Xoi Nam Mau" of Tay ethnic people mixed with some types of leaves in the forest to create the attractive five colors of "xoi" including green, red, violet, yellow and white. Other food is chicken of Mong ethnic people with black skin, bone and meat, which proved to be good for health, especially your heart. The best fruit in Sapa in this season is peach with both sweet and a little bit sour that creates its unique flavor.
A various local market
Sapa is well-known as one of best tours of Vietnam because there are many weekly markets – an integral part of daily life of local people, who exchange goods and there are meetings. Some features make absolutely indispensable: overflowing on the sidewalks of the main street, the variety of local products and especially the colorful clothes and big smiles of minorities. There are Bac Ha market on Sunday, Can Cau market on Saturday, Coc Ly market in Tuesday, Market Cao Son on Thursday… Visiting Sapa market in the morning, you will see a hundred of Hmong and Red Dao people at food stalls to enjoy favorite breakfast of "mèn mén" (steamed corn wheat), "thắng cố" (horse soup) and corn wine. Any tourists come here must try these traditional foods and beverage of local people in Sapa.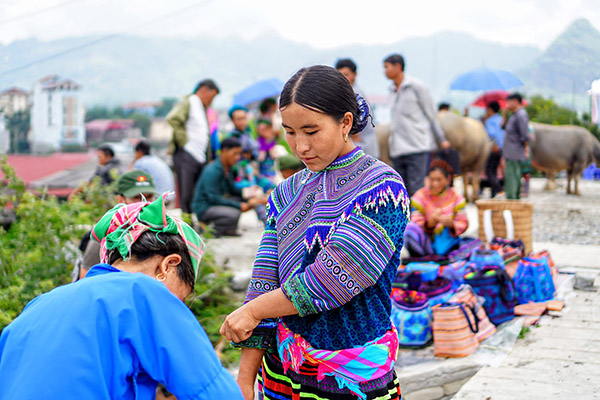 Overnight at homestay
In Sapa, you can choose several accommodations to overnight such as hotel, homestay, resort, … However, many travelers get the good option like homestay as it is not only cheaper but also closer the local living than others. There are two types of homestay like luxury homestay and traditional home. Tourists expect to experience village life in all its glory. On the plus side, you will get some quality time with the wonderful ethnic group community. National homes are set within the famed rice paddies and have incredible views if the weather permits.