Spending 10 days on several destinations in Vietnam country is the perfect itinerary as tourists will be interested in discovering the majestic beauty of Vietnam with scanty time. Tourists have a chance to discover a fascinating culture experience from the Southern Vietnam to Northern Vietnam with the life of local on the floating in Mekong Delta, to  the ancient beauty in Hoian as well as the capital of Hue with royal architecture, before immersing yourself in Hanoi's colonial charm and the mountainous region colored rice paddies in Sapa. Spending 3 days on Sapa in 10 days in Vietnam itinerary will offer  you the beautiful valleys, custom ethnic villages, local markets and diversity foods.
As you known, Sapa is home to a diversity of ethnic minorities. For distance, There are many ethnic groups like Sapa H'mong and Dao group and the Tay, Zay, and a small number of Xa Pho who live in Sapa. They count about 85% of the district's population. Most of them live in small villages, hamlets scattering in valleys and mountains throughout the district. A little bit lives in the Sapa town. Thus, this place is known as the diversity culture.
Trekking Cat Cat village and Shin Chai village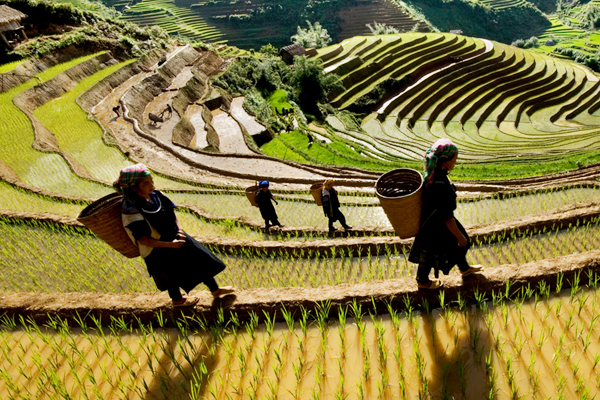 Cat Cat village
You continue your trek downhill towards Cat Cat village inhabited by Black H'mong people. Spending two hours on approaching Cat Cat village, it locates near the bottom of valley at the foot of Fansipan Peak. Not only that it is also situated in a beautiful valley about three kilometers from Sapa Town. Thus, this village is one of the most attractive villages in the highland. The old village of ethnic groups attracts many tourists for its distinctive customs and practices. This is a village of Black H'mong people where you can discover many interesting facts about their daily life as well as culture and architecture. Therefore, coming here, you will get a chance to buy traditional souvenirs and handicrafts such as twisting flax and weaving fabric with the reasonable price.
Shin Chai village
Sin Chai village in San Sa Ho Commune is distant about 4 kilometers long road from there to the center of Sapa town. It is a village not being commercialization and still retains original features. This is THE village of black Mongolia with a population of about 1400 people. They focus on the agriculture. For distance, they plant rice and maize and grow cardamom which is a significant source of income in this ancient valley.
Situated in Northern Sapa district, Shin Chai is one of seven villages of Ta Giang Phinh which includes 127 Mongolia families with 624 inhabitants. And there is a plenty of elderly people, especially women. Coming there, tourists are curious about the secret of the longevity of the population, especially the reason why women there live longer than men. However, the local-only know to explain that the secret may be by the genetics, the fresh air, pure water, contamination-free fruits and vegetables which grow in nature all the time.
Discovering Lao Chai village and Ta Van village
Lao Chai village
Another village in Sapa in 10 days in Vietnam itinerary is Lao Chai. It is a home of Black Hmong ethnic people. This ethnic group spends time on making the traditional clothes, handicraft, indigo,… Hence, you will be caught up their daily life and how to make them. Before you walk to the near village in Ta Van, you will enjoy the lunch with a local family in Lao Chai village who offers the traditional meal with the delicious foods.
Ta Van village
In the valley of Muong Hoa, Ta Van village needs to take about 8 kilometers from Sapa town, where is a village of Giay people. Following the road to Muong Hoa valley, from Lao Chai village, you approach Ta Van village. If you want to get more experience in the trip, you should choose the homestay in Giay ethnic monitory and join in the dinner with them as a member of their family.
Moreover, they also can forge instruments and carve silver by themselves. They live in both house on stilts and soil house with middle compartment is a place which is solemn and sets the ancestral altar and entertains. Giay people have a very rich culture with these tales, poetry, proverbs, riddles and so on. Costume of the Giay is quite simple. Women wear ankle-length indigo pants having the wide tube, roll hair and wear canvas bags with embroidery pattern while men wear sawn-chest blouses, round neck, buttoned fabric, stand trousers and roll towel in head.
Muong Hoa valley
3 days in Sapa in 10 days in Vietnam itinerary, you shouldn't miss Muong Hoa valley which is home of various colorful flowers. You will grace the most beautiful scenery in here like the reflection of the sunshine on the fields' surface of the rice terraces covered by water. Then, you go to Hoang Lien Son Park, Silver fall offers stunning views over surrounding mountains and lush forests. After taking a rest nearby a waterfall to refresh, you will start climbing uphill to a road, the car and your driver are ready for your journey back to Sapa.
Exploring Bac Ha market and Trung Do village
Bac Ha market
Bac Ha market is located near Sapa, which is a remote district of Lao Cai province. The largest market organized in every Sunday which is famous for the originality and authenticity that the traders still preserve. From the very soon in morning, all ethnic groups have to walk a long distance passing mountains and hills in order to come market. The sellers will sit in the main square in order to trade all particular products such as handicrafts, food, horse, poultry and blacksmith. Each has its own trait and worth joining. It is not simply a place for buy and sell but also an opportunity for people from different ethnicities to come and meet. The women can demonstrate their beautiful handmade traditional costumes. If you want to find the place offers the daily activities, traditional foods, the unique photos, Bac Ha market is the best choice. It is worth investing for the road is curvy and challenging, even after significant improvement.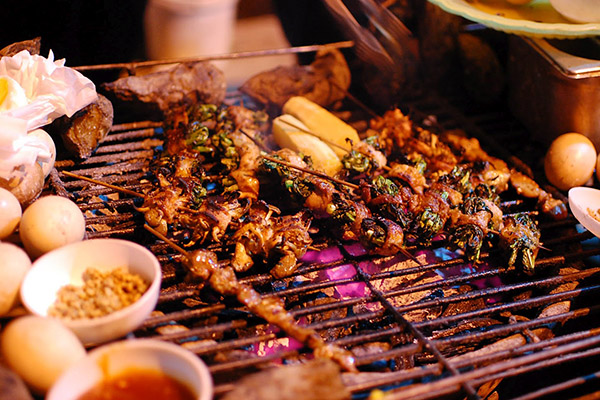 Trying almost traditional foods is also the most important factor in 3 days in Sapa tour. Both Vietnamese and western dishes are served widely in every restaurant and hotel in town. And there are great local foods sold in all markets in Sapa. Thus, if you have plan go to Bac Ha market, you will take many times to enjoy many foods. For example, some hot barbecued chicken, pork, fish, mushroom and grilled eggs are the most popular foods in here. "Thang co" has special taste which is made from horse meat, five-color sticky rice, a local wine that also attract tourists. It is the traditional food of Hmong people which cooked for hundreds of years. Therefore, coming here, you shouldn't miss the traditional soup which has special tastes.
Next, you shouldn't miss Com Lam as it is the very delicious dish of the ethnic minority people. It cooked with sticky rice and grilled in the bamboo tubes. Sticky rice is put in a bamboo pipe and added some water. The bamboo chosen should be fresh and young.
Additionally, the small pig's weight is less than 10kg so that people can put into the baskets, even put in the armpits. When you visit the ethnic monitories, you will see all small pigs are free to earn the foods. Therefore, the meat of pig is different from others. You will see the local people take a whole pig on the coat. There are many favorite traditional dishes made from this pig, example, steamed, boiled, baked, stewed, and the taste is very delicious.
Trung Do village
The final village in Sapa you should visit is Trung Do village in the mountainous areas of the country. The village is about 17 kilometers far from Bac Ha town. Geographical location of the village creates favorable conditions for the development of all the sectors, especially tourism community activities.
In recent times, when tourists travel to Bac Ha market, they will combine to Trung Do community tourism village in Bao Nhai commune which has shown the role of tourism with local people's lives.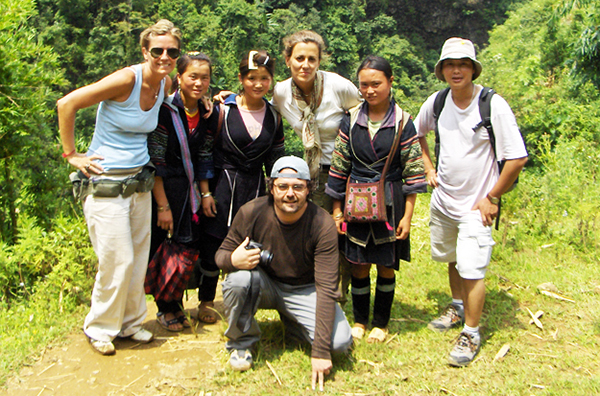 Coming to Trung Do village, you will have a chance to grace the many natural sceneries including lush rice paddies and corn beaches on the shores of Chay river. These elements contribute on a charming landscape. Then, you have the opportunity to visit the stilt houses of the Tay ethnic people in Trung Do with customs and habits, daily life, manufacturing process. Go to visit the festival you can have a chance to enjoy the flute, the vibrant rhythm of the Tay girls, bustling flickering firelight. Additionally, some ethnic minorities live in this village, so you will approach the daily activities in here like producing, cooking, mealing and so on.
Trung Do temple is the great place you should come to as it is a temple with historical imprints from the Le-Mac dynasty has been recognized as a national cultural and historical heritage. Taking a boat trip Chay river to visit Fairy Cave and many other exciting activities are awaiting guests to experience.