Vietnam, Cambodia Laos itinerary is the best key almost foreigners have the planning practice. They will enjoy the incredible journey through a world of history, culture and natural landscapes. Vietnam is a unique country with so much to offer that visitors often miss some of its beauty. But with this list of the best places to visit in Vietnam, you won't skip a spot that's worth seeing. Sapa is an ideal highlands with breathtaking views of terraced rice fields, forests, and hidden wonders of nature, life of local people and traditional foods. Thus, you can also gain valuable exposure to the rich culture and traditions from ethnic minorities. Reading carefully this article, you already approve Sapa is one of the most attractive destinations in Vietnam, Cambodia Laos itinerary.
How to get Sapa from Hanoi
There are three types of transports to approach Sapa from Hanoi. The most popular option for traveling to Sapa is by train as it's more comfortable and safer than other means of transport. You can easily buy the ticket at the train station. Firstly, the train will stop at Lao Cai train station that is about 35 kilometers from Sapa town and you have to catch a bus up to Sapa with a bus ticket costs about 50,000 VND to 60.000 VND. There are many services included in the train such as air-conditioner, reading lamps for bed, comfortable white pillows, blankets, and mattresses. Moreover, it is also equipped with 4 bottles of drink water and sockets for tourists to charging their mobile devices. You can find a toilet at the end of each coach and it is pretty clean. Besides, you can order food or coffee as a food coach. A tourist train ticket costs from 550,000 VND – 650,000 VND.
Another option is by bus since it is faster and cheaper. However, it is considered more dangerous than moving by train. The way from Hanoi to Sapa is not an easy and cheerful way. You will pay the cost for a ticket from 240,000 VND – 350,000 VND and they also offer sleeper bus routes that can help you save time and hotel bill just like traveling by train. You can choose a sleeper bus or express Hanoi to Sapa. By sleeper bus, it takes you 8-9 hours to go directly to Sapa town.
A good point a traveling to Sapa by bus is that you can get to Sapa directly without using a transit bus.
There is getting to Sapa from Hanoi by motorbike. However, driving directly to Sapa from Hanoi by bike is quite dangerous. It makes more time to move on the road. If you want to visit Sapa by motorbike, the suggestion for you is that after getting to Lao Cai station by train, let's hire a motorbike. Then you drive to see the amazing scenery around you or rent a motorbike in Sapa. The suitable time to visit Sapa as its stunning yellow winding rice padded fields and the love market is from September to April. You are comfortable to take photograph beautiful scenes and video the awesome moments while driving private.
Where to go to Sapa
Fansipan
Catching up the top of Fansipan Peak called the Roof of Indochina is the most challenging level for trekkers. Thus, you will need to spend two days and one night finishing the hike. You can't trek by yourself as the dangerous so you need a local experienced guide and porter who brings your luggage as well as understand the route deeply. After passing Cat Cat village and crossing Muong Hoa River, you need to trek upward for nearly 7 hours to reach the first campsite at a height of 2300 meters. After passing the first step, you will take challenges in the next step with hiking since you trek through the arrowroot plantations and bamboo forests. To save your energy, you should overnight in the tent on the mountain slope facing west, near a mountain stream. On the next day, you will conquer to the peak of Fansipan Peak, with the height of 3143 meters. After that, you need to spend three hours to pass the dense bamboo forest, but it is worthy as from the peak, you can grace the best panorama of Vietnam.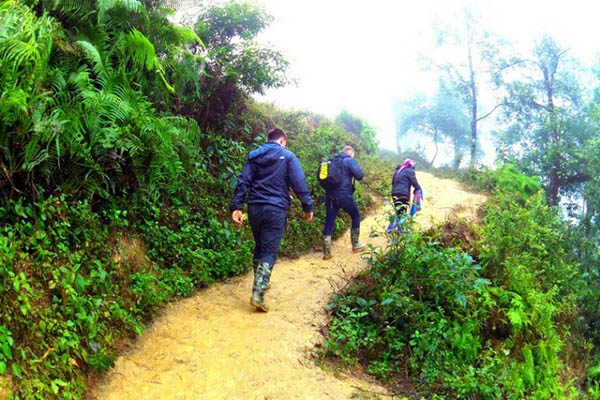 One suggestion for you is trekking on the top of Fansipan is from October to May as its advantages. When trekking in Fansipan Peak, you should prepare some necessary items in order to save the energy. Tourists had better choose the dedicated hiking shoes. You bring your shoes to trek mountain need to be ensured the characteristics of soft, thick, waterproof and have good friction, high neck and sweat absorbing. If you travel in the months from March to May, bring the summer clothes. However, you need to bring the sweat-wicking, good wicking, good elasticity, and ventilation when you visit Sapa in three months from October – December. Besides, you should carry necessary items such as phone, backup charger, medicine, notebook sleeping bag and so on.
Some popular villages
Cat Cat village
Cat Cat village is located near the bottom of the deep valley right at the foot of Fansipan Peak and situated in a beautiful valley about three kilometers from Sapa Town. Cat Cat is the old village of ethnic groups which attracts tourists from all over the world for its distinctive customs and practices. This is a village of Black H'mong people where you can discover many interesting facts about their daily life as well as culture and architecture. Next, coming here you can buy several traditional handicrafts right from the craftsmen such as twisting flax and weaving fabric. This village is the perfect place to see traditional clothing being made, hemp being dyed and women weaving.
Shin Chai Village
You must pass 2047 meters to approach Shin Chai village. The trip will stop at the pass for you to breathe the mountain air while viewing the mountains and forests below. The Red Dao ethnic group live in this village, they wear the beautifully embroidered clothes with distinctive an enormous red turban and the silver jeweler so it is an attractive point. After that, you should take a walk around an ethnic minority village and interact with the local people, the very special thing is that all the kids in the village will be your companions during the adventure as you will fall in love with them. They will be around all the time, singing, dancing or anything to make you smile. Moreover, you can teach them songs, poems that you used to love when you were a child.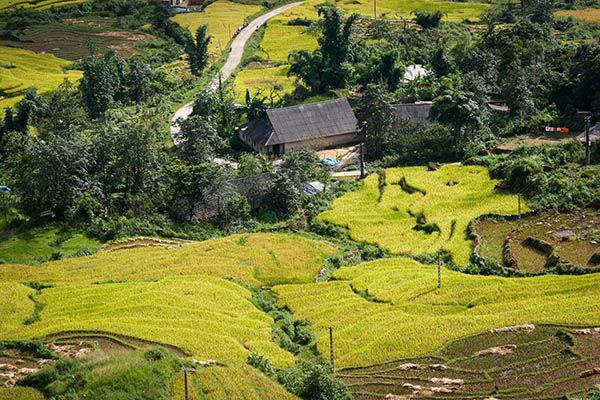 Lao Chai – Ta Van village
Other villages in Sapa are Lao Chai – Ta Van where you can admire the spectacular natural scenery with the terraced rice fields. Coming to this village you know how they make their traditional clothes, handicraft, indigo… During the time in Ta Van village, you are recommended to taste some special dishes of ethnic Giay such as roast fish, horse meat, sticky rice, enjoy festivals, folk games: Nao Cong, Roong Pooc…or participate in tours of the village. Of course, the biggest valley which you shouldn't miss as it offers to the awesome landscape of the golden rice terrace field in Vietnam. Continuously, coming to Ta Van which is a small group of Dzay people in Northern Vietnam, they still keep a rich and traditional culture.
Admire Terraced Rice Fields in Sapa
One of the best things to do in Sapa Vietnam is admiring terraced rice fields from above. Because, Sapa is famous for romantic beauty with the stretching rice terraces on the hillsides, which is considered as one of the best beautiful landscapes in the area. After catching up the stopping place, you can relax and gaze the peaceful moments. The farmers will grow the rice on many slopes claimed from nature for cultivation in the mountainous areas. It was created by mountain cliffs often stock water. Thus, the weather is suitable for local ethnic minority people raising the rice and establish terraced rice fields, one after another, from the foot to nearly top of mountains. From afar, the terraced rice fields look like a picture of natural beauty. This picture has its color like the green rice grows. Not only that the field is lush with ripening rice.
Muong Hoa Valley
Another place in Vietnam, Cambodia Laos itinerary is Muong Hoa valley which owns hundreds of huge stones carved with mysterious drawings. And it is known as a symbol of Sapa and remains unexplained up to now. Muong Hoa valley is blooming with lots of colorful flowers created the various beauties. Nowadays, these ancient rocks are ranked as relics that should really be preserved with high concern. If you travel at the best time – the rice terraces are full of water at which you can contemplate one of the best scenery like the reflection of the sunshine on the fields' surface. It is from September to October.
From afar, you can grace the rainwater to follow dozens of streams downhill to the floor forming the Muong Hoa. Continuously, you follow across the small town and rice fields of the ethnic minority people of H'Mong, Dao, and many others. They have been working on the sloping land and living their own ways for hundreds of years.
Some markets in Sapa
Sapa is famous for its markets, and on almost every day of the week. Therefore, you don't worry about missed any markets during the coming time. Coc Ly Market is celebrated on Tuesday which is a great place to buy traditional costumes and to learn more about the local culture. On Wednesday, Sin Cheng Market is a small market in the Si Ma Cai district, where you can meet several ethnics of the White H'Mong, Flower H'Mong, Tay and Black Dao who sell the beautiful traditional costumes. Sometimes the market can be hard to reach due to road conditions. After one day, Lung Khau Nhin is located high in the mountains of the Tram Ton pass. Various small tribes come to the local markets in order to sell their products. Next, there are two largest markets organized in the weekend such as Can Cau Market and Bac Ha market. Can Cau market is the other markets, a fascinating and authentic experience. The biggest market in Sapa is Bac Ha. Thus, coming here, you have many options to purchase several products, such as handicrafts, traditional costumes, and food. Various tribes are gathering at this market.