Sapa is famous for the terraced rice fields, ethnic people lifestyles, ancient traditions, impressive mountains, natural wildlife, local markets… Undoubtedly Sapa is one of the most gorgeous and unique places in Indochina. Trekking Sapa is a wonderful trip with experience in the life of ethnic people's habits, customs, and culture. The tour will help you visit many beautiful sites such as Sapa Town, several villages, Muong Hoa Valley and local market. Depending on the schedule of the journey in Sapa, you can spend 2 days or 3 days to explore and experience Sapa on the highway Hanoi – Lao Cai. Hence, you will have a chance to admire the beautiful scenery in Sapa.
Cat Cat village
It is about two kilometers from Sapa town to Cat Cat village where still preserves traditional handicrafts of Hmong people like cotton cultivation, textile and jewelry manipulating. Come here, you will discover the unique customs, not anywhere else. For distance, you are perhaps surprised at how to make the colorful subtle brocade and make the product in the processing. Furthermore, you also admire the houses in Cat Cat village which are famous the special architecture, house structure with a 3- space house roofed Fujian cypress wooden plank, columns of house are choked with rounded or square stones, walls are covered with timber, houses are designed to have 3 doors including one main door right in the middle and 2 side-doors. One more thing attracts tourists to Cat Cat village is that many unique traditions are in here as traditional activities, wedding ceremonial, funeral and so on. Thanks to specific traditional culture beside beautiful scenery, Cat Cat village promises to be really one of the most tourist attractions in Sapa.
Y Linh Ho village
At the altitude of 435 meters above sea level and about 20 kilometers far from Sapa town, Y Linh Ho village is one of the first attractions when traveling to Sapa. it is not as cold as Sapa town, Y Linh Ho village is warmer. It is convenient to take a tour in Hoang Lien Son national forest where is natural by the various floras and faunas. Also, you can fully enjoy cool and fresh stream as well as contemplate superb waterfall here. Especially, the best time to visit this village is sunset, you take a stroll around the village in order to visit woven brocade households. Thus, you may buy beautiful brocades with reasonable price. At the weekend, you can participate in entertainment activities. Hence, you will have experienced eye-catching dances, beautiful songs even special food filled with unique cultures of ethnic groups in Y Linh Ho village.
Ta Van village
Another village in the Northern Vietnam travel guide is Ta Van Village which is home of many Vietnam ethnic minority groups. Come here, tourists can admire natural landscapes, overnight at a homestay, and enjoy traditional food of this land. The most populous group is Dzay ethnic minority living in Ta Van village. Thus, you will have an opportunity to explore the nobly humanistic values in characteristics and the special culture of Dzay people as they are famous for the most impressive feature.
For a long time lived in the various ethnic groups such as Tay, Thai, Nung, Dzay people have influenced their cultures. As a result, it makes the intercultural phenomenon in creating a diverse culture in the village.
You will have a chance to experience daily activities with Dzay people and enjoy tourists with traditional dishes. No doubts, the ingredients of these foods are made by local people such as fresh vegetables, chicken, pigs, fishes and so on. These are very popular ingredients and the local people have a high skill cooking so it promises to leave visitors a long-lasting impression. In addition, during a meal, tourists may gradually feel the familiar and close connection with local people here.
Ta Phin village
Located on the Northwest of Sapa, Ta Phin commune is in the key tourism place of Sapa. This village has many natural sceneries and rich traditions of  Hmong, Dao tribes bring attractive tourism potentials for Ta Phin village. Visiting Ta Phin village, you will admire mountains with a lot of brilliant flowers, two roadsides are overwhelmed terraces, alternate cornfields, forests, and fruit trees. Then you see the spectacular beauty of Ham Rong mountain opposite to the monastery. One suggestion for you is to visit brocade club of Hmong and Dao people. Coming here, you will approach to the brilliant colors in Hmong, Red Dao's traditional costumes, handmade items from embroidered clothing, pillows, backpacks, handbags, mats to silver jewelry. Ta Phin is also fascinated by its cultural activities such as Dao's wedding ceremony traditional festivals, especially, panpipe dancing, all these exciting things would be satisfied with tourists everywhere.
Muong Hoa Valley
Continue Northern Vietnam travel guide, you visit Muong Hoa Valley to grace the terraced hills and mountains. In fact, Muong Hoa is known as the largest farmland for rice growing and breathtaking scenery in Sapa. Not only that, it is known as a valley with blooming of colorful flowers in a wide range of various beauties. It is far from Sapa town about 14 kilometers. To go to Muong Hoa Valley, you can trek along Muong Hoa River. For distance, the green landscape attracts almost foreigners by the rainbow colors of the Flower H'mong, the shining silver jewelry from the necks and the scarlet hues of the turbans worn by the Red Dao. Moreover, you also know how to stain with color from fabric dyes and shades of blue, red and green intricately embroidered and stitched into jackets, waistcoats, pants, skirts, caps purses and leggings.
If you love the growing rice, you can ask the farmer to explain how is the rice cultivating. From afar, you can grace the streams downhill to the Muong Hoa. You should save the energy to across the small town and rice fields of the ethnic minority people of H'Mong, Dao, and many others. They have lived for hundreds of years.
Bac Ha Market
Bac Ha Market – the largest and the most colorful market in the Northwest region which is located in Bac Ha District. To approach Bac Ha market, tourist needs to pass the beautiful valleys and forward the paths. Especially, the ethnic people must wake up in the early morning or the night then come to market very soon to prepare for their trading goods in the next morning.
Being a minority ethnic people market, Bac Ha is famous for its Sunday market which is a trading center and meeting place for couples, friends, and relatives. Bac Ha market is known as the largest and most colorful market of ethnic people from the surrounding hill tribes. Many people must spend several hours here in order to trade and barter food, animals, clothes and household goods. It is not only the place for buying and selling but also a place for cultural and sentiment exchanging.
Bac Ha Market is the place displayed almost products of the highland such as vegetables, foods, brocade, pick, and even the toothpick, thread. One recommendation for you is to spend time enjoying the traditional foods in the market. It is a pity if you don't try them. While you eat the hot "Thang Co" dish, you should drink a cup of aromatic corn wine.
Love market in Sapa
If you want to visit the love market in Sapa, you should set up the scheduled trip at the weekend. Love Market is only organized on Saturday evening. The purpose of this market is to help to find a partner to get married. Come to the market, tourists have a chance to enjoy the real life of H'Mong and Red Dao ethnic minorities.
Lovers take a chance to see each other. Love Market is the place where people date and show their feeling and affection. The market just is held on Sunday morning for people coming here to exchange or buy and sell the necessary utensils for daily life so it is always very crowded. Because joiners are so far so people living in far-away villages had to go in advance from Saturday to be able to join the market on Sunday. In the market, all local people would have a practice together such as playing traditional games, playing leaf-horns, singing and dancing… The performances are expressed their love. After that night, some were lucky to find out the dreamer and join on the next market. Many of them later became husbands and wives. As a result, it was known as the Love Market – a beautiful cultural feature of the Sapa region.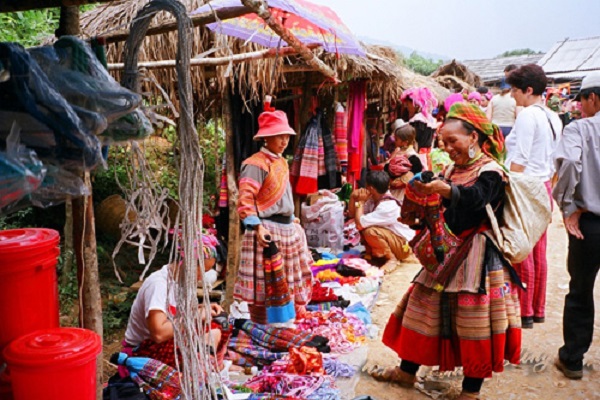 On Saturday afternoon, you will see almost girls dress up in colorful costumes, silver ornaments and hang little bells on their outfits in order to add a festive atmosphere. The love market is one of the destinations in Northern Vietnam travel guide. Joiners dress in traditional clothes of the same colors who hold in their hand small radio blaring cheerful songs.
You also join in the traditional activities like singing and dancing their traditional dances until the night comes.
Finally, Love Market in Sapa attracts the attention both of the ethnic people and the tourists from many places in the world. Many activities are organized to reconstruct the love market of H'Mong and Red Dao people in Sapa such as wife kidnapping, H'Mong Khen dancing, blowing leaves, lip trumpets and singing… You have a chance to get the experience in the "love" of ethnic minority people. This is significance activity making the development of tourism field which is helped create more space for visitors traveling to the resort in Sapa, increase income for ethnic minorities, while also reduce annoying touts.
The love market has become a symbol of Sapa as it reflects the special culture of people of mountainous areas in general and of Sapa in particular. Thus, if you travel to Sapa. don't miss this destination.