Sapa attracts tourists is not only for magnificent sceneries, beautiful landscape and friendly local people, but also authentic culinary. Thanks to diverse ethnic groups, Sapa is the home of many delicious and unique foods. Here is the list of most delicious specialties in Sapa.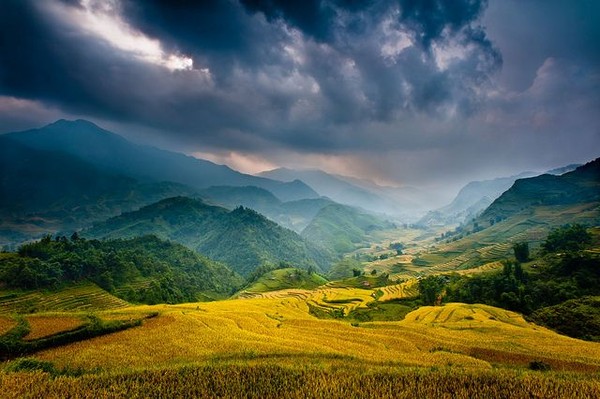 Sapa "Cap Nach" Pigs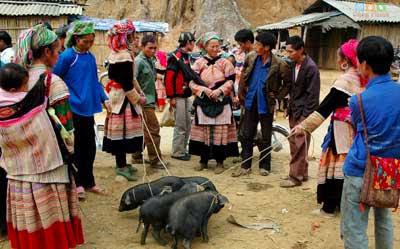 It is the common scene when you see local people put a small pig about less than 20 kg into a basket or in the armpits. Those pigs are call "cap nach" pigs which are one kind of special food in Sapa. They are healthy as wild animals because their foods are almost trees, corn, cassava,..In good living conditions, feeding roughly 1 year, a pig will be about 20 kg. Their meat is lean, tender, so it is the favorite ingredient for many dishes attracting foodies such as grill, fried and steaming.
Sapa Chinese black mushroom
Sapa is home of sub-tropical vegetables, especially Chinese black mushroom. Thanks to the ideal climate, Chinese black mushroom can be found all four seasons. Come to fairs of Sapa, tourists will be invited to buy this special food. Tourists can enjoy Chinese black mushroom in many restaurants and small food stalls in Sapa. If it swells in water but still retains its original flavor. It can be cooked with meat, dried squid.
Sap Pau Play Day Cake
Pau Play Day Cake is one of the most famous dishes in Sapa. The main material of the round sticky rice cake is glutinous rice which is available in this small town. The process of making day cake is not complicated. Firstly, glutinous rice is soaked in water about 2 hours and then pours it into the pot. After that, sticky rice will be put into mortar. The cake maintains the typical flavor of glutinous rice. Round sticky rice cake can be eaten with sugar.
Sapa Thang Co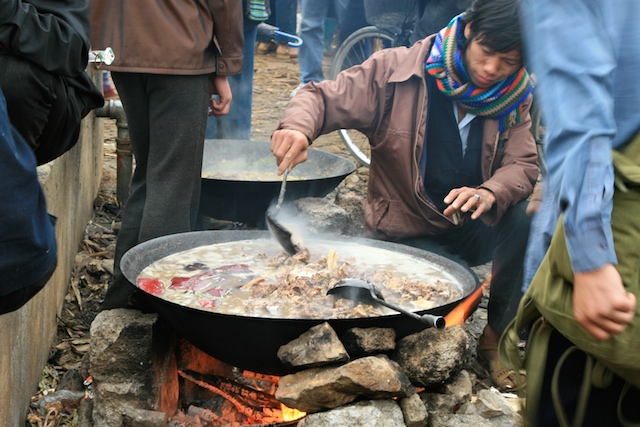 The H'Mong in Sapa is well-known for "thang co". Traditionally, "thang co" is usually used for festivals or special days; however, today, "thang co" is cooked to serve all people in Sapa, especially tourists. "Thang Co" means a pot of soup which includes meat, organs of horse, vegetables and special kinds of spices. Tourists can easily enjoy "thang Co" in many restaurants and food stalls in Sapa, but the special flavors that tourists can unforgettable are made by the H'Mong. For the H'mong, "thang co" is not only a delicious dish, but also a beauty in traditional and cultural values of ethnic.
Sapa Fructus Crataegi Wine
Fructuscrataegi wine is unique drink of H'Mong people in Sapa. Fructuscrataegi so-called "love fruit", is popular in Sapa, especially in the Hoang Lien Son range. It is the natural gift that the heaven gives to the H'Mong. Fructus crataegi starts to blossom in the end of spring (March-April). Fructuscrataegi is soaked very carefully and then people use this water from Fructus Crataegi to make wine. Drinking wine feels like drinking carbonated soft drinks, so both male and female can drink, but not be intoxicated. From August to October, fructus crataegi is flooded in markets in fairs of Sapa, so tourists can buy it as a special gift for family and friends.
Khang Gai Dried Meat in Sapa
Traditionally, the H'Mong store meat by hanging up above stoves. And nowadays, dried meat has become one of specialties in Sapa. Meat is often meat of horse, pig, and buffalo. These meat will be chopped into pieces about 2-3 kilograms and hung up in order to store. Dried meat keeps its original flavors and is fleshy, fragrant and crispy. When eating meat, clean dust and cook with tomatoes, bamboo shoots…
Seven color steamed glutinous rice of Nung Din people.
Nung Nin people, one of ethnic groups in Sapa also contributes to exotic delicacies many tasty dishes, one of them is seven color steamed glutinous rice. This is the traditional food of Nung Nin people, often used in special festivals or specific-cultural events of the group. People often cook steamed glutinous rice having seven to present to their ancestors, their agricultural deities to wish a comfortable life, an abundant harvest.
The dish attracts people by its colors which are the combination of seven colors without using any kind of chemical color. By using many kind of forest leaves and their how-knows, Nung Nin women with steady and skillful hands can make this delicious and attracting dish.
The main ingredient of this food is glutinous rice which is planted in this area once time a year. Nung Nin people believe that eating seven color glutinous rice, you will be lucky all the time.
This dish is not only eye-catching by the attracting and colorful appearance but also its special taste. If you had enjoyed it, I must sure that you will want to come back here to enjoy more.
Related posts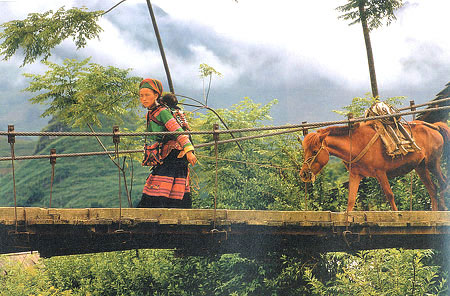 Sin Chai is located in Ta Giang Phinh commune where the locals consider a unique gift given to the Mong by God. This village is located in the lower of Thau Stream which is never out of water and the foot of Ngu Chi Son Mountain Range. It perches on the high mountain with fog coverage on the way of "winter section" crossing the mountain side. You can reach the village by getting from Sapa then passing Lanh Waterfalls, Ngu Chi Son Slope… See Detail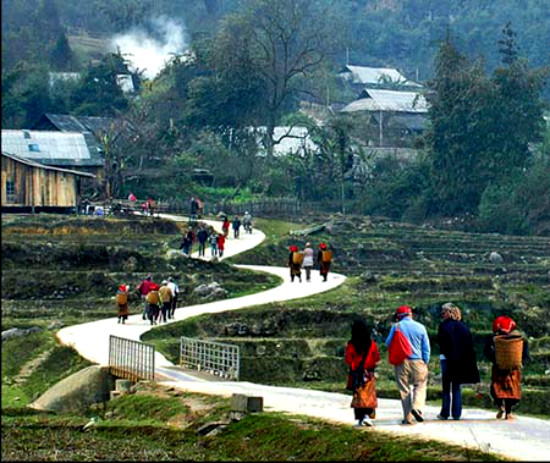 This fabulous destination owns lots of must-sees for your trip to Sapa, Vietnam like the mysterious Ancient Rock Field, challenging Cau May (or May Bridge) and it is also definitely a nice place when you will have a chance to explore plenty of traditional features characterizing the upland town such as special food with exotic and fascinating recipes and natural ingredients and of course, the unique stilt houses in this village are obviously fantastic, so remember not to miss this character. When reaching to Ta Van… See detail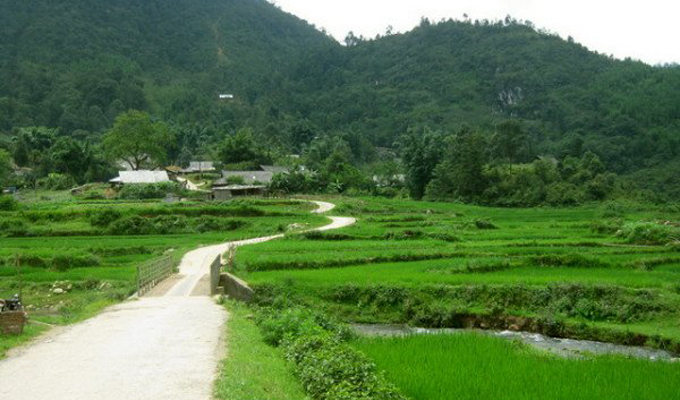 To get to this picturesque village, you may need to drive haft an hour from Sapa center then you will get to Ta Phin which is located in the valley and surrounded mostly by mighty rice terraces, high mountains and marvelous forests. However, it is highly recommended trekking such wonderful 12 km, particularly from late September to next May, to witness yellow to green mighty rice terraced fields and try the risky but exciting narrow path winding to the terraces… See detail