This 12km-distance village from Sapa town which is home of the H'Mong and Red Dao always deserves to be set as one of the hottest tourism highlights on the trip to the paradise of the Northwest – Sapa.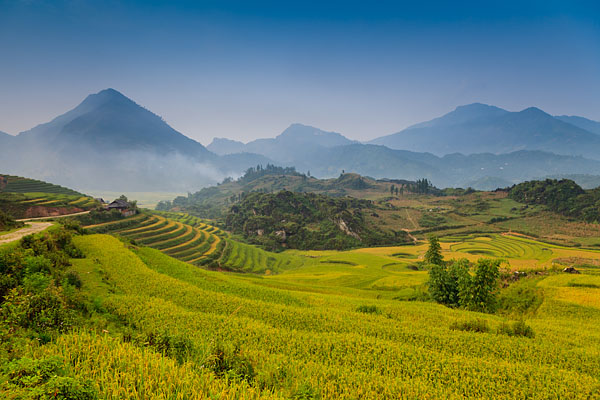 To get to this picturesque village, you may need to drive haft an hour from Sapa center then you will get to Ta Phin which is located in the valley and surrounded mostly by mighty rice terraces, high mountains and marvelous forests. However, it is highly recommended trekking such wonderful 12 km, particularly from late September to next May, to witness yellow to green mighty rice terraced fields and try the risky but exciting narrow path winding to the terraces.
Standing on Ham Rong Mount, 3km distant from Sapa town (you can completely walk to this spot), you can comtemplate the panomara of Sapa, including Muong Hoa Valley, Sa Pa commune and Ta Phin Village looming under mysterious fog. What you can expect from your trip to Ta Phin are definitely fresh and stunning nature, characterized cultures and pristinely traditional customs of the Red Dao with its well-known weave and herb bathing.
About 1km from Ta Phin People's Committee Headquarter to the North, there is a limestone mountain range, a branch of Hoang Lien Son Mountain Range, in which exists a small mountain with a fabulous cave. The cave is 5m high and nearly 3m wide and you definitely should spend time exploring this stunning cave by crossing a underground walkway then you will meet a fantastic space with diversified fauna and flora system and superb mutishaped stalagmites.
Coming to the village, you can also comtemplate the anciently colonial-style monastery, the spectacular Ham Rong to the South East and visit the Mong and Dao's brocade houses which are always full of vivid and impressive brocades and handicrafts. By the way, to the Dao's area, you are recommended enjoying their unique the herb bath with lots of herbal ingredients only in the very Dao's recipe to get a better health and relaxation for next trekking days. If you are already in Ta Phin, do not forget its tasty specilities like "Ruou thoc" (Red Dao's wine), "Banh Chung Den" (Black Chung Cake), corn cake, colored sticky rice and yummy fermented pork.
Anyway, Ta Phin is a highly recommended tourism spot that you must at least put on your trekking list in Sapa to go sightseeing many fantastic landscapes as well as savor the very ethnic cuisine and exploring the traditional life of the ethnic people. Coming to Ta Phin is never a waste of time.
Ta Phin village information
Location: Ta Phin Village is about 12 kilometers from Sapa
Ethnic groups: Mainly the Dao, the Mong
Attractions: Ta Phin Cave, Ham Rong Mount, rice terraces, Muong Hoa Valley, Red Dao's herbal bath, specilities such as Ruou thoc" (Red Dao's wine), "Banh Chung Den" (Black Chung Cake), corn cake, colored sticky rice and yummy fermented pork