Sapa is the capital of the Sapa District in Lao Cai Province and is on an altitude of 1600 meters. The temperatures in Sapa can range a lot during the different seasons. Sapa's climate is moderate and drizzly in the summertime and cold and foggy in the wintertime.
Nowhere in Vietnam can you find the local ethnic minorities like in Sapa. There is a great diversity of ethnic people, including five main groups of Hmong, Yao, Zay, Tay and Xa Pho. They live throughout the valleys of Sapa, but they come to the center to trade or sell their products. This varies from rice, corn, fruits and handicrafts.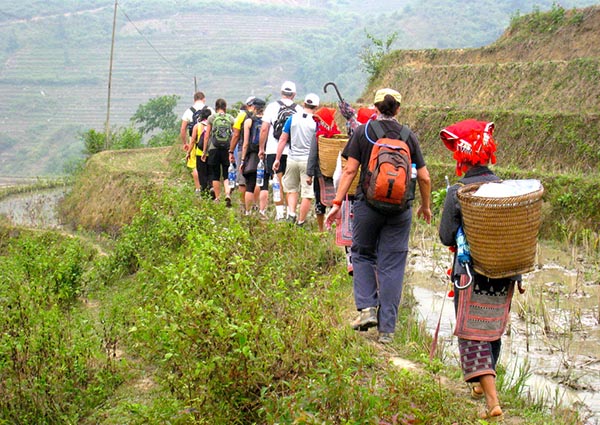 What to bring during a trek in Sapa
Take enough water about 1.5 L per person and finished it all.
Take some breakfast and lunch. Because it didn't taste well at all, we eventually decided to have lunch in one of the local restaurants among the rice fields. We got some spring rolls, omelet, vegetables and rice. And it's good to take some snacks with you.
Bring sunscreen to avoid the sunny when we were there, so we had to wear enough sunblock not to get burned.
Hat and sunglasses. If it's warm and sunny, it's essential to protect yourself!
Camera. Take lots and lots of photos.
Map. One of the most concerns of foreigners is the map. The recommendation for you is to take a map if you go to the first-time and want to find a specific home stay.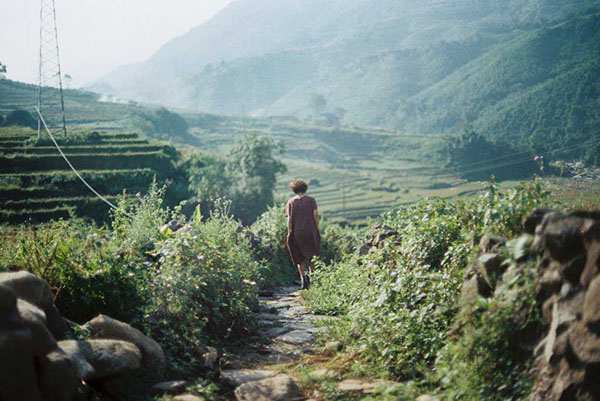 Some note for Sapa hiking trails
Be careful: you should make copies of all your important documentation to avoid the lost of the original ones.
In some cases, if you want to take the photos with kids of ethnic monitories, you should ask them before doing.
In Ta Phin village, there may have children sell something here, if you don't want what they're selling, don't buy and say "no".
Bargain half prices for anything
Find a local guide
One recommendation for someone who wants to hike Sapa is booking a tour as you reduce maximum the risks. You will be guided by the experienced person and they explain most your questions. Thus you will save time and energy during the trip. However, you must seek for the good brand of tour firm due to searching on the internet. They also consult the weather and prepared necessary items As a result, your trip will be safer and you will have more enjoyable to explore the local life.
The guides are mostly local and they can communicate fluently in English. So there's no reason to not hire one.
Some route in Sapa hiking trails
Cat Cat village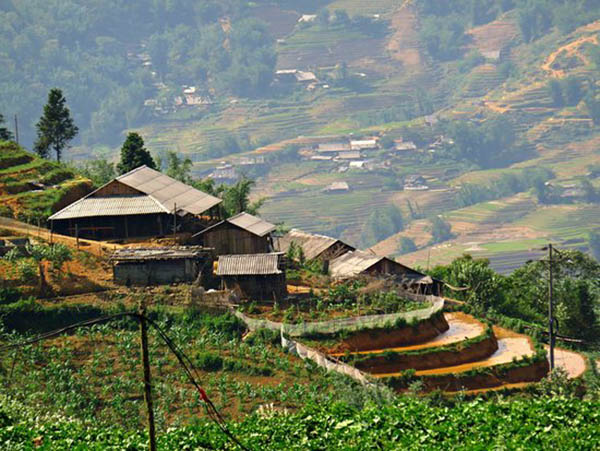 Cat Cat village is an ideal hiking route for someone who wants to take the challenge. It is an old village of Black H'mong people. Thus, you can discover many interesting facts about their ordinary life as well as culture and architecture. Visitors can know how to make traditional clothing, dry hemp and women weaving colorful. In Shin Chai village, local people will spend the time to teach textile weaving and dying and they take the group on a locally built trail. Coming to Sin Chai you will have chance to take pleasure flowers as peach blossom, plum blossom, gladiolus, pear blossom, rose, chrysanthemum.
Y Linh Ho village
Continuously, A suspension bridge will lead you uphill to Y Linh Ho village, which is a small commune composed by many small hamlets scattering on the very tough mountain terrain with high and steep mountains. Living in the village, the Black H'mong wear the dark clothing and navy dyed in the hands. 
Ta Phin Village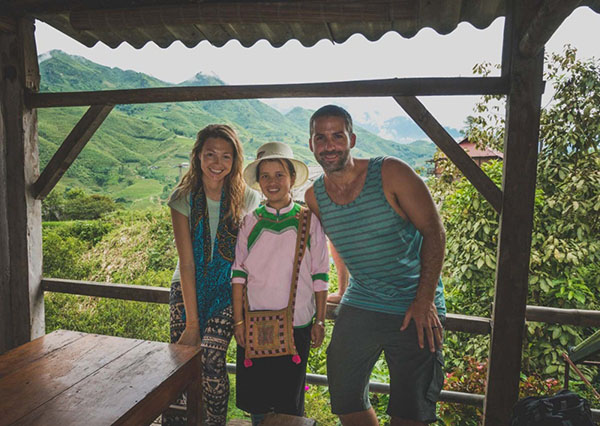 Next place in Sapa hiking trails is Ta Phin Village. Black Hmong and Red Dzao live in Ta Phin and Ta Van. The green rice paddy and traditional villages lie in a highland valley. Variable, as you could easily spend a whole day here. Most people take about 2 to 4 hours total. It is easy to moderate in spots, especially in the caves. This mountain valley has an idyllic feel to it, but keep in mind that tending those rice paddies is backbreaking work barely sufficient to feed local families. It is quite easy to discover Ta Phin village. Expect to spot some of the same foreign faces you have been seeing in the cafes and restaurants of Sapa.
Ta Van village
Ta Van village offers the spectacular mountain scenery and traditional villages and their surrounding rice paddies. You will know how to make their traditional clothes, handicraft, indigo… Moreover, you have a chance to visit the biggest valley which offers to you the best views of the golden rice terrace field in Vietnam. Lao Chai village is a village of Giay people – a small group of ethnic people living in Vietnam. Then you will enjoy the lunch with a local family and have a short sleep in the local people.
Giang Ta Chai village
After hiking past beautiful terraced rice fields, you will reach to Giang Ta Chai which is located in the opposite to Muong Hoa stream. You can explore the life of ethnic minorities as well as admire the spectacular natural scenery. You will be surprised by many shaped rocks – unique patterns of the ancients. Approaching the life of H'mong local people, you can know how they make their clothing. Their many crafts, their embroidery is stunning.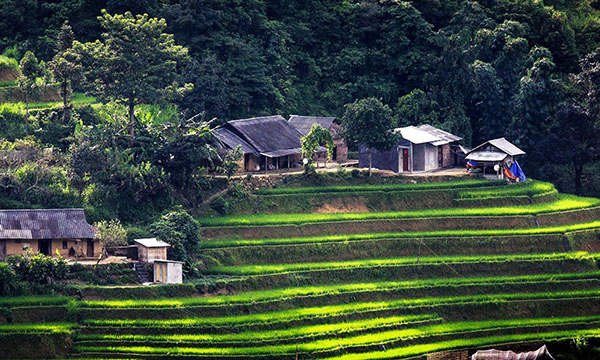 Muong Hoa Valley
If you visit Sapa, you shouldn't miss Muong Hoa Valley where you can catch up other tribal villages such as Ta Van Village and Ho Village. It is famous for a variety of colorful flowers. The rice terraces are full of water which makes the best scenery of the sunshine on the fields' surface. Silver fall is located about a half hour from Sapa town that offers stunning views over surrounding mountains and lush forests belonging to Hoang Lien National Park.
Ham Rong mountain
Ham Rong garden is the mainstream place for many foreigners. It is one of the most attractive destinations blooming many types of flowers and orchard gardens. Stones appear on the path, which lead tourists to wild peach forest, then orchid gardens with more than 194 type of plants. There are a lot of indigenous flowers grown along the paths such as Lily of the Nile, hydrangea, geraniums, ox-eyed daisy and cheery blossom. In there, you will find some fruits like peach, plum, and pear. The scenery was hidden in the fog from bamboo flute of Mong minority boy change this place into a heaven on the earth.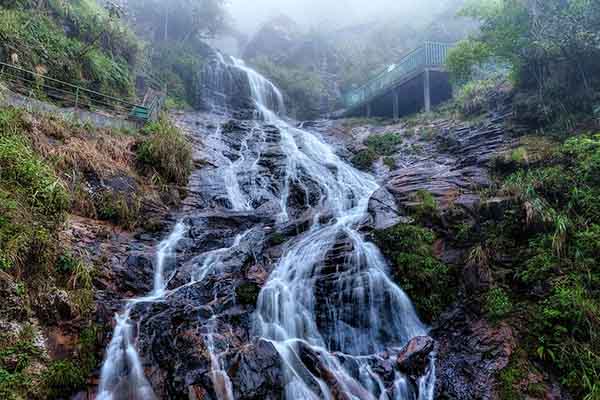 Silver Falls and Loves Waterfalls
From Sapa town, you go to the west about 12 kilometers then meet Silver waterfalls rushing flowing down from 200 meters creating the futuristic sound of the jungle. Crossing Silver Waterfall, you catch up Love Waterfall. The name of this waterfall originates from a legendary love story that has been told to generations in this land. Your guide tour maybe talk about the story of waterfalls that appeared of a love of couple near the fall. Her parents forbid her coming back to the fall. Her passion is transformed herself to a bird in order to live with her love forever. If you stand a far, Love Waterfall looks like a sparkling stream of light.