Your travel itinerary to Vietnam seems incomplete without visiting the North. In fact, the region should always be added to your bucket list since it is a captivating mix of crisp fresh air, magnificent mountainscapes, picturesque scenery, and colourfully-clothed hill-tribes. And you can experience all mentioned things through a journey to the small town of Sapa. Flawlessly set on the slopes of an eye-catching emerald green valley, this pretty place welcomes all adventure lovers to contemplate the iridescent rice terraces, visit ethnic villages and interact with resplendently dressed minorities, hike through Fansipan – the highest mountain of Indochina, as well as witnessing how the local life has truly bubbled along here for centuries. After a long day of discovery, tourists' satisfaction is also highly met with the convenience of Topas Ecolodge Sapa Vietnam where they can see splendid scenes through their balcony.
So, with such convincing reasons, are you willing to explore Sapa right away? Let us become your guide by a Sapa weekend tour below. This 3-day and 2-night adventure is full of opportunities to be soaked up the place's highlights, traditional hill-tribe culture, and peaceful stay.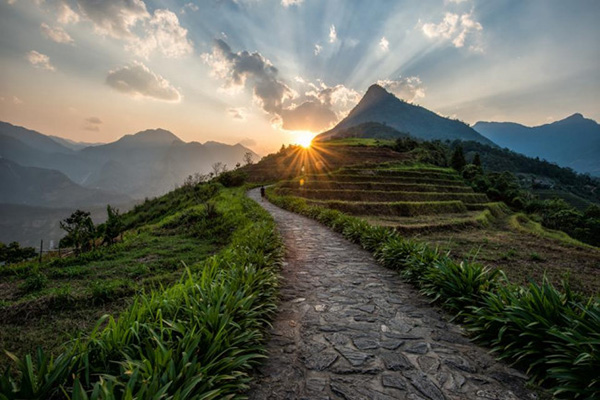 When to go?
This question seemly gets much interest from travelers. And March to May and September to November are considered the best answers. Wonder why? It is easy to realize that the summer months (from June to August) is often the peak time when a number of domestic tourists check in Sapa to enjoy their vacation. Additionally, September is the harvesting season, when the rice terraces seem to be greenest. That means this month is surely the best time of the year to beautify your album and renew your Facebook's avatar!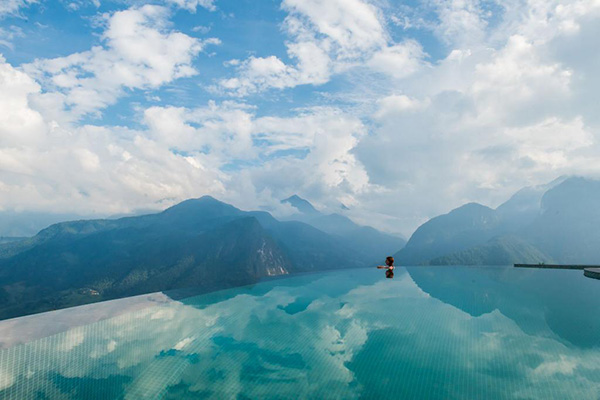 Remember that North Vietnam and Sapa are often colder than the other parts of the country. As a result, make sure that you always bring warm clothes, especially in the winter months, when the temperatures may eventually drop under zero at night.
Where to stay? Let's think about Topas Ecolodge Sapa Vietnam!
Sapa itself has truly become more and more touristic during the last few years. And for that reason, the prices for accommodation seem to be higher than in most of Vietnam. However, the good news is that there are also rooms available for less than $10, such as guesthouses in Muong Hoa Valley. In case money is not a problem for you, then we advise you to spend your nights at Topas Ecolodge Sapa Vietnam.
Set on a peaceful and beautiful hilltop and far about 18 kilometers from the center of Sapa Town, the hotel proves its greatness by a lot of attractive strengths, such as the best view of the surrounding valley, a full-service lodge, and an attentive team of staffs. Along with nice bungalows, the main building also includes souvenir shops, a restaurant, and a lounge with a bar.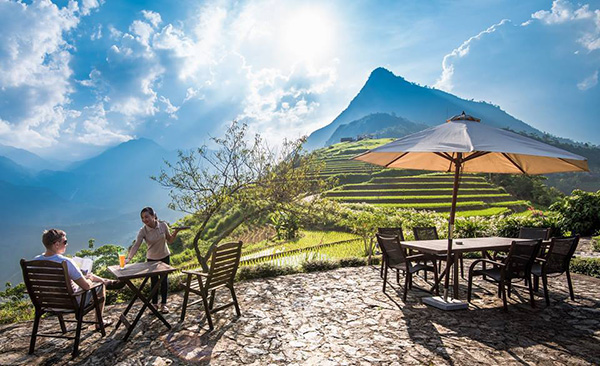 The biggest magnet of staying at Topas Ecolodge is indeed the proximity to the local hill-tribes, mostly inhabited by the Red Dao. Friendly, kind, and hospitable are what you see from these minority groups. Particularly, many of the villagers are also willing to offer visitors a close and fascinating insight into their lifestyle. Another highlight of the lodge is the wonderful eco-friendly infinity pool that allows guests to have eye-catching views over the fabulous rice fields below.
In free time, it is a fun idea to discover the hillside villages through hiking trails in the area. You are directly able to hire a bike in the hotel. Upon your return, have yourself immersed in an aromatic herbal bath or foot therapy. All in all, Topas Ecolodge is not only a hotel for relaxation, but an ideal spot for those who love quiet nature, exciting culture, and going trekking or even biking in remote areas.
How does our Sapa tour in 3 days 2 nights help you to explore the region with ease?
Day 1: Spend your first night on train to Lao Cai Station (Friday)
To reach Sapa from Hanoi, the train is considered the easiest way that most of the tours choose to include. There are many advantages for such means. First of all, night trains are often friendlier to tourists' budget and more comfortable than being cramped in buses or small cars. Secondly, guests are quite able to stretch their legs out and enjoy a full night's sleep, instead of paying for a hotel. During the overnight sleeper train, it is better to bring a good camera so that you cannot miss any memorable moment.
Day 2: Welcome you to Sapa (Saturday)
After checking Lao Cai, you should prepare yourself for a shock. Highly located about 1,500 meters above the sea level as well as often shrouded in a cool mountain mist, Sapa welcomes you with the chill atmosphere. Our driver picks up you at the station. Don't forget to take a quick shower and have breakfast before starting your discovery.
The first spot of tourism is Lao Chai village – home of the Black H'Mong families who always make a strong impression on you by their great warmness and hospitality. For sure, a trek is definitely the best means to discover this ethnic village and learn about local life. In addition, you are also able to get the stunning panorama of the whole village that beautifully looms in high mountains along with the gorgeous river. The special thing is that the locals' houses are amazingly built on the mountain for the purpose of preventing it from floods. In general, the main living of the minorities is cultivation in rice farming. Remember to bring candies or small cakes and then give ethnic children as gifts. They will be certainly happy for these meaningful gifts.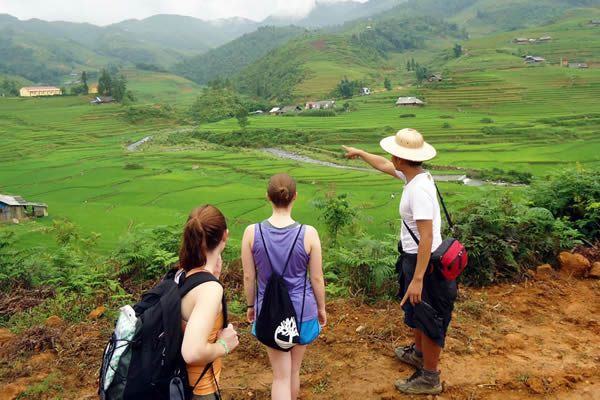 Then, next to Lao Chai village is the presence of Ta Van village – home of the Giay, Red Dao, and H'Mong ethnic people. After crossing the suspension bridge over Muong Hoa rive, you will see the village. What firstly catches your interest is indeed the housing architecture reflecting both coziness and peace. Typically, this is always a popular stopover for those who want to spend an overnight homestay with a local family, which allows them to have exotic dinner and unforgettable memories with the host. It is surely a good chance to learn more about the lifestyle of the locals and their kindness.
In the afternoon, let's continue your journey by trekking through a bamboo forest to Giang Ta Chai village, situated at the right side of Muong Hoa Valley. The big attraction during the hike is the surrounding scenery, such as a majestic waterfall, magnificent mountains, lush rice terraced fields, and bamboo groves. As the village of Red Dao, Giang Ta Chai is where you can explore the ethnics' colorful traditional customs and habits. Not only that, but your eyebrows will also be raised by their outstanding costumes which are mostly made from natural materials. Don't hesitate to partake in their lifestyle activities to have a collection of meaningful experiences.
Spend your next night at Topas Ecolodge Sapa Vietnam.
Day 3: Leisurely wander around Bac Ha market (Sunday)
In the last day, tourists will have an interesting opportunity to discover the big, well-known, and colorful market in the North – Bac Ha. What makes it have a unique vibrancy are a powerful energy and vivid color of the Flower H'mong locals. Held on every Sunday, the market is where you can gain the real and valuable experiences about the ethnic lifestyle. The best way to see Bac Ha in all its glory is to go early and leave before 10 AM to 11 AM since this is when the crowds of tourists check in with the large number.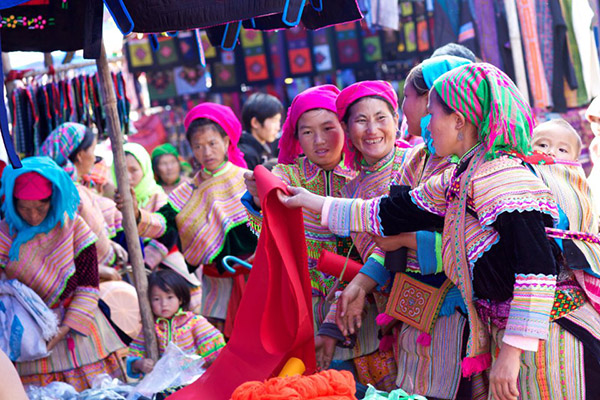 In every early morning, the local minority tribes (such as Flower H'mong, Black Dao, Phu La, Tay and Nung) gather Bac Ha Market to buy and sell different kinds of products, like wares, livestock, and rice wine. You are recommended to take a promenade around the market to find the best handicrafts and souvenirs for your loved ones. Furthermore, the place is a flawless spot for your photography dream as most of the locals pay little attention to you. So, don't hesitate to take wonderful shots of their daily life now!
End your trip by a short walk to Trung Do village where the Tay minorities live. The picturesque natural scenery is a plus of the village. Trung Do leaves you from admiration to admiration by a charming landscape of green rice paddies and attractive corn beaches on the shores of Chay River. Don't miss a chance to visit the stilt houses of the Tay people and learn their daily life, manufacturing process, as well as customs and habits. Especially, if you are lucky enough to arrive there on the festival, then chances are that you may enjoy the vibrant rhythm of the ethnic girls who beautifully dances around the flickering firelight.
So, are you ready to get immersed in a lovely weekend in Sapa through this tour? Not only do you sleep well at Topas Ecolodge Sapa Vietnam, but you also have meaningful memories via ethnic villages and local markets. Let's book and tell us your feelings the right way!